With a tender, flaky crust, this Triple Berry Cream Cheese Crostata is filled with fresh berries and a layer of sweet cream cheese! Super easy to make without a long bake time, you'll want to add this crostata to your baking list soon!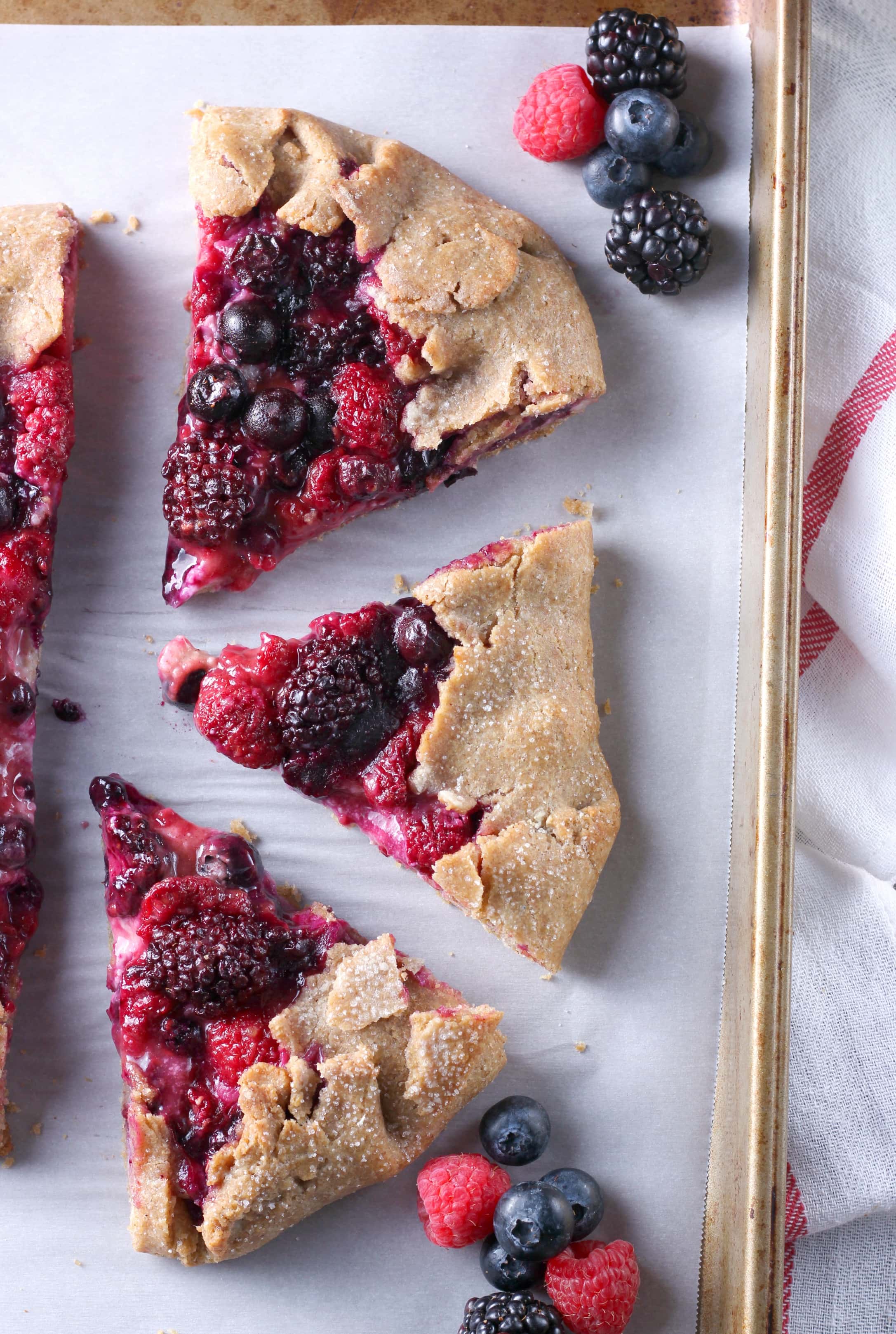 I love this time of year when there are fresh berries everywhere and the weather isn't super hot yet, so you can bake all kinds of berry desserts without making your house a furnace.
Since it's still in the 50's and 60's around here, I've been loving taking advantage of the cooler weather and trying different berry recipes! I may have a problem with buying way too many berries at a time. . .
Way easier than a pie, I often turn to a fruit crostata. They are so easy to make. No worrying about a perfect crust. Just fold over the edges and you're good to go!
Plus, the berry filling doesn't require any cooking. Just mix the berries with a bit of sugar, cinnamon, lemon juice, and flour and place on top of the crust.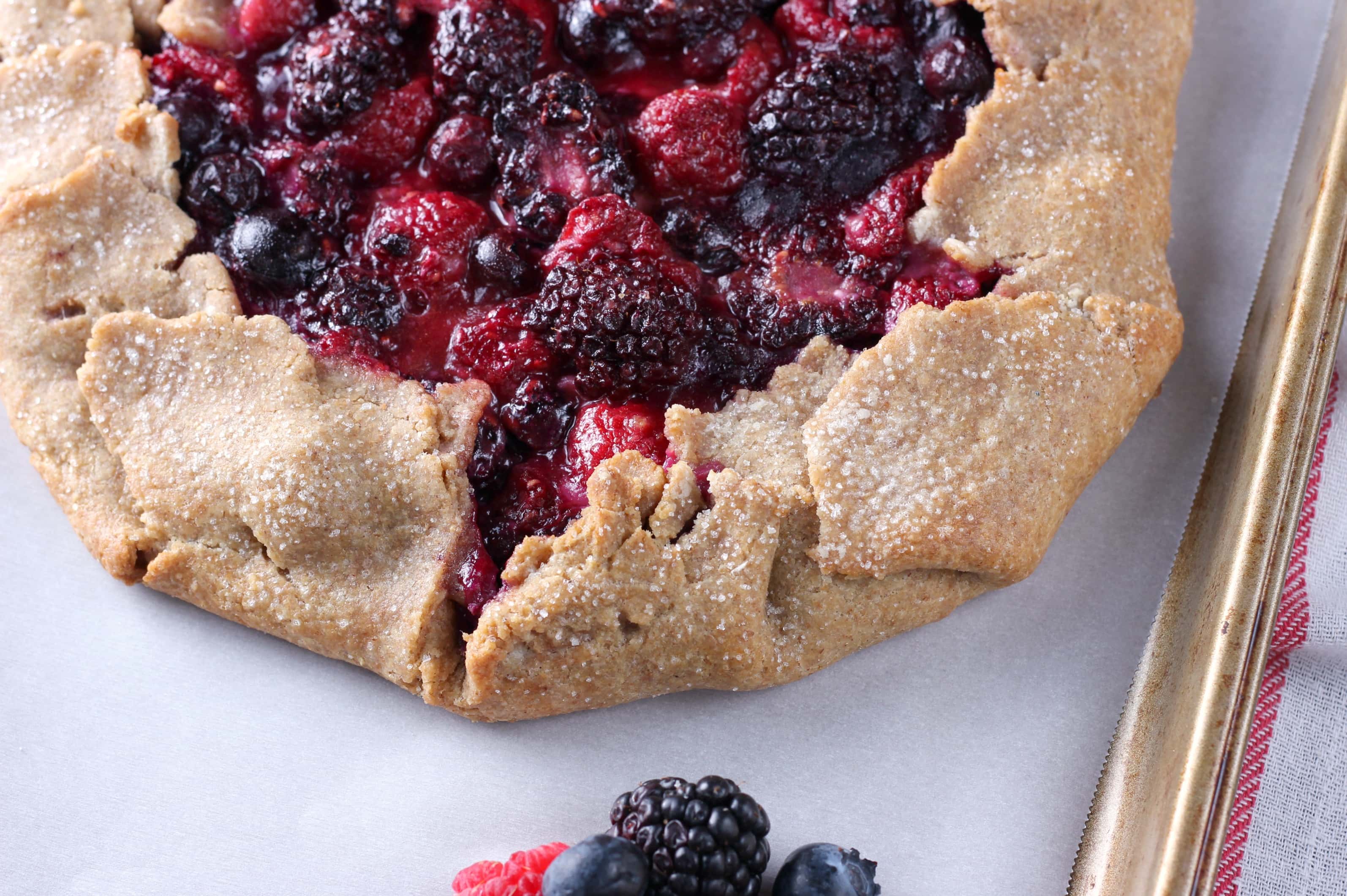 A lightly sweetened layer of cream cheese sits right below the berries to elevate the sweetness of them without overpowering them and to add a bit of creaminess to the crostata.
Ever since making a blueberry cream cheese crostata, I've had a hard time leaving the cream cheese out when making crostatas! The creamy sweetness is such a great addition.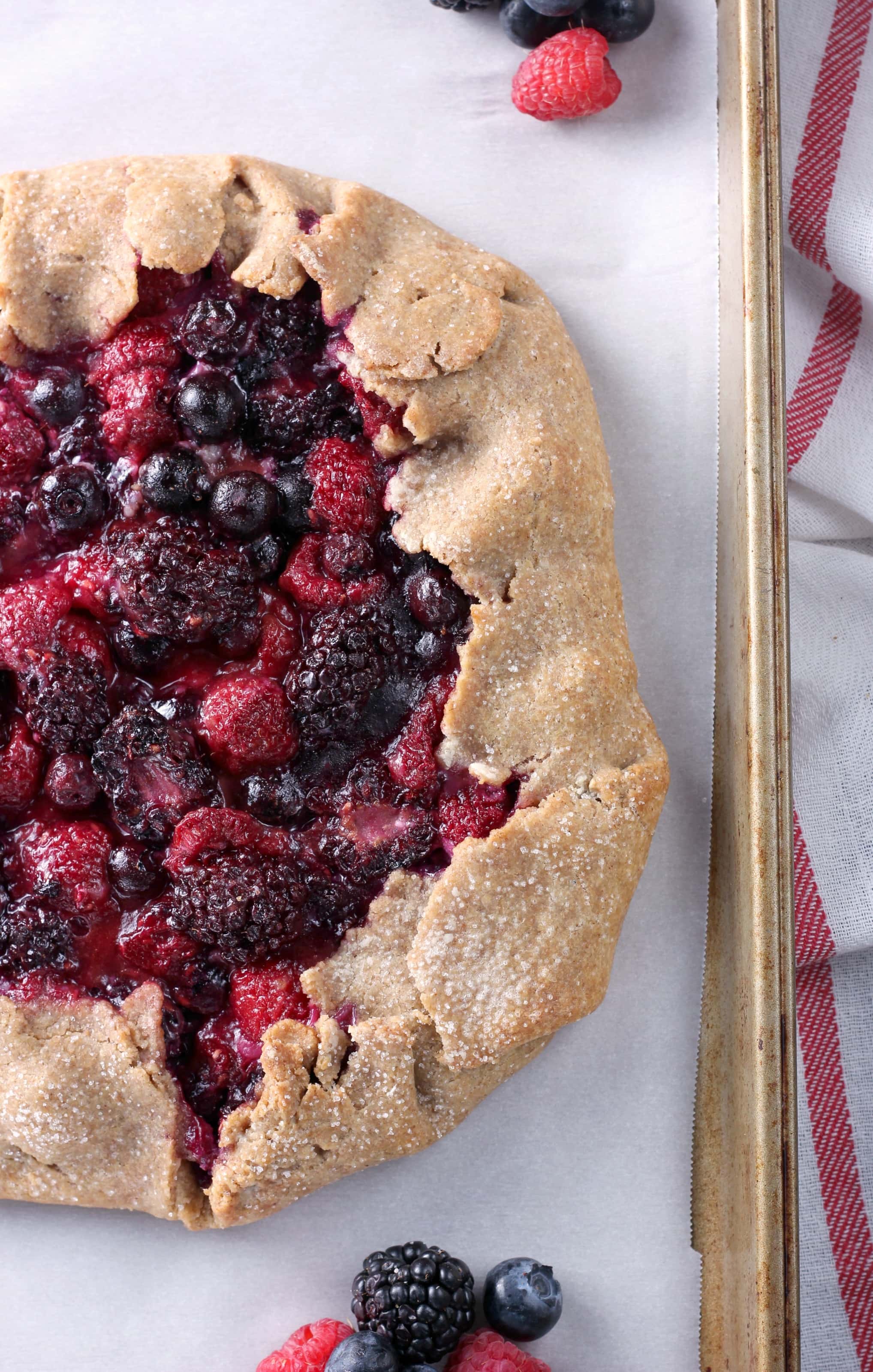 The crust is made with white whole wheat flour and olive oil, but you'll still get that rich, flaky crust that you expect. Just make sure to not overwork the dough! The more you work it, the tougher it will be.
If you love baking with fresh fruit (or have way too many berries on your hands!), you'll want to add this triple berry cream cheese crostata to your menu soon!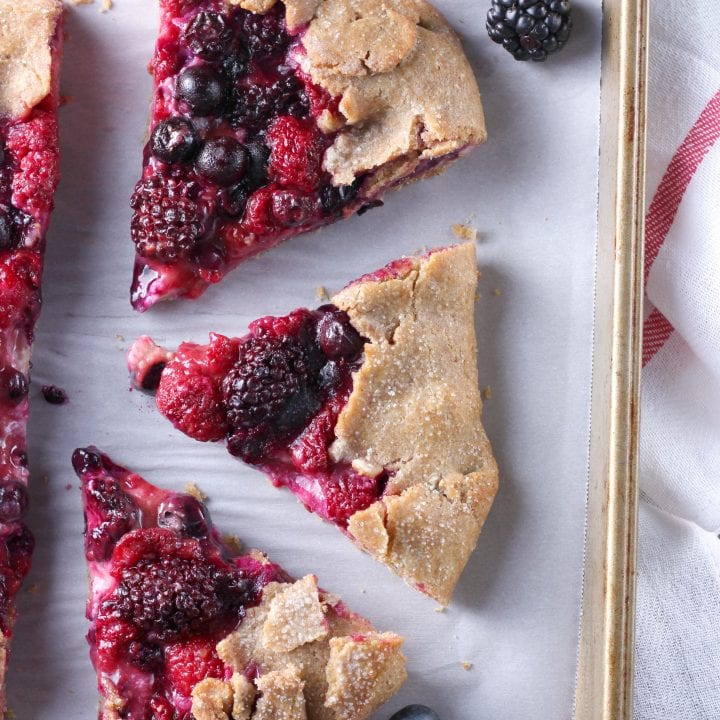 Triple Berry Cream Cheese Crostata
Ingredients
For the Filling
1 C fresh blackberries, washed and dried
1 C fresh raspberries, washed and dried
1/2 C fresh blueberries, washed and dried
2 tbsp sugar
1/2 tsp cinnamon
1 tbsp flour
1/2 tbsp fresh lemon juice
For the Crust
1 C white whole wheat flour
1/2 tbsp sugar
1/2 tsp salt
1/4 tsp cinnamon
1/4 C olive oil
1/4 C + 1 tbsp milk
1 tbsp milk for brushing crust, optional
1 tbsp sugar for sprinkling crust, optional
For the Cream Cheese Layer
4 oz cream cheese, softened
2 tbsp sugar
1 tsp vanilla extract
Instructions
Preheat oven to 400 degrees Fahrenheit. Line a baking sheet with parchment paper.
In a medium bowl, sprinkle sugar and cinnamon over blackberries, raspberries, and blueberries. Gently stir to coat. Stir in flour and lemon juice. Set aside.
In a separate medium bowl, stir together flour, sugar, salt, and cinnamon. Add olive oil and milk and stir just until soft dough forms.
Turn dough out onto floured surface. Roll dough out into 12 (twelve) inch circle. Transfer dough to prepared baking sheet.
To prepare cream cheese filling, stir together cream cheese, sugar, and vanilla extract. Spread cream cheese on dough leaving at least a 1 (one) inch margin from the edge. Spread berries over the top of the cream cheese. Pour remaining liquid over the top.
Fold dough up over the edge of the berries and pat down. Brush with milk and sprinkle with sugar.
Bake for 25 minutes or until edges turn golden brown. Allow to cool 10 minutes before serving.
Store leftovers in the refrigerator.
Recommended Products
As an Amazon Associate and member of other affiliate programs, I earn from qualifying purchases.