These Blackberry Raspberry Coffee Cake Muffins are perfectly sweetened and tender with juicy blackberries and raspberries, topped with a rich, buttery streusel, and drizzled with a sweet raspberry glaze!
I'm sharing #NESCAFE in my life as part of a NESCAFE sponsored series for Socialstars™. As always, all opinions are my own.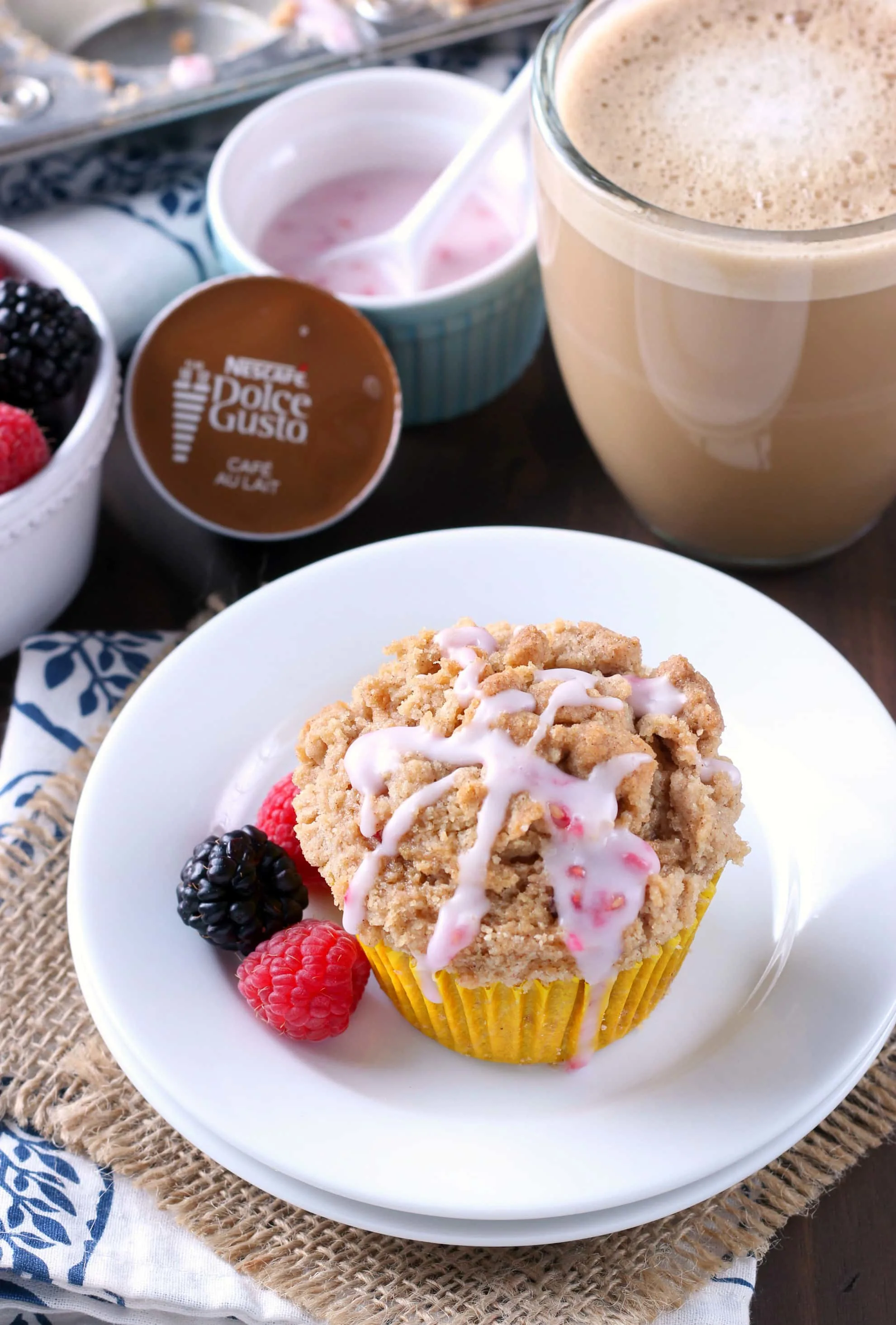 The first day back to work after a long holiday weekend is hard. But getting up knowing you have one of these blackberry raspberry streusel muffins waiting for you makes starting the day a bit easier! That and a great cup of coffee.
I like to start my days with a list of what needs to get done, a bit of breakfast, and a cup of coffee. It just makes the rest of the day go so much better. If that doesn't happen before the day begins, I never feel as productive.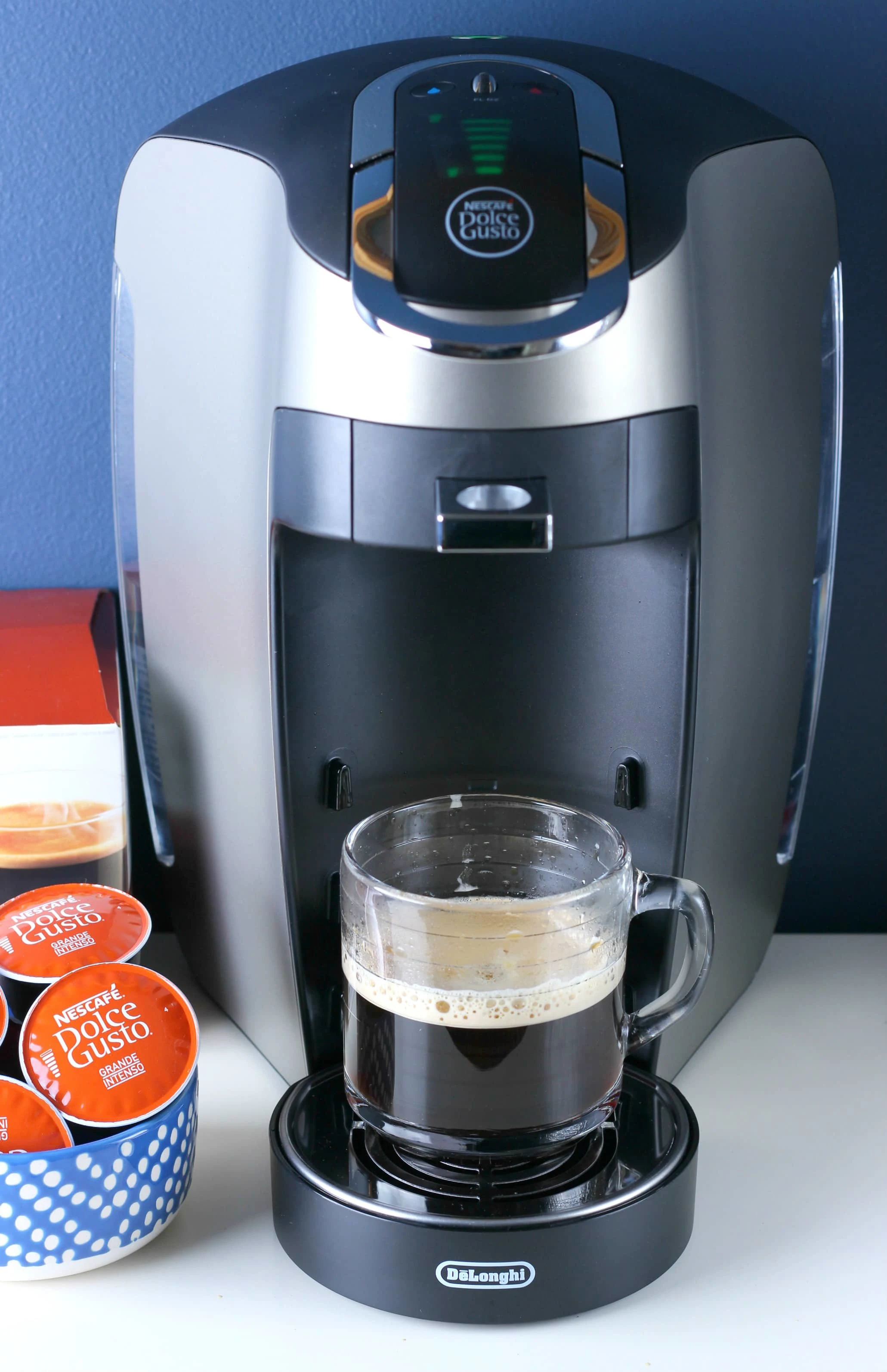 To make my morning as productive as possible, I turn to my NESCAFÉ® Dolce Gusto®. I don't have to go through the work of making a great cup of coffee myself or swing by the coffee shop and wait in line.
I can have a coffeehouse quality drink in my own kitchen. (Be sure to check out the end of the post to find out how you can get 40% off a machine for yourself! Or they make a great gift!)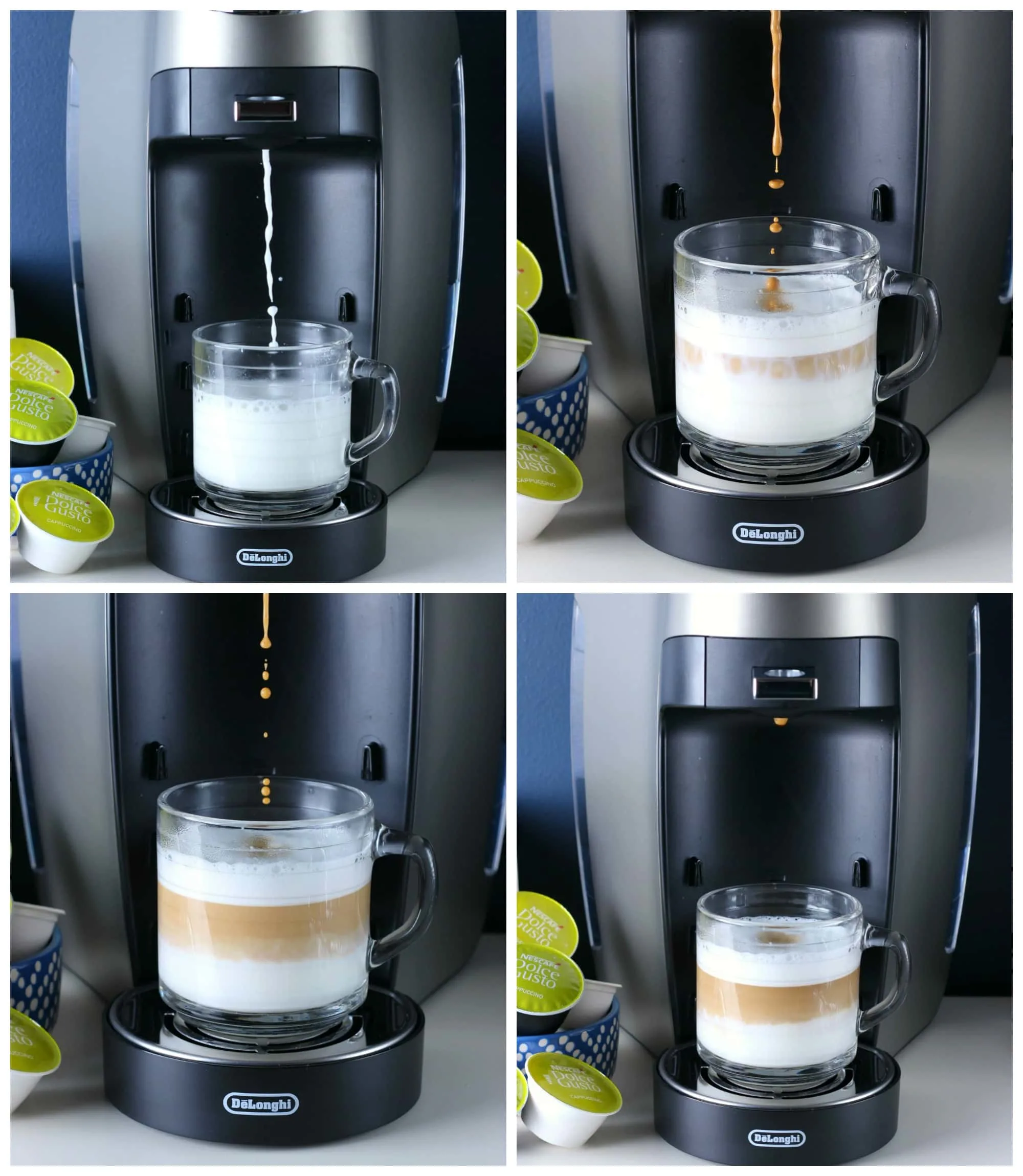 The NESCAFÉ Dolce Gusto has a professional-grade pressure system (15 bars of pressure!) that extracts deep, rich flavors and aromas out of every cup!
If you remember when I shared these mini sprinkle scones, I mentioned how I like a flavorful, strong cup of coffee.
Well, the Grande Intenso is just that. And that layer of crema? You won't get that from just any single cup brewer. My morning is made.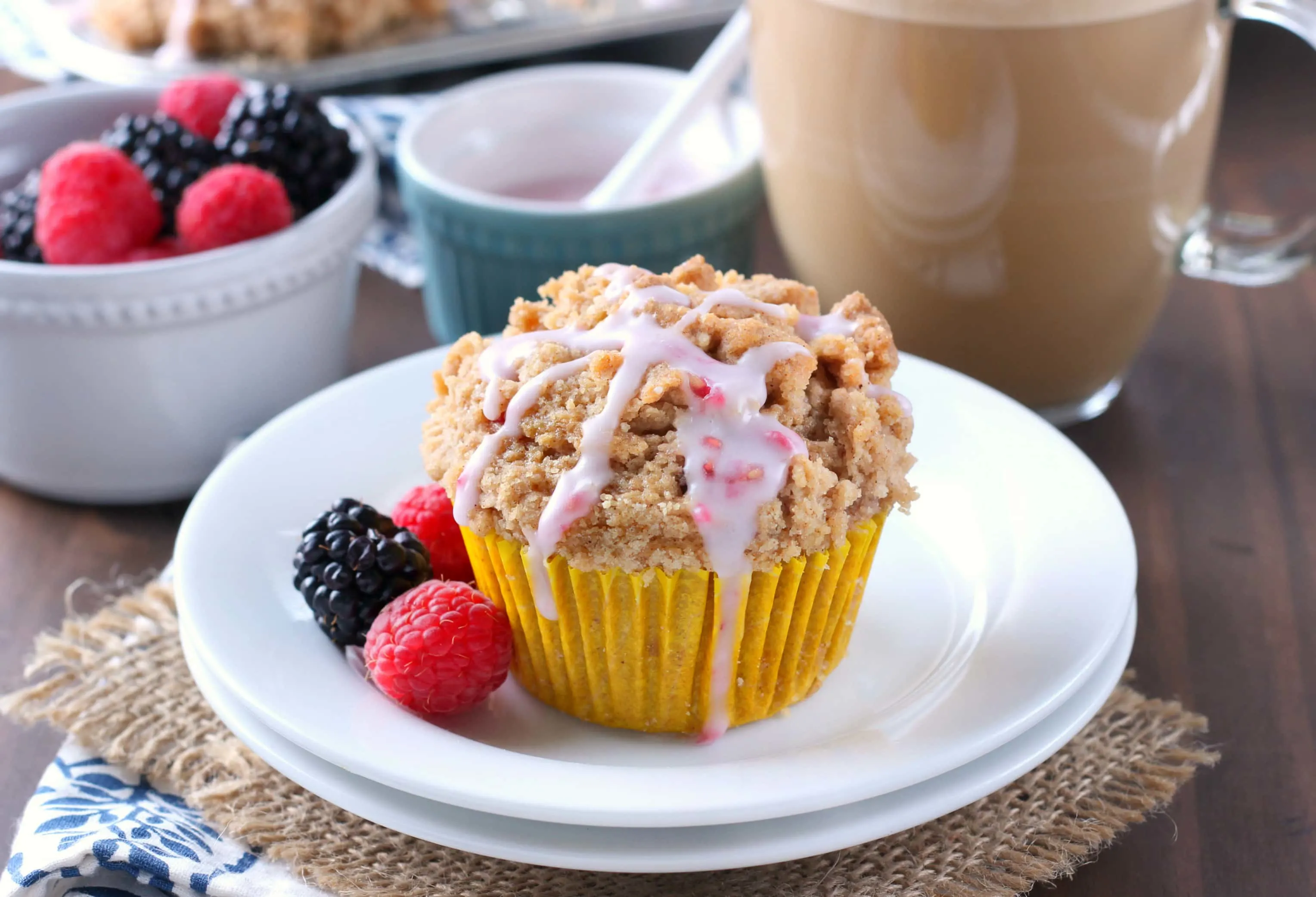 I love the fact that it can also make cappuccinos and cafe au laits along with the other varieties so you can create your ideal cup (You can also make it hot or iced!)!
No need to go through the work of making your own cappuccino when the NESCAFÉ Dolce Gusto can do it for you.
And it does it well. The perfect pairing to your favorite breakfast food!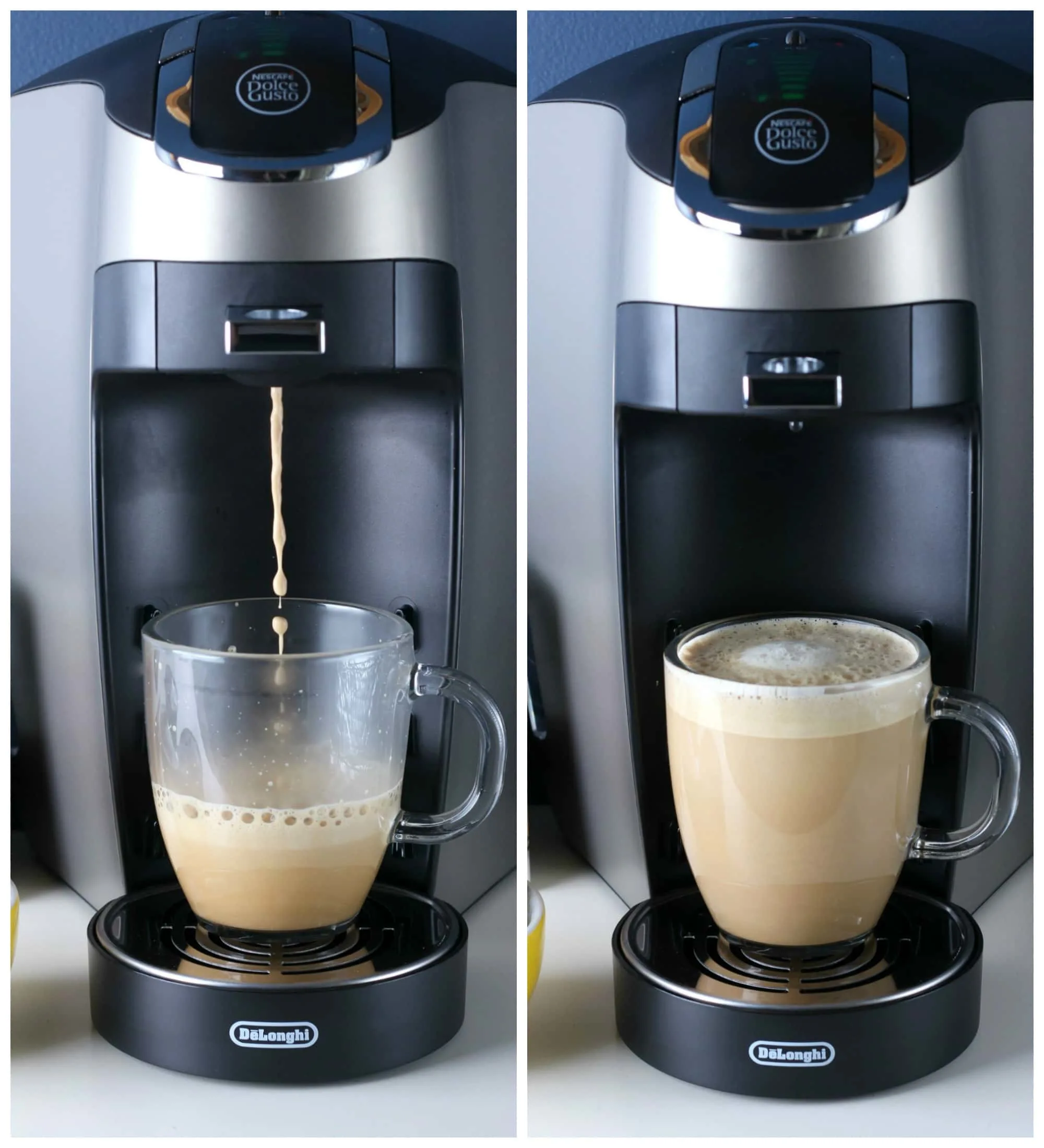 Like these muffins! With a base filled with cinnamon and a hint of nutmeg, these muffins are bursting with fresh blackberries and raspberries!
Oh, and they're whole wheat. But you won't notice! These muffins are still soft and tender.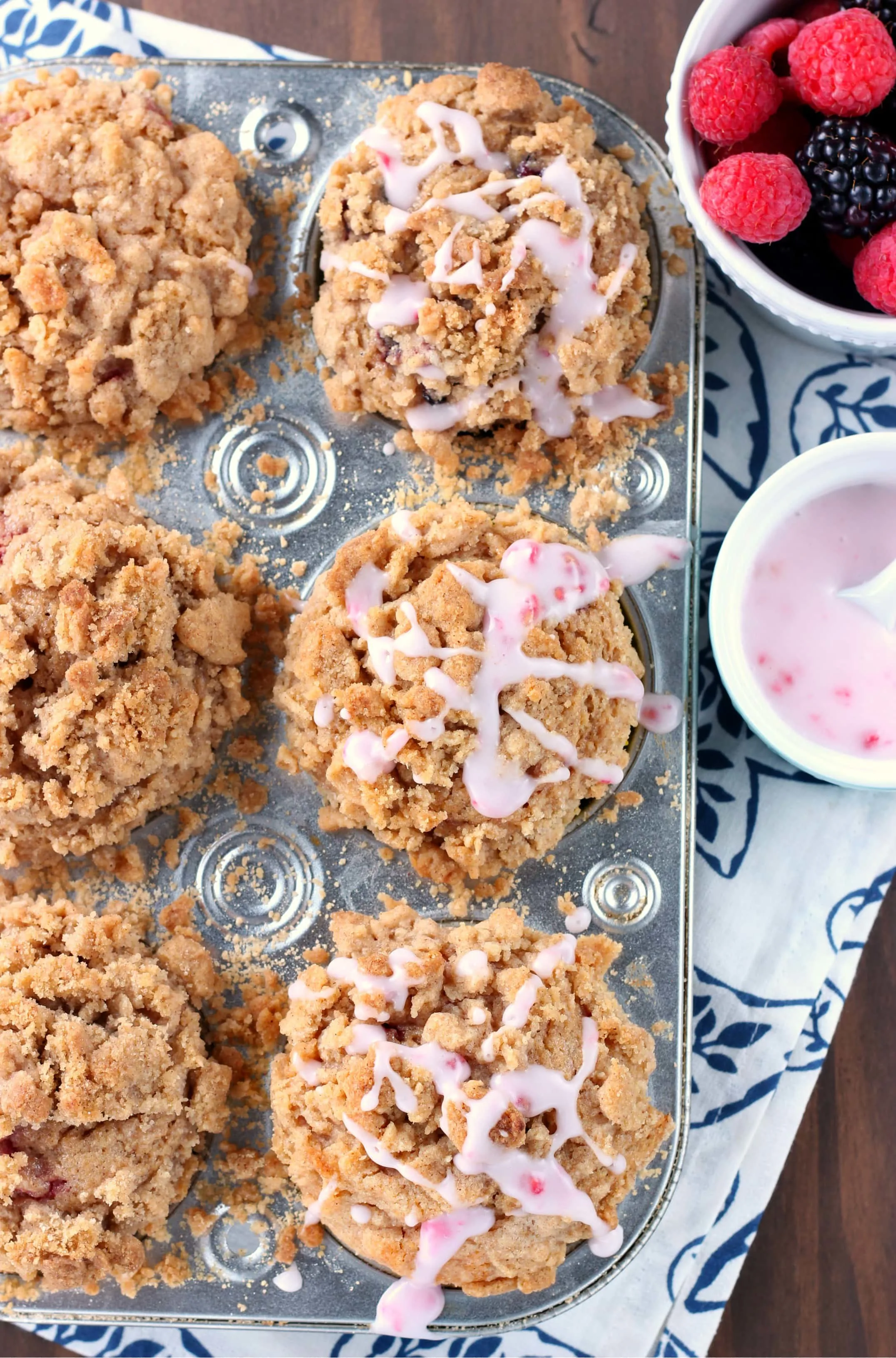 And that streusel topping?! The best topping to any muffin. Rich, buttery and not too sweet, I have a hard time resisting a muffin with a streusel topping!
A sweet raspberry drizzle tops off these already irresistible muffins giving them both a boost of flavor and a pop of color.
Good coffee and good muffins. That's what great mornings are made of!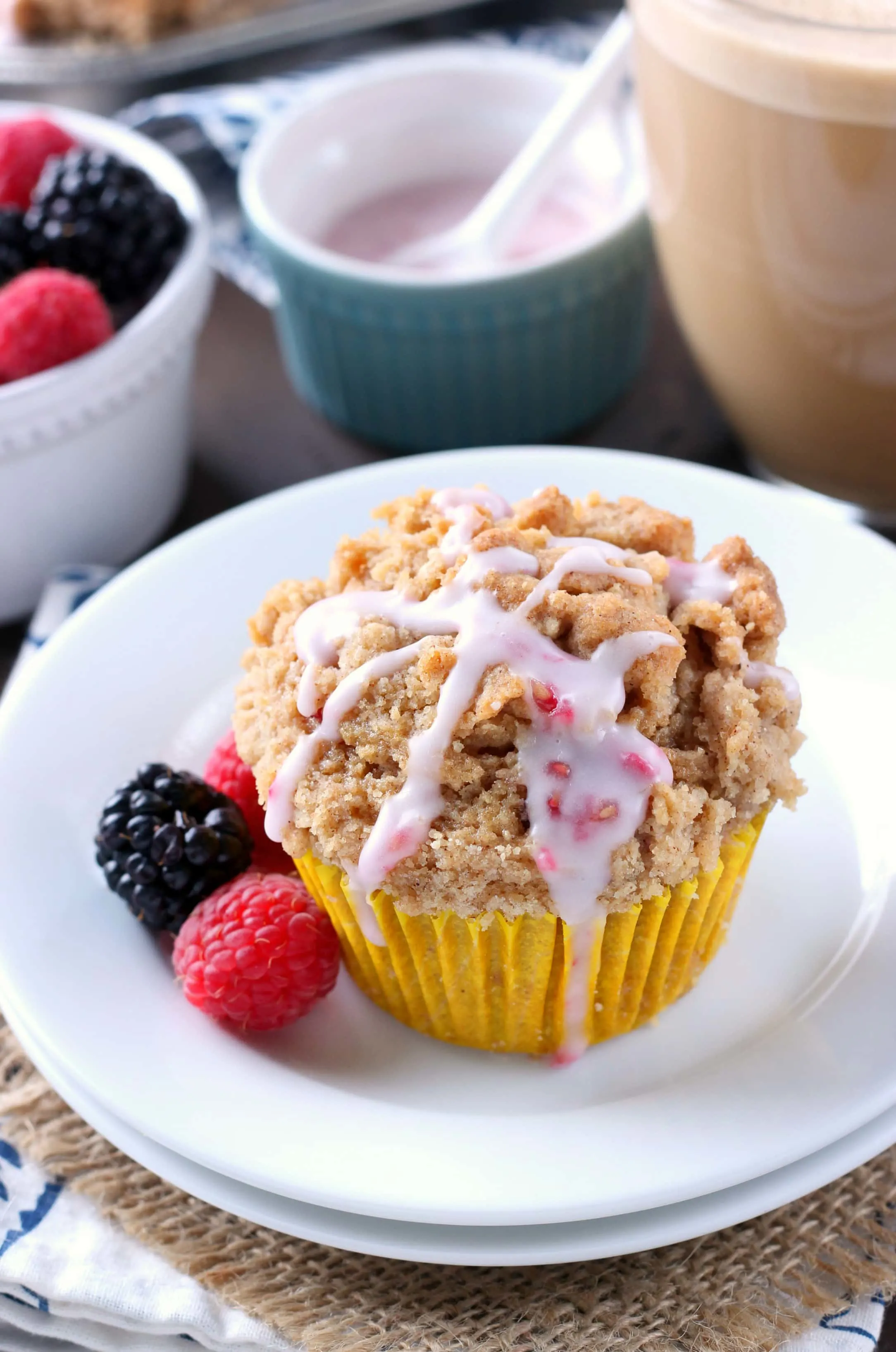 **Want to get a NESCAFÉ Dolce Gusto for yourself (or for a friend/newlywed/graduate)? Use the code AKitchenBlog to get 40% off the purchase of one machine on their site!! Check out the machines on their site: https://www.dolce-gusto.us/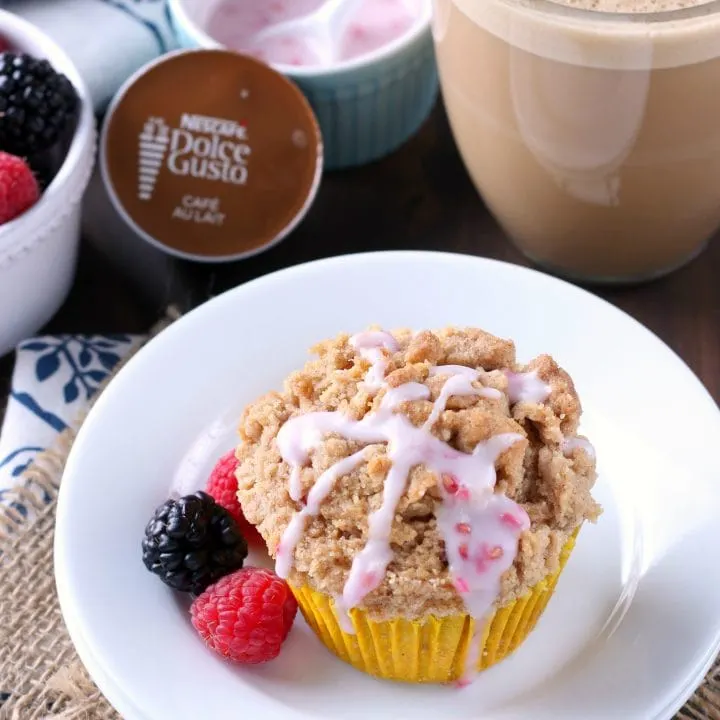 Blackberry Raspberry Coffee Cake Muffins
Ingredients
For the Muffins
2 C white whole wheat flour
⅓ C sugar
⅓ C brown sugar
1½ tsp baking powder
½ salt
¼ tsp baking soda
1½ tsp cinnamon
1/4 tsp nutmeg
1 C milk
¾ C plain yogurt
1 egg
1 tsp vanilla extract
¼ C butter, melted and cooled
1 C raspberries, halve berries if they are large
1/2 C blackberries, halve berries if they are large
For the Topping
1 C white whole wheat or all-purpose flour
½ C brown sugar
1½ tsp cinnamon
½ C butter, cold
For the Glaze
½ C confectioner's sugar
½ -1 tbsp milk
1-2 raspberries
Instructions
Preheat oven to 350. Spray a muffin tin with non-stick cooking spray or line with cupcake liners.
In a large bowl, whisk together flour, sugars, baking powder, salt, baking soda, cinnamon, and nutmeg.
In a separate bowl, whisk together milk, yogurt, egg, and vanilla extract. Add wet ingredients to dry ingredients and stir until just starting to combine. Add in melted butter and stir batter until just combined. Gently fold in berries.
Divide batter among 12 muffin cups. Depending on the size of your muffin tin, each cup with be 3/4 full to almost completely full.
In a small bowl, whisk together flour, brown sugar, and cinnamon. Cut in butter until mixture resembles coarse crumbs. Top each batter filled cup with a heaping tablespoon (equal to about 2 tablespoons) full of mixture. Lightly press mixture down into batter.
Bake for 20-25 minutes, or until a toothpick inserted in the center comes out clean.
Remove to a wire rack to cool.
While muffins are cooling, prepare glaze. Stir together confectioner's sugar and milk until smooth. Mash in 1-2 raspberries until combined. Drizzle over the top of cooled muffins. Serve.
Recommended Products
As an Amazon Associate and member of other affiliate programs, I earn from qualifying purchases.