Warm, hearty Maple Pecan Pumpkin Baked Oatmeal is filled with pumpkin pie spices and finished off with a pecan streusel topping!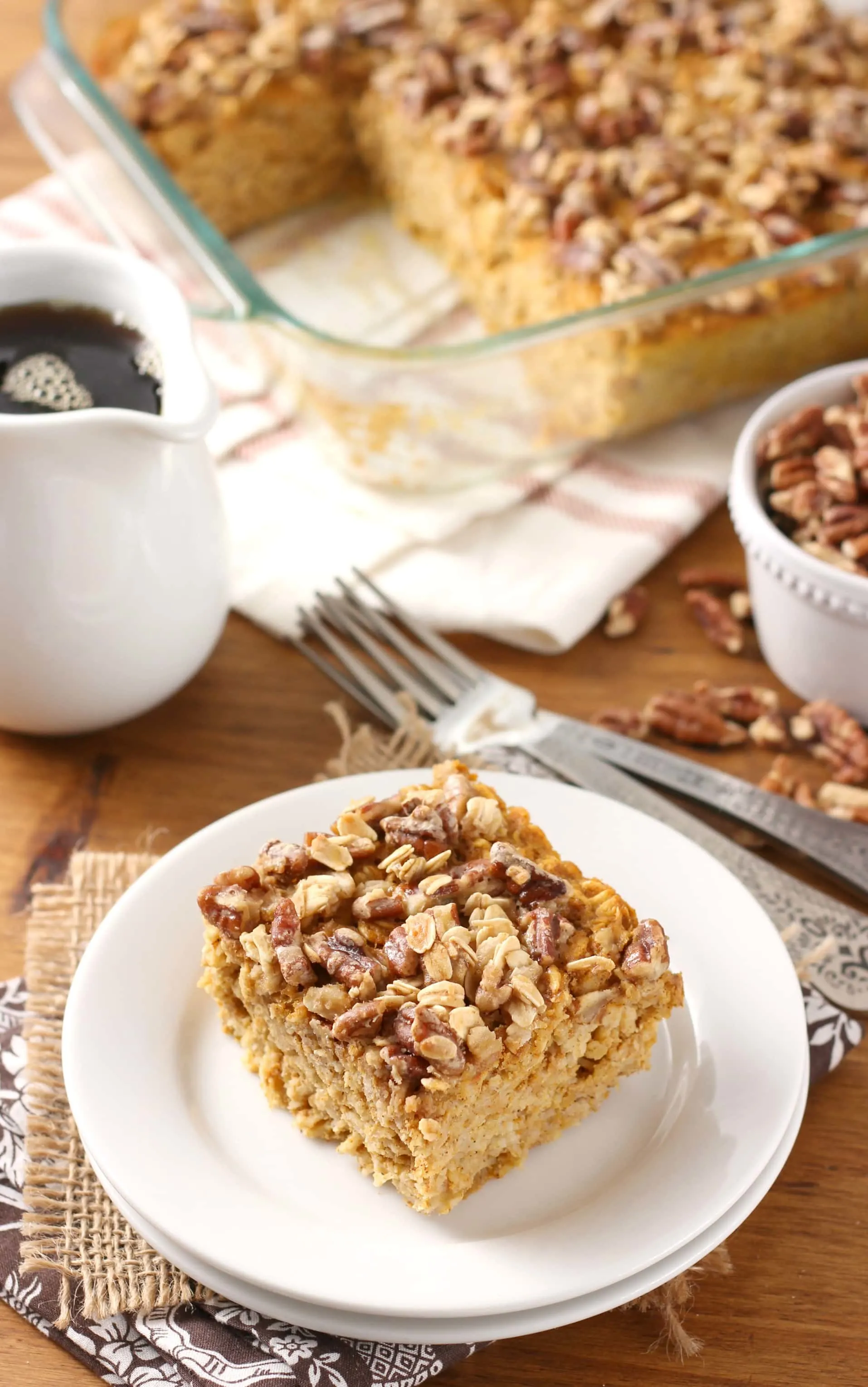 You've probably noticed that baked oatmeal is a favorite around here. I've tried lots of different flavor combinations over the last few years, but this one is special.
After trying this maple pecan pumpkin baked oatmeal for the first time, my husband declared it the best one that I've made.
That's coming from a person who isn't even a big fan of pumpkin in the first place!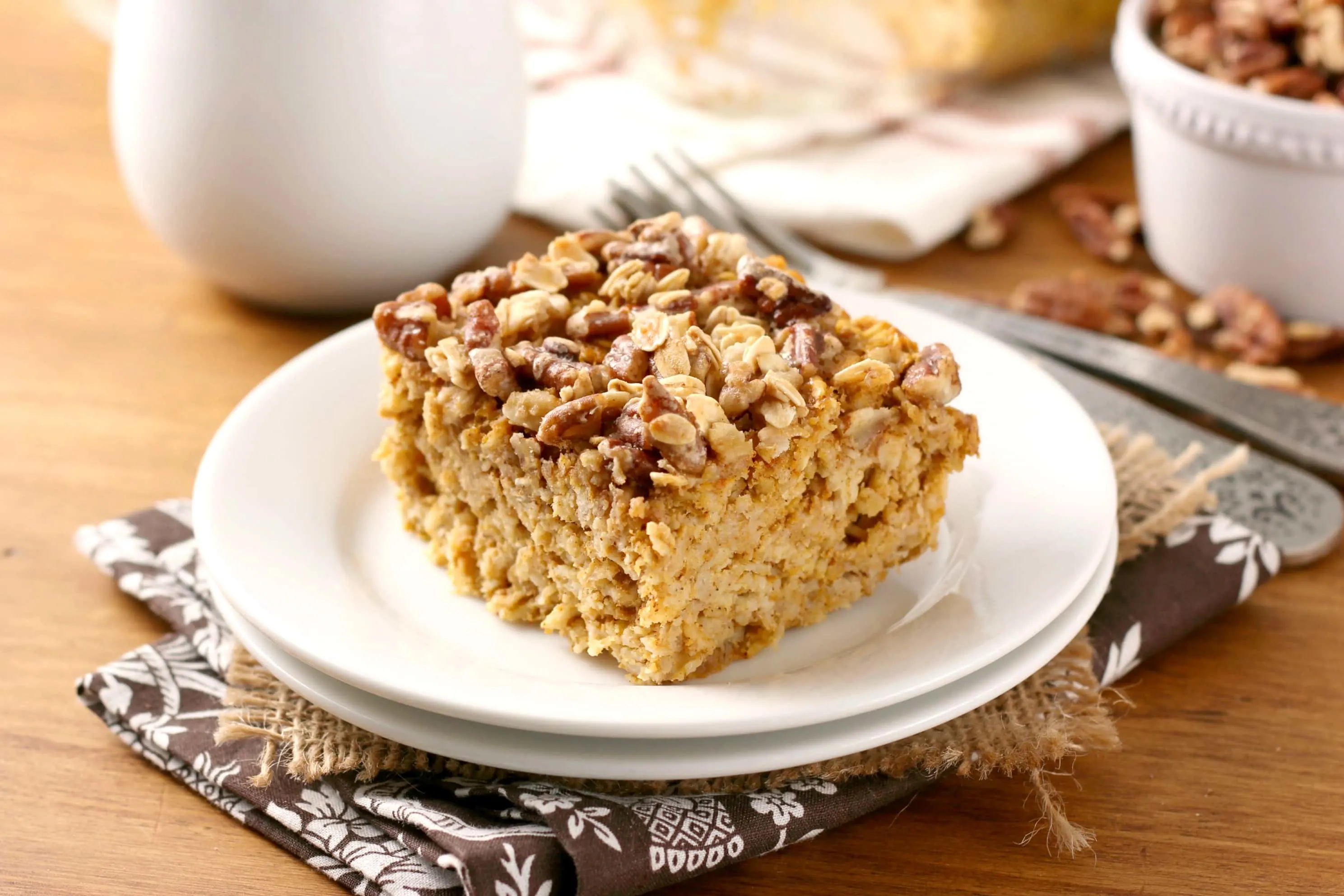 A little over a month ago I took a trip to Ohio courtesy of the American Dairy Association Mideast to learn about all things dairy on their #OHDairyAdventure. What does this have to do with baked oatmeal? One of the things they talked about was ways to incorporate dairy into your diet other than just drinking milk.
Well, baked oatmeal is one way you can do that! This baked oatmeal has both milk and yogurt in it!
As with all of the trips I've been on, I always look forward to meeting with the farmers and seeing first hand how each "industry" is run. We got the opportunity to visit two family farms, both of which were 5th generation farmers.
They talked about their passion to keep their cows healthy and comfortable through their living conditions and diet.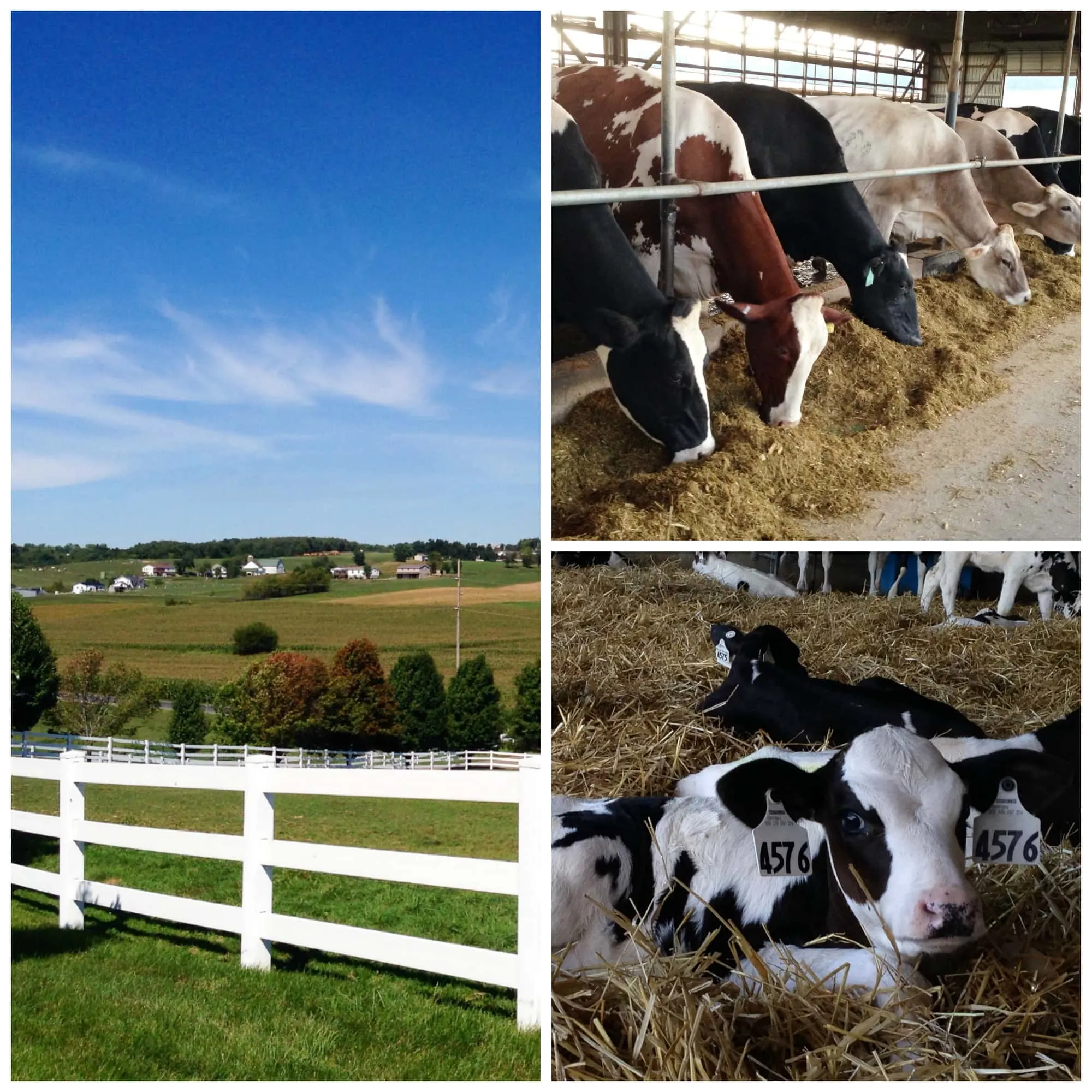 The high standards and guidelines (set by themselves, the creameries they sell to, the government, etc) that they follow ensure that not only are the cows safe, healthy, and comfortable, but also that the consumer will have a safe, healthy product that they can serve their families.
This was seen in how often they change the bedding of the cows, to the testing of the milk, to the specialized diets they feed their cows as needed to make sure they are as healthy as possible.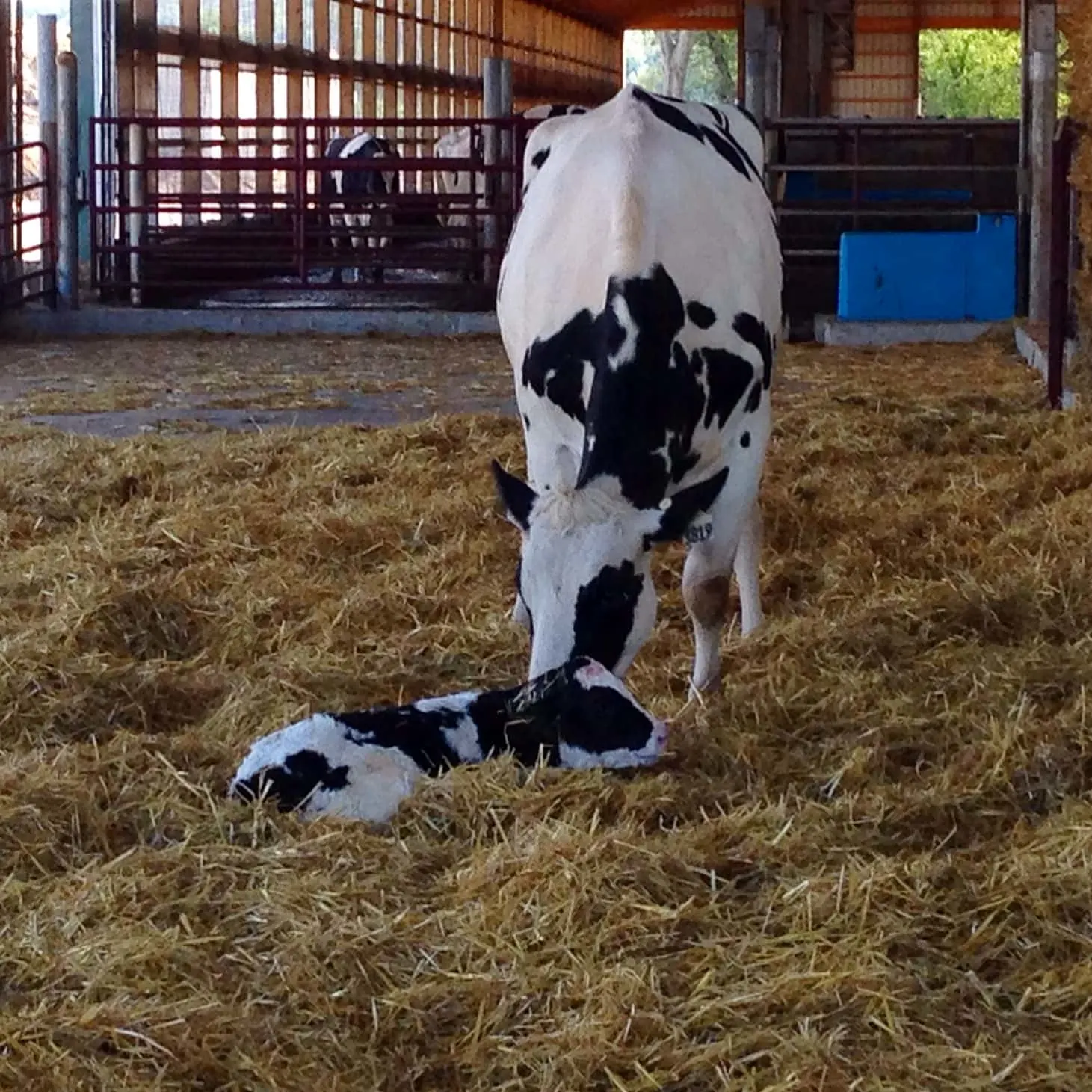 Not only are they passionate about the care of the cows, but they are also passionate about the sustainability of their land and the land around them. Farmers raise crops and feed their cows, the cows produce waste that turns into fertilizer, the fertilizer goes on the crops, and the crops feed the cows.
They are both sustainable and efficient! I definitely walked away with a deep respect for these farmers and their hard work!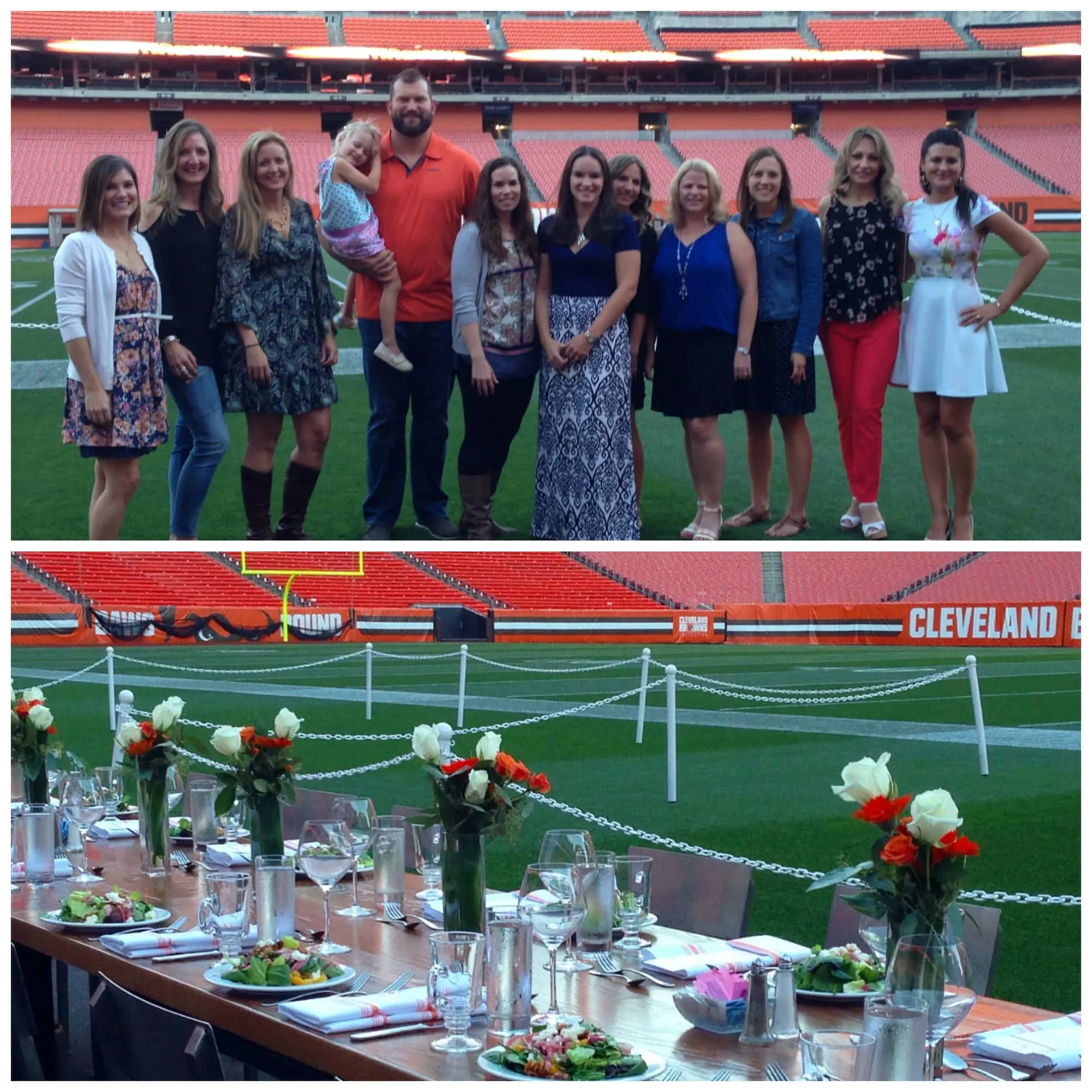 We also spent an evening with Joe Thomas, of the Cleveland Browns, to learn about Fuel Up to Play 60, an in-school nutrition and physical activity program launched by National Dairy Council and NFL to teach kids the importance of good nutrition and being active.
The last morning of the trip we got to spend some time at a local elementary school where we saw first hand how the dairy industry is working to make school meals more nutritious and enjoyable for the students. In this case, we got to see how dairy plays a role in a nutritious breakfast.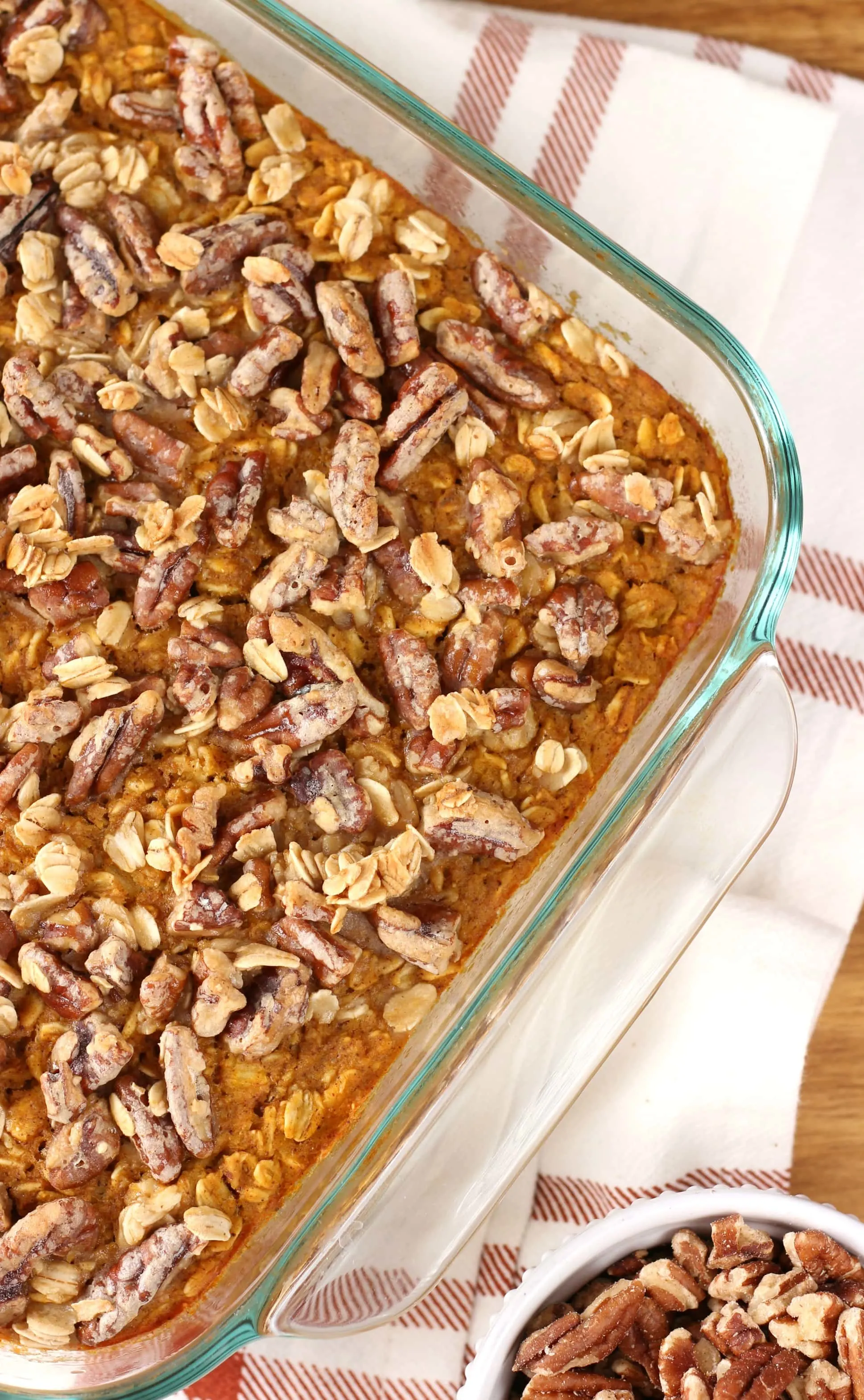 Like this one! With lots of pumpkin, milk, yogurt, and ground flaxseed, this is one breakfast that not only tastes great, but also lets you feel good about serving it to your family. Plus, you don't have to make it right away and serve it.
Make it the day before, minus the topping, pop it in the fridge and pull it out the next morning. All you have to do is quick stir together the topping ingredients and stick it in the oven!
Perfect for busy mornings, lazy mornings, or holiday mornings like Thanksgiving morning!
Maple Pecan Pumpkin Baked Oatmeal
Ingredients
2 1/2 C regular oats
1/4 C ground flaxseed
1 1/2 tsp baking powder
1/2 tsp salt
1 1/2 tsp cinnamon
1/2 tsp nutmeg
1/4 tsp ginger
1/8 tsp cloves
1 1/2 C milk
1 C pumpkin puree (not pumpkin pie filling)
1/2 C plain yogurt
1/4 C maple syrup (or honey)
2 eggs
1 tsp vanilla extract
1 tsp maple extract
For the Topping
1/3 C chopped pecans
3 tbsp regular oats
1 tbsp flour
2 tbsp maple syrup
Instructions
Preheat oven to 350. Spray an 8x8 inch baking dish with non-stick coking spray.
In a large bowl, whisk together oats, flaxseed, baking powder, salt, cinnamon, nutmeg, ginger, and cloves.
In a separate bowl, carefully whisk together milk, pumpkin puree, yogurt, maple syrup, egg, vanilla extract, and maple extract. Add wet ingredients to dry ingredients and stir to combine. Pour batter into prepared baking dish.
In a small bowl, stir together chopped pecans, oats, and flour. Stir in maple syrup until pecan mixture is coated. Sprinkle over the top of oatmeal.
Bake for 30-40 minutes or until toothpick inserted in the center comes out clean. Remove to a wire rack to cool for 10 minutes before cutting into pieces and serving.
Store leftovers in the refrigerator.
Recommended Products
As an Amazon Associate and member of other affiliate programs, I earn from qualifying purchases.