This Strawberry Swirled Cheesecake Ice Cream is complete with fresh strawberry filling, crushed graham crackers, and lots of cream cheese!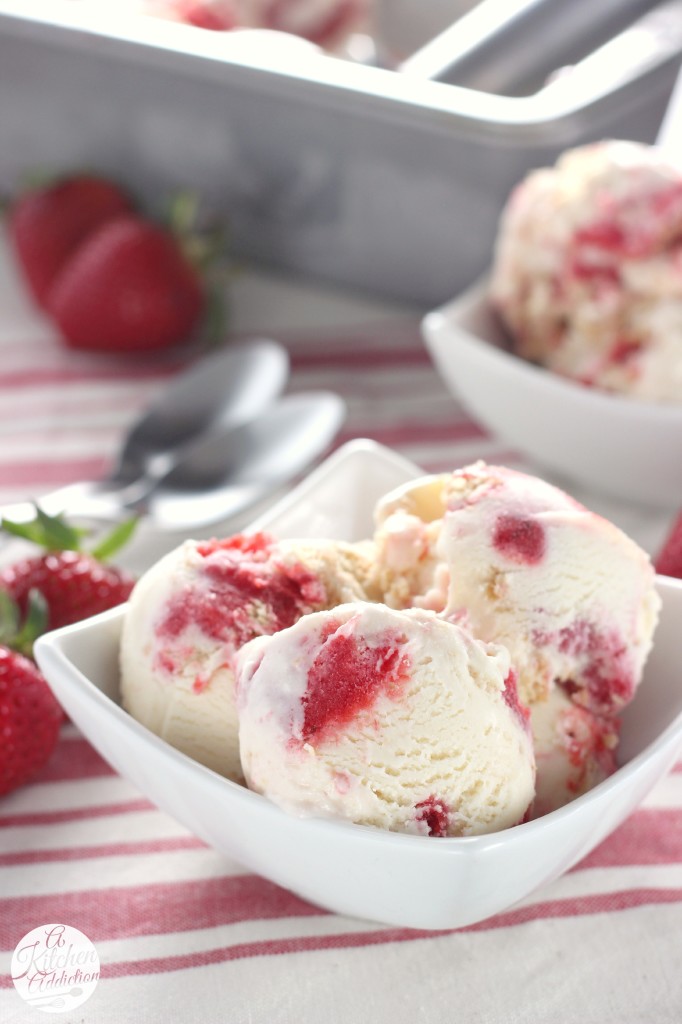 Happy first day of spring! As you can tell by the title I am ready for ice cream, especially ice cream that involves fresh strawberries! Of course, my husband and I eat ice cream all year long.
I'm pretty sure we had a few conversations this winter that were somewhere along the lines of. . ."Why do we always feel the need to get ice cream on the coldest day of the year?!" Which is then followed by teeth chattering and the need to turn up the heat in the car. We just like ice cream. But it's a lot nicer when it doesn't make you shiver!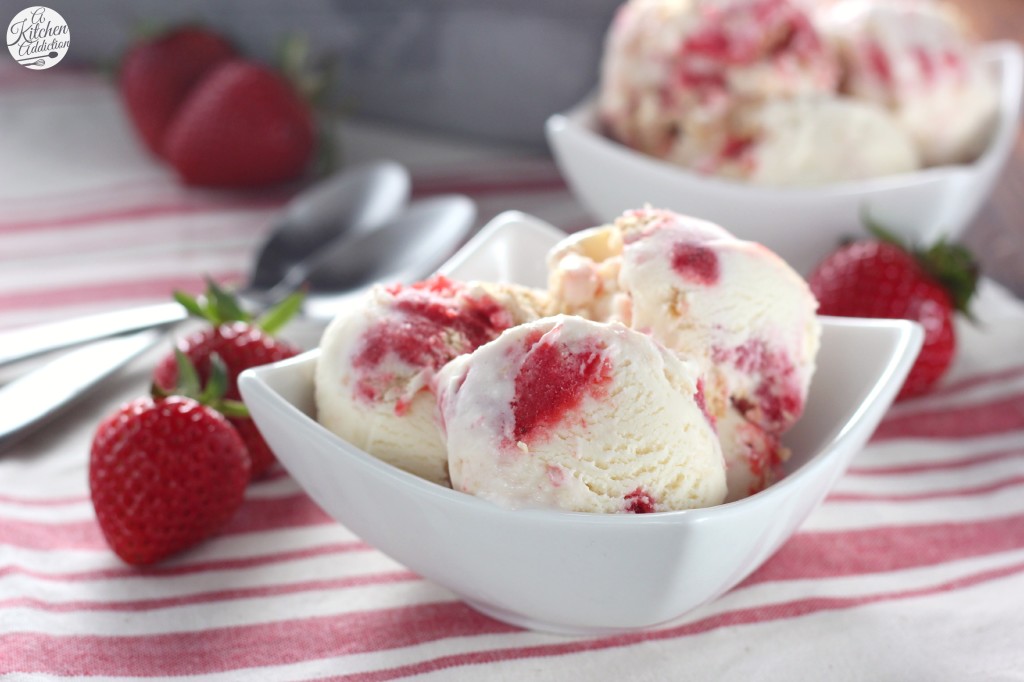 To kick off the start of spring and, therefore, the ability to not shiver while eating ice cream, I made a batch of strawberry swirled cheesecake ice cream. This ice cream starts off with a simple no-cook base that is mixed with a block of cream cheese.
It would be good enough just like that, but it's even better when a fresh strawberry filling and crushed graham crackers are swirled throughout right before the finishing freeze!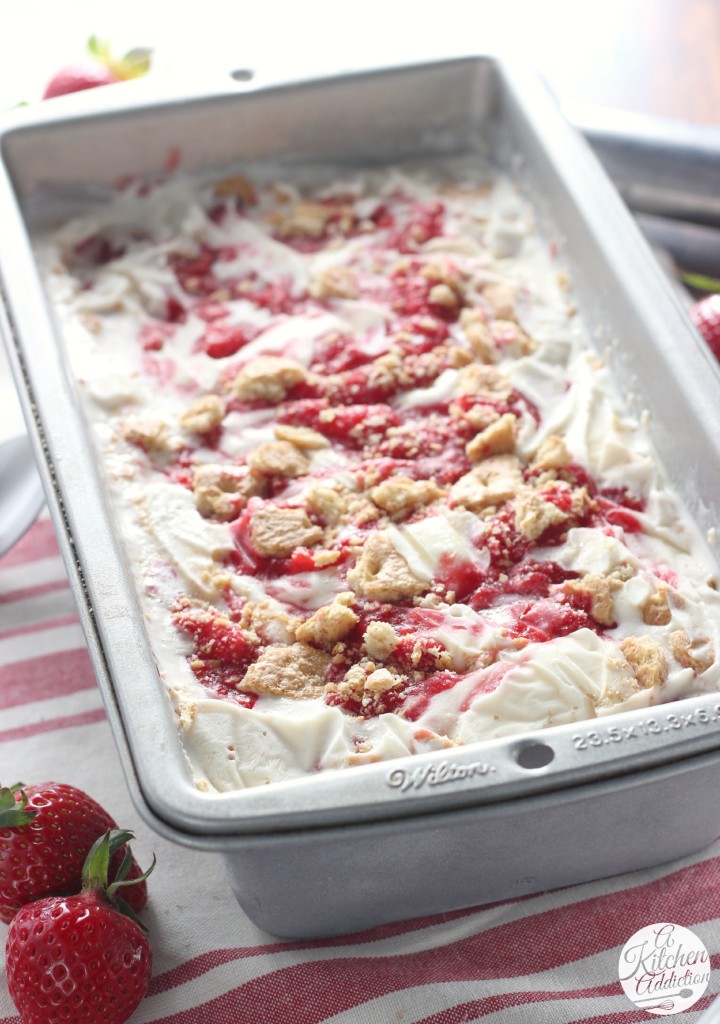 The filling is a slight modification of my strawberry graham toaster pastries filling (so I highly recommend making a double batch and whipping up a batch of toaster pastries while the ice cream is churning!) and is simply strawberries reduced with some sugar and lemon juice to add a bright, fresh flavor to the ice cream.
The result is a rich, creamy ice cream that will make you think of the warm weather ahead. Now excuse me while I go turn up the heat, wrap up in a blanket and dig into a bowl of ice cream!

Strawberry Swirled Cheesecake Ice Cream
Author:
A Kitchen Addiction
Ingredients
For the Strawberry Swirl
1½ C chopped strawberries
¼ C sugar
1 tbsp fresh lemon juice
1 tbsp cornstarch (mixed with 1 tbsp cold water)
For the Ice Cream
14 oz sweetened condensed milk, chilled
8 oz cream cheese, softened
1½ tsp vanilla extract
⅛ tsp salt
2 C milk (the higher the fat content, the creamier the ice cream)
½ C crushed graham crackers
Instructions
In a small saucepan, stir together strawberries, sugar, and lemon juice. Bring to a boil over medium heat. Reduce heat to medium-low and allow to simmer for 10 minutes. Stir in cornstarch and simmer for another 5 minutes. Remove from heat.
Allow to cool slightly and pour into heat-safe container. Refrigerate for 1 hour or prepare the day before and refrigerate until needed.
In a food processor or blender, pulse or blend together sweetened condensed milk, cream cheese, vanilla extract, and salt until smooth.
Transfer to a large bowl. Gently whisk in milk.
Pour milk mixture into ice cream makerand churn according to manufacturer's instructions.
When ice cream is soft-set, pour half into a freezer safe container. Spoon half of the strawberry mixture and half of the crushed graham crackers over the top. Swirl through the strawberry mixture with a knife. Spread remaining ice cream over the top. Top with remaining strawberry mixture and crushed graham crackers. Swirl through ice cream using a knife.
Freeze until desired consistency is reached.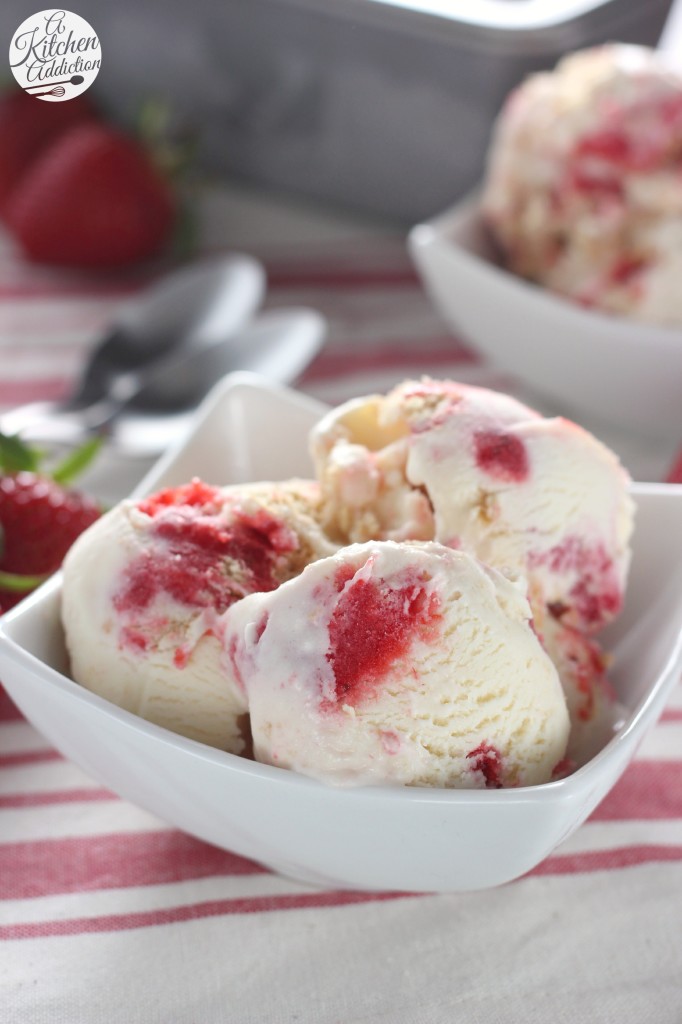 *This post contains affiliate links.*