Sweet, summer strawberries and creamy cheesecake are sandwiched between layers of snickerdoodle cookies to create these irresistible Strawberry Snickerdoodle Cheesecake Bars!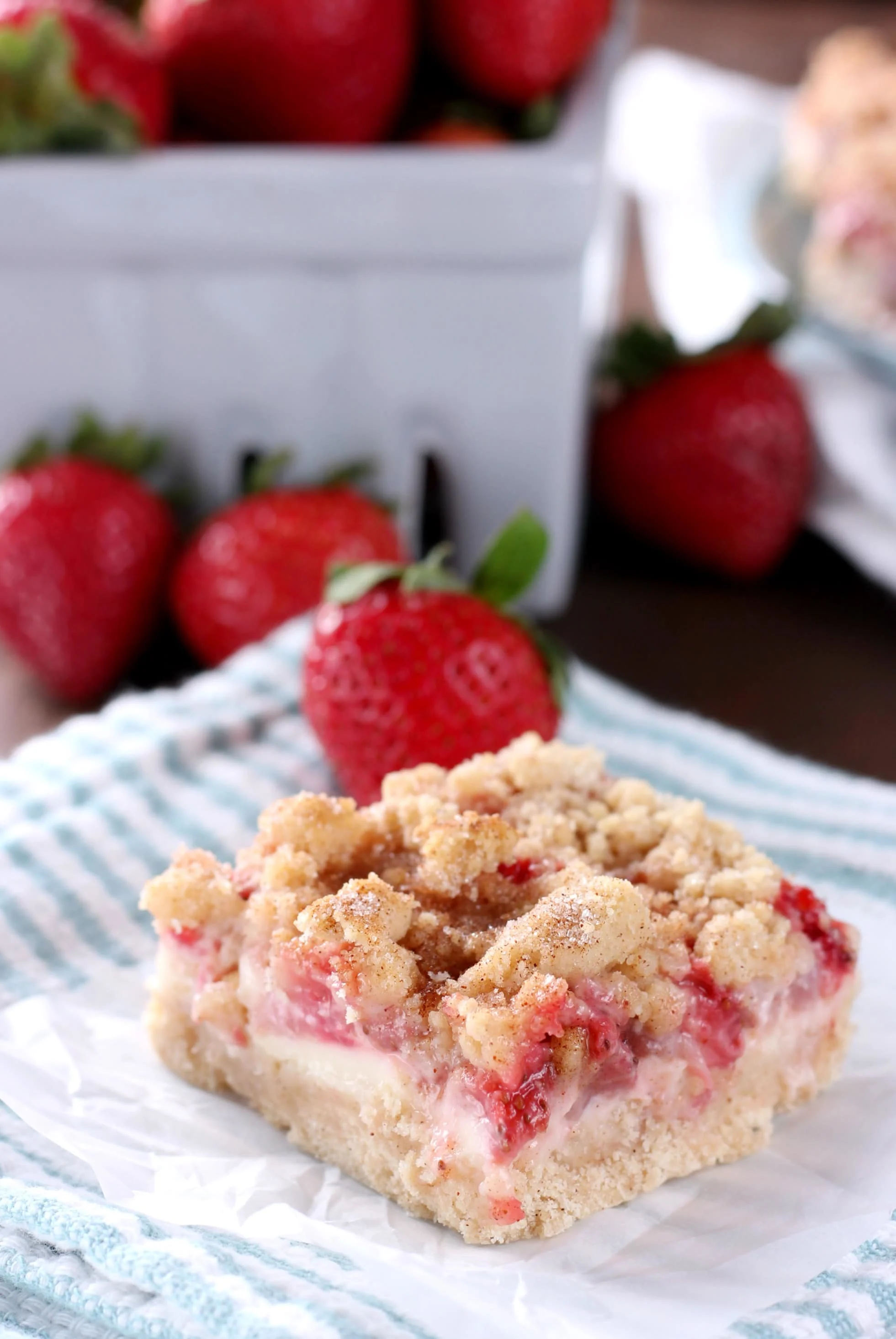 Costco got me again! It happens every year. I see those pallets and pallets of fresh berries, and I can't resist.
I always have a bunch of recipe ideas swirling around in my head, and I think about all the recipes I can try with the fresh berries in front of me!
This last trip had us coming home with pounds of strawberries and blueberries. Obviously some baking needed to be done in order to use them before they went bad since we can't finish them all by just eating them fresh!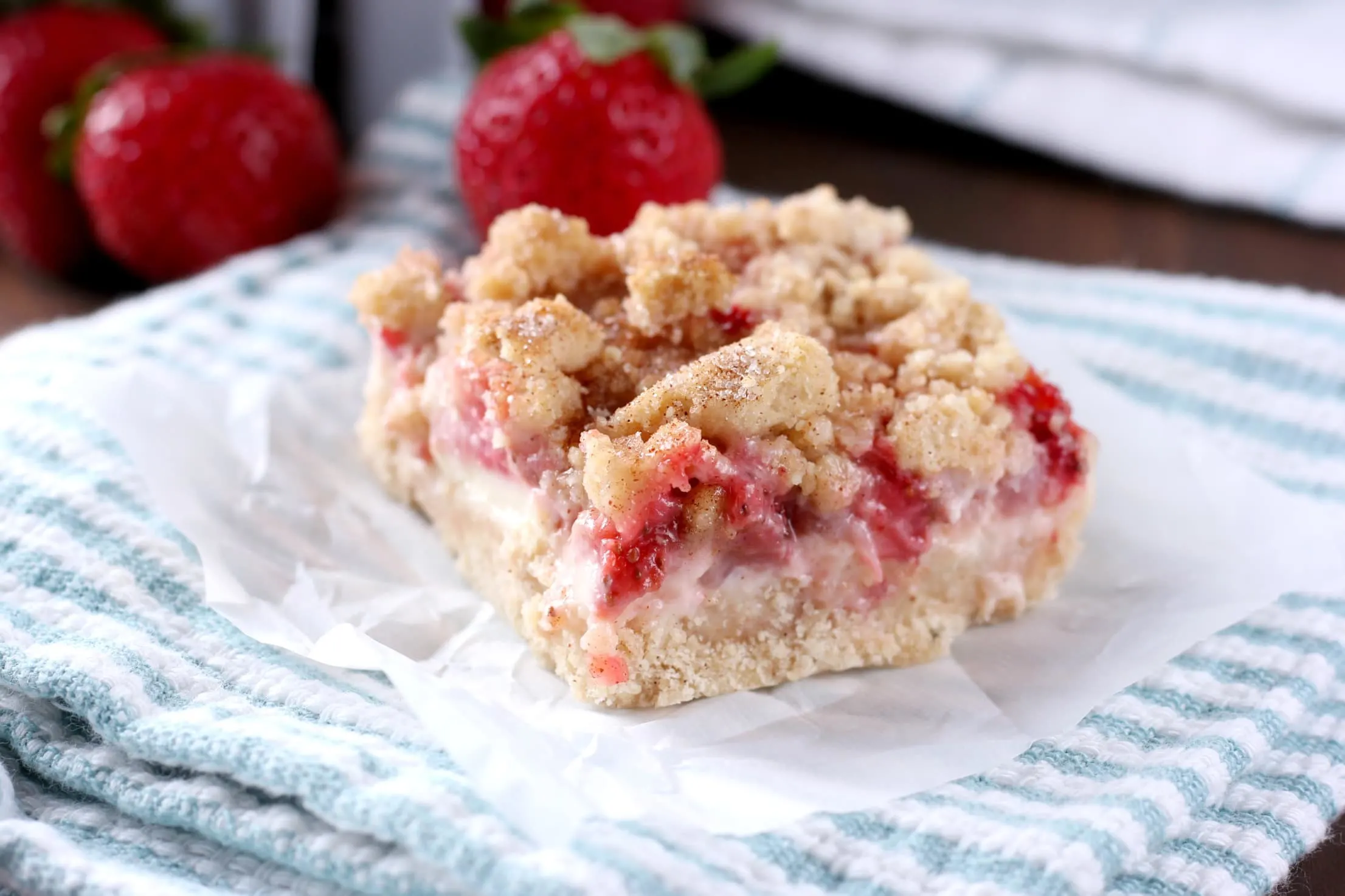 I've been wanting to make a berry version of these caramel apple snickerdoodle cheesecake bars for awhile, so it seemed like a good time to finally make that happen!
Sweet, summer strawberries pair with creamy cheesecake to create the perfect filling to these snickerdoodle cookie bars!
The list of ingredients is a little long, but don't let that scare you away. The directions aren't that difficult. It just takes a couple of steps.
Make the cookie dough, make the strawberry filling, and make the cheesecake filling. Then all you have to do is assemble the bars.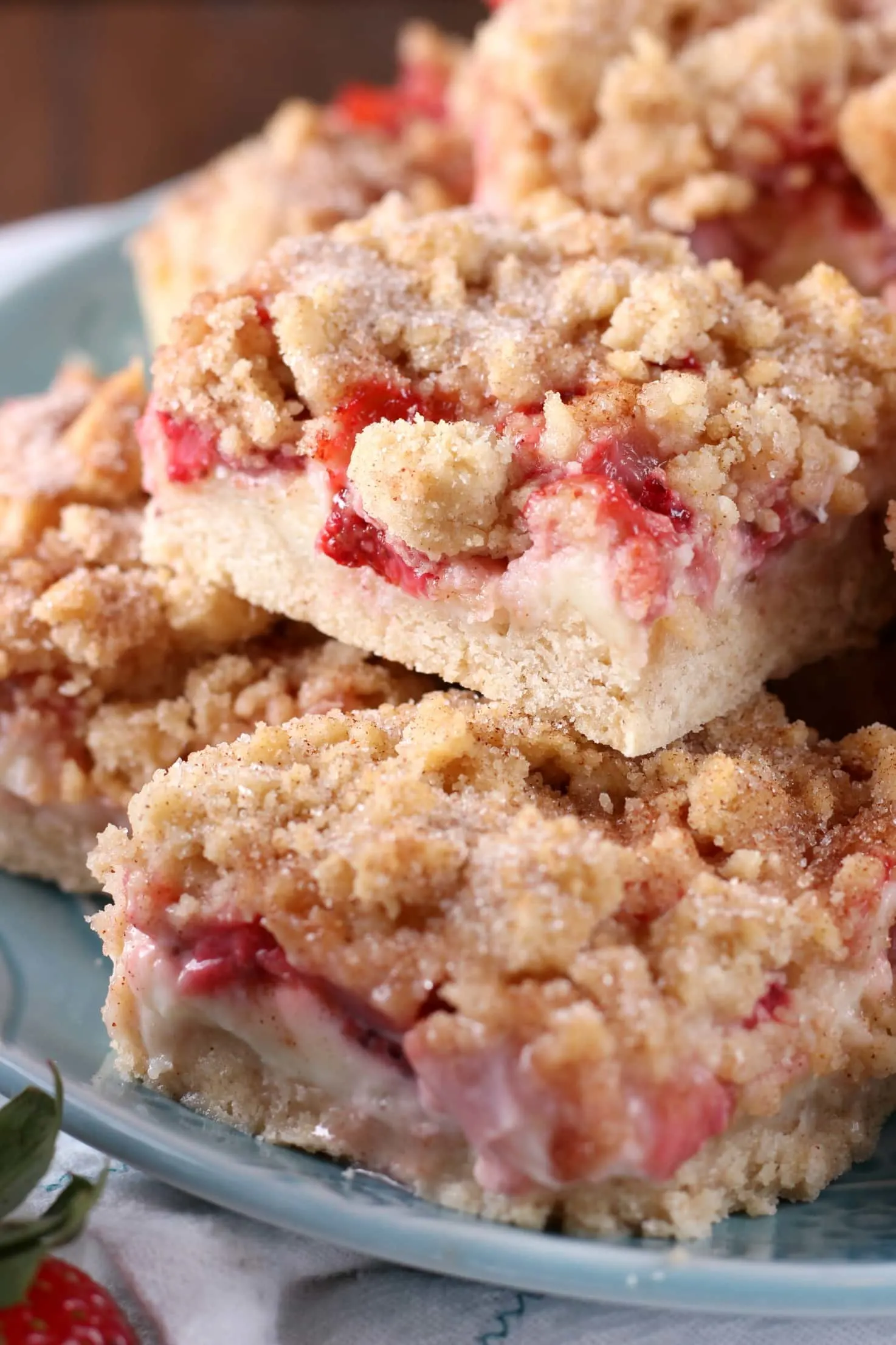 That and wait for the bars to bake and cool. They really do need to cool for at least the 4 hours noted in the directions. You can eat them earlier but the cheesecake won't be completely set and the flavors won't have completely blended.
We actually found that we liked the flavor of the bars the next day even better!
So if you have a berry hoarding problem like me, put those berries to good use and make a batch of these strawberry snickerdoodle cheesecake bars!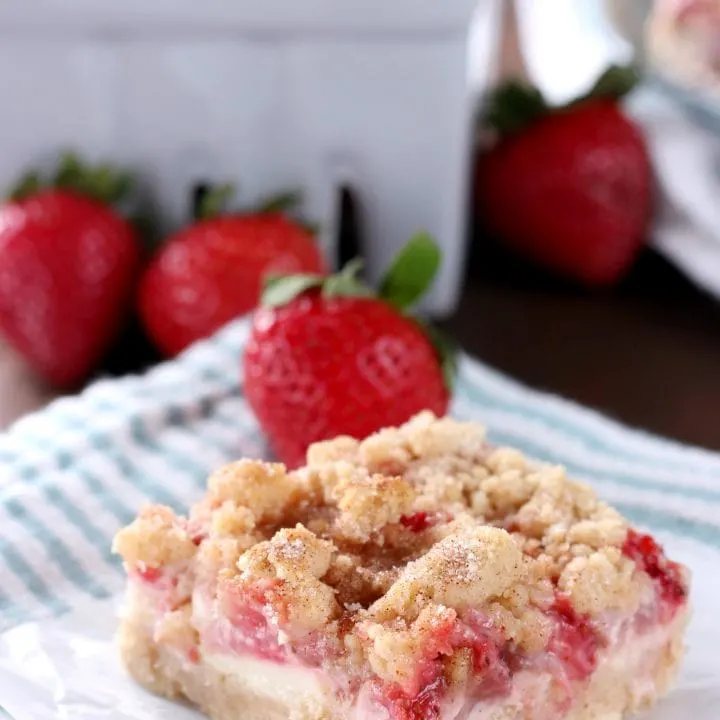 Strawberry Snickerdoodle Cheesecake Bars
Yield:
16 cheesecake bars
Refrigeration Time:
4 hours
Total Time:
4 hours
50 minutes
Ingredients
For the Cookie Layers
6 tbsp butter, room temperature
1/2 C sugar
1 egg
1 1/2 tsp vanilla extract
2 C all-purpose flour
1 tsp cream of tartar
1 tsp cinnamon
1 tsp baking powder
1/2 tsp salt
For the Strawberry Filling
1 1/2 C fresh strawberries cut into small pieces
2 tbsp sugar
1 1/2 tsp cornstarch
1/2 tsp cinnamon
For the Cheesecake Layer
8 oz cream cheese, softened
1/2 C sugar
1 egg
1 tsp vanilla extract
Cinnamon Sugar
2 tbsp sugar
1/2 tsp cinnamon
Instructions
Preheat oven to 350. Spray a 9x9 inch baking dish with non-stick cooking spray.
In the bowl of a stand mixer, or with an electric mixer, cream together butter and sugar. Beat in egg and vanilla extract until creamy.
In a separate bowl, whisk together flour, cream of tartar, cinnamon, baking powder, and salt. Add dry ingredients to wet ingredients and beat until combined. Dough will appear dry but should hold together when pressed. Set aside.
In a small bowl, gently toss strawberries, sugar, cornstarch, and cinnamon together. Set aside.
Prepare cheesecake layer by beating together cream cheese, sugar, egg, and vanilla extract together until creamy.
Press half of cookie dough mixture into the bottom of the prepared baking dish. Pour cheesecake mixture over the top. With a slotted spoon, spoon strawberry mixture over the top. (You can let some of the juice from the strawberries get on the cheesecake layer, but if you spoon all of the juice over the top, the cheesecake layer will be soggy and won't set.)
Drop remaining cookie dough over the top. Stir together cinnamon and sugar and sprinkle over the top.
Bake for 25-30 minutes or until edges turn light golden brown and center is set.
Refrigerate for at least 4 hours before serving to allow cheesecake to set and flavors to blend.
Store leftovers in the refrigerator.
Notes
This recipe can be easily doubled for a 9x13 pan. Add about an additional 10 minutes to the bake time.
Recommended Products
As an Amazon Associate and member of other affiliate programs, I earn from qualifying purchases.