This Peaches and Cream cake is made up of fresh peaches that are sandwiched between layers of cake flavored with hints of cinnamon and ginger and topped with a creamy vanilla glaze! A perfect summery dessert or addition to brunch!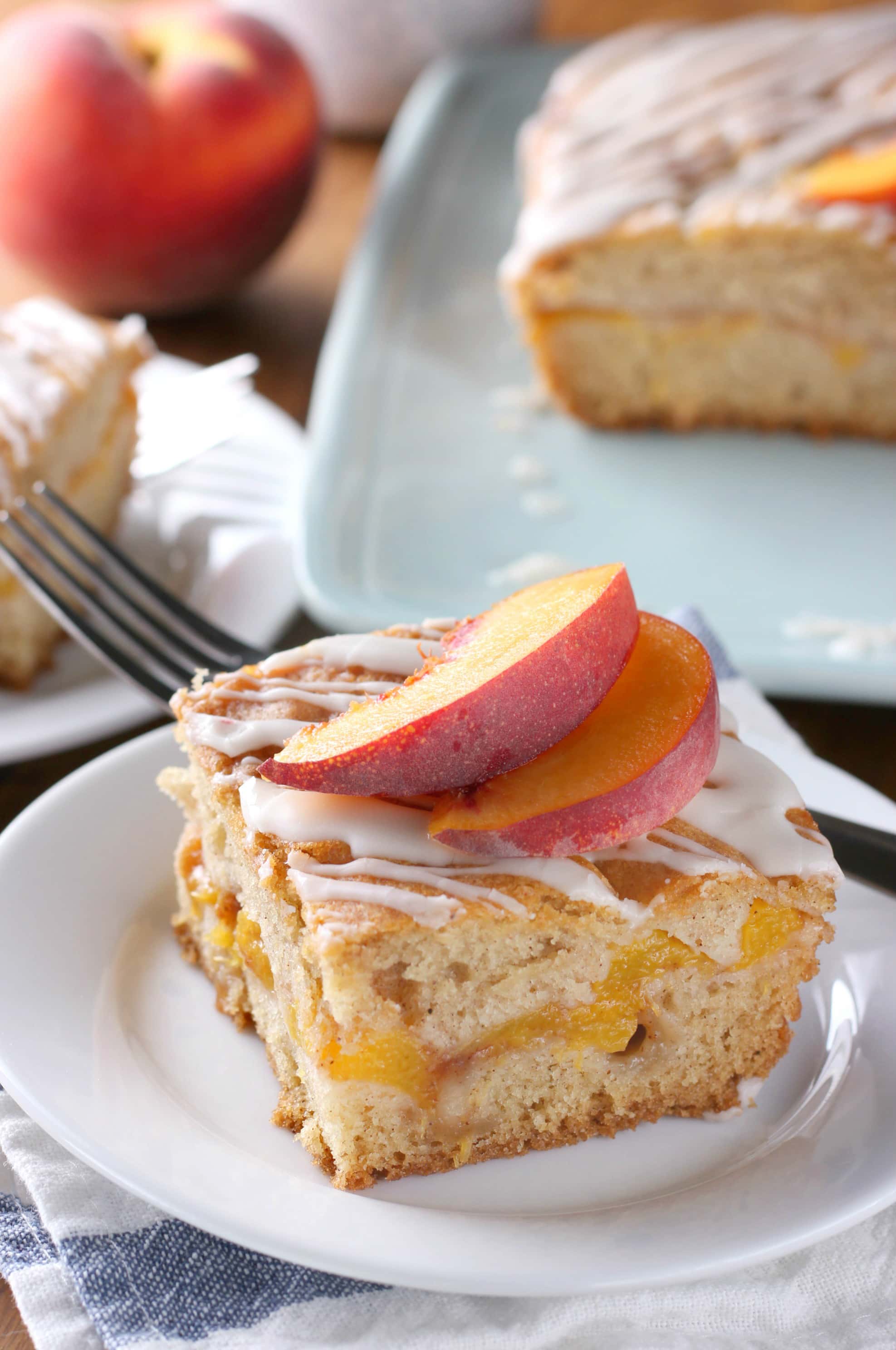 *Recipe and text from 06/10/13. Images updated 07/18/17.
Fresh peaches remind me of summer and our grocery stores have just started displaying all of the different varieties. Since the official start of summer is just days away, I figured it was about time that I started making good use of the abundance of peaches.
Though I usually prefer eating peaches raw or grilled, this cake is one that even I had a hard time stopping at one piece!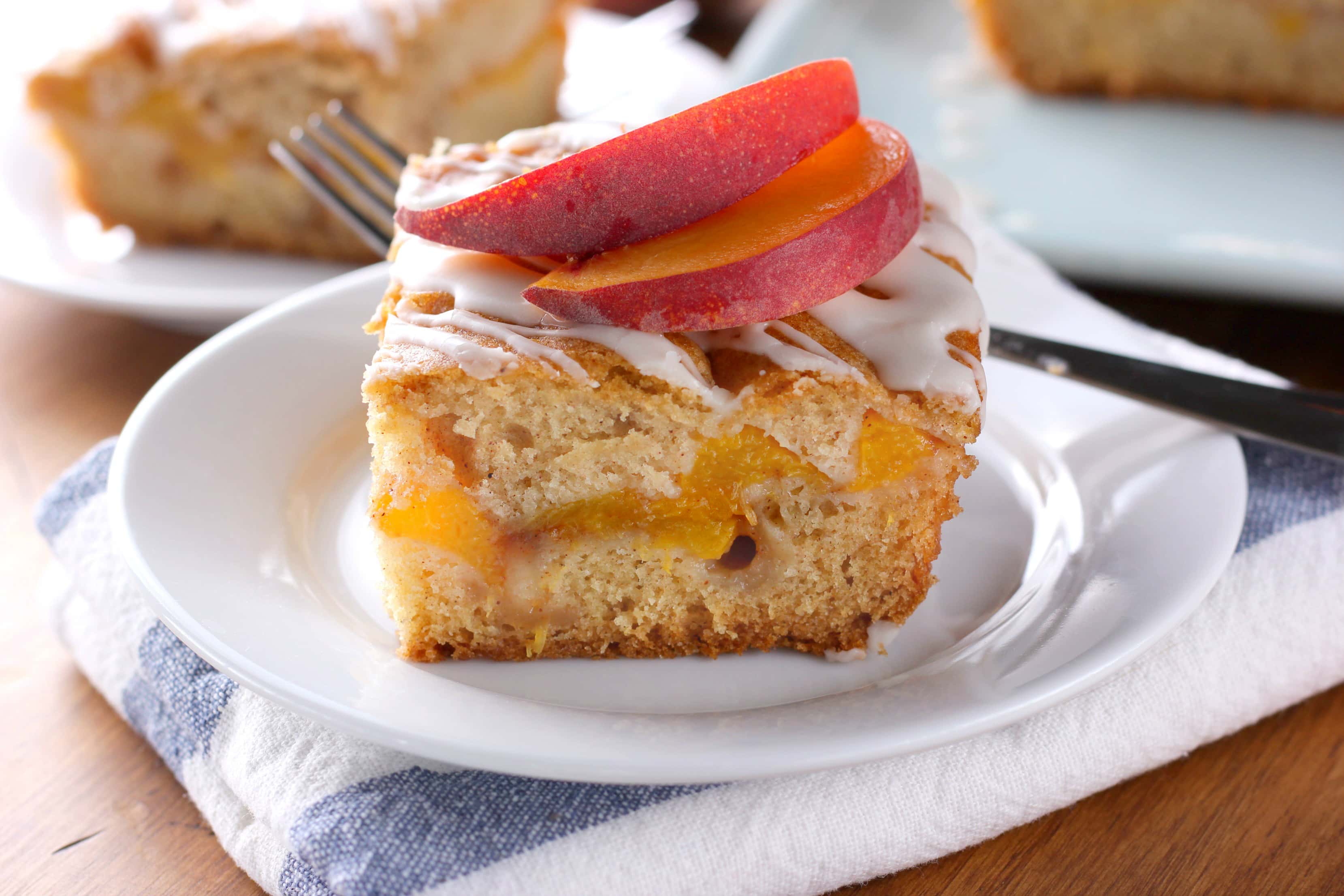 Fresh, juicy peaches are tossed with brown sugar and spices to bring out the peaches' natural sweetness. The cake is more dense than your average cake and almost has the texture of a pastry bread. It has a hint of cinnamon, nutmeg, and ginger to heighten the flavors found in the filling.
The cake is topped with a creamy vanilla glaze that brings the cream aspect of the favorite peaches and cream combination.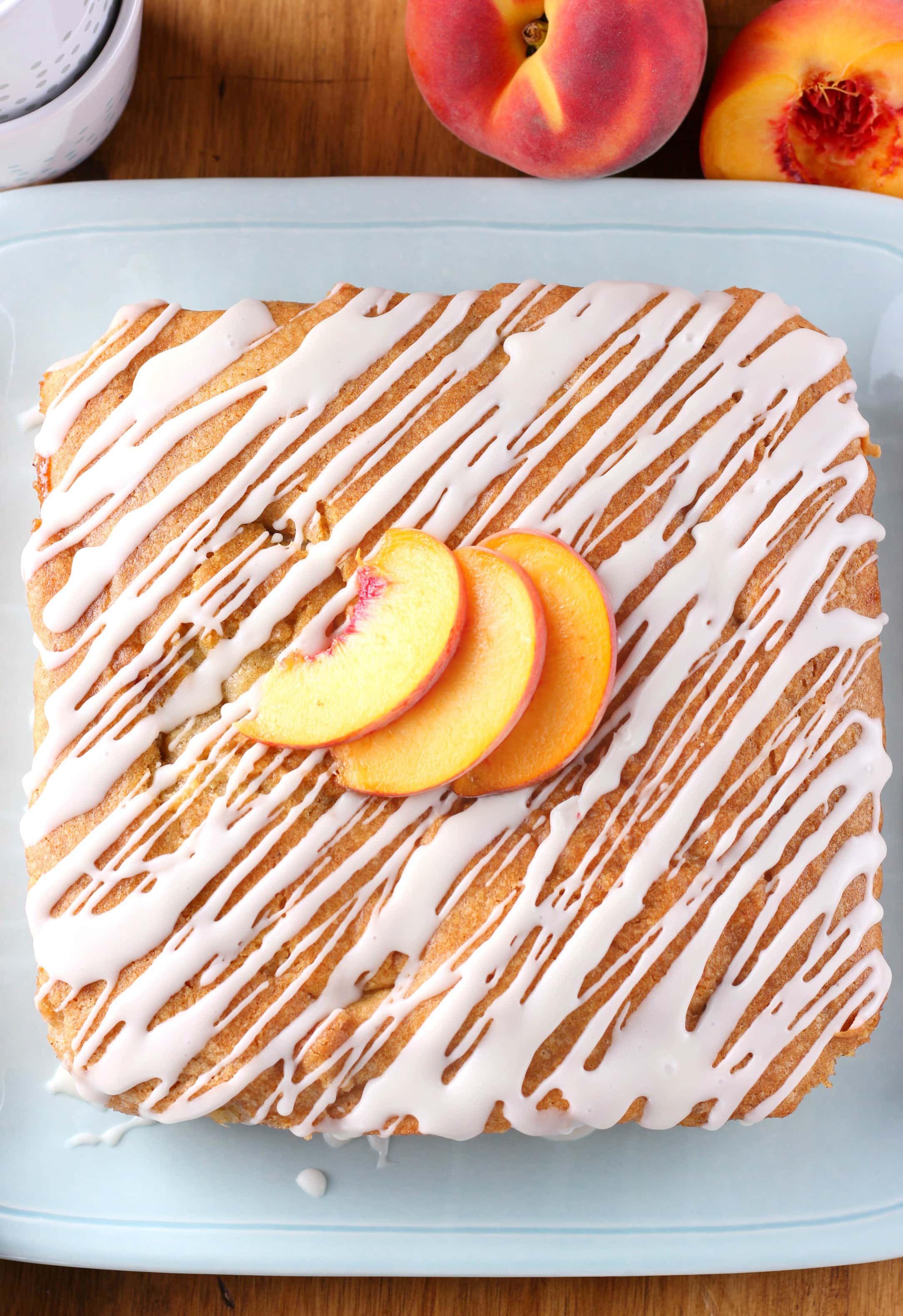 Since it's not overly sweet, this cake makes a great addition to brunch along with being a summery dessert. If you don't want the sweet glaze for breakfast, feel free to leave it off.
However, I strongly recommend that you don't skip it! The creamy sweetness is a perfect topping to this fresh peach cake.
Grab a slice for breakfast and sneak another slice for dessert!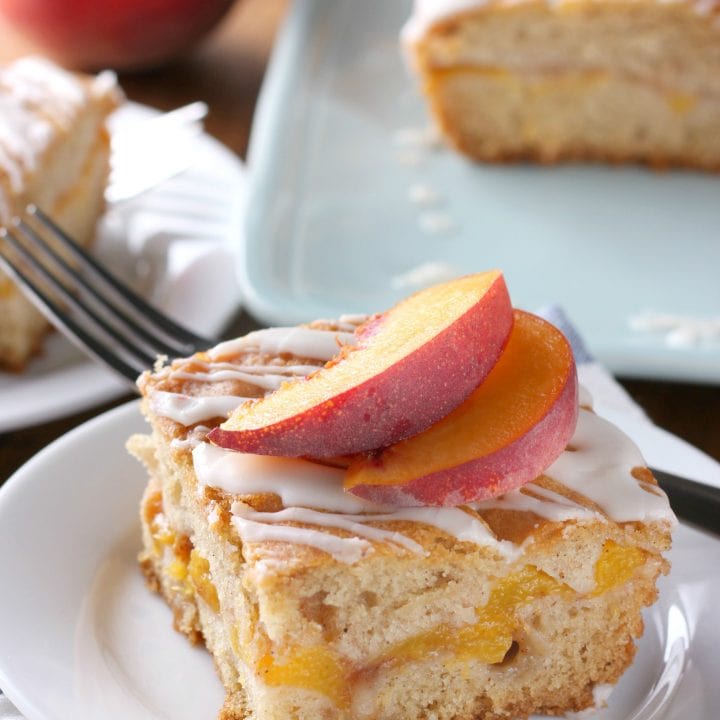 Peaches and Cream Cake
Ingredients
For the Cake
1/2 C butter, softened
3/4 C sugar
2 eggs
2 tbsp milk
1 tsp vanilla extract
1 1/2 C flour
1/2 tsp baking soda
1/2 tsp cinnamon
1/4 tsp nutmeg
1/4 tsp ginger
1/4 tsp salt
For the Filling
1 1/2 C fresh peaches, peeled and sliced
1/4 tsp fresh lemon juice
2 tbsp brown sugar
1/2 tsp cinnamon
1/4 tsp nutmeg
1/4 tsp ginger
1/4 tsp vanilla extract
For the Glaze
3/4 C confectioner's sugar
1 tbsp milk
1 tsp vanilla extract
Instructions
Preheat oven to 350. Line an 8x8 inch baking dish with aluminum foil and spray with non-stick cooking spray or line with parchment paper.
In the bowl of a stand mixer, cream together butter and sugar. Add in eggs, one at a time and beat until creamy. Scrape down sides of bowl as needed. Beat in milk and vanilla.
Add flour, baking soda, cinnamon, nutmeg, ginger, and salt. Beat until just combined.
In a separate bowl, mix together all ingredients for filling.
Spread half of batter into the bottom of prepared baking dish. Evenly distribute peach filling over the top. Drop remaining batter by tablespoonfuls over peaches. Gently spread batter over peaches.
Bake for 30-35 minutes or until edges just start to turn golden brown and toothpick inserted into the center comes out clean.
Remove to a wire rack to cool.
While cake is cooling, stir together ingredients for glaze. Drizzle glaze over the top of the cooled cake.
Recommended Products
As an Amazon Associate and member of other affiliate programs, I earn from qualifying purchases.