It's been clean out the cupboards and pantry week at our house. Do you ever do that? You look in the cupboards and pantry and find all kinds of half opened bags/containers of food that you just want to use up!
I've been in that mode this week, and I found a bag of shredded coconut and a package of freeze dried strawberries that I could no longer remember what I had originally intended to make with them.
So, this strawberry coconut yogurt quick bread was made instead!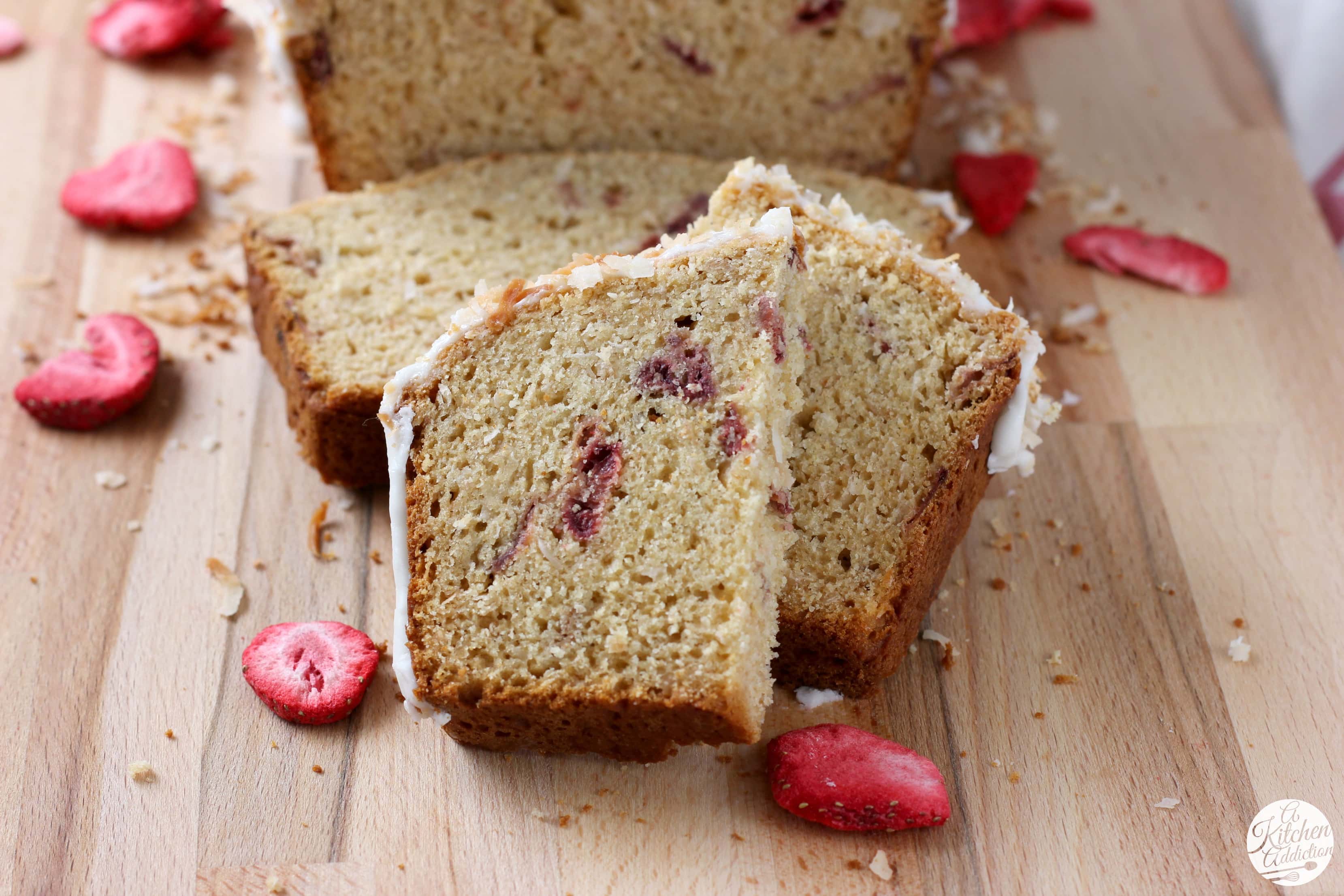 A quick and easy bread sweetened with honey and filled with lots of toasted coconut and freeze dried strawberries, this bread takes hardly any time at all to throw together. The hardest part is waiting for it to finish baking.
That, or deciding whether or not to wait for it to cool completely before glazing the bread or taking a chance of a melty mess and just glazing it right away and digging in!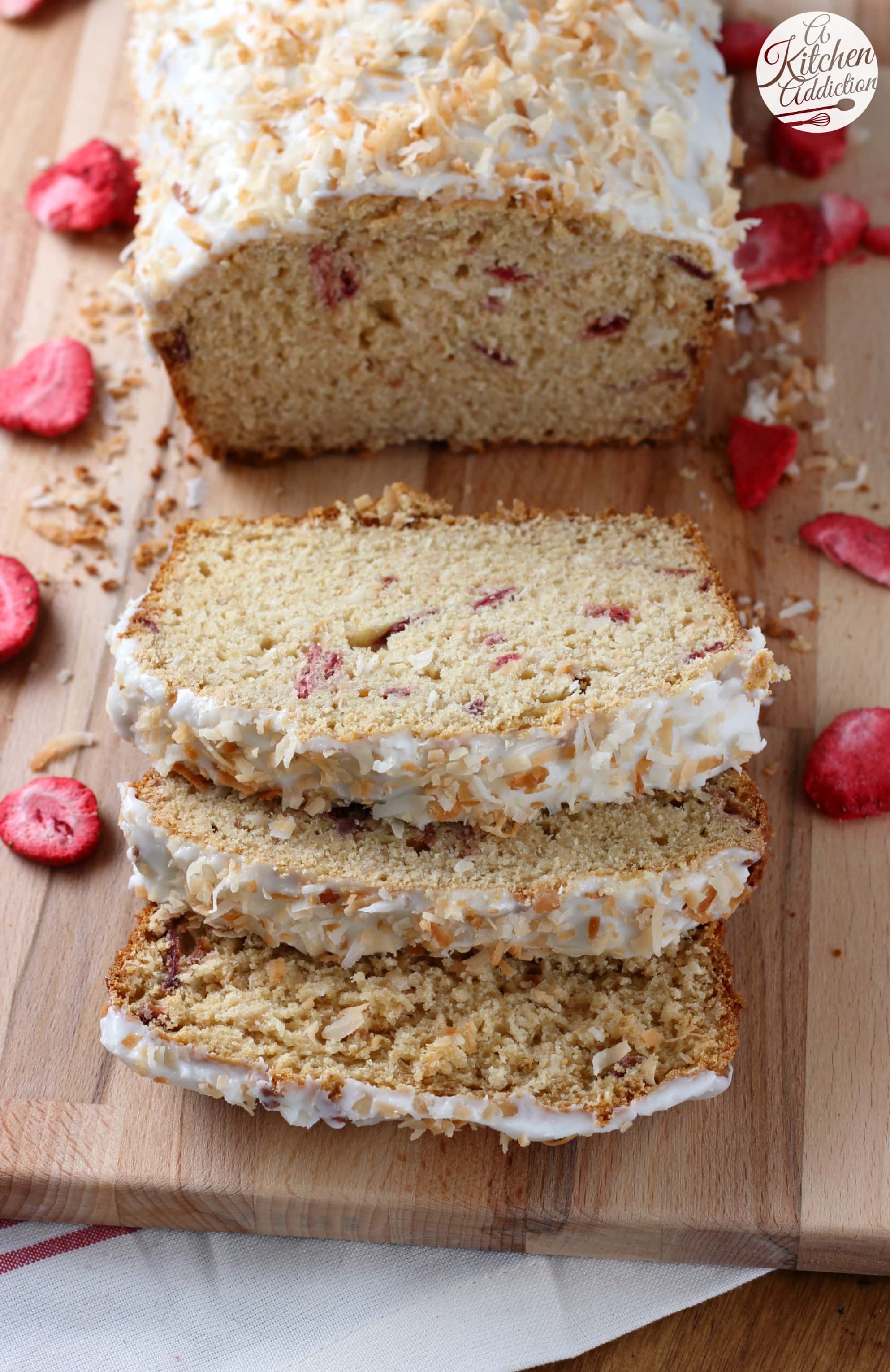 As noted in the ingredient list, I toasted the coconut to give the bread a bit of texture and to keep it from being chewy. If you don't want to take the time to toast the coconut, you don't have to.
Just know that the texture might be a bit on the chewy side. Plus, the toasted coconut gives the bread a slight nutty flavor that I love!
Have a piece for breakfast, take a piece for an afternoon snack, or curb your evening hunger with a thick piece. You may want to make a double batch, because this bread won't last long!
Strawberry Coconut Yogurt Quick Bread
Author:
Ingredients
For the Bread
1 1/2 C white whole wheat flour
1 C all-purpose flour
2 tsp baking powder
1/2 tsp baking soda
1/2 tsp salt
1 C plain yogurt
1/3 C honey
1/4 C milk of your choice
2 tbsp olive oil/canola oil
2 eggs
1 tsp vanilla extract
1 C toasted sweetened shredded coconut
1 C freeze dried strawberries
For the Glaze
1 C confectioner's sugar
1 tbsp + 1 tsp milk
1 tsp vanilla extract
2 tbsp toasted sweetened shredded coconut
Instructions
Preheat oven to 350. Spray a 9×5 inch loaf pan with non-stick cooking spray.
In a large bowl, whisk together flours, baking powder, baking soda, and salt.
In a medium bowl, whisk together yogurt, honey, milk, oil, eggs, and vanilla extract. Add wet ingredients to dry ingredients and stir until just combined.
Stir in toasted coconut and freeze dried strawberries.
Spread batter into prepared loaf pan. Bake for 50-55 minutes, or until toothpick inserted in the center comes out mostly clean.
Remove to a wire rack to cool. Stir together confectioner's sugar, milk, and vanilla extract until smooth. Spread glaze over the top of cooled bread. Sprinkle with additional toasted coconut.
Allow glaze to harden and serve.