Just like Easter this year, I feel like Mother's Day has crept up on me without much warning! Do you have plans? If you're not the one being pampered and need some ideas for a treat for the moms in your lives, I have a delicious one for you! I won't be with my mom on Mother's Day, but if I was, we would drink coffee and enjoy big slices of this cream cheese swirled lemon coffee cake!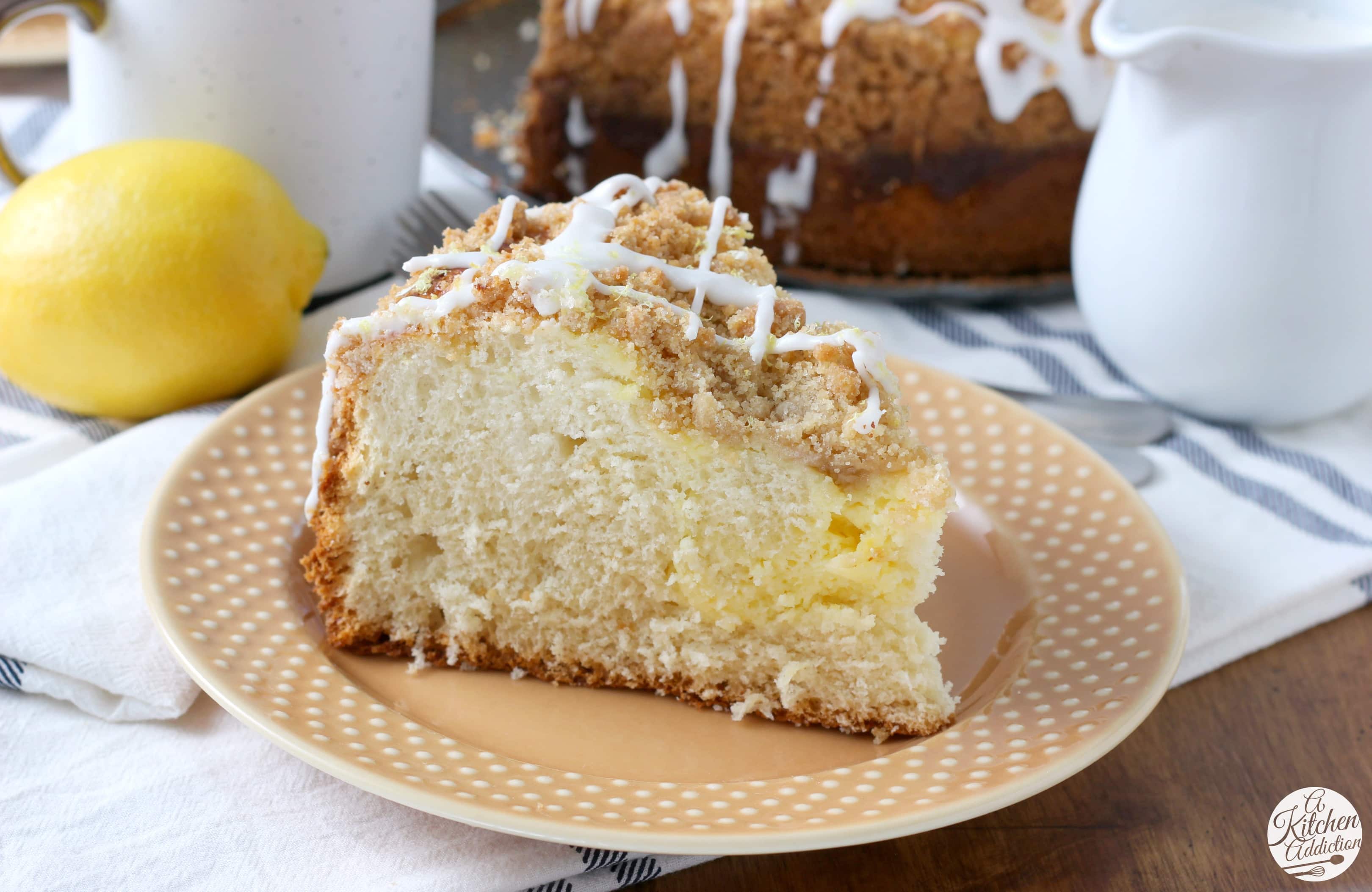 I love lemon. That's been pretty evident that last couple of months on the blog! So, when I decided to try yeasted coffee cakes for the first time, there wasn't much of a question in my mind about what flavor to try first! Of course, coffee cake is always good with a swirl of cream cheese, so I added one in to this one, as well.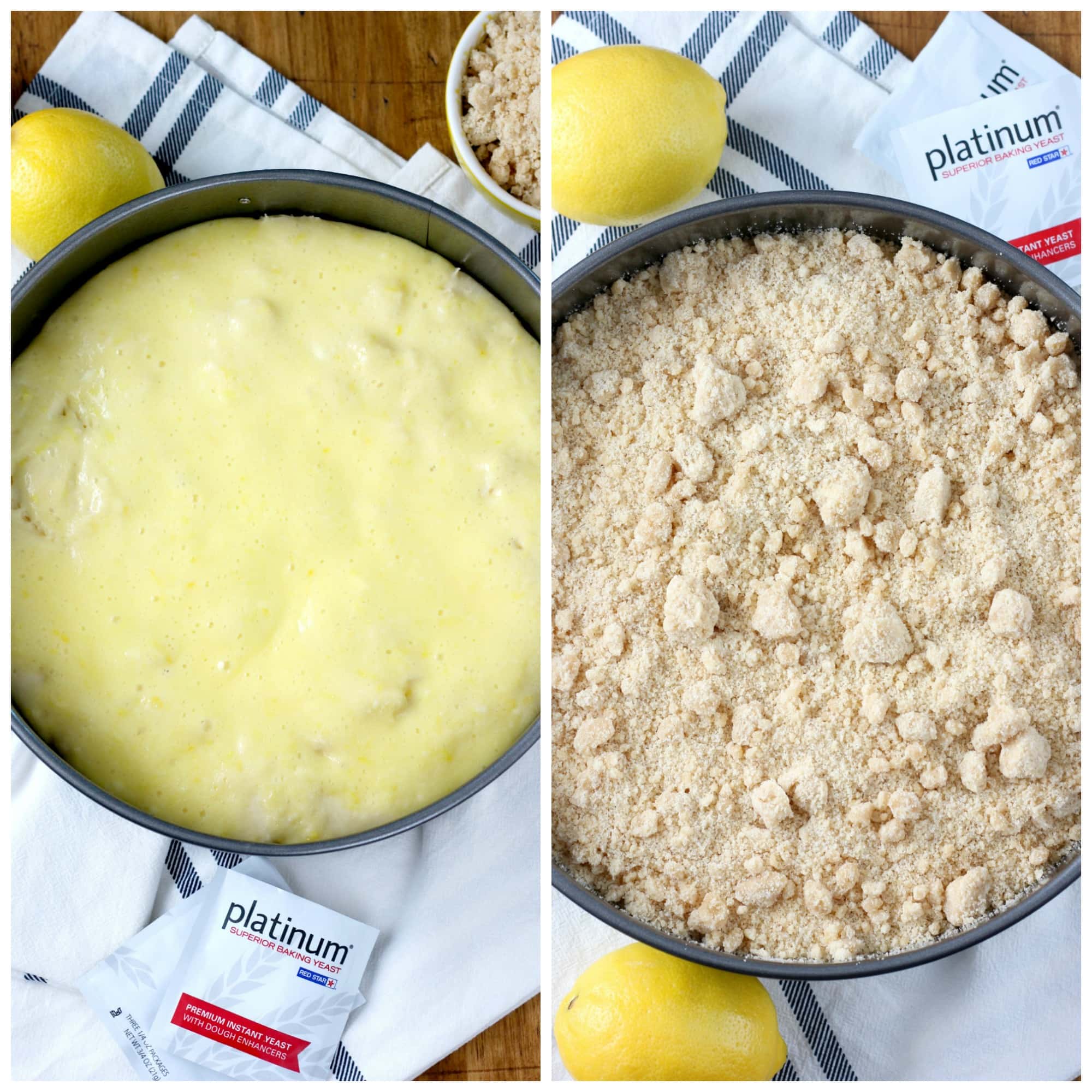 Since this was my first time trying a yeasted coffee cake, I was curious how it would turn out. How would the dough act? Would the texture be right? Etc. Thanks to my favorite, no-fail Red Star Platinum Yeast, I didn't have any problems at all! Have I convinced you to try working with yeast yet? If you're too afraid of bread, then give this coffee cake a try! The yeast gives the cake a light, fluffy texture and keeps the cake from getting too heavy. This cake is one of the lightest textured coffee cakes I've had, and it made me wonder why I haven't made more yeasted coffee cakes!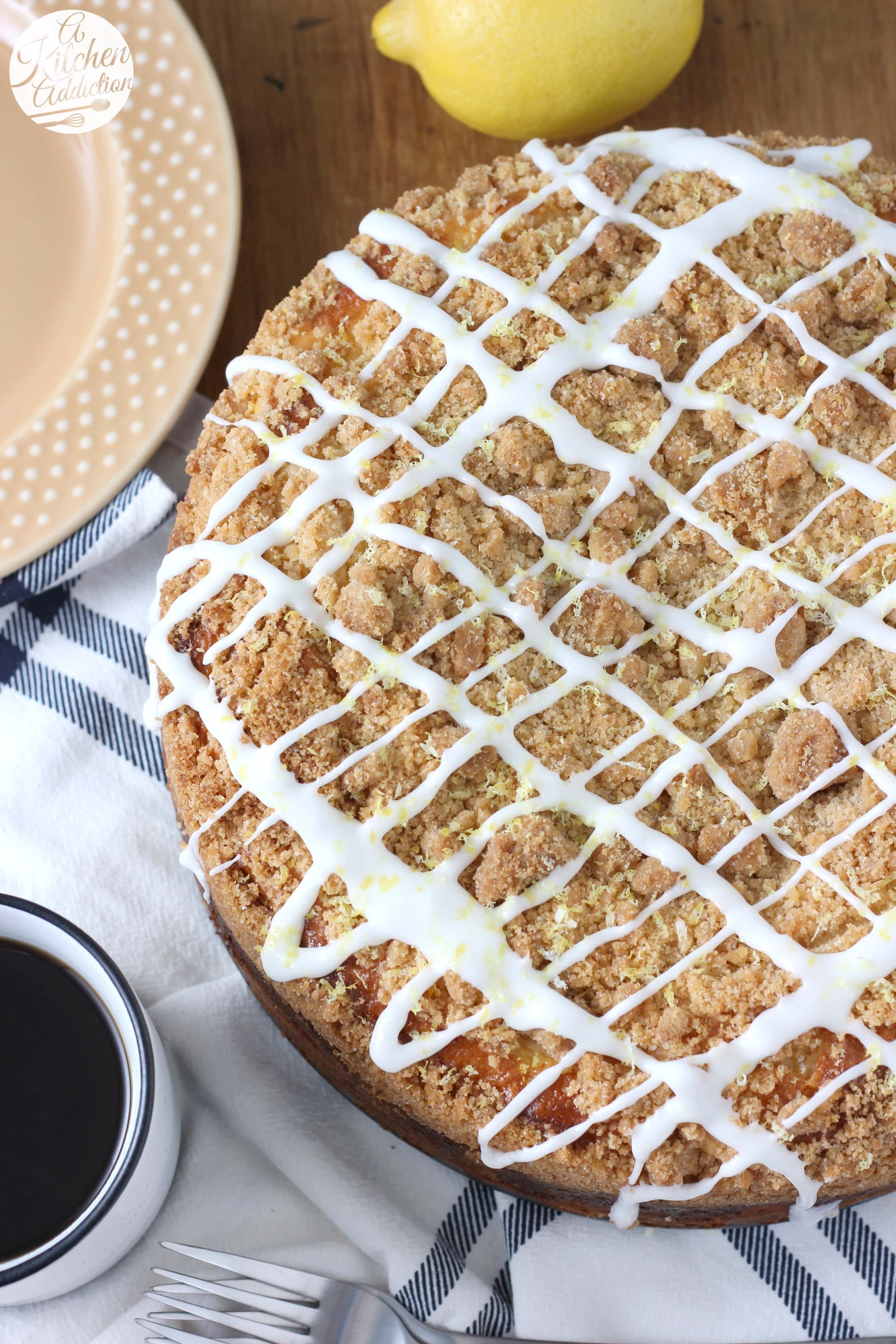 Add in lots of fresh lemon zest and lemon juice, drizzle a sweet glaze with even more lemon zest over the top, and you'll have a hard time saving a piece for mom!
As a quick note, I know that a lot of times I list a couple of different options for pan sizes in my recipes. However, you really need to use a 10 inch pan for this recipe. I may or may not know from experience that using a 9 inch pan will result in a nice messy overflow in your oven!
Check out Red Star Yeast's Facebook, Twitter, Pinterest, and/or Instagram pages for more recipe inspiration and baking tips!
Cream Cheese Swirled Lemon Coffee Cake
Author:
Ingredients
For the Cake
2 1/2 C + 2 tbsp all-purpose flour
1/2 C sugar
1/2 tsp salt
1 tbsp fresh lemon zest
1 packet Red Star Platinum Yeast
1/2 C milk, warmed to 120-130 F
1/4 C water, warmed to 120-130 F
1/4 C butter, melted and cooled
2 tbsp fresh lemon juice
1 egg, room temperature
1 tsp vanilla extract
For the Filling
4 oz cream cheese, softened
1/4 C sugar
1 egg
1 tbsp fresh lemon zest
1 tbsp fresh lemon juice
For the Topping
3/4 C all-purpose
1/2 C brown sugar
1/4 C sugar
1/4 tsp salt
1/4 C butter, melted
For the Drizzle
1 C confectioner's sugar
2 tbsp half & half
lemon zest, optional
Instructions
Spray and flour a 10 inch springform pan. Set aside.
In the bowl of a stand mixer, combine 1 1/2 cups flour, sugar, salt, lemon zest, and yeast. Add in milk, water, butter, lemon juice, egg, vanilla, and remaining 1 cup plus 2 tablespoons flour. Beat on low until just combined. Increase speed to medium and beat for 3 minutes.
Scrape batter into prepared springform pan. Set aside.
Beat together cream cheese and sugar for filling. Add in egg, lemon zest, and lemon juice. Beat until creamy. Pour over the top of cake batter. Swirl cream cheese mixture through batter with a knife.
Cover with plastic wrap and allow to rise in a warm place until almost doubled in size, 45 minutes. Preheat oven to 375 during the last 15 minutes of rise time.
Prepare topping. Stir together flour, brown sugar, sugar, and salt. Stir in melted butter and combine until mixture resembles coarse crumbs.
Gently sprinkle crumb topping over risen batter. Place in preheated oven. Bake for 20 minutes. Remove and cover top with aluminum foil. Bake for an additional 10 minutes, or until toothpick inserted in center comes out mostly clean. Do not over bake.
Remove from oven and allow to cool completely.
Remove sides of springform pan. Drizzle with glaze and additional lemon zest. Slice into pieces and serve.
Disclaimer: This post is sponsored by Red Star Yeast. As always, all options are 100% my own. Thanks for supporting brands that make A Kitchen Addiction possible!