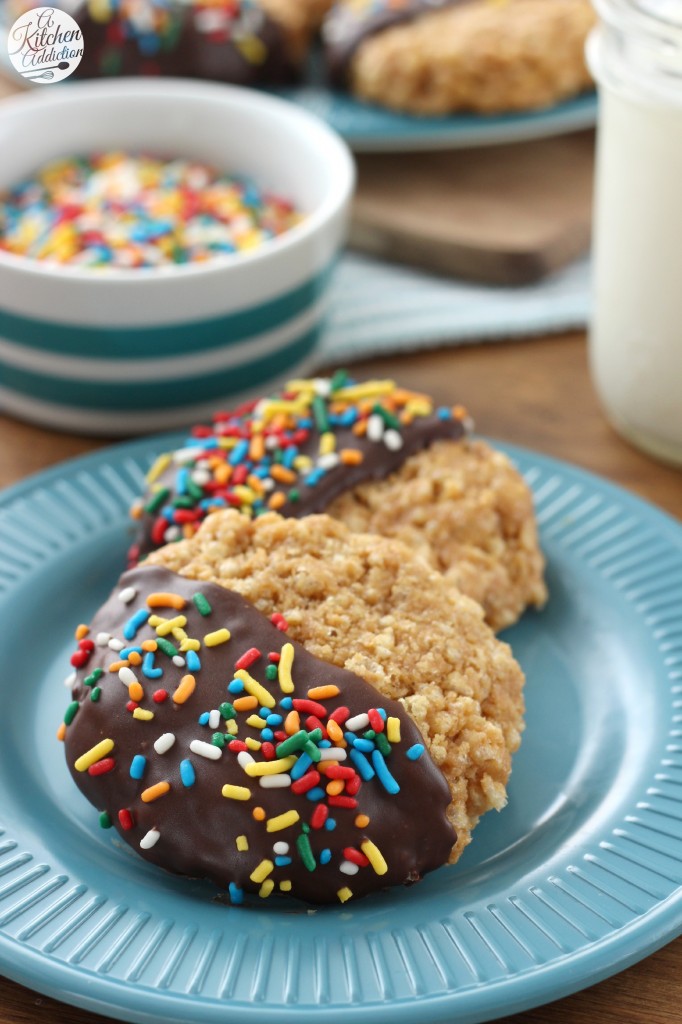 I feel kind of bad calling this a recipe, but these no bake cookies are too good to not share with you! These cookies came about as a result of many hot, humid days without something peanut-buttery to eat.
And in this house, no peanut butter is a bad thing! I'm sure most of you have experienced or are experiencing a period of hot weather that makes baking become the last thing on your mind.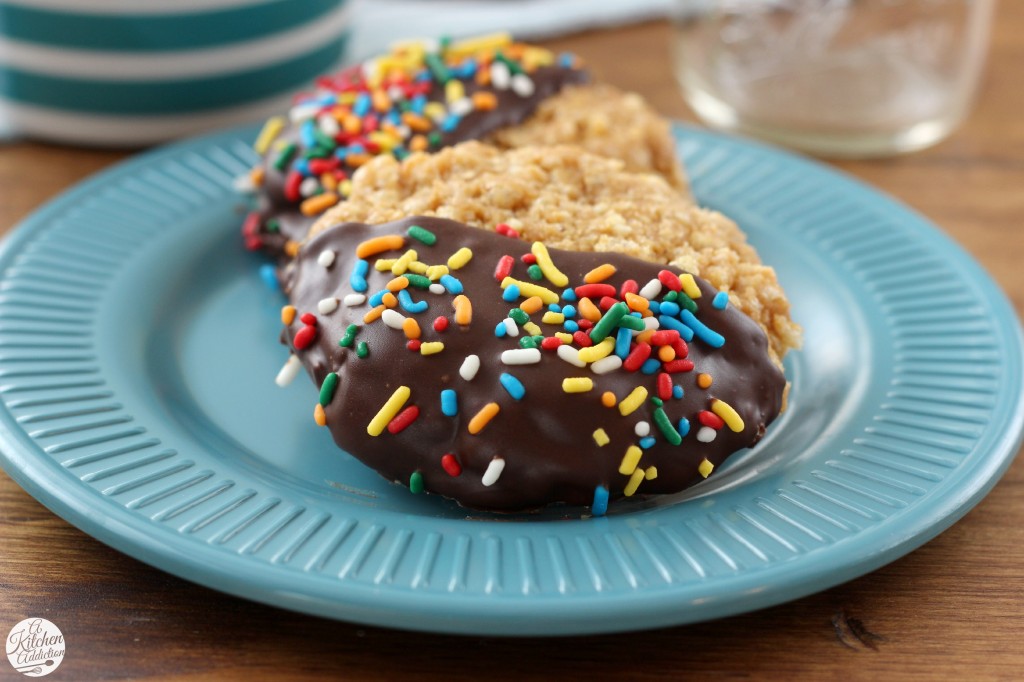 These no bake peanut butter crunch cookies are just what you need! Peanut butter and honey are melted with some vanilla to hold the cookie together.
Crisp rice cereal and flour make up the crunch and bulk of the cookie. Stir it all together and scoop it out onto a cookie sheet. That's it.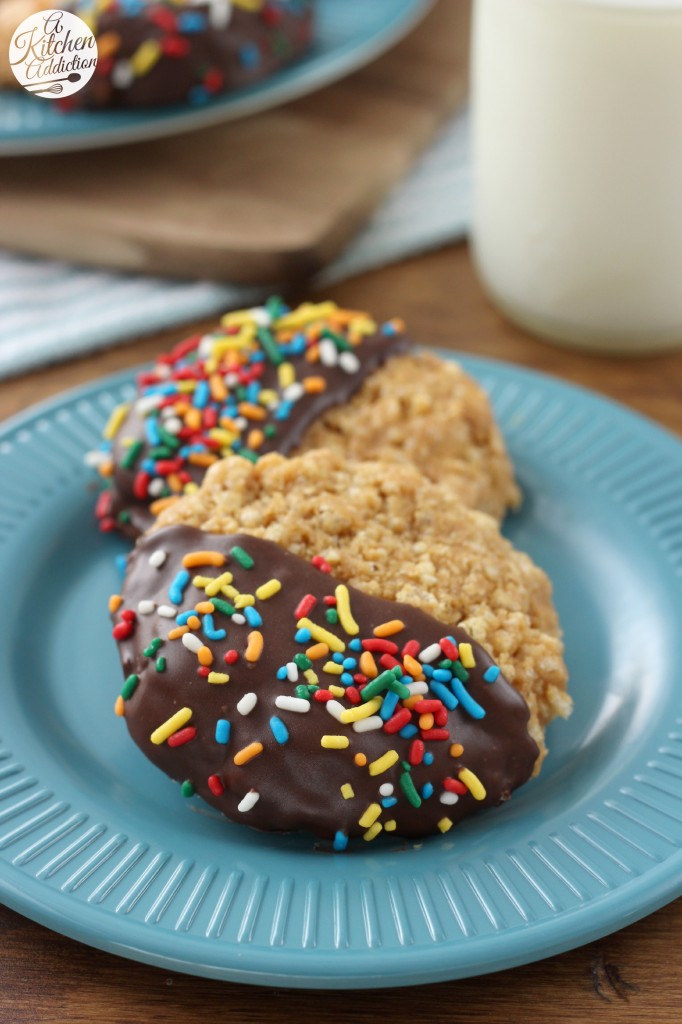 Oh, and then there's the chocolate and sprinkles. Because let's face it, peanut butter and crisp rice cereal aren't the best looking ingredients!
And, can you really go wrong adding chocolate and sprinkles?! Once the cookies have set, spread chocolate over the top for a chocolaty, peanut buttery cookie that can be enjoyed even in the hottest of weather!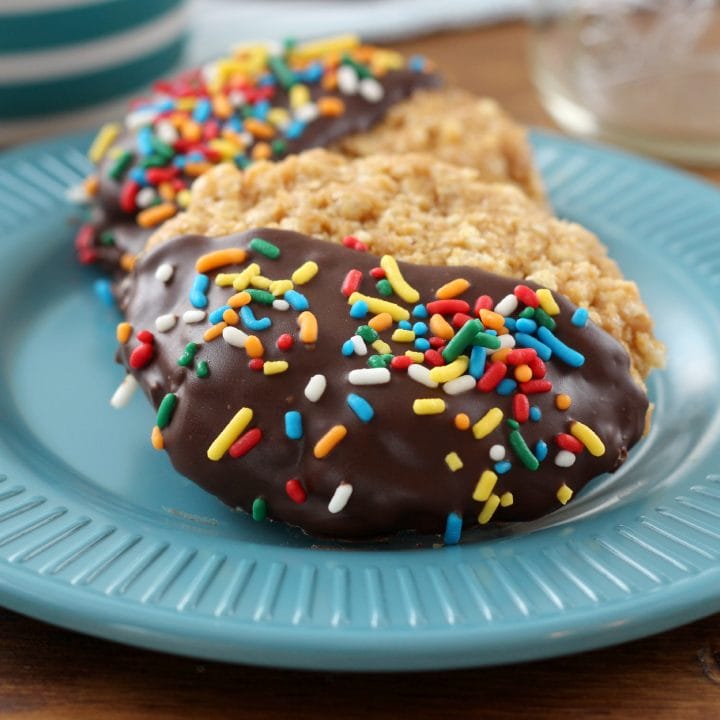 No Bake Peanut Butter Crunch Cookies
Yield:
12 no bake cookies
Ingredients
1 C no-stir natural creamy peanut butter
6 tbsp honey
2 tsp vanilla extract
3 C crisp rice cereal
2 tbsp flour
For the Optional Topping
1/2 C chocolate chips
1 tbsp cream peanut butter
sprinkles
Instructions
In a large microwave safe bowl, stir together peanut butter, honey, and vanilla extract. Microwave for 15-20 seconds or until peanut butter is melted and mixture is runny.
Stir in cereal and flour until completely coated. Cover with plastic wrap and refrigerate for 30 minutes. (You can start forming the cookies right away, but mixture will be very sticky.)
Line a baking sheet with parchment paper or a baking mat.
With a 1/4 cup measuring cup, scoop out dough pressing against the side of the bowl as you scoop. Drop onto prepared baking sheet. Press down with the bottom of measuring cup or with your hand.
If you want to cover with chocolate, refrigerate for another 15-20 minutes.
Melt chocolate according to manufacturer's instructions. Stir in peanut butter until smooth. Spoon chocolate over half of each cookie. Top with sprinkles.
Allow chocolate to harden before serving.
Best stored in the refrigerator if house is warm.
Recommended Products
As an Amazon Associate and member of other affiliate programs, I earn from qualifying purchases.