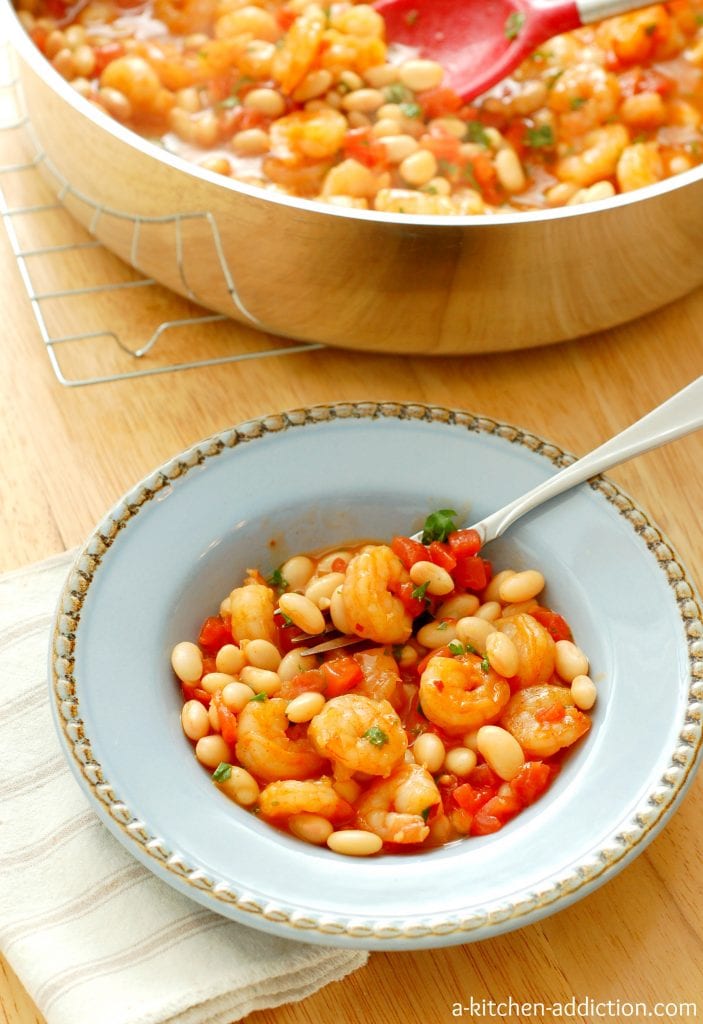 My husband made me dinner this weekend and I had to share it with you. Not the fact that he made me dinner. . .he does, in fact, help with dinner a lot. That is a trait of his for which I am extremely thankful. 🙂
But I wanted to share this meal with you because it is filling, delicious, and loaded with all kind of nutrients.
We had a weird weekend weather-wise. It was in the mid-fifties on Saturday and below zero Sunday morning! How is that possible?! Anyways, because it was such a beautiful day on Saturday we went for a long run outside and came back starving.
We wanted something quick but also something that would be a good recovery meal for our bodies. My husband remembered seeing this dish in a recent Runner's World, so we gave it a try.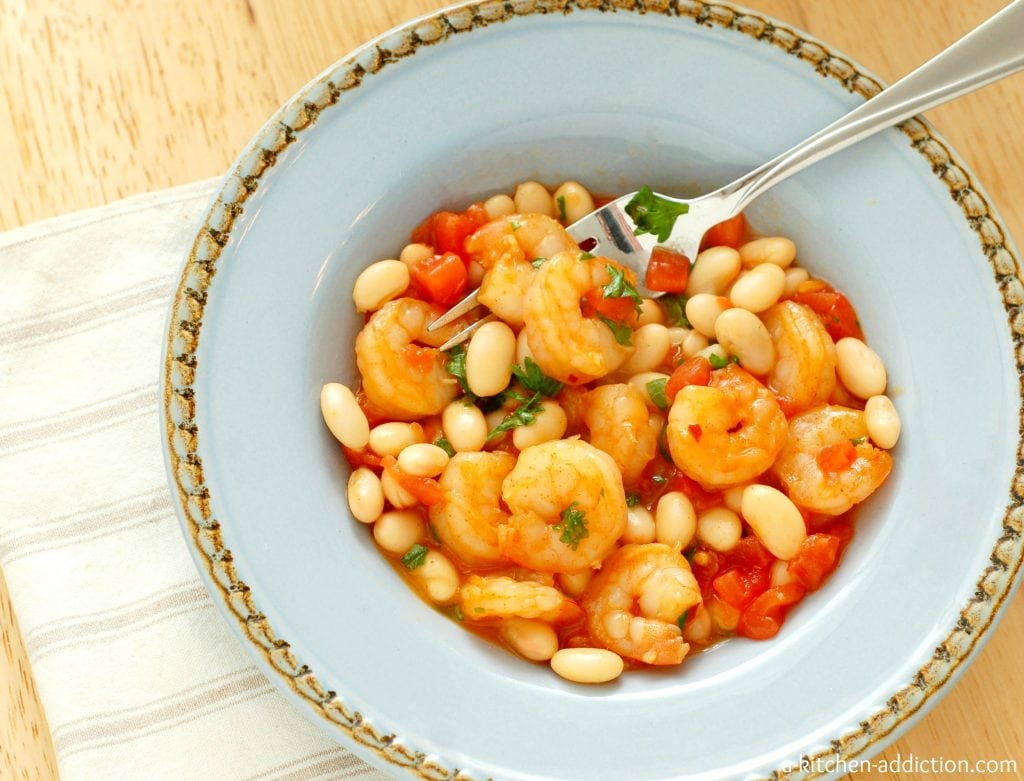 With lots of protein, fiber, carbs, and minerals this shrimp dish with white beans was perfect. Plus, it fulfilled the other qualification of being a quick dish.
Since it's just the two of us, it made great leftovers for the next day when we wanted some warm comfort food to forget about the cold outside!
Spicy Garlic Shrimp and White Beans with Tomatoes
Yield: 4 servings
Ingredients
1 lb medium shrimp, peeled, deveined, and tails removed
3 tbsp olive oil, divided
1 tsp paprika
3 cloves garlic, minced and divided
3/4 tsp hot red pepper flakes
1 (14.5 oz) can diced tomatoes, drained
1 tbsp tomato paste
1 C reduced-sodium chicken broth
2 (15 oz) cans white beans, drained
1/4 C fresh parsley, chopped
Directions
Heat a large skillet over medium-high heat. Add shrimp, 1 tablespoon olive oil and paprika. Stir to evenly coat shrimp. Saute for 2 minutes. Add 2 cloves of minced garlic and cook for another minute. Remove shrimp to a heat safe bowl and set aside.
Return skillet back to heat and add 2 tablespoons olive oil, pepper flakes, and remaining garlic. Cook until garlic turns light golden brown. Add tomatoes and tomato paste. Cook until most of the liquid evaporates and tomato mixture darkens, about 4 minutes.
Add beans and broth. Simmer for 10 minutes or until mixture reaches the consistency of a thick stew.
Stir in parley and previously set aside shrimp. Cook until shrimp is heated through.
Serve immediately.
This recipe is adapted from Runner's World.
This recipe is linked with Strut Your Stuff Saturday, What's Cookin' Wednesday.