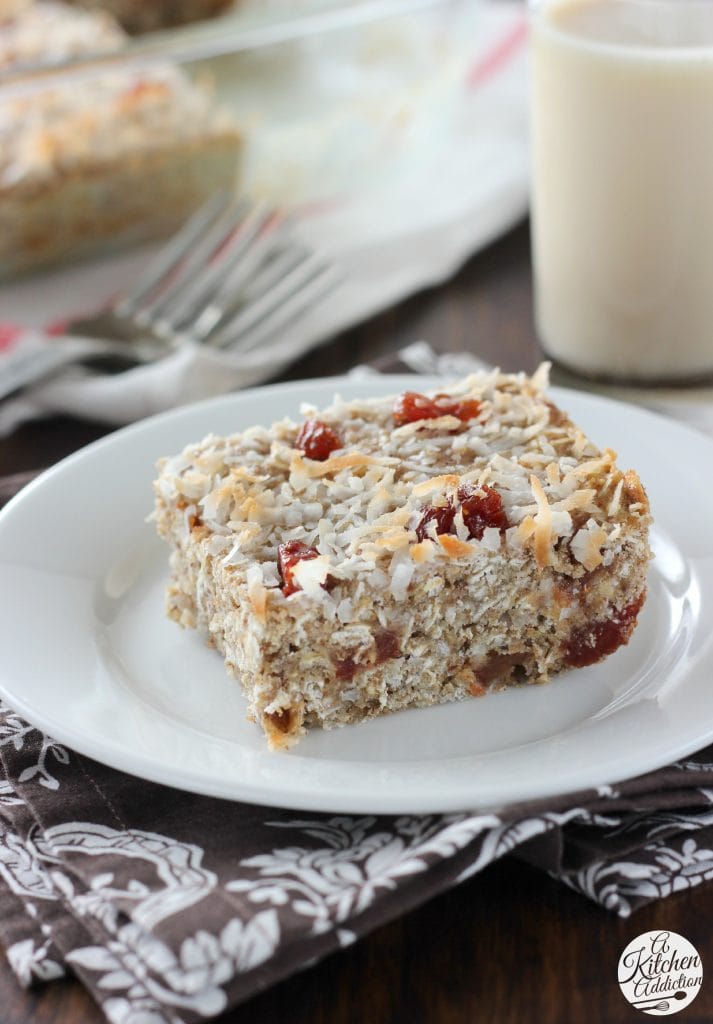 Another weekend of house hunting is in the books. And we aren't any closer to finding a house than our last marathon search. Well, we've sifted through a couple hundred houses that we know we don't want, but so far no leads on a house that we do want. That means more hours in the car. Which means more snacking on the go, because house hunting builds an appetite!
Since we've been needing snacks to keep us going whether it's to power through another hour of house hunting in the car or refueling after a workout, I've been on a mission to make more of our snacks homemade. With how busy we've been lately, it's been easy to just pick up a box of granola bars or grab a bag of trail mix to satisfy our snacking hunger. So, I set aside some time last week to make some nutritious snacks to have on hand. I started with these soft baked strawberry coconut protein bars.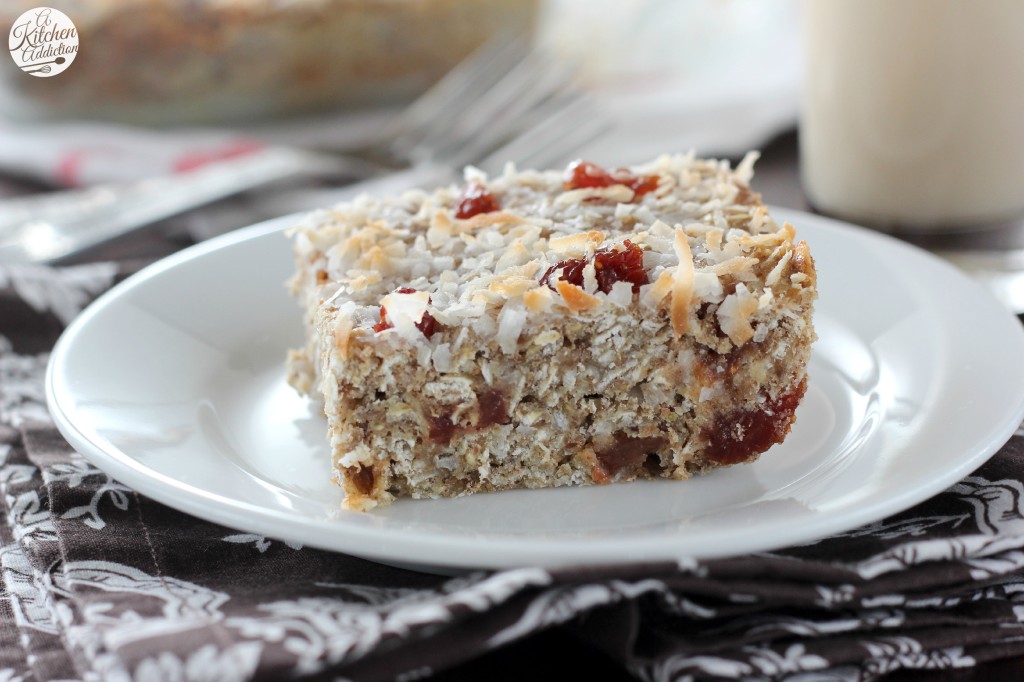 Soft, nutty dairy-free protein bars that are filled with oats, coconut, and dried strawberries. You can have them for breakfast or pack some and take them with you for a snack. Even though they look like they would be dense, the bars are actually quite light and tender. Don't let the look fool you! Plus, the dried strawberries and honey give the protein bars the kick of sweetness needed to satisfy your sweet cravings!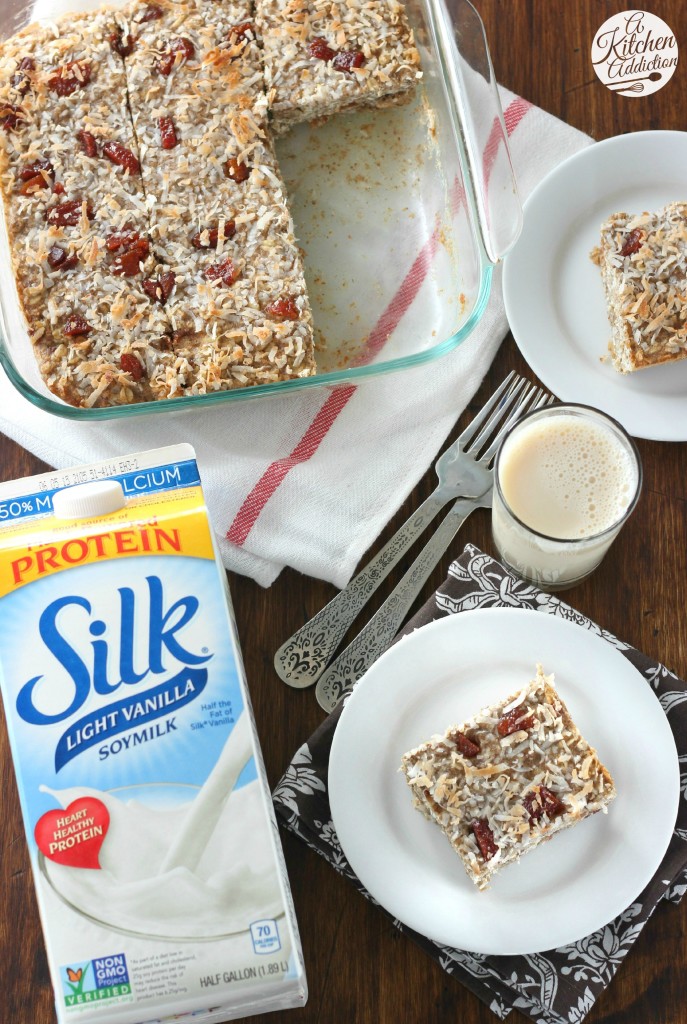 Since I really wanted these bars to help satisfy our hunger in the midst of our busy schedules, I wanted to make sure I was filling them with all kinds of healthy benefits. I amped up the protein in these bars by using Silk Soymilk as the liquid in the recipe. I happened to have the Light Vanilla in my fridge at the time I made these and the light vanilla flavor was a perfect addition to the protein bars. You can easily use Silk's other varieties of soymilk if you wanted. The plant-based proteins, along with the fact that it's naturally low in saturated fat and has no cholesterol, make Silk a great alternative to dairy milk. (You can bake with it, use it in your bowl of cereal, or enjoy it's smooth, delicious flavor plain!) Plus, there are no artificial colors, preservatives, or flavors!
With the soymilk, oats, and coconut, these strawberry coconut protein bars are loaded with protein and fiber to keep you full and going strong no matter how busy your life is at the moment!
Be sure to check out Silk for yourself and grab a coupon!

Soft Baked Strawberry Coconut Protein Bars
Author:
A Kitchen Addiction
Ingredients
1½ rolled oats
1 C whole wheat or white whole wheat flour
¼ C ground flaxseed
1 tsp cinnamon
½ tsp baking powder
¼ tsp salt
1 C Unsweetened Vanilla Silk Soymilk
⅓ C honey
¼ C coconut oil, melted
1 egg
1 tsp vanilla extract
¾ C shredded coconut
¾ C dried strawberries, chopped
Instructions
Preheat oven to 350. Lightly spray an 8x8 inch baking dish with non-stick cooking spray.
In a large bowl, whisk together oats, flour, flaxseed, cinnamon, baking powder, and salt.
In a medium bowl, whisk together Silk Soymilk, honey, coconut oil, egg, and vanilla extract. Add wet ingredients to dry ingredients and stir until combined. Stir in coconut and chopped dried strawberries.
Spread batter into prepared baking dish. Sprinkle with additional coconut, if desired.
Bake for 20-25 minutes or until toothpick inserted in the center comes out clean.
Remove to a wire rack to cool. Cut into pieces and serve. Store leftovers in an airtight container.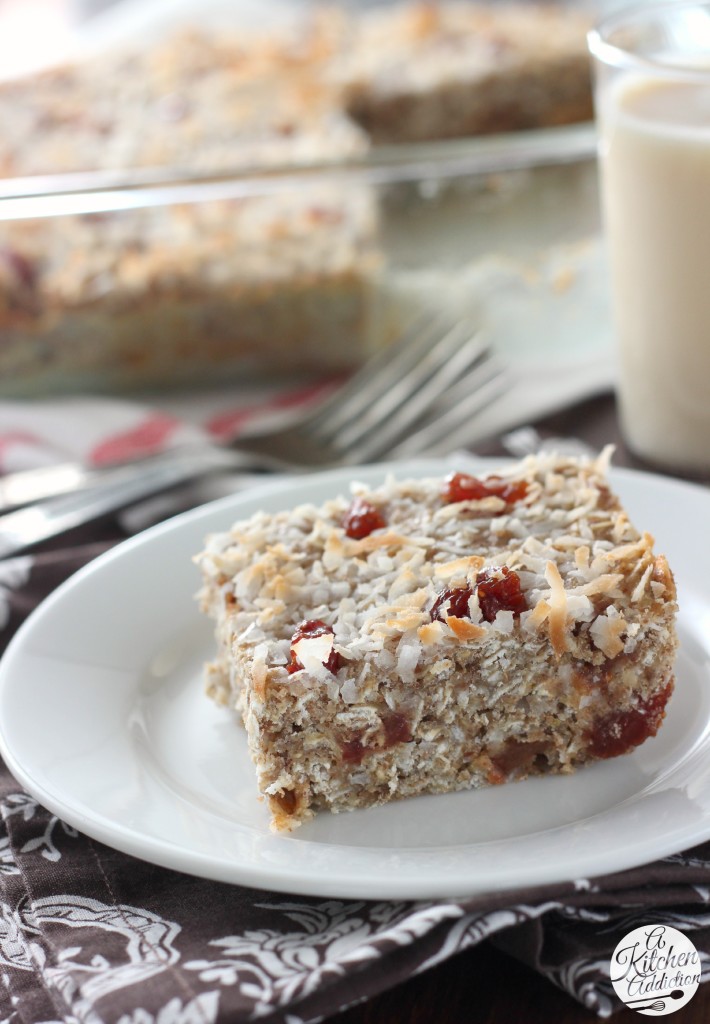 This conversation is sponsored by Silk. The opinions and text are all mine. Thanks for supporting brands that make A Kitchen Addiction possible!