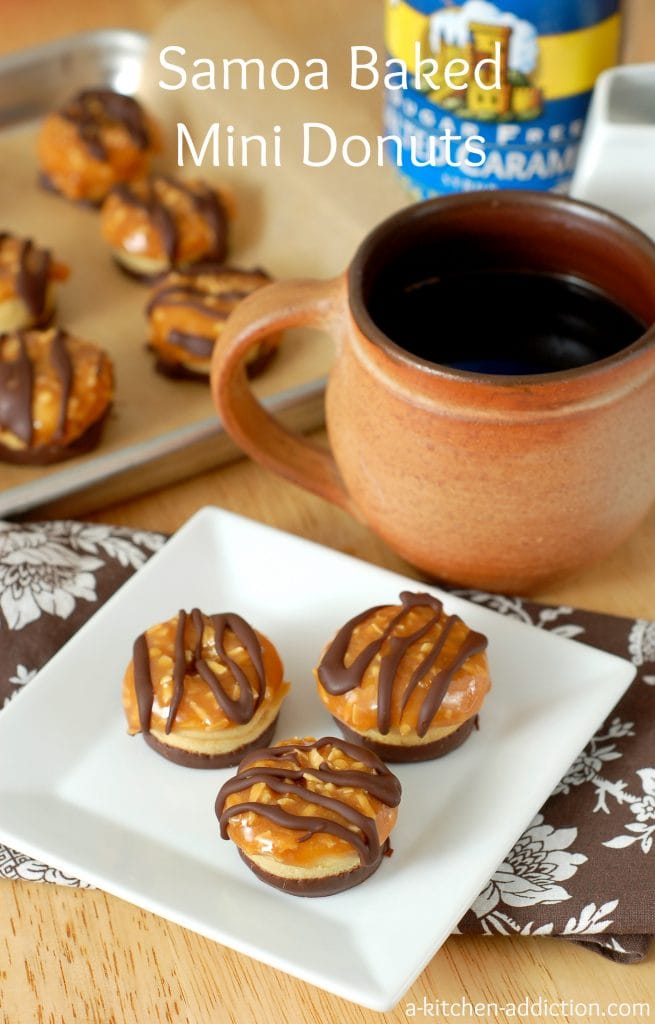 Some of you were probably wondering when I would finally get off of my peanut butter and chocolate kick since the last three recipes have contained that flavor combination! Well, to tell you the truth, I could continue with peanut butter and chocolate recipes for an indefinite period of time if it weren't for the fact that you guys would be sick of it! So, today I thought I would change things up a bit. 😉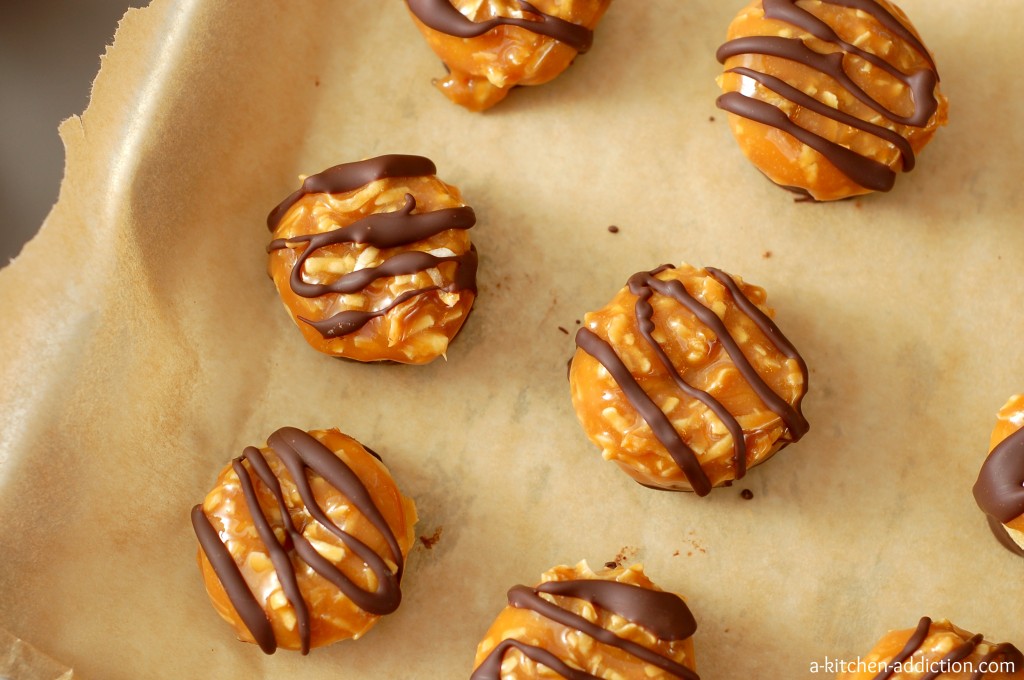 How do mini donuts for a Friday sound? Mini donuts that taste like a favorite Girl Scout cookie at that! The base is a plain vanilla donut with just a hint of sweetness. I didn't want to make the donut too sweet so that it could stand to be covered in the classic Samoa flavors without the overall donut becoming too sweet. The donut is then generously covered with a caramel coconut topping, dipped in chocolate, and drizzled with even more chocolate!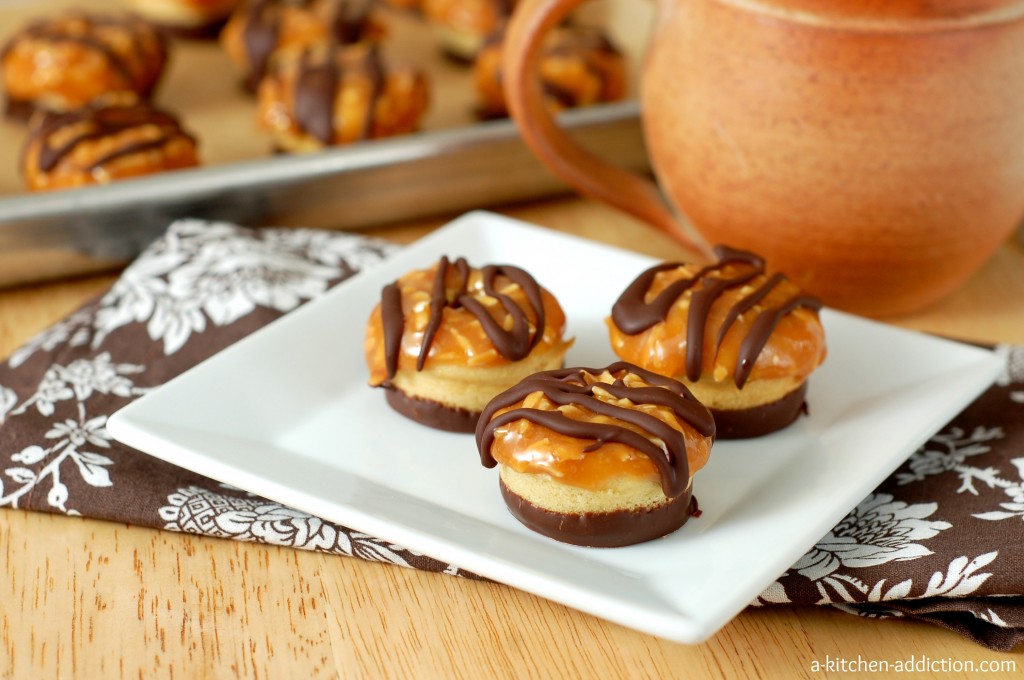 How is that for curing your cookie craving for breakfast?! Have a great weekend!

Samoa Baked Mini Donuts
Ingredients
Donuts
1 C all-purpose or white whole wheat flour
¼ C brown sugar
½ tsp baking powder
¼ tsp baking soda
¼ tsp salt
⅓ C non-fat milk
2 tbsp butter, melted
1 egg, slightly beaten
1½ tsp vanilla extract
Topping
7 oz caramels
1½ tbsp milk
⅛ tsp salt
⅓ C shredded coconut, toasted
8 oz chocolate, for dipping and drizzling
Instructions
Preheat oven to 375. Lightly spray donut pan with non-stick cooking spray.
In a medium bowl, whisk together flour, sugar, baking powder, baking soda, and salt. Add in milk, butter, egg, and vanilla extract. Stir until well-combined.
Transfer batter to a pastry bag or a plastic bag with the tip cut off. Fill donut cavities about ⅔ full.
Bake for 5-7 minutes or until donuts just start to turn light golden brown. Allow to cool for 2-3 minutes in the pan before removing to a wire rack to cool completely.
While donuts are cooling, start melting caramel and milk together in a small saucepan over medium heat. Stir constantly to prevent burning. When caramels are melted. Stir in salt and toasted coconut.
Carefully dip the tops of the donuts into caramel mixture and place on a parchment paper lined baking sheet. You can also spoon the caramel mixture over the tops of the donuts. Allow caramel mixture to set and cool. To speed this process up, place baking sheet in the refrigerator for 15 minutes.
Melt chocolate in a microwave safe bowl in 30 second intervals. Dip the bottoms of the donuts into melted chocolate. Place donuts back on lined baking sheet. Drizzle the remaining chocolate over the tops of the donuts.
Allow chocolate to harden before serving.
Store leftovers in the refrigerator.
This recipe is linked with
Strut Your Stuff Saturday
,
Trick or Treat Tuesday
, 
Weekend Potluck
,
What's Cookin' Wednesday
,
What's In Your Kitchen Wednesday
.