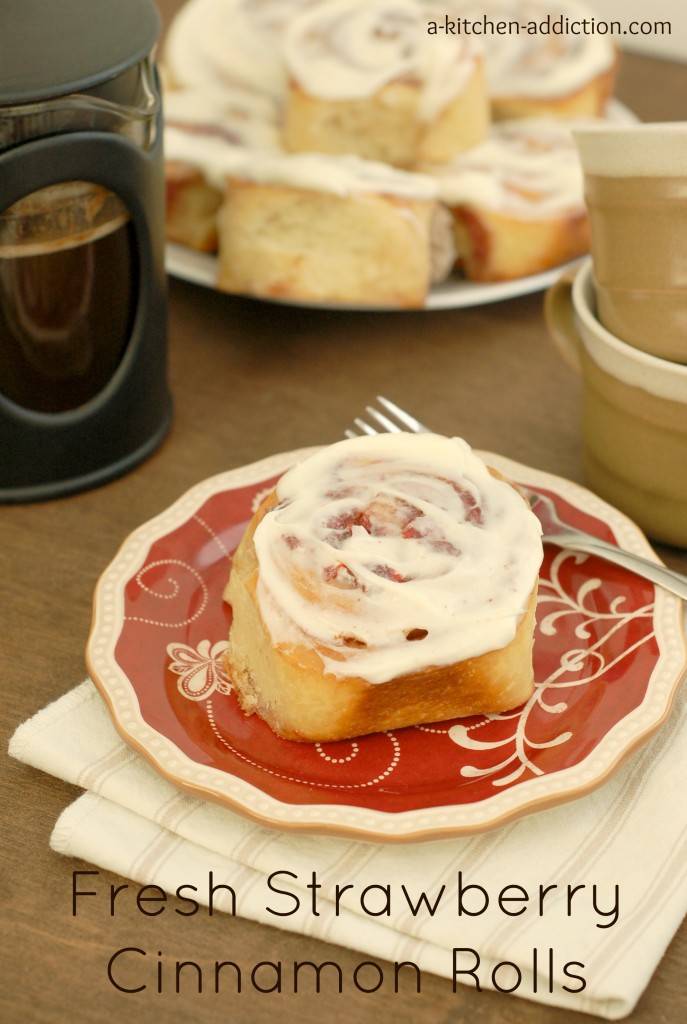 Tender, flaky cinnamon rolls stuffed with fresh, homemade strawberry sauce and topped with tangy, cream cheese frosting. Yes, these cinnamon rolls quickly rose to the top of the list of our favorites! I've made cinnamon rolls with preserves in the filling, and they don't come close to how good they taste using fresh berries.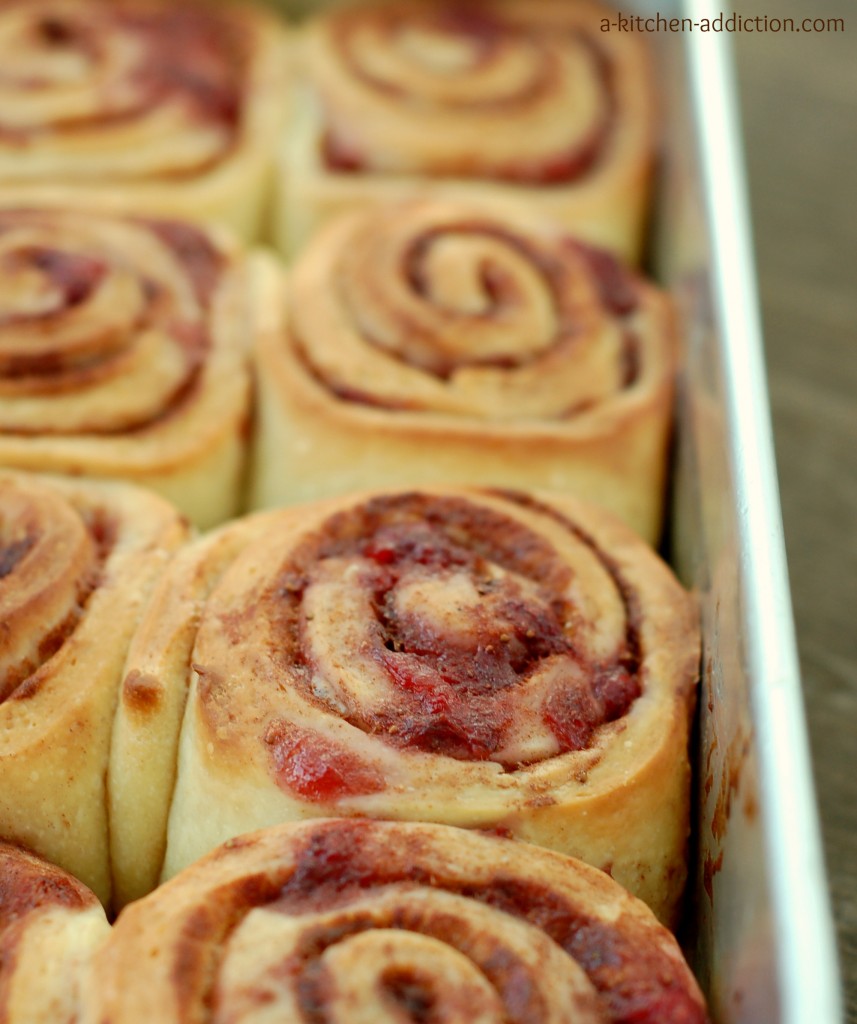 And not just any berries, strawberries! One of my favorite fruits. They have been on sale a lot lately, and every time I walk past the display, I find myself grabbing a couple of cartons. Well, we soon ended up with more berries than we could eat fresh before they would start to go bad. When I was thinking of ideas, the cinnamon rolls with the preserve filling popped into my head. I knew right away that I wanted to try making cinnamon rolls with a fresh strawberry filling.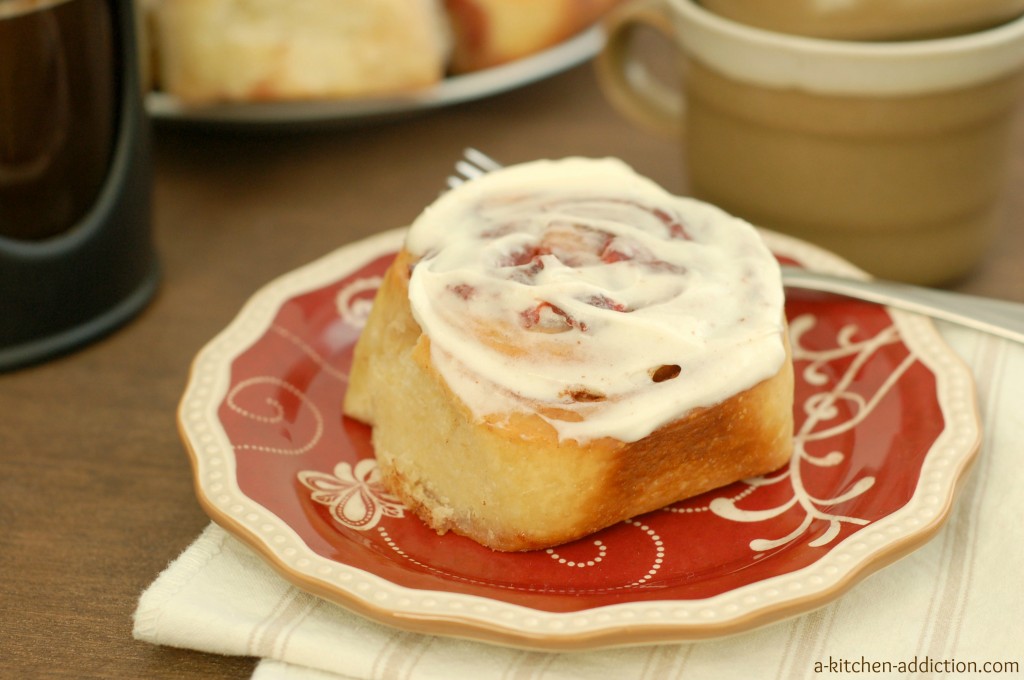 I added some nutmeg and ginger to the traditional cinnamon in the filling to make the flavor of the strawberries more prominent. The cream cheese frosting is less sweet and more tangy so as not to overpower the roll. The combination of flavors makes for a great breakfast treat!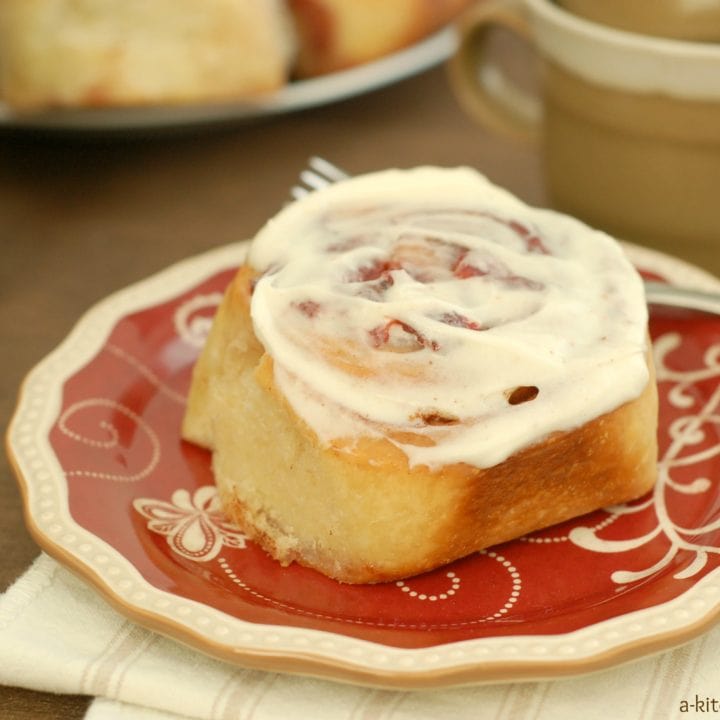 Fresh Strawberry Cinnamon Rolls
Total Time:
1 hour
45 minutes
Ingredients
For the Rolls
1 Cup warm non-fat milk (about 110 F)
2 eggs, room temperature
1/3 Cup butter, melted and cooled
2 Cups white whole wheat flour
2 1/2 Cups all-purpose flour
1 teaspoon salt
1/2 Cup sugar
2 3/4 teaspoons instant dry yeast
For the Filling
3 Cups strawberries, chopped
3 Tablespoons sugar
1/4 Cup butter, softened
1 1/2 Tablespoon cinnamon
1/2 Tablespoon nutmeg
1/2 Tablespoon ginger
For the Frosting
8 ounces 1/3 of the fat cream cheese
1/4 Cup butter, softened
1 Cup confectioner's sugar
1 teaspoon vanilla extract
1/8 teaspoon salt
Instructions
Place all ingredients for rolls in bread pan according to manufacturer's instructions. Select dough cycle and press start.
After starting the bread machine, begin making strawberry filling. Stir together strawberries and sugar in a medium saucepan over medium heat. Bring mixture to a boil. Reduce heat to medium-low and simmer for 20-30 minutes or until strawberries soften and sauce thickens. Remove from heat and cool for 15 minutes. After mixture has cooled, pour into a freezer safe container and freeze until ready to spread over dough.
When the cycle has completed, turn dough out onto well-floured surface. Cover and let it rest 10 minutes. If your bread machine has this step built in at the end, you can skip this step.
Roll dough out into a 16x22 rectangle. Spread dough with softened butter. Sprinkle with cinnamon, nutmeg, and ginger. Spread strawberry mixture over the top. (If your strawberry mixture is still runny, you may want to strain it before spreading over dough. The strawberry juice is great over pancakes, ice cream, etc!)
Gently roll up dough lengthwise. Cut into 12 rolls. Place rolls into a buttered 9x13 baking pan. Cover and let rise in a warm place for 30 minutes or until doubled in size.
While rolls are rising, preheat oven to 400 degrees Fahrenheit. (If you plan on baking the rolls the next morning, let them rise and place them in the refrigerator. The next morning, place rolls in oven when you preheat the oven and they will finish rising. When oven has preheated, bake for 15 minutes or until light golden brown.)
Bake rolls for 15 minutes or until light golden brown. While rolls are baking, beat together all frosting ingredients until smooth.
Remove rolls from oven and allow to cool for 5-10 minutes before frosting. Serve warm.
Store leftovers in the refrigerator.
Nutrition Information:
Yield:

12
Serving Size:

1
Amount Per Serving:
Calories:

407
Total Fat:

15g
Saturated Fat:

9g
Trans Fat:

1g
Unsaturated Fat:

5g
Cholesterol:

68mg
Sodium:

348mg
Carbohydrates:

61g
Fiber:

5g
Sugar:

25g
Protein:

8g
Nutrition information shown is an estimate provided by an online calculator and may not always be accurate. It should not be considered a substitute for a medical professional's advice.
T