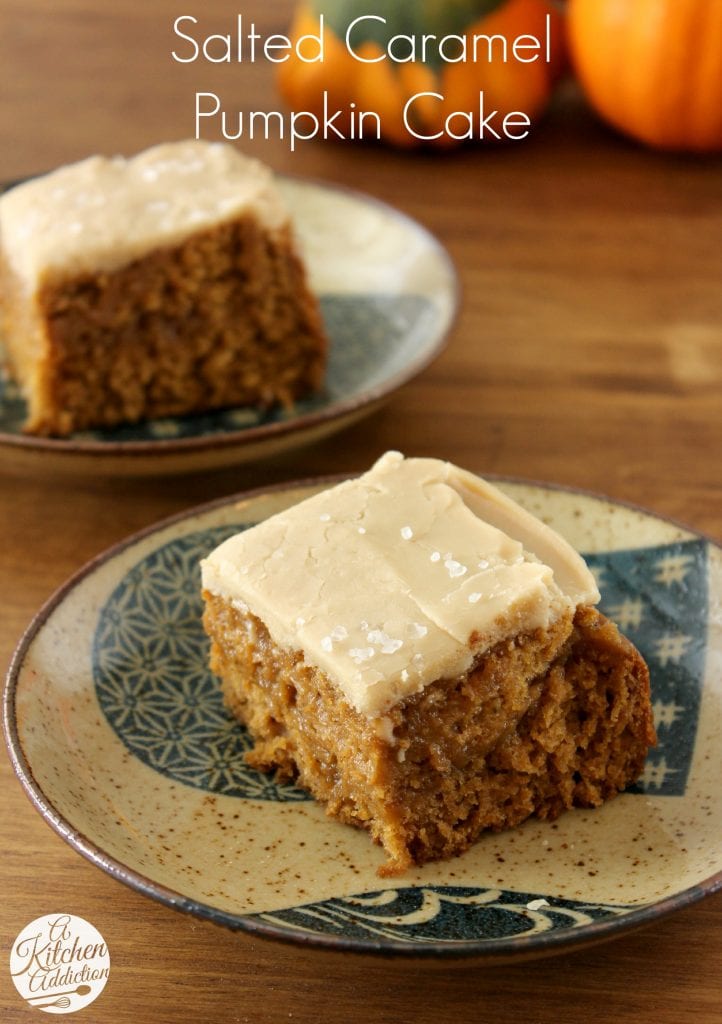 The days are starting to get cooler, and we've come to the point in the year where we start to question just how cold it has to get before we turn on the furnace. When we're shivering after waking up to a 52 degree house, we feel like we should turn it on right away, but then we decide that it'll warm up throughout the day.
So, we wait another day, because you never know, it may get warm again (last year it was in the 70's in November?!). Well, some days it doesn't warm up very quickly.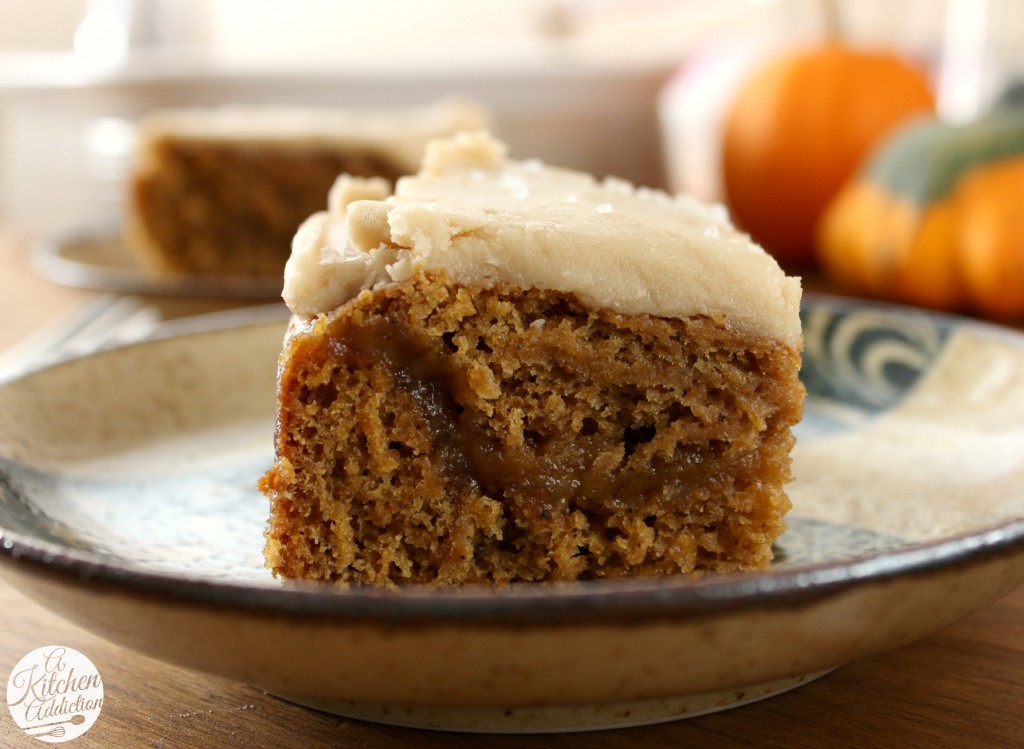 Those are the days that you keep glancing at the thermostat hoping that it's gone up another few degrees since the last time you looked. When it hasn't, you start to think about all the ingredients you have in the house and what you can bake with them!
This happened the other day. I had just opened a big can of pumpkin and had about a cup left. I couldn't let it go to waste, and I needed to warm the house up. The result was this salted caramel pumpkin cake!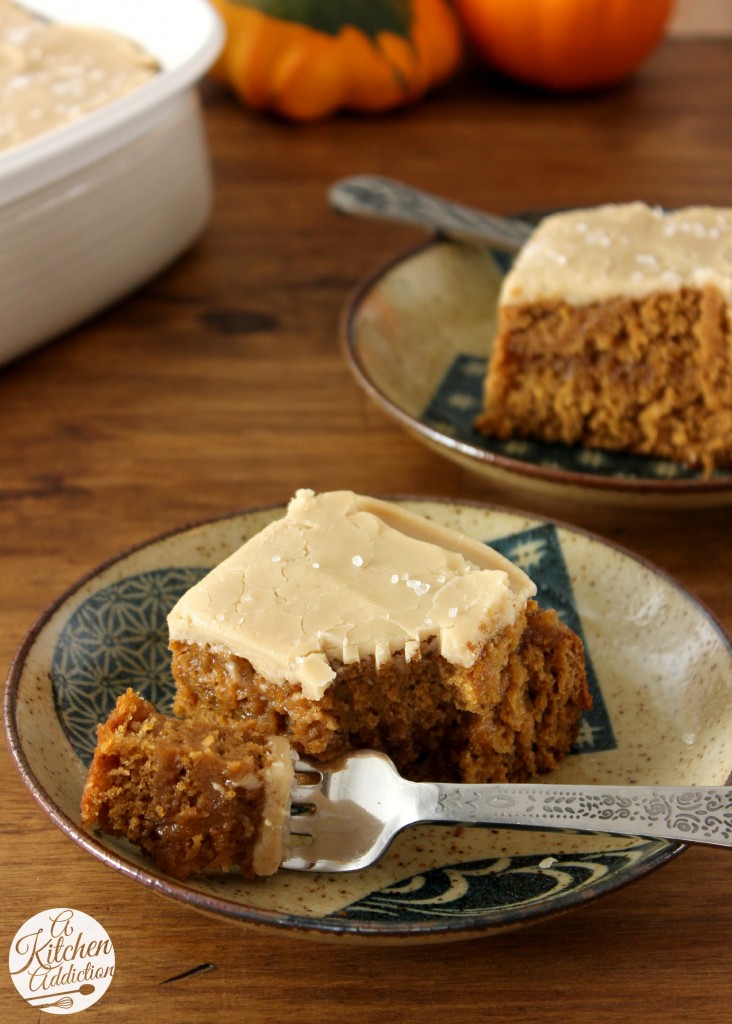 Pumpkin cake with a layer of salted caramel in the middle and topped with salted caramel frosting, to be exact. Each bite of cake is filled with lots of pumpkin and a gooey layer of salted caramel.
The sweet caramel frosting is sprinkled with a bit of sea salt to give another of layer of the sweet and salty combination to the cake.
Not only did I get this cake out of turning the oven on, but I also got a warm house. Definitely a win-win!
Salted Caramel Pumpkin Cake
Author:
Ingredients
For the Cake
1 C all-purpose flour
1 C white whole wheat flour (or all-purpose)
1 tsp salt
1 tsp baking powder
1 tsp baking soda
1 tsp cinnamon
1/2 tsp nutmeg
1/4 tsp cloves
1/8 tsp ginger
1 egg
3/4 C brown sugar
1/3 C sugar
1/2 C plain Greek yogurt
1 tsp vanilla extract
1 C pumpkin puree
2 tbsp milk (or half & half)
For the Salted Caramel Sauce
6 tbsp brown sugar
2 tbsp half & half
2 tbsp butter
1/2 tsp coarse sea salt
For the Salted Caramel Glaze
6 tbsp brown sugar
3 tbsp half & half
2 tbsp butter
1 C confectioner's sugar
coarse sea salt, for sprinkling
Instructions
Preheat oven to 350. Lightly spray an 8×8 or 9×9 inch baking dish with non-stick cooking spray. (A 9×9 was used in the pictures above)
In a medium bowl, whisk together flours, salt, baking powder, baking soda, cinnamon, nutmeg, cloves, and ginger.
In a large bowl, mix together egg and sugars. Whisk in yogurt and vanilla. Stir in pumpkin until well combined. Add dry ingredients to wet ingredients and stir until combined.
Spread half of batter into prepared baking dish. Bake for 10 minutes. Remove from oven.
In a small sauce pan, stir together brown sugar and half & half. Bring to a boil over medium heat. Stirring constantly, allow sugar mixture to boil until sugar dissolves and mixture starts to turn a darker brown. This will take about 4 minutes. Remove from heat and stir in butter and salt until butter is melted. Stir for another 2 minutes to cool the mixture slightly.
Pour caramel over the top of cake and spread with a spoon. Stir milk into remaining batter and pour batter over the top of the caramel layer.
Bake for another 20-25 minutes or until toothpick inserted in center comes out clean.
Remove cake to a wire rack to cool.
While cake is cooling, prepare glaze. In a small saucepan, stir together brown sugar and half & half. Bring to a boil over medium heat. Stir constantly until sugar dissolves and mixture starts to turn a dark brown. This will take 4-5 minutes. Reduce heat to low and stir in butter until combined. Stir in powder sugar until smooth.
Remove from heat and pour over cake. Spread with a spatula or back of spoon. Sprinkle with sea salt. Cut into pieces and serve.