Gooey caramel, tart apples, and chewy oatmeal cookie combine to create these irresistible Salted Caramel Apple Oatmeal Cookie Bars! Serve with a scoop of vanilla ice cream and an extra drizzle of salted caramel for a delicious fall dessert!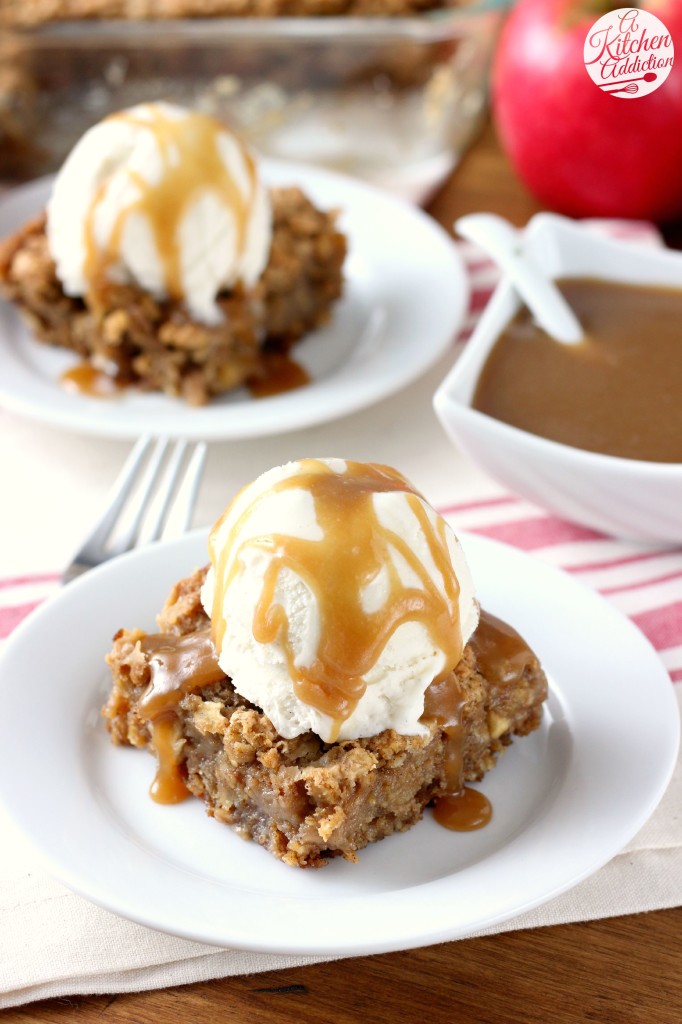 The weather is starting out cool in the mornings before heating up and the air has a bit of briskness to it when the wind blows. That means one thing, time to bake all things fall!
Of course, I started with apples and before long a pan of salted caramel apple oatmeal cookie bars was coming out of my oven. Three of my favorite things combine into cookie bars that are all things fall!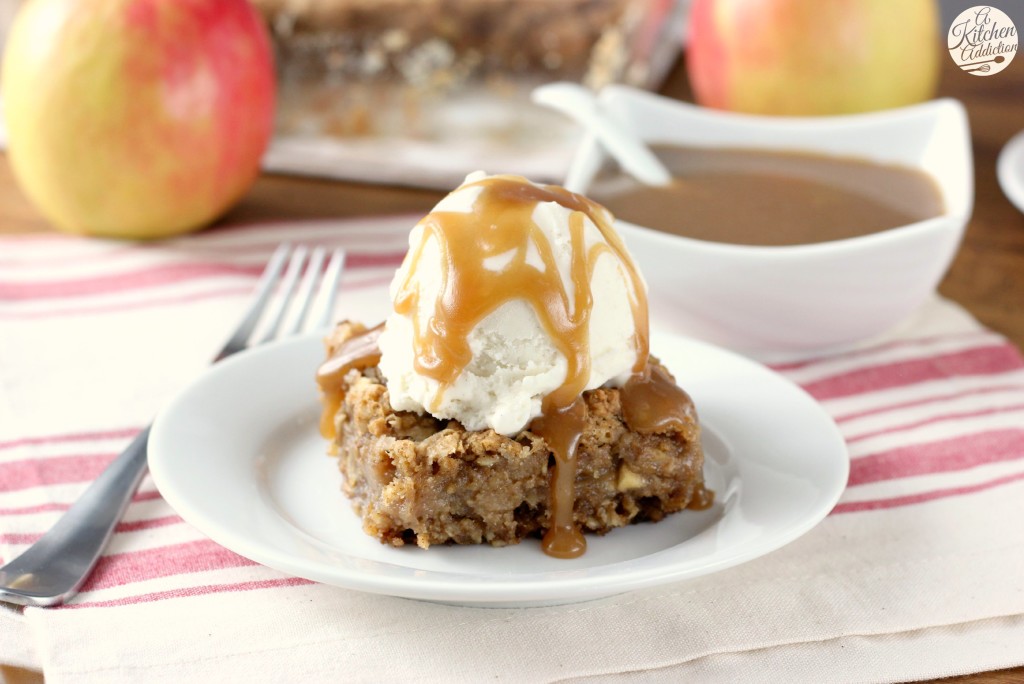 A generous layer of salted caramel and chopped apples is sandwiched between layers of oatmeal cookie. Rich, buttery homemade caramel with a hint of salt. You could probably just stop at the salted caramel, it's that good.
The oatmeal cookie layers are everything a good oatmeal cookie should be. They are chewy, nutty, sweet, and loaded with cinnamon and nutmeg. The result is an irresistible combination of sweet and salty with soft and chewy!
The warm spices of cinnamon and nutmeg not only add a burst of flavor to the bars, but they also make your house smell incredible and thoughts of fall start making their way into your head!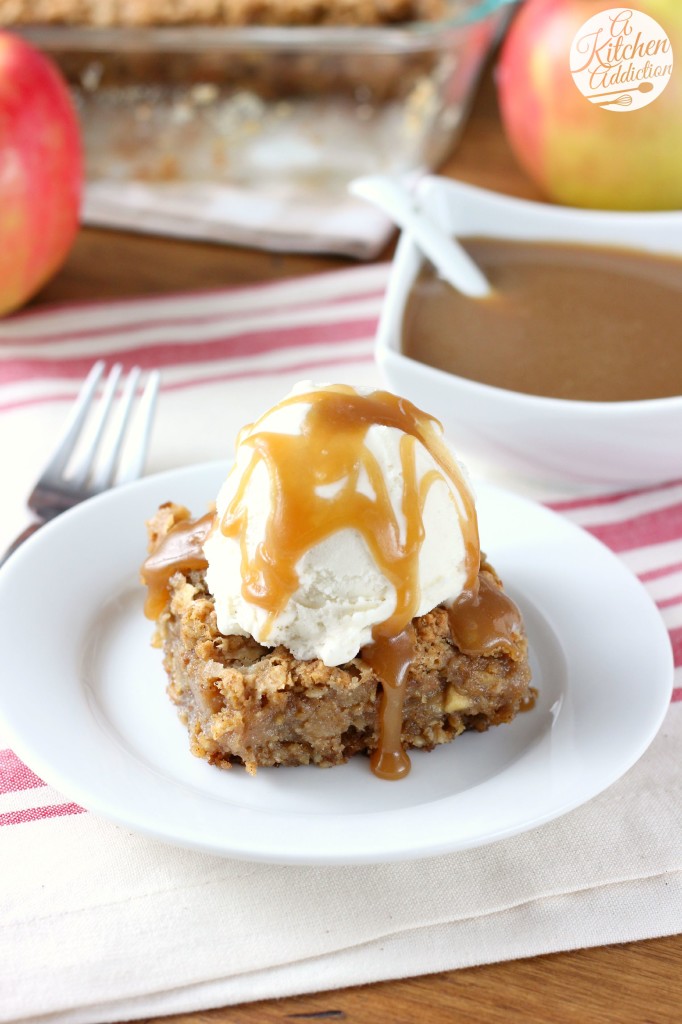 These bars taste great warm or chilled. Of course, we thought the best way to enjoy these bars involved ice cream. Top with a scoop of your favorite vanilla ice cream and a drizzle of salted caramel!
I highly recommend making a double batch of the caramel filling so you can have extra for serving with the bars. Put those fall apples to good use, and make a batch of cookie bars!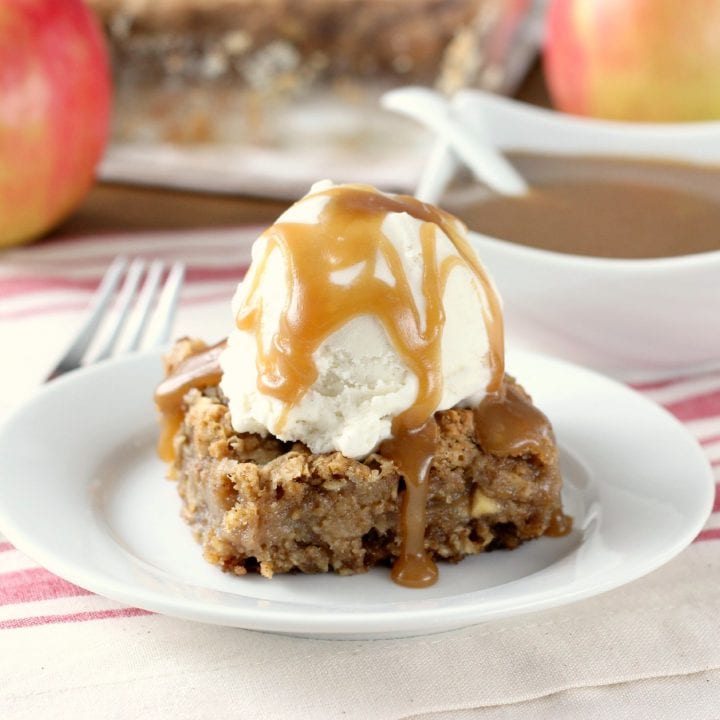 Salted Caramel Apple Oatmeal Cookie Bars
Ingredients
For the Salted Caramel
3/4 C brown sugar
1/3 C butter
1/3 C half and half
1/8 tsp salt
For the Cookie Base
5 tbsp butter, softened
1/3 C brown sugar
1/4 C sugar
2 tbsp milk
1 egg
1 tsp vanilla extract
3/4 C + 2 tbsp white whole wheat or all-purpose flour, divided
1/2 tsp baking soda
1/4 tsp salt
1 tsp cinnamon
1/4 tsp nutmeg
1 3/4 C regular oats, divided
1/2 C finely chopped apples
Instructions
Preheat oven to 350. Spray an 8x8 inch baking dish with non-stick cooking spray.
Make the Salted Caramel: In a small saucepan, stir together brown sugar, butter, and half & half. Bring to a boil over medium high heat. Stir occasionally to prevent scorching. Reduce heat to medium and boil for 8 minutes, stirring constantly. Remove from heat, stir in salt, and set aside.
In the bowl of a stand mixer, cream together butter and sugars. Add in milk, egg, and vanilla extract. Beat until creamy.
In a small bowl, stir together 3/4 cup flour, baking soda, salt, cinnamon, and nutmeg. Add to cream butter mixture. Beat until well-combined. Stir in 1 1/2 cup oats.
Press roughly half of mixture into the bottom of prepared baking dish. Bake for 10 minutes and remove from oven to a wire rack.
Sprinkle apples over crust. Stir remaining 2 tablespoons of flour into caramel. Pour 1/3 cup of caramel over the top.
Stir remaining 1/4 cup oats into dough and spoon dough over the top of the apple caramel layer.
Return to oven and bake for another 25-30 minutes or until topping is light golden brown.
Remove from oven and allow to cool for 1 hour before cutting into bars.
Recommended Products
As an Amazon Associate and member of other affiliate programs, I earn from qualifying purchases.