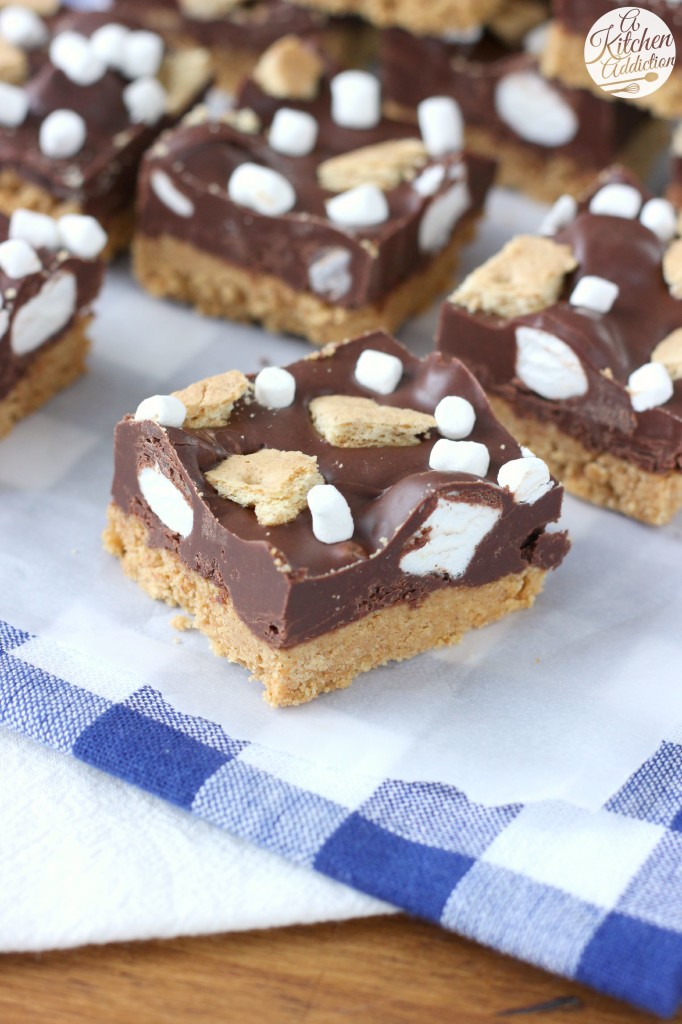 I mentioned on Monday that I'm not ready for grilling season to end. Part of that has to do with the fact that I'm not ready for s'mores season to end! Having s'mores after a meal from the grill is a must around here.
It doesn't happen all the time, but it does happen quite a bit! Probably not the best for our blood sugar, but definitely good for our tastebuds!
Since I won't be able to have s'mores whenever I want once grilling season ends, I have to find a way to enjoy them that doesn't require a grill or fire pit. Enter these no bake dark chocolate peanut butter s'mores bars.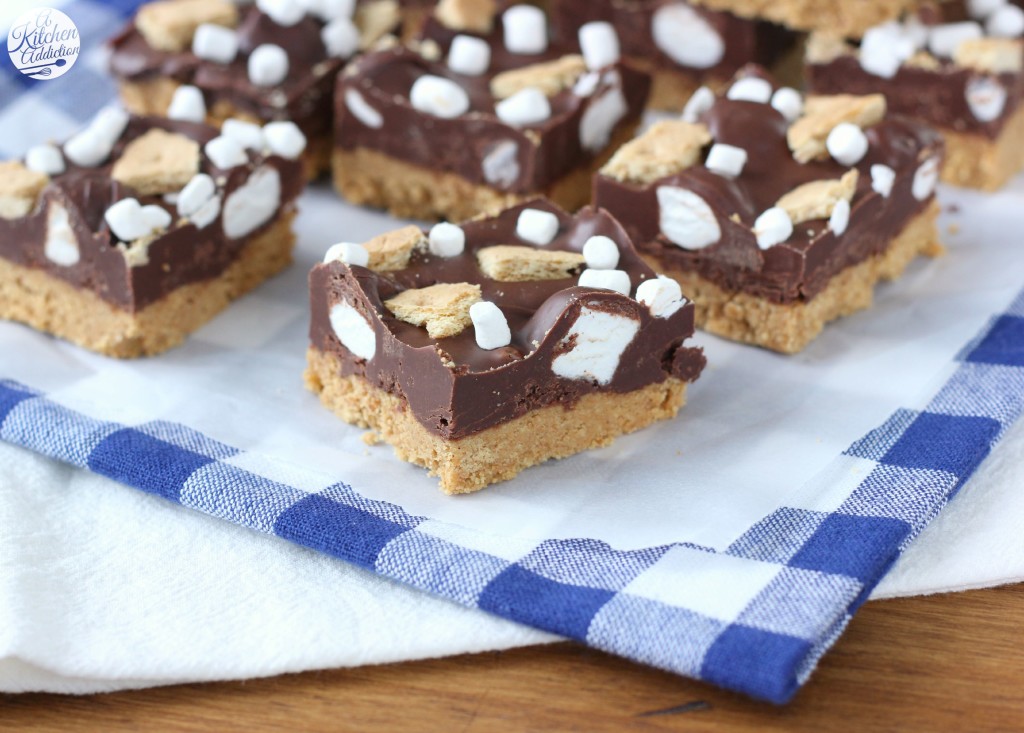 No fire needed, but still lots of chocolate, marshmallow, and graham cracker goodness. And since I find milk chocolate to be too sweet when paired with marshmallows, I used dark chocolate.
But my husband doesn't agree with me, he thinks milk chocolate is the way to go. If you're like him, I suppose you could use milk chocolate instead of dark chocolate. . .!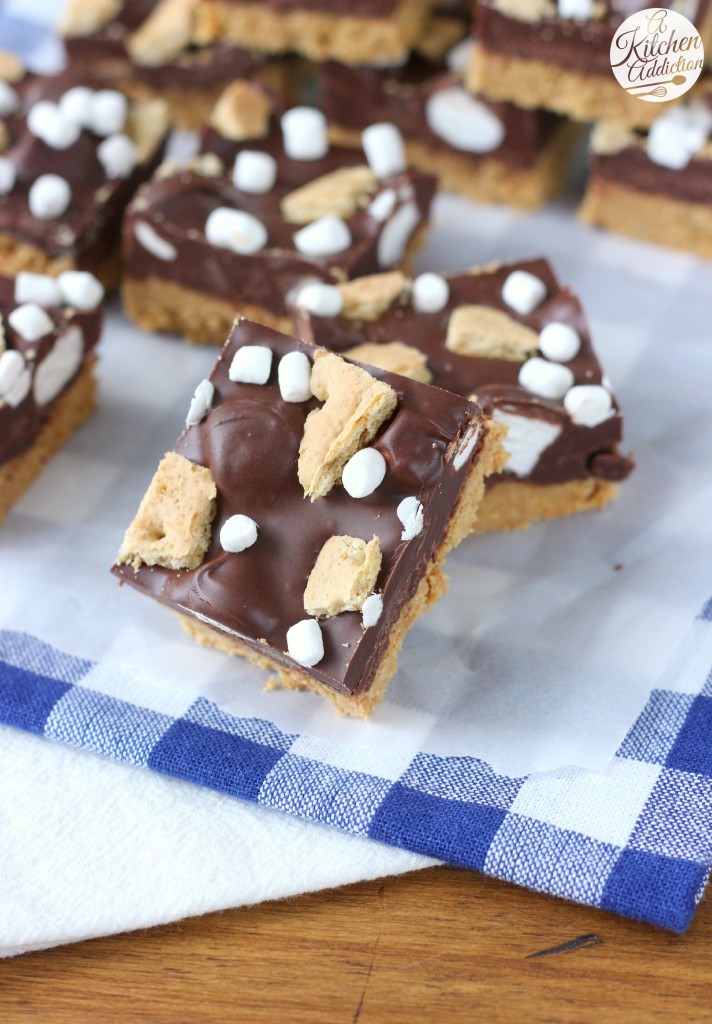 Have you ever added peanut butter to your s'mores? If you haven't, you're missing out. Just smear a little on your graham cracker (or use a Reese's!) before putting the chocolate and marshmallow on, and you'll never have it plain again!
Because it's so good, I added peanut butter to both the graham cracker base and to the melted chocolate in these bars.
Just press the graham mixture into the pan, sprinkle with mini marshmallows, pour chocolate over the top, and top with marshmallow bits and crushed graham crackers.
A super simple way to enjoy summer all year long!
Tips for Making No Bake Dark Chocolate Peanut Butter S'mores Bars
Don't skip lining the pan with aluminum foil or parchment paper. The bars are much easier to remove and slice when they are in an aluminum foil or parchment paper "sling." Just remove the aluminum foil from the pan, slice the bars, and put the foil back in.
Make sure to press the graham cracker mixture firmly into the baking dish. This will keep the crust from falling apart when cutting.
Don't like dark chocolate? Use semi-sweet or milk chocolate instead.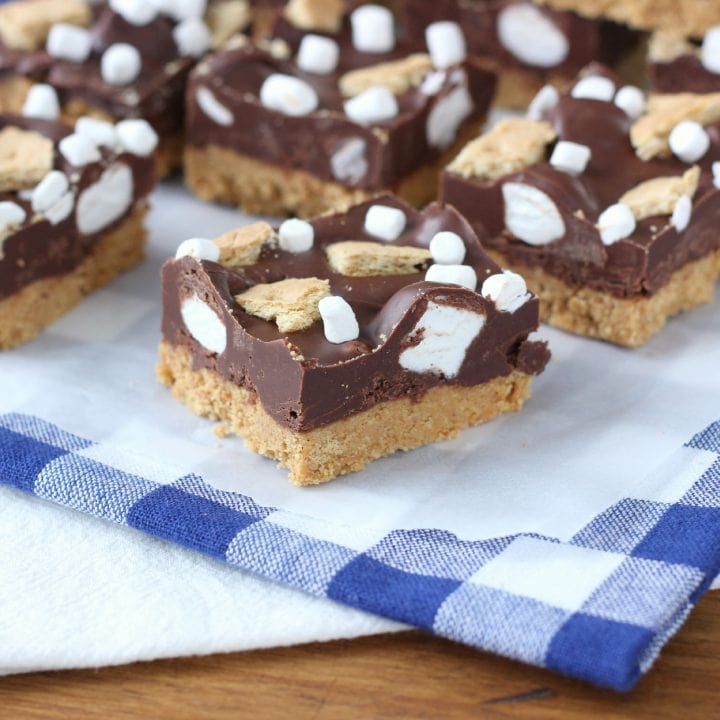 No Bake Dark Chocolate Peanut Butter S'mores Bars
Refrigeration Time:
2 hours
Total Time:
2 hours
15 minutes
Ingredients
For the Crust
12 whole sheets of graham crackers, finely crushed
1/3 C confectioner's sugar
1/2 C creamy peanut butter
4 tbsp butter
For the Topping
1 (12 oz) pkg dark chocolate chips
1/4 C creamy peanut butter
1 tbsp butter
1/3 C mini marshmallows
1 whole sheet graham cracker, coarsely crushed
2 tbsp marshmallow bits
Instructions
Line an 8x8 inch baking dish with aluminum foil so that the edges hang over the sides of the baking dish.
In a food processor, pulse together graham crackers and confectioner's sugar until graham crackers are fine crumbs.
In a small microwave safe bowl, melt peanut butter and butter until butter is melted. Stir together and add to food processor. Pulse until mixture is completely combined.
Press mixture into the bottom of prepared baking dish. Set aside.
In a microwave safe bowl, add chocolate chips and melt according to package instructions. Stir in peanut butter and butter until smooth.
Top graham cracker crust with mini marshmallows. Pour chocolate mixture over the top. Sprinkle with crushed graham cracker and marshmallow bits. Gently press into chocolate.
Refrigerate for at least two hours before cutting into pieces and serving.
Recommended Products
As an Amazon Associate and member of other affiliate programs, I earn from qualifying purchases.