This post brought to you by Love Beets. All opinions are 100% mine.
I have a confession to make, I've never really been a fan of beets. It wasn't until just recently that I started enjoying them in juices and discovered that not all beets taste like dirt! Like these beets for this recipe, but more on that later. There still is one aspect of beets that hinders my enjoyment of them. The work in preparing them! I always end up with bright red juice all over my hands, the knife, the cutting board, etc. That's why Love Beets are perfect for me!
Love Beets specializes in all-natural, freshly cooked beets. Read: They do all the work! Their products include marinated baby beets, freshly packed steamed beets, and beet juices that can be found in most major retail food stores across North America. Along with being able to get them at major retail food stores, you have the opportunity to enter for a chance to win a year's supply of beets! Be sure to check out the Facebook sweepstakes below the recipe!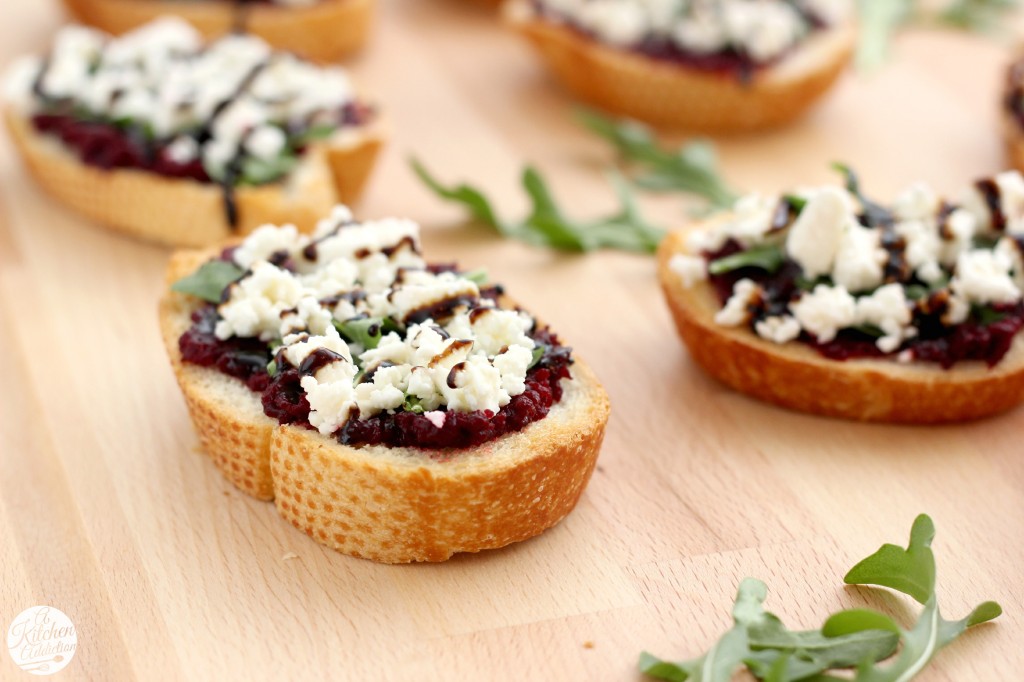 The Love Beets product line contains no artificial colors or preservatives, is gluten-free, and certified Kosher. No mess, no extras, just healthy beets! Since February is Heart Health Month, it only makes sense that we should find ways to incorporate beets into our diets this month! A diet that contains potassium rich beets can help decrease the risk of cardiovascular disease and stroke. Beets also contain nitrates that the body converts to nitrites. These are then converted into nitric oxide which help promote blood flow and lower blood pressure.
This roasted beet, feta, and arugula crostini is a great way to both get the benefits of beets while also enjoying their flavor. The saltiness of the feta and the tangy sweetness of the balsamic drizzle pair perfectly with the earthy beets. If you are a fan of beets, or even if you aren't (because you will be after trying this!), this is a great snack, appetizer, or mini meal!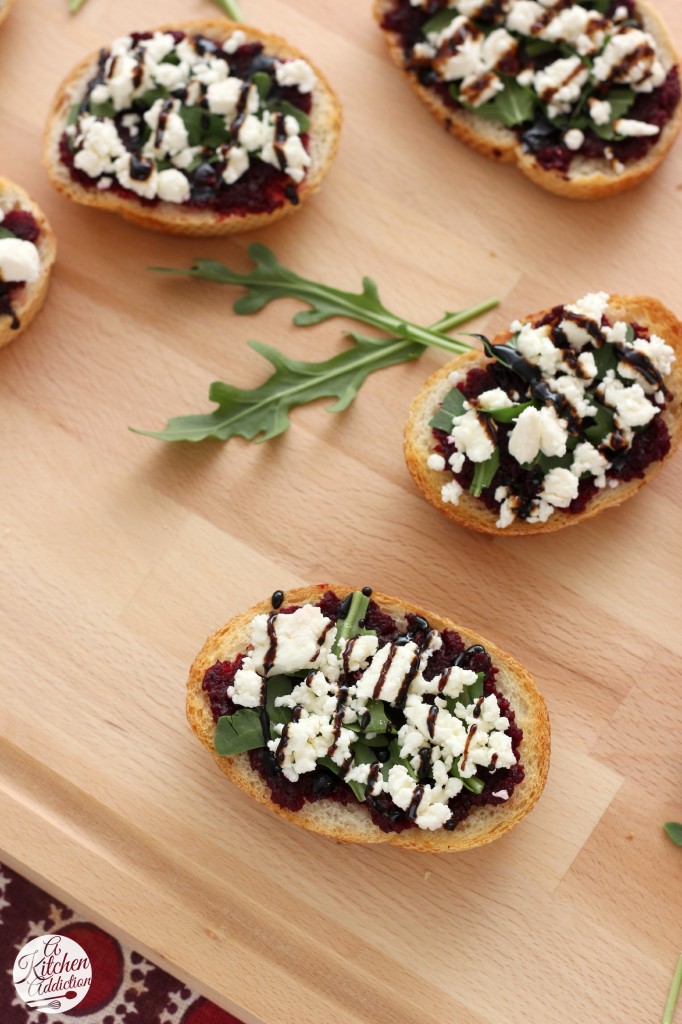 Roasted Beet, Arugula, and Feta Crostini with Balsamic Drizzle
Yield: 16 slices
Ingredients
16 slices french bread, about 1/4 inch thick
8.8 oz package Love Beets (plain), diced
1 tbsp olive oil
1/2 C feta crumbles
1/2 C baby arugula, shredded
1/2 C balsamic vinegar
2 tbsp brown sugar
Directions
Preheat oven to 425. Line a baking sheet with aluminum foil.
Spread diced beets on prepared baking sheet. Drizzle with olive oil. Bake for 15-20 minutes or until tender when pierced with a fork. Remove from oven and set aside.
Reduce oven to 350. Spread bread slices on another baking sheet. Bake for 10-15 minutes or until toasted, flipping halfway through. Remove from oven and cool.
Combine balsamic vinegar and brown sugar in a small saucepan. Bring to a simmer over medium heat. Allow to simmer for 10-15 minutes or until mixtures reduces to about half. Cool.
Mash beets in a bowl or process in a food processor until smooth. Spread beets over the top of toasted bread. Top with shredded arugula and feta.
Drizzle with balsamic glaze and serve.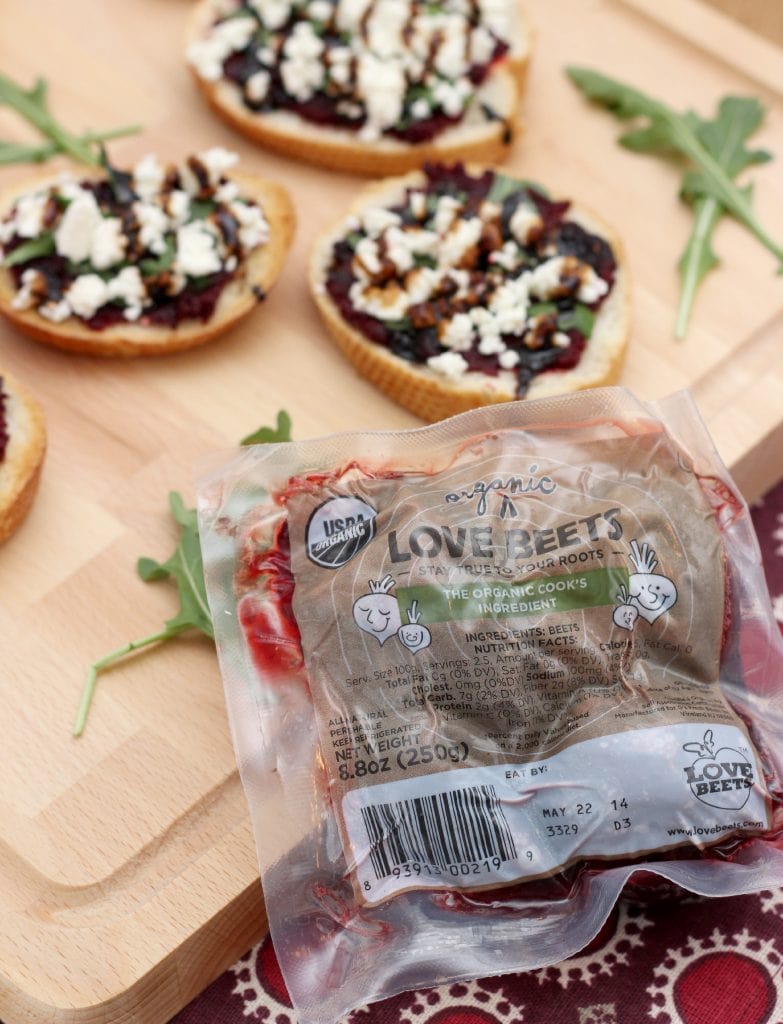 Do you love beets? Enter the Love Beets' Beet the Odds Facebook Sweepstakes for your chance to win a year's supply of beets (26 coupon vouchers) and a free nutrition/healthy living consultation with noted nutritionist and cookbook author Ellie Krieger!
Love Beets will post 4 Love Beets recipes and ask fans to share their favorite in order to receive a free product coupon and be entered in the sweeps for a chance to win the grand prize. In addition, every time a fan shares the giveaway with a friend, he or she gets an additional entry.