I'm sure you've realized by now that I have a thing for breakfast food, especially baked goods. It doesn't matter if it's scones, muffins, toast, coffee cake, etc., you'll most likely find one of them in my house at any given time.
However, I've realized I don't make many bagels. I don't know why. They are so easy and they can be made with so many flavor combinations. One of my favorites is a cinnamon sugar bagel.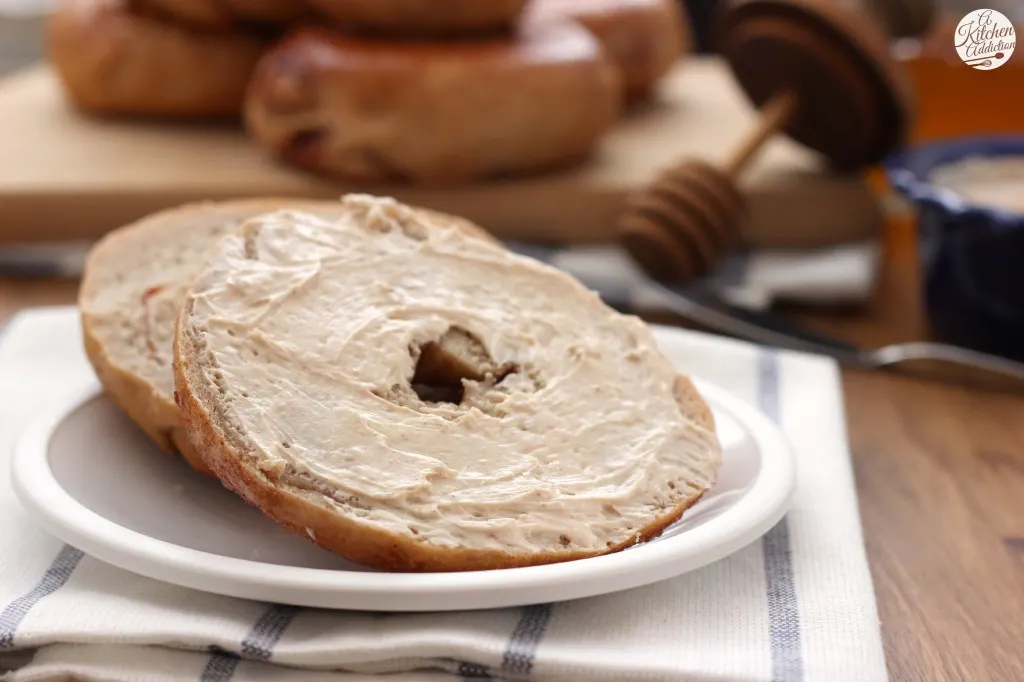 These bagels have cinnamon in the base and a cinnamon sugar swirl that is mixed throughout. To make the flavor even richer, a cinnamon sugar glaze lightly covers the tops of them. An easy whipped honey cinnamon cream cheese is the perfect pairing to these bagels.
If you're someone who hasn't made bagels before, you may think that the long list of ingredients and instructions means they're difficult to make, but the actual process is actually quite easy. Just mix, let rise, shape, let rest, boil, and bake. That's it!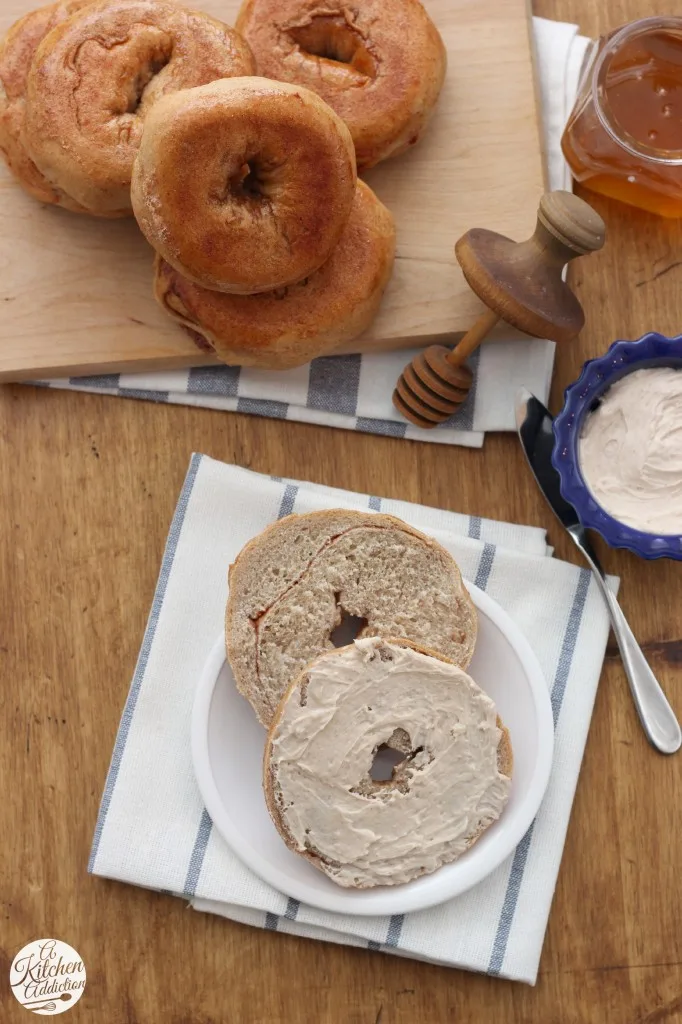 If you are someone who doesn't like to work with yeast breads because of the time that is involved with rising, you really should give these a try.
When you take the first warm, chewy bite, you realize that the time it takes to make these cinnamon sugar bagels worth it!
Cinnamon Swirl Bagels
Author:
Ingredients
For the Bagels
3 1/2 C bread flour
1 1/2 tsp salt
2 1/4 tsp Platinum or Instant Dry Red Star Yeast
2 tbsp brown sugar
1 1/2 tsp cinnamon
1 1/2 C water, warmed to 120-130F
For the Cinnamon Swirl
1/4 C sugar
1 1/2 tsp cinnamon
For the Water Bath
8-10 C water
2 tbsp brown sugar
1 tbsp sugar
cinnamon sugar for garnish, optional
For the Cream Cheese
8 oz cream cheese, softened
2 tbsp honey
1/4-1/2 tsp cinnamon, depending on preference
Instructions
In the bowl of your stand mixer, combine 2 1/2 C flour salt, yeast, brown sugar, and cinnamon. Add in warm water and beat until dough just starts to come together. Add remaining flour and beat until dough comes together. Swap out paddle attachment for a dough hook.
Knead on medium-low for 8-10 minutes or until dough is smooth and elastic.
Shape dough into a ball and place into an oiled bowl. Cover and allow to rise in a warm location until doubled in size, about an hour.
Turn dough out onto a lightly floured surface (my dough barely needed any flour to prevent it from sticking). Gently press into a thick rectangle.
Stir together cinnamon and sugar in a small bowl. Sprinkle cinnamon sugar over the top. Fold rectangle in half and cut into 8 pieces.
Press each piece of dough together and roll into a ball. If cinnamon sugar falls out, just roll the dough in it. Press your finger through the middle of the ball of dough and stretch and shape the dough out until the hole in the middle is about 1 1/2 inches wide.
Place on a baking sheet sprayed with non-stick cooking spray or lined with a silicone mat. Repeat with remaining dough. Allow to rest for 25-30 minutes or until puffed but not double in size.
Preheat oven to 400. While dough is resting, bring water and sugars to a boil over medium heat in a large saucepan.
In batches, boil bagels 45-50 seconds per side. Place on a baking sheet lined with parchment paper or a silicone mat. Sprinkle with more cinnamon sugar, if desired.
Bake for 25-30 minutes or until golden brown. Carefully flip them after 8-10 minutes to help with even cooking/rising.
Allow to cool on a wire rack before serving.
Prepare whipped cream cheese by placing cream cheese, honey, and cinnamon in a small bowl. Beat with an electric mixer for 2-3 minutes until light and fluffy.