Three desserts in one week! Wow, my sweet tooth is getting the better of me! 🙂 I guess next week will just have to be all vegetables! Just kidding! I don't actually know if I could do that. . . Anyways, about these amazing bars. . .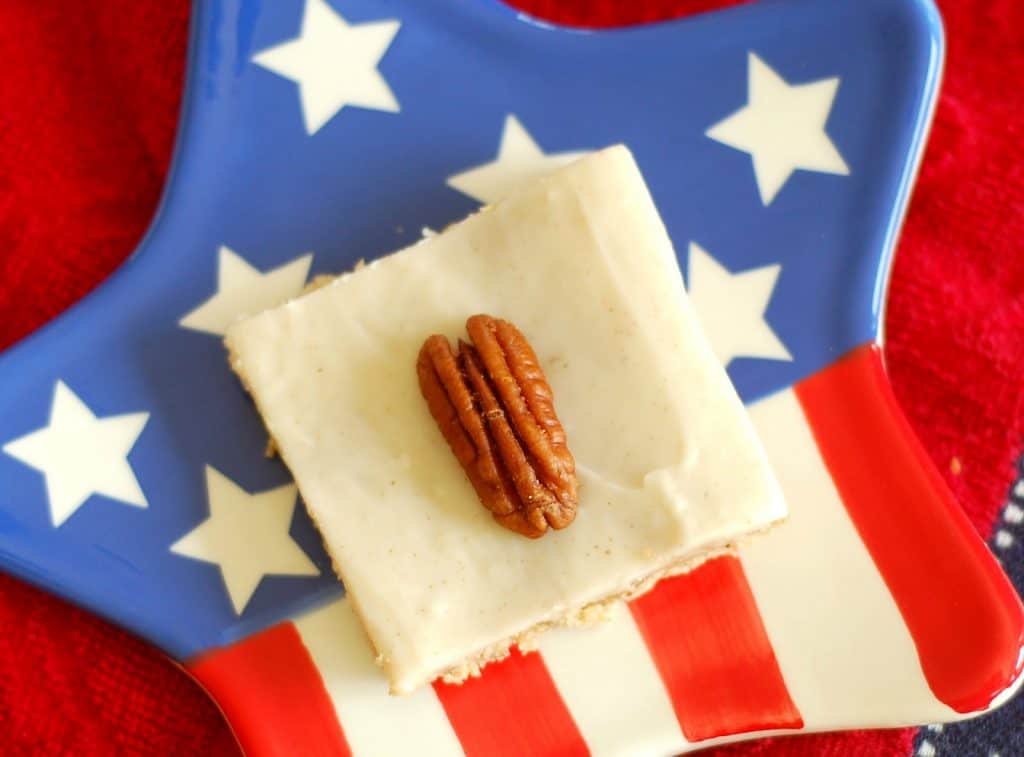 These blondies are a thin, delicate bar that are perfectly rich and sweet. The nuttiness of the pecans in the base offsets the sweetness of the frosting. And well, browned butter is always amazing! Plus, they come together in no time! (My kind of dessert!)
They pass the crumble test (a million pieces don't go everywhere when you take a bite) and are great to take along to picnics and barbecues for that finishing touch to a delicious meal!
Have a great weekend!!
Pecan Blondies with Browned Butter Frosting

Adapted from: Pillsbury Complete Cookbook p. 435
Yield: 36 bars
Ingredients
For the Bars
1/2 C granulated sugar substitute
1/4 C sugar
1/2 C brown sugar
1/2 C butter, softened
1 tsp vanilla extract
2 eggs
1 C all-purpose flour
1/2 C whole wheat pastry flour
1 tsp baking powder
1/2 tsp salt
1/2 C chopped pecans
For the Frosting
2 tbsp butter
1 1/2 C powdered sugar
1/4 tsp vanilla extract
2-4 tbsp non-fat milk
36 pecan halves, for garnish
Directions
Preheat oven to 350. Spray a 9×13 pan with non-stick cooking spray.
In the bowl of a stand mixer, add sugar substitute, sugar, brown sugar, and butter. Beat until light and fluffy. Add vanilla and eggs. Beat until well-blended. Beat in flours, baking powder, and salt until combined. Stir in pecans.
Spread batter in bottom of pan. Bake for 20-30 minutes or until toothpick inserted into the center comes out clean. Remove pan to wire rack to cool.
While bars are cooling, heat butter in a medium-sized saucepan over medium heat until light golden brown. Remove from heat. Stir in powdered sugar, vanilla, and just enough milk to reach desired consistency. Blend until smooth.
Spread frosting over cooled bars. Arrange pecan halves over frosting and cut into bars.
Store leftovers in an airtight container.