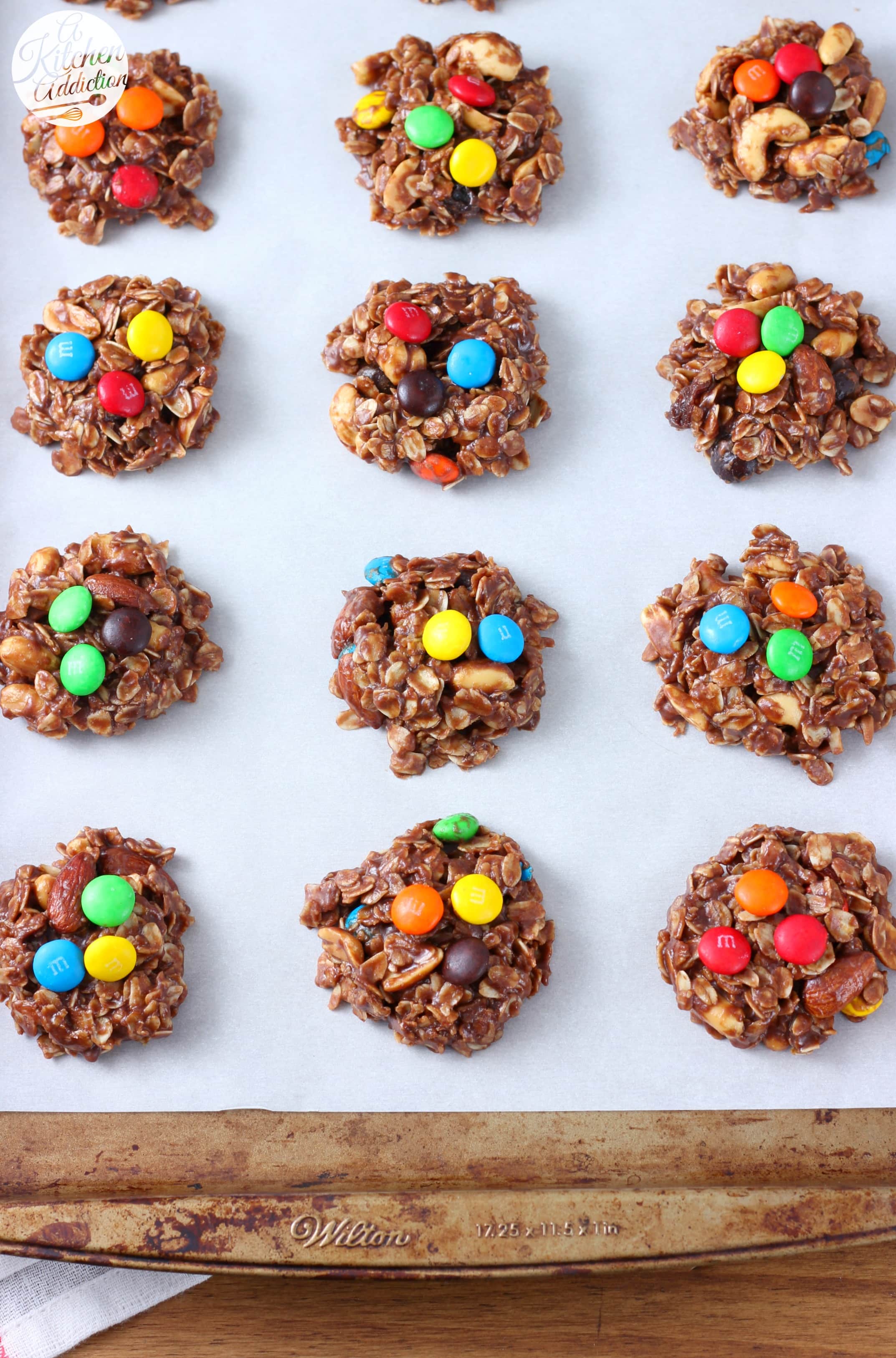 *Post from 08/28/13. Images updated 07/26/16.
Tonight we're taking advantage of the long Labor Day weekend by adding a couple of extra days to it and getting away! I know, you're probably thinking that we're always "getting away"!
However, we've been going places with a purpose to get something done. This time we're getting away with no other plans than to just relax. I can't wait!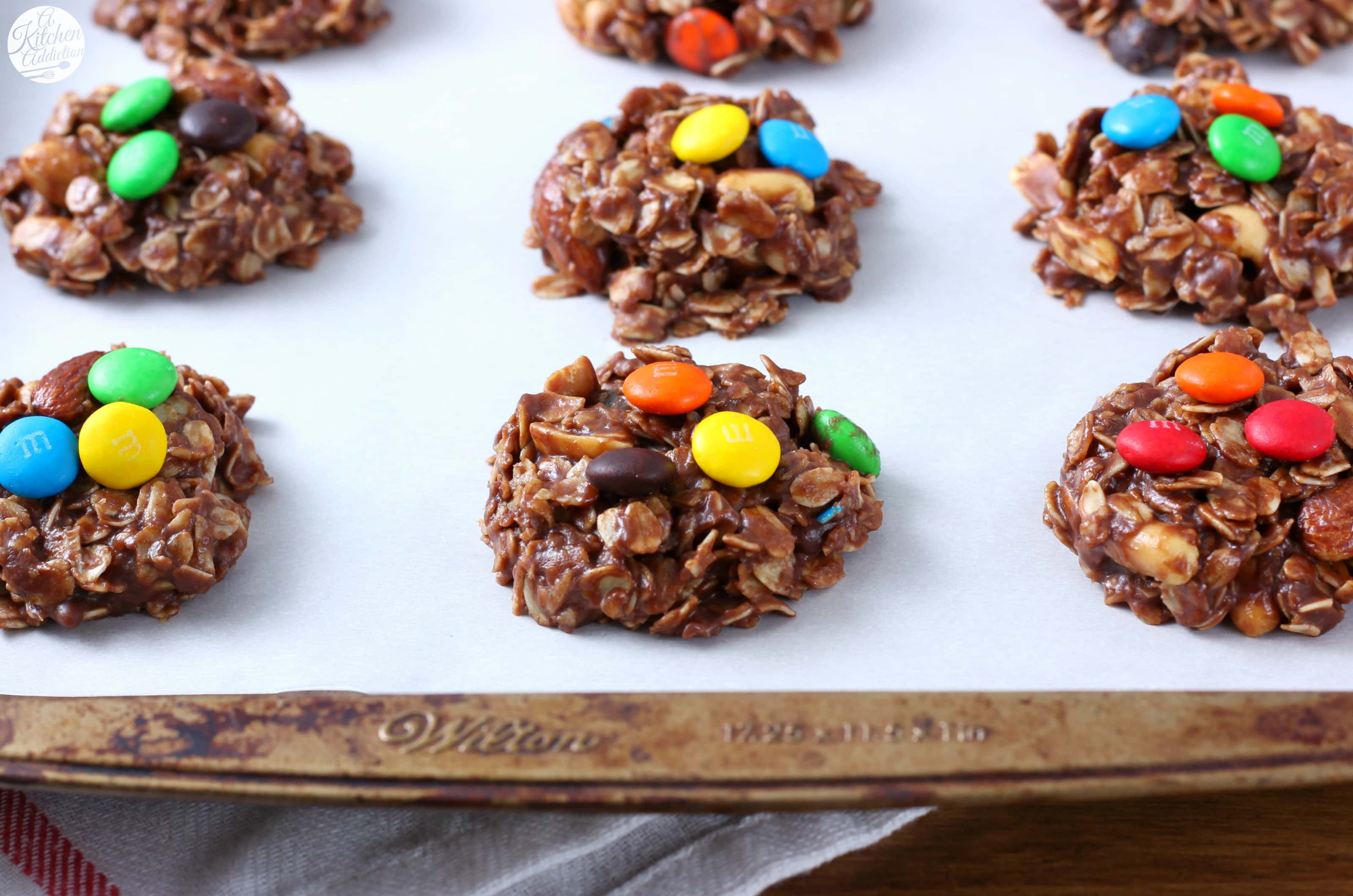 Of course, I have to make snacks to take with us. Since the triple digit weather is making it difficult for our poor air conditioner to keep up without the oven on, I wanted to find a couple snacks that didn't require the oven.
Since trail mix always makes an appearance on our road trips, I thought I would incorporate it into no bake cookies to mix up both the flavor of the trail mix and the flavor of a classic no bake cookie and turn them into trail mix no bake cookies.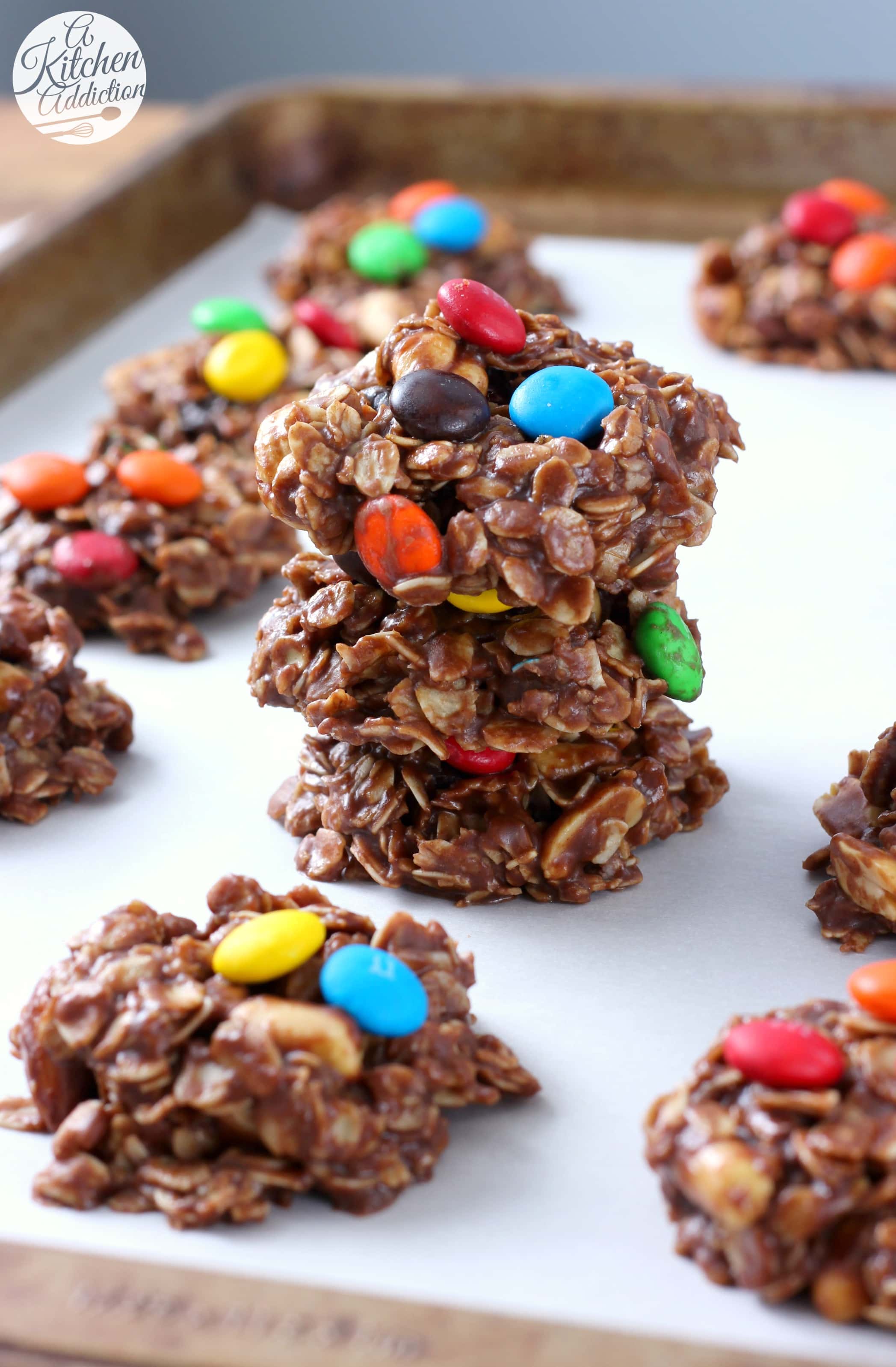 I just used a traditional almond, cashew, peanut, and M&M's mix. There were raisins too, but I wasn't too sure about them in the cookies, so I picked most of them out.
I think just about any mix would work as long as the flavors would go with chocolate and peanut butter.
The texture and heartiness that the trail mix gave to the no bake cookies was just what I was looking for. Now the trick will be to make sure we don't eat them all before the trip!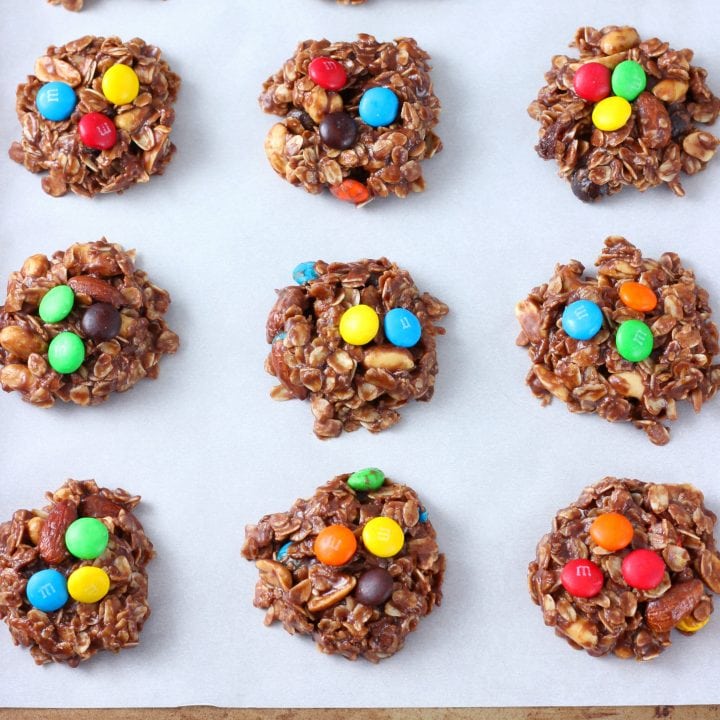 Trail Mix No Bake Cookies
Yield: 30 no bake cookies
Ingredients
1 C sugar
1/4 C unsweetened baking cocoa
1/2 C butter
1/2 C milk
1/2 C peanut butter
1 tbsp vanilla extract
3 C rolled or quick oats
1 1/4 C trail mix (mine included almonds, cashews, peanuts, M&M's, and a few raisins)
Instructions
Line a baking sheet with parchment paper or a baking mat.
Stir together sugar, baking cocoa, butter, and milk in a large saucepan. Bring to a boil over medium heat. Boil for 2 minutes, stirring frequently to prevent scorching.
Remove from heat. Stir in peanut butter and vanilla until smooth. Stir in oats until combined. Add trail mix and stir to combine.
Drop batter by heaping tablespoon (or use a small ice cream scoop or a large cookie scoop) onto prepared baking sheet. Gently press to shape into a cookie. I used the back of my scoop to do this. Top with additional M&M's, if desired.
Place baking sheet in the refrigerator and allow to cool for at least 30 minutes. If your house is warm, you may want to continue to store the cookies in the refrigerator.
Notes
The cookies will appear "loose" when you scoop them onto the baking sheet. As the cookies cool, the oats will soak up the moisture and "solidify."
Recommended Products
As an Amazon Associate and member of other affiliate programs, I earn from qualifying purchases.