Filled with fresh raspberries and topped with a crunchy, cinnamon pecan topping, this Raspberry Pecan Breakfast Cake Recipe is an easy cake that can be enjoyed for a special breakfast!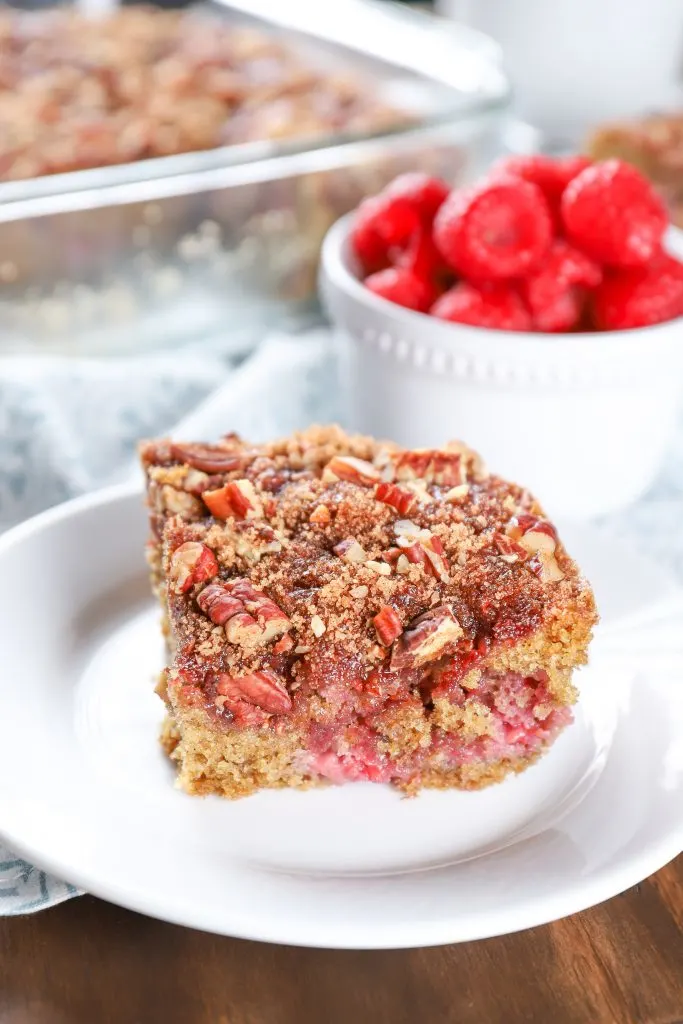 By the looks of my posts over this month, you're probably beginning to think that all we eat around here is breakfast food. But, believe it or not, we do actually eat other food, I just don't have the patience to wait for pictures.
Breakfast food on the other hand, can be eaten anytime of day (and is at our house!)! This raspberry pecan breakfast cake is no different. It's great for breakfast, lunch, snack, or dinner!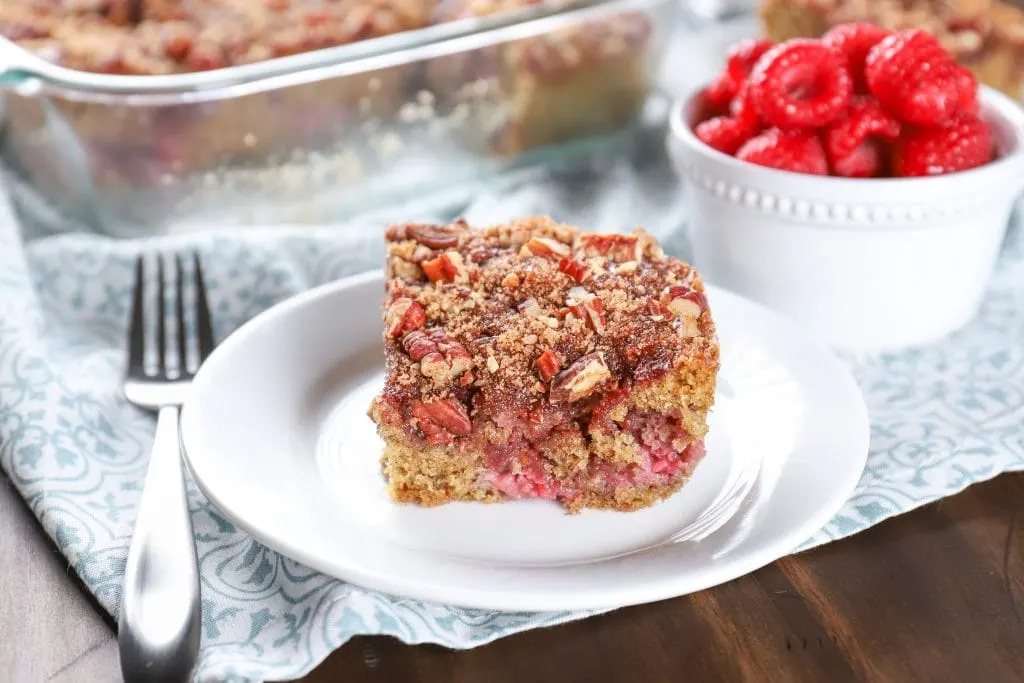 This cake doesn't have the texture of a coffee cake and it doesn't have the texture of a quick bread or muffin, so I'm calling it a breakfast cake!
And a breakfast cake is a rich, melt-in-your-mouth treat that makes an ordinary morning seem special.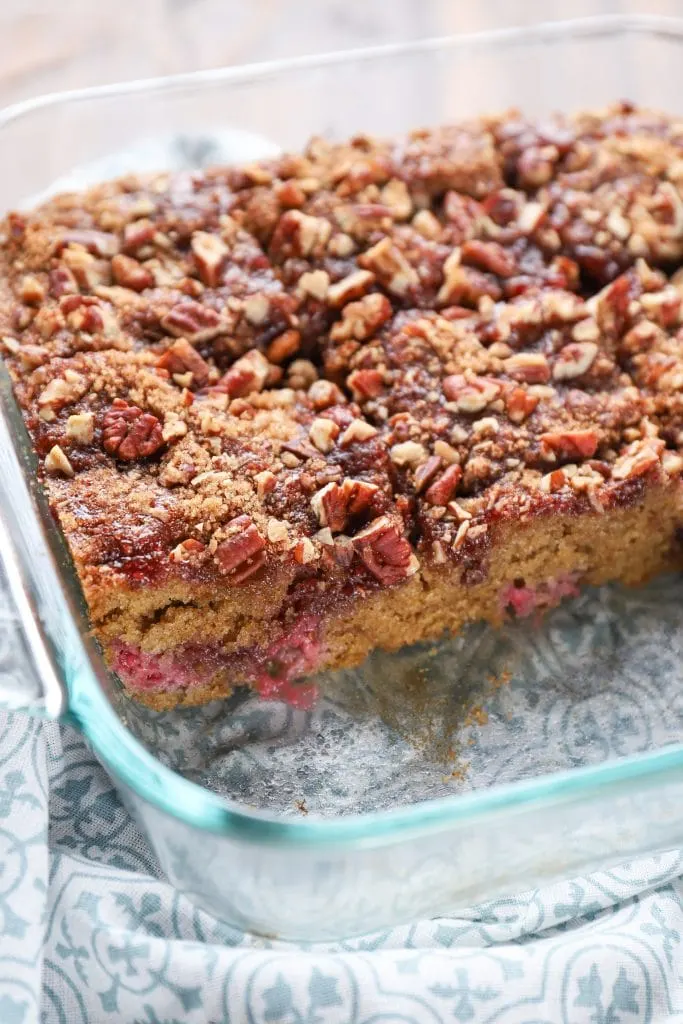 Sweet raspberry preserves and rich pecans are combined with subtle hints of cinnamon and nutmeg. The cinnamon and brown sugar sprinkled over the top halfway through the bake time gives a light sugar crunch to the cake.
The perfect finishing touch!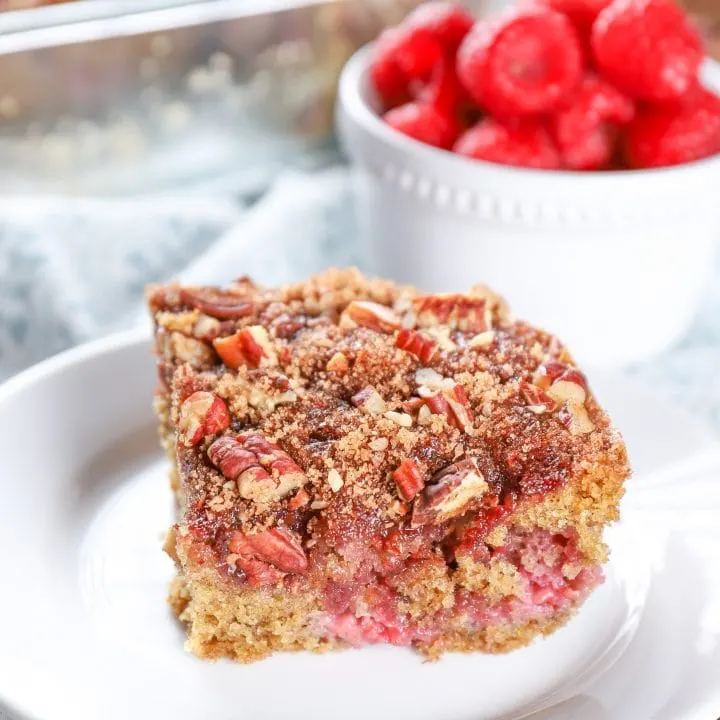 Raspberry Pecan Breakfast Cake
Ingredients
2 eggs
2/3 C sugar
1 tsp vanilla extract
½ C butter, melted and cooled
1 C white whole wheat flour
½ tsp salt
1 tsp cinnamon
1/2 tsp nutmeg
1 C fresh raspberries, rinsed and patted dry
⅓ C raspberry preserves
⅓ C pecans, coarsely chopped
1 tbsp brown sugar
¼ tsp cinnamon
Instructions
Preheat oven to 350. Spray an 8x8 inch baking dish with non-stick cooking spray.
In the bowl of a stand mixer or with an electric mixer, beat eggs until frothy. Add in sugar and vanilla and beat until creamy. Beat in melted butter. Add in flour, salt, cinnamon, and nutmeg and slowly beat until combined. Batter will be thick. Gently fold in fresh raspberries.
Spread batter into prepared baking dish.
In a microwave safe dish, melt raspberry preserves for 10 seconds. Spoon preserves over the top of the batter. With a knife, gently swirl the preserves into the batter.
Bake for 10 minutes.
In a small bowl, stir together pecans, brown sugar, and cinnamon. Sprinkle pecan mixture over the top of the bars and gently press down with a spoon. Return to the oven to bake for another 12-17 minutes, or until toothpick inserted in the center comes mostly out clean.
Remove to a wire rack and allow to cool for 5-10 minutes before cutting into pieces and serving.
Store leftovers in an airtight container.
Recommended Products
As an Amazon Associate and member of other affiliate programs, I earn from qualifying purchases.