Thick, fudgy and loaded with chocolate chips and raspberries, these Raspberry Fudge Cookies are easy to make and completely irresistible!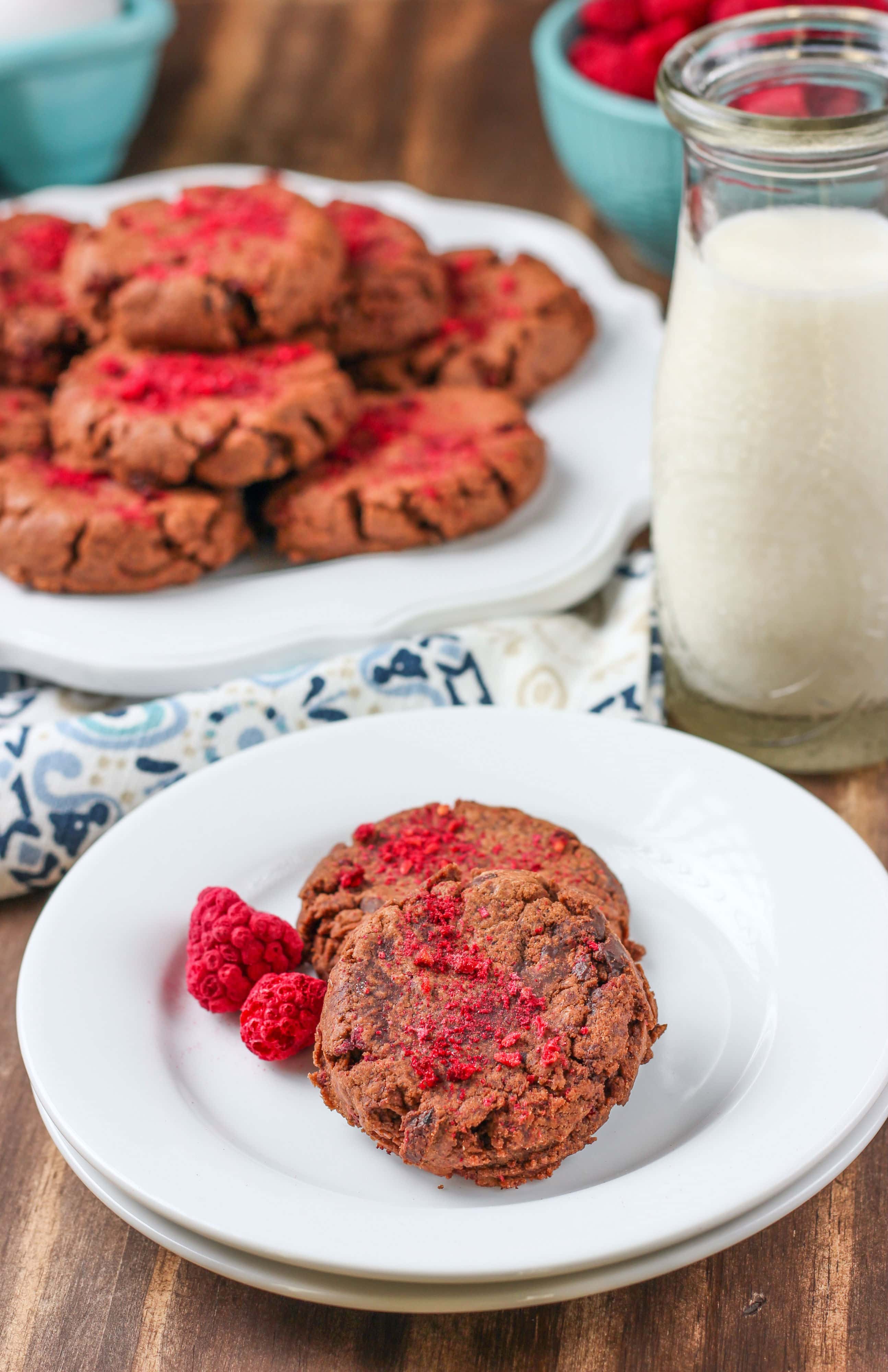 Football season is over, and it's time to move on to the next holiday! Valentine's Day. And whether you're a fan of the holiday or not, I think we can all agree that it's a pretty good excuse to make and eat chocolaty desserts! We don't make a big deal of it around here, but I never pass up celebrating with rich, fudgy desserts.
And this year it may be with another batch of these raspberry fudge cookies! They are definitely worthy of being eaten on Valentine's Day!
Thick, fudgy and filled with chocolate chips and freeze-dried raspberries, I think I may have found my new favorite cookie.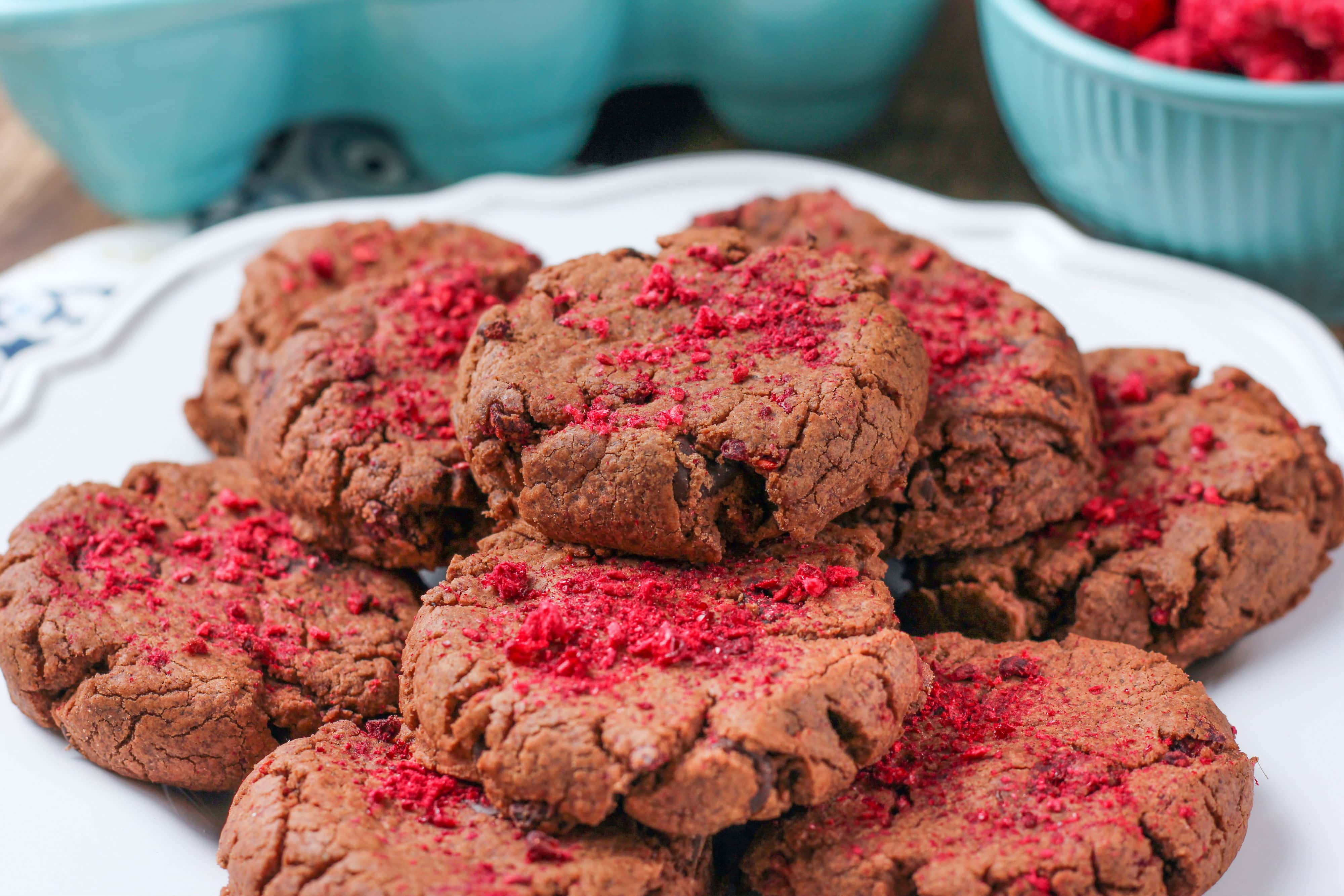 As you know, I'm not a big cookie fan, but even I had a hard time not sneaking a cookie every time I walked past the container! The cookies get their fudgy texture from melted chocolate that is then combined with sugar and butter. They aren't the definition of healthy, but they are worth indulging in one or two!
I don't usually combine fruit with chocolate as a first choice, but I really like chocolate with raspberries. Using freeze-dried raspberries gives the cookies a bit of tartness to off-set the richness of all the chocolate. That and the vibrant pinkish-red color doesn't hurt either!
If you're looking for a rich, irresistible chocolate cookie for Valentine's Day, make a batch of these cookies! Actually, you may want to make a double batch, if you wanted to have some left for sharing!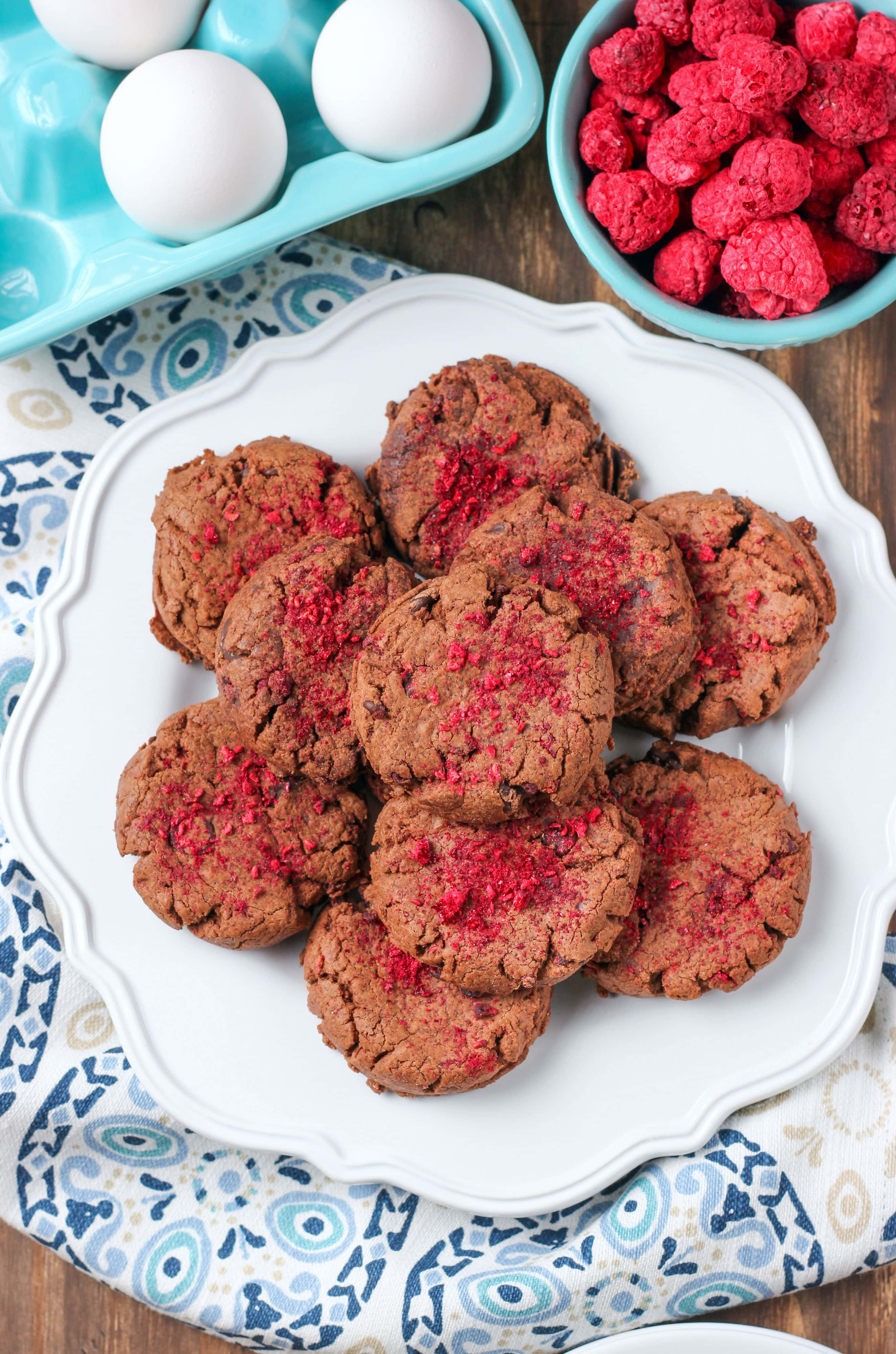 What makes these cookies even better is that they are made to bring awareness to Cookies for Kid's Cancer. We've partnered with them for the past four years and are excited to team up with them once again by joining a group of bloggers who are doing this Valentine's Day event in order to make a difference in the fight against pediatric cancer.
Did you know that cancer is the #1 cause of death of children by disease in the U.S.? There are 40,000 U.S. children actively battling cancer right now. With less than 4% of the National Cancer Institute's budget going to all childhood cancer combined, it's important to get involved.
Help us make a difference by donating to Cookies for Kids' Cancer! Our goal is to raise at least $3000. Dixie Crystals, Mediavine and OXO have each pledged to match our donations raised through this campaign up to $3000 from each company! You can donate and help us make an even bigger difference!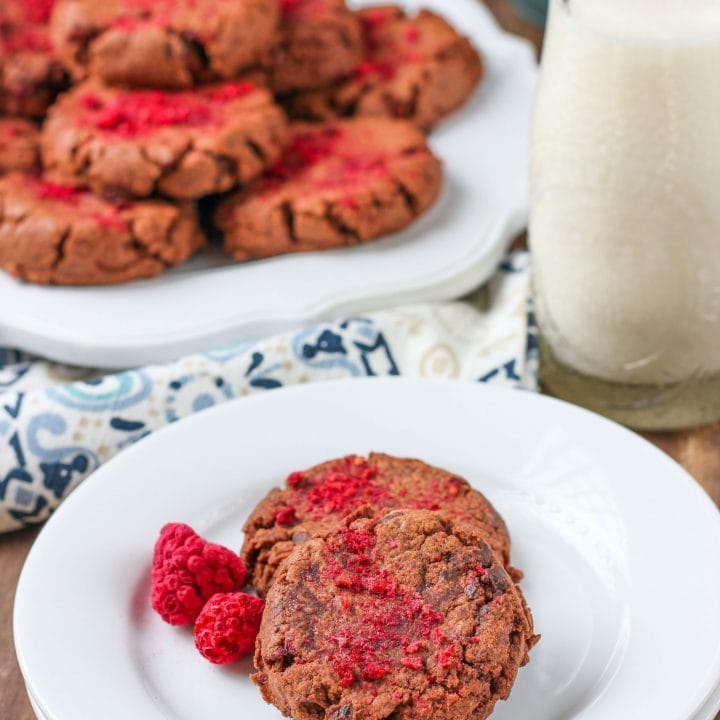 Raspberry Fudge Cookies
Ingredients
2 C semi-sweet chocolate chips, divided
6 tbsp butter, room temperature
1/2 C brown sugar
1/2 C sugar
2 eggs, room temperature
1 tsp vanilla extract
1 1/2 C all-purpose flour
1/4 tsp baking powder
1/4 tsp salt
1/2 C freeze-dried raspberries
1/4 C crushed freeze-dried raspberries, optional
Instructions
Preheat oven to 350. Line a cookie sheet with parchment paper or a silicone mat.
On the stovetop, or in the microwave, melt 1 1/2 cups chocolate chips. Set aside.
In the bowl of stand mixer, or with an electric mixer, cream together butter and sugars. Add in eggs and vanilla extract. Beat until creamy. Slowly beat in melted chocolate. Do not add all of the chocolate at once, as this may cook the eggs. Beat until well-combined.
In a small bowl, whisk together flour, baking powder, and salt. Add dry ingredients to wet ingredients, and beat until combined. Stir in remaining semi-sweet chocolate chips and freeze-dried raspberries.
Drop by heaping tablespoonful onto prepared baking sheet. Bake for 6 minutes. Carefully remove from oven and sprinkle with crushed freeze-dried raspberries, if desired. Return to oven and bake for an additional 2 minutes, or until edges are just set. Middle may seem underdone, but cookies will set as they cool.
Store in an airtight container.
Recommended Products
As an Amazon Associate and member of other affiliate programs, I earn from qualifying purchases.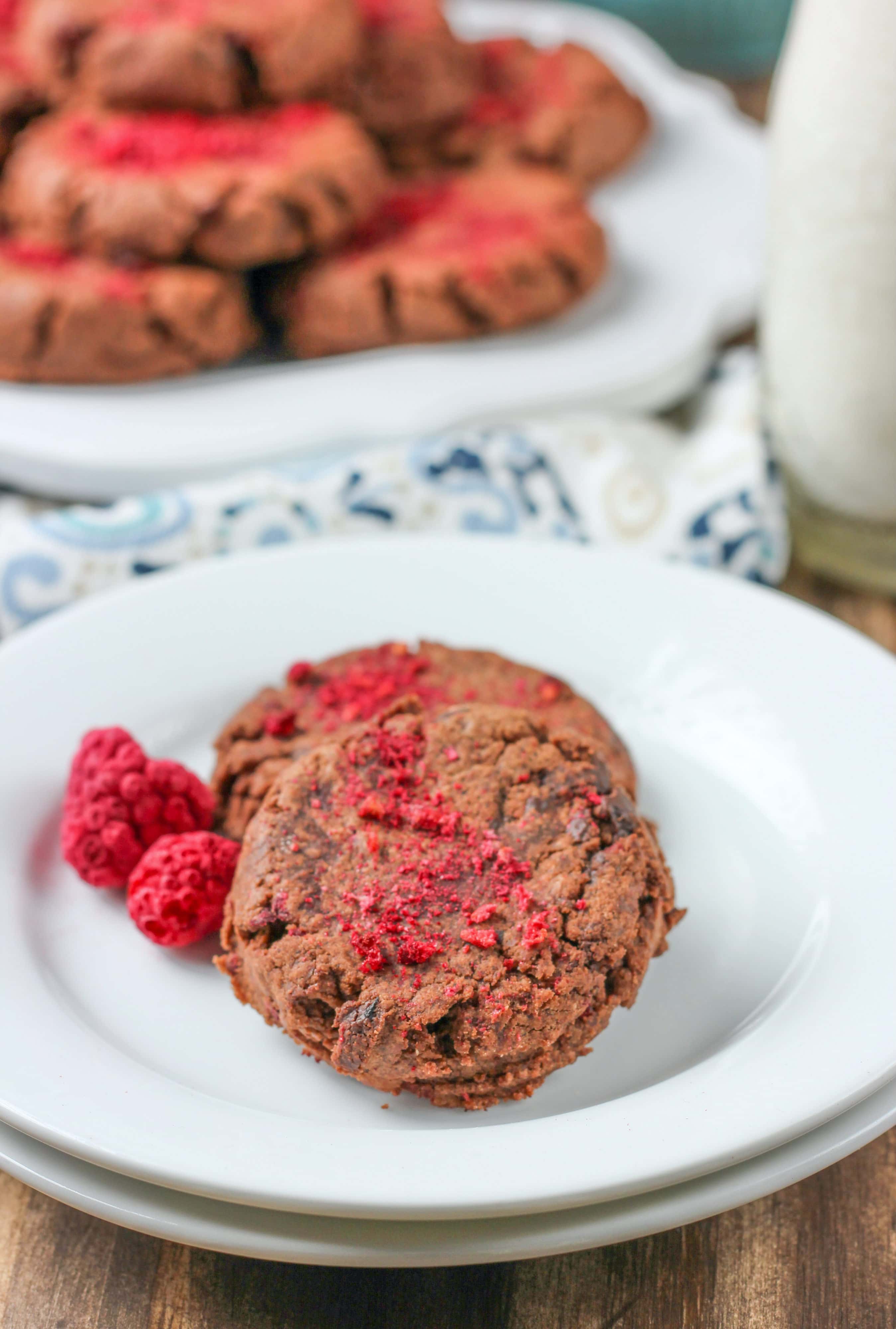 Check out the other recipes from bloggers participating:
Yellow Heart-Shaped Rainbow Funfetti Cookies from Julie of The Little Kitchen
Peanut Butter Cookie Cake from Julie of Julie Blanner
Cherry Coconut Macaroons from Miranda of Cookie Dough and Oven Mitt
Brownie Cookies from Mel of Mel's Kitchen Cafe
No-Bake Chocolate Candy Cookies from Debi of Life Currents
Double Dark Chocolate Chery Black Forest Cookies from Jamie of Southern Revivals
White Chocolate Valentine Madeleine Cookies from Marlynn of Urban Bliss Life
Pillowy Soft Sugar Cookies from Stephie of Stephie Cooks
Steak with Pink Peppercorn Sauce from Sonja of Ginger & Toasted Sesame
Creamy Beet Risotto from Rachel of Copper & Verdigris
Valentine's Day Chocolate Sugar Cookies from Denise of Chez Us
Red Velvet Donuts from Gwynn of Swirls of Flavor
S'mores Brown Butter Panbanging Cookies from Marybeth of babysavers
Gluten-Free Chocolate Kiss Cookies from Audrey of Mama Knows Gluten Free
Gluten-Free Red Velvet Crinkle Cookies from Brianna of Flippin' Delicious
Rose Meringue Cookies from Kirsten of Comfortably Domestic
Raspberry Chipotle Chicken Curry from Shashi of Savory Spin
Double Chocolate Meringue Cookies from Dee of Meatloaf and Melodrama
White Chocolate Raspberry Smoothie from Sarah of Sarah Cooks the Books
Cream Wafer Cookies from Kelly of Live Laugh Rowe
White Chocolate and Raspberry Cookies from Wanda of My Sweet Zepol
Raspberry Fudge Cookies from Jessica of A Kitchen Addiction
Raspberry Cookies from Courtney of Know Your Produce
Syltkakor Raspberry Jam Cookies from Megan of Stetted
No-Bake Chocolate Tart from Rachel of Rachel Cooks
Heart-Shaped Chocolate Chip Cookies from Angela of About a Mom
Mexican Hot Chocolate Cookies from Lisa of TasteCookSip
Chai Latte Shortbread Hearts from Sue of It's Okay to Eat the Cupcake
Soft and Sweet Sugar Cookie Bars from Carlee of Cooking With Carlee
Strawberry and Cream Cookies from Ashley of A Cup of Charming
Cherry Cream Cheese Cookies from Lisa of Blogghetti
Galete Waffle Cookies from Shaina of Food for My Family
Almond Shortbread Cookies from Denise of addicted 2 recipes
Easy Strawberry Fudge from Chrysa of Thrifty Jinxy
Valentine's Day Mug Hug Cookies from Aimee of Southern From Scratch
Doughnut Sandwich Cookies from Bree of Baked Bree
Chocolate Nutella Cookies from Melissa of Modern Honey
Easy Crinkle Cookies from Amy of The Nifty Foodie
Chocolate Sugar Cookies from Becca of The Salted Cookie
Love Cake from Sara of Confectionary Tales
Meringue Cookies from Sara of My Imperfect Kitchen
Rose White Hot Chocolate from Susannah of Feast + West
Gluten Free Lavendar Shortbread Cookies from Carolann of Apron Warrior
Fruit Filled Chocolate Waffle Cones from Nicole of For the Love of Food
Chocolate and Vanilla Sweetheart Cookies from Sheila of Life, Love, and Good Food
Raspberry Chocolate Thumbprint Cookies from Nancy of The Bitter Side of Sweet
Chai Spiced Snickerdoodle Cookies from Ashley of Big Flavors from a Tiny Kitchen
Heart Happy Valentine Cookie Chocolate Cheesecake from TammyJo of The Chocolate Cult
Persian rice cookies from Caroline of Caroline's Cooking