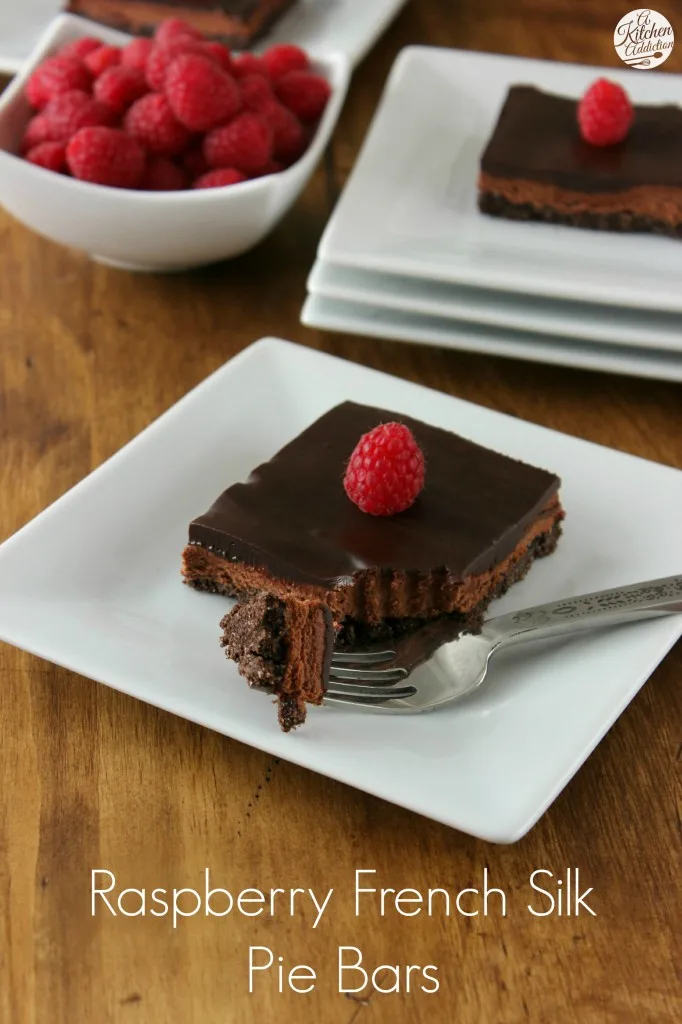 Sometimes life calls for chocolate. Lots of chocolate. (The more computer problems you have, the more you want chocolate. . .in case you were wondering. . .)
While I'm not super crazy about Valentine's Day, I can definitely get behind all of the chocolate (especially the extra-dark kind!)! In honor of this chocolate filled day, I've made you raspberry french silk pie bars.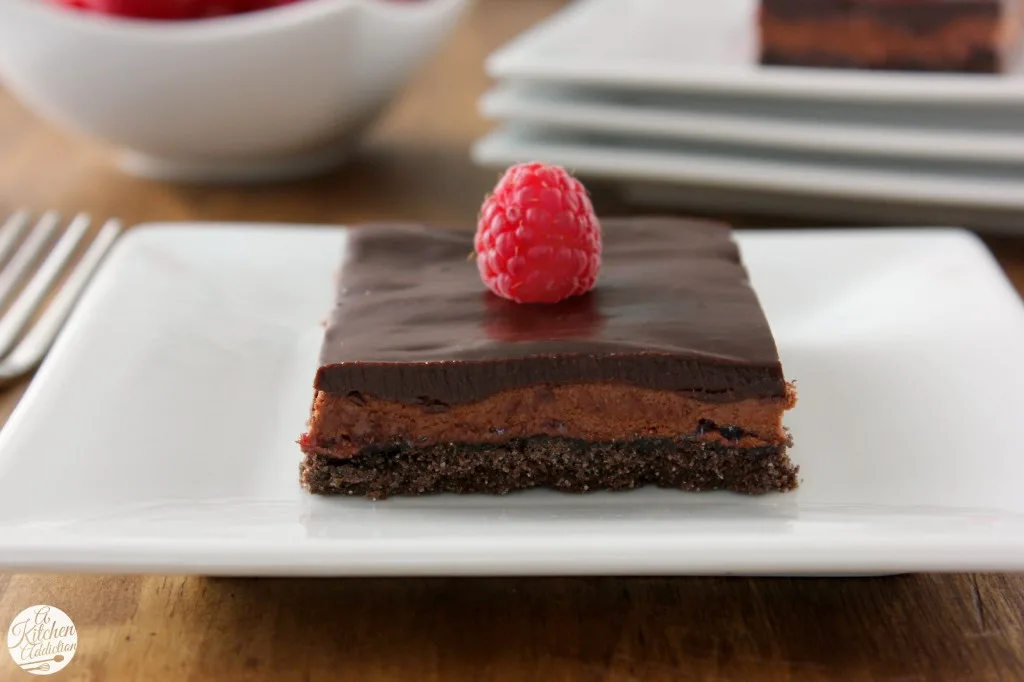 Instead of raspberry french silk pie bars, these bars could have been called triple chocolate perfection. They are composed of three layers of chocolate goodness.
A simple chocolate crust is the base to these decadent bars. Light, airy chocolate mousse is next and is topped with a rich, smooth chocolate ganache.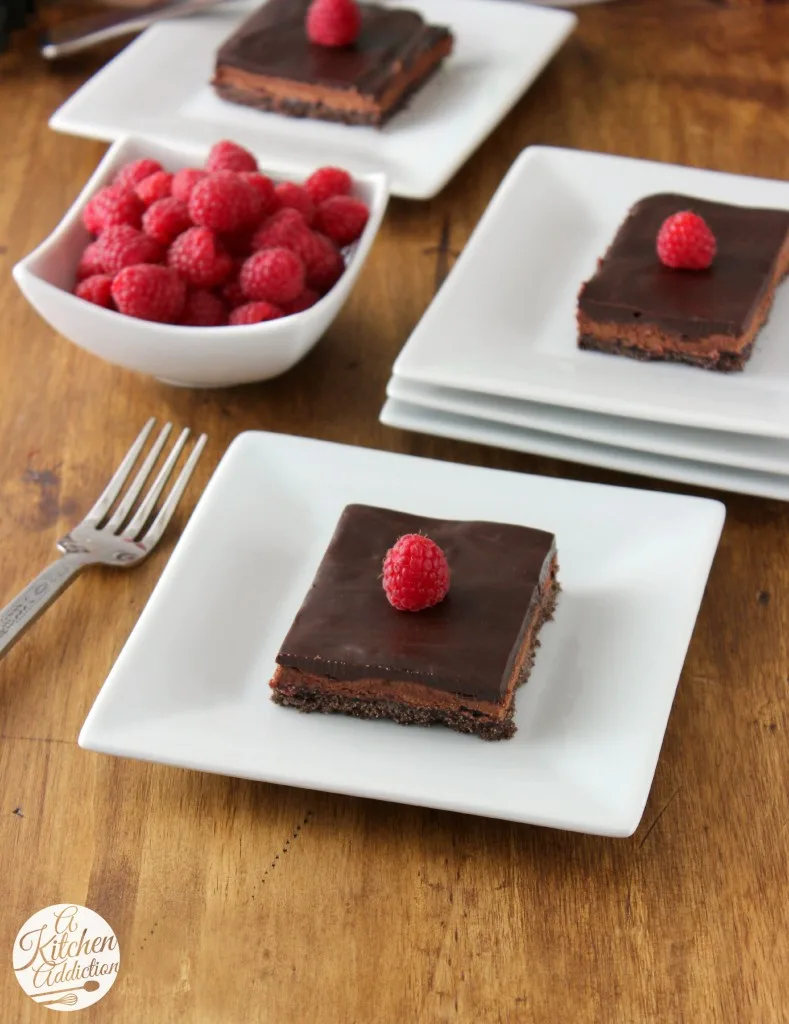 See? Triple chocolate perfection! Don't let the longer list of ingredients and instructions scare you away. These pie bars are easily doable.
The little extra work is worth it!
Have you entered the KitchenAid Mixer giveaway yet? Go now!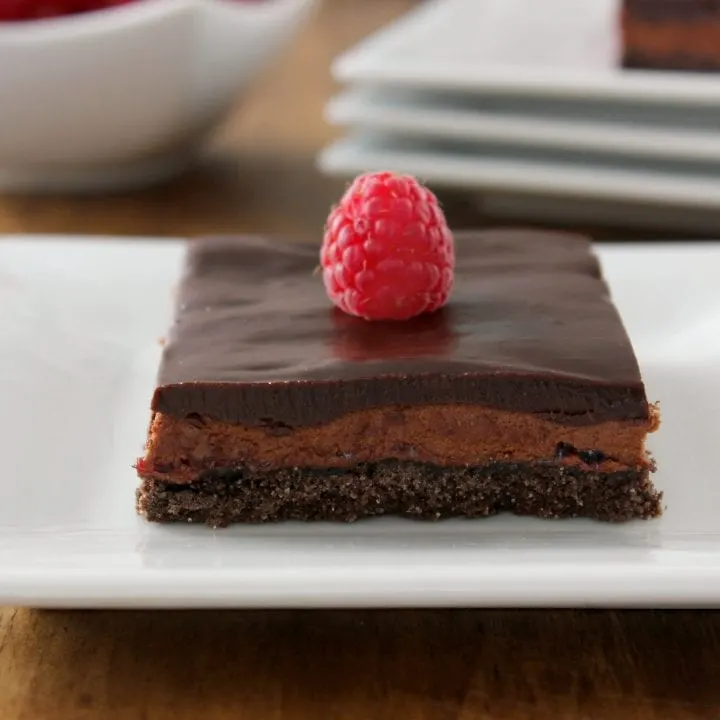 Raspberry French Silk Pie Bars
Ingredients
For the Crust
1 C chocolate graham crackers, finely crushed
2 tbsp all-purpose flour
1 tbsp sugar
1/4 C butter, melted
For the Filling
3 oz semi-sweet chocolate, chopped
3 tbsp sugar
3 tbsp butter
1 egg yolk, slightly beaten
1 1/2 tbsp whipping cream
1/2 C raspberry preserves
For the Ganache
1 C semi-sweet chocolate, chopped
1/3 C whipping cream
fresh raspberries, for garnish
Instructions
Preheat oven to 350. Line a 9X9 or 8x8 inch baking dish with aluminum foil. (I used a 9x9 but if you want a thicker bar, feel free to use an 8x8)
In a small bowl, stir together graham cracker crumbs, flour, and sugar. Stir in melted butter until combined. Press into the bottom of prepared baking dish. Bake for 10 minutes or until crust is set. Remove to a wire rack to cool completely.
While crust is cooling, prepare filling. In a heavy saucepan, combine chocolate, sugar, and butter. Stir over low heat until chocolate is melted and mixture is smooth, about 8-10 minutes. Remove from heat and stir to cool about one minute.
Stir in beaten egg yolk. Place pan back onto medium-low heat. Cook and stir until mixture is bubbly and slightly thicken. This will take about 5 minutes. Remove from heat. (It is okay if it looks slightly curdled.)
Stir in whipping cream. Place saucepan in a large bowl of ice water until filling thickens and becomes hard to stir. Stir occasionally. This will take 20-30 minutes. Transfer filling to a medium bowl. Beat with an electric mixer until light and airy, about 2-3 minutes.
Spread raspberry preserves over the top of the crust. Gently spread filling over the preserves. Cover and chill for about one hour or until firm.
About halfway through the chilling time, begin preparing ganache. In a large microwave safe bowl, combine chocolate and whipping cream. Microwave on high for 30 seconds. Stir and microwave for another 30 seconds or until melted.
Spread ganache over the top of the chilled mousse. Cover and chill for another 1-2 hours or until firm.
Lift bars out of pan using aluminum foil. Cut into bars and garnish with raspberries.
Store leftovers in the refrigerator.
Recommended Products
As an Amazon Associate and member of other affiliate programs, I earn from qualifying purchases.
This recipe is slightly adapted from Better Homes and Gardens Baking.