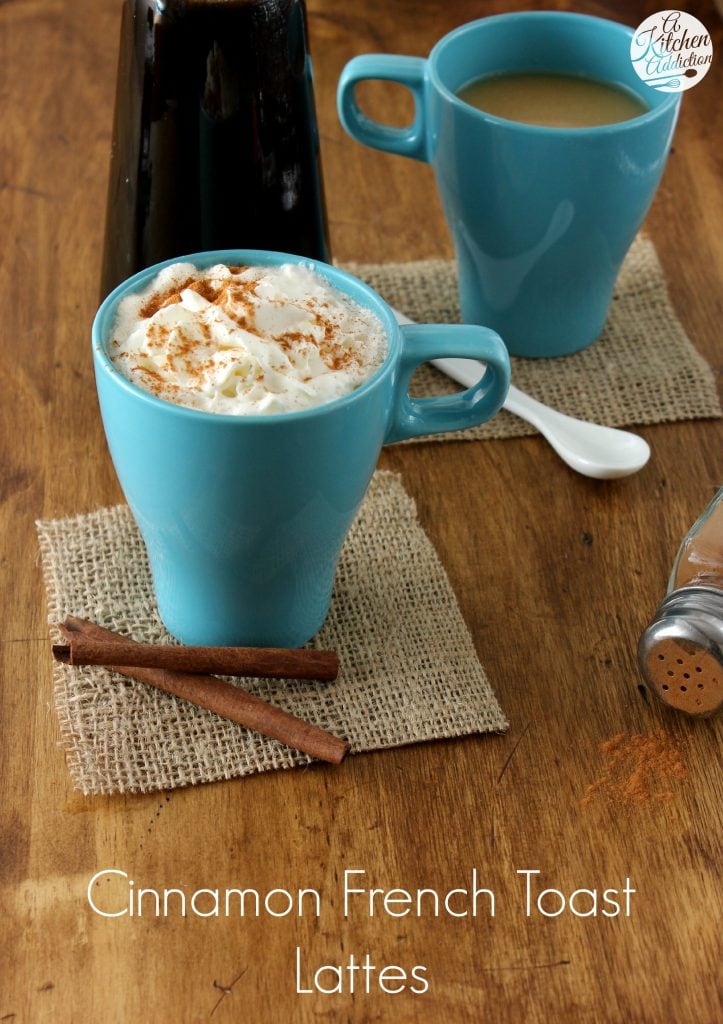 I'm so sorry for my abrupt disappearance this past week! I had some major computer issues right before leaving for a trip. I'll be back later today and will hopefully get caught up on emails and questions that you may have had!
Because of the computer problems, I lost my most recent posts. So, while this week is usually full of chocolate and decadent desserts, I have a warm drink for you.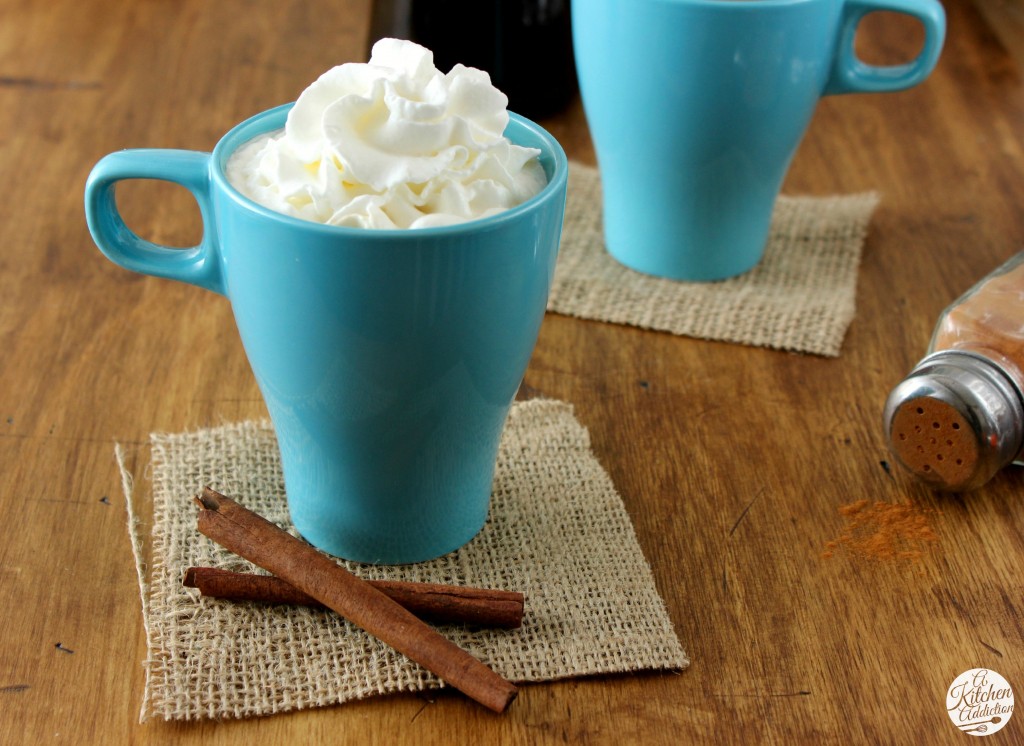 But don't worry, these cinnamon french toast lattes would make a great Valentine's Day breakfast! Since you know my love for breakfast food, it probably doesn't surprise you that I made a drink that tastes like breakfast food.
Cinnamon, brown sugar, and maple are all flavors that make this latte warm and cozy, a perfect way to start the morning!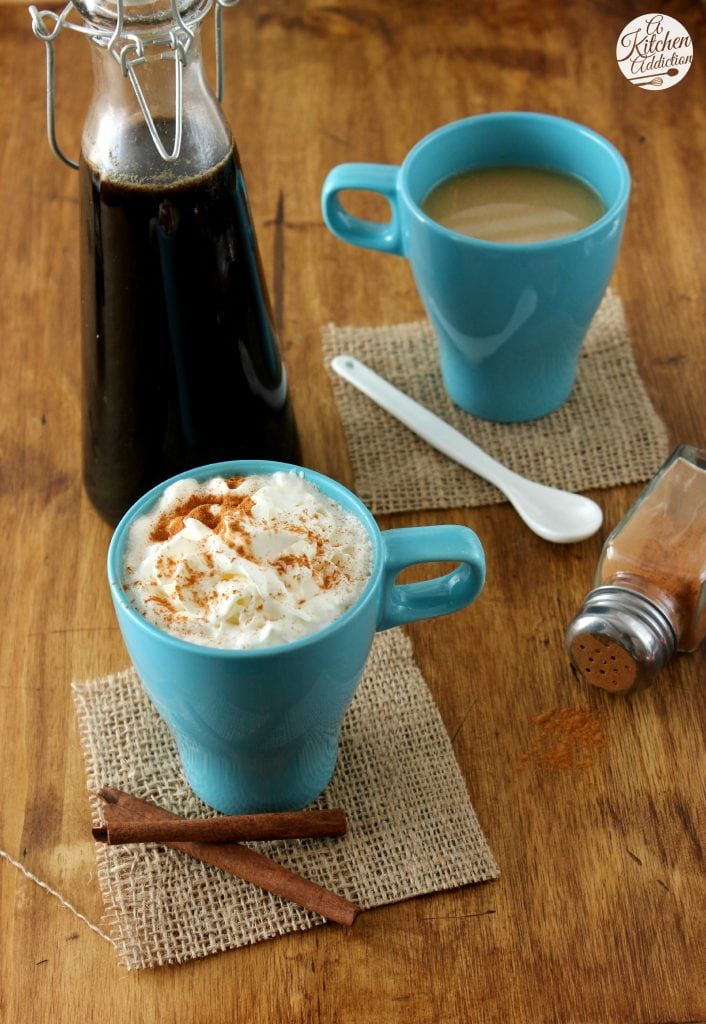 Top with whipped cream and an additional sprinkling of cinnamon for added decadence.
Serve alone or alongside your loved one's favorite breakfast food (or drizzle the syrup on top of french toast or pancakes!) for a special start to the morning!
Cinnamon French Toast Lattes
Author:
Ingredients
1/2 C water
1/2 C brown sugar
1 1/2 tsp vanilla extract
1 tsp maple extract
8-10 drops liquid cinnamon stevia or 3/4 tsp ground cinnamon
1/4 tsp nutmeg
12 oz steamed/frothed milk (This is enough for two lattes)
12 oz strong brewed coffee or espresso (This is enough for two lattes)
Whipped cream, optional
Cinnamon for garnish, optional
Instructions
In a medium saucepan, stir water and brown sugar. Bring mixture to a boil over medium heat. Stir in vanilla, maple, and cinnamon stevia and bring back to a boil. Boil for 6 minutes, stirring occasionally to prevent scorching.Remove from heat and stir in nutmeg (and cinnamon if you're using ground cinnamon).
Pour 1/8-1/4 C, depending on desired sweetness, of syrup into two mugs. Pour 6 ounces of strong coffee/espresso into each mug and stir. Stir in 6 ounces of steamed milk into each mug.
Top with whipped cream and additional cinnamon. Enjoy!
Store leftover syrup in the refrigerator.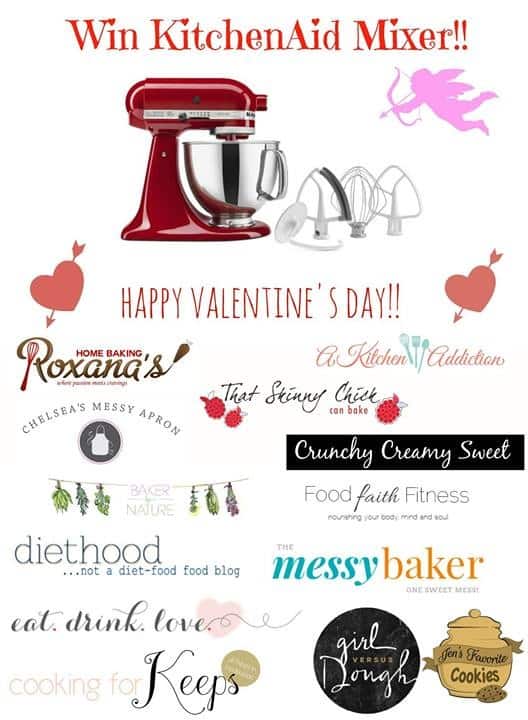 Since Valentine's Day is Friday, a group of bloggers and I have gone together to help you celebrate! One lucky reader will win a red Kitchen Aid mixer! All you have to do is enter below!
Be sure to check out these other delicious recipes!
1. Raspberry Coconut Cheesecake Quinoa Bites with Dark Chocolate Glaze from Food Faith Fitness
2. Strawberry Glazed Vanilla Bean Doughnuts from Girl vs. Dough
3. Pink Vanilla Cupcakes from Crunchy Creamy Sweet
4. Valentine's Chocolate Peanut Butter Bars from Cooking for Keeps
5. Chocolate Covered Strawberry Tarts from Chelsea's Messy Apron
6. Cream Cheese Funfetti Cookies from The Messy Baker
7. Cinnamon French Toast Lattes from A Kitchen Addiction"
8. …… from Baker by Nature
9. Dark Chocolate Pancakes from Eat. Drink. Love.
10. Red Wine Creme Brulee from Diethood
11. Bid Dipper Oatmeal Butterscotch Cookies from That Skinny Chick Can Bake!
12. Peppermint Bark Brownies from Jen's Favorite Cookies
13. Berry Cheesecake Bars (skinny, no-bake) from Roxana's Easy Home Baking
Disclosure: Giveaway opened to U.S. residents only. No P.O. boxes please. Must be 18 or older to enter. Winner will be notified via email and will have 48 hours to respond. Giveaway sponsored by the group of bloggers featured.