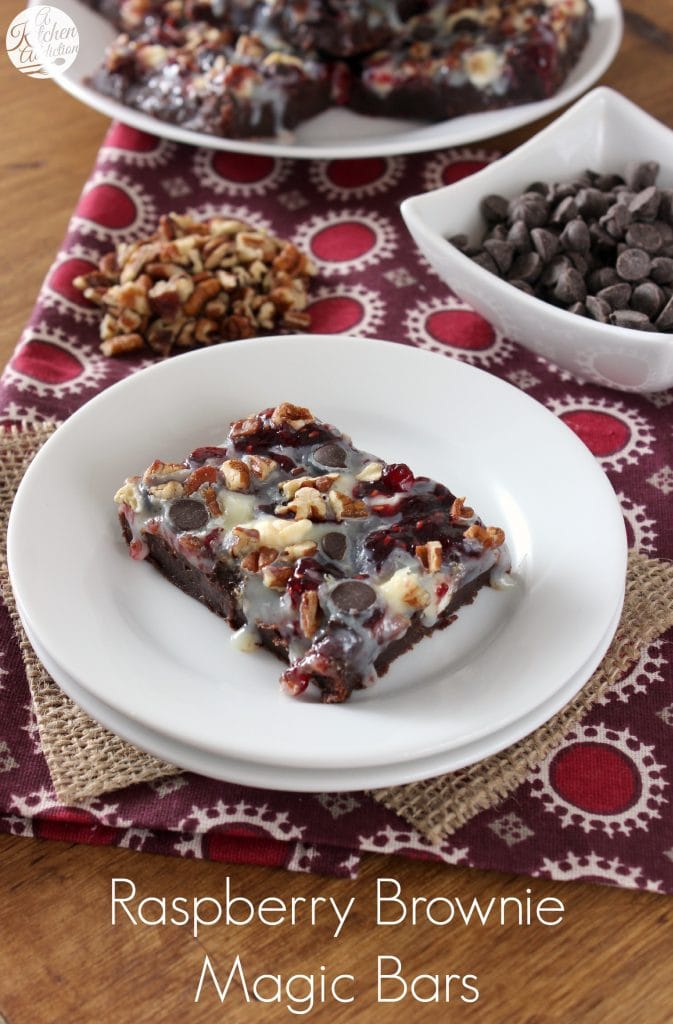 It's Friday! Which means this week is finally over. And it means it's Valentine's Day!
So, whether you need something to celebrate making it through a rough week or a special dessert to celebrate with your loved one, I have an easy recipe that is sure to brighten any day!
These raspberry brownie magic bars are guaranteed to put a smile on your face!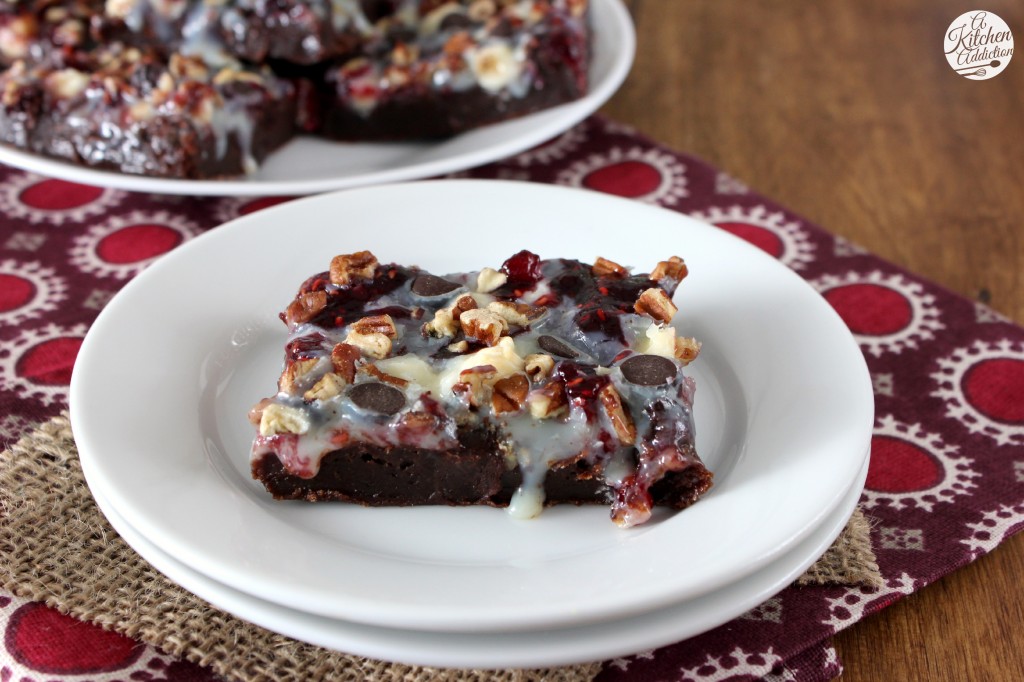 The base is a rich, fudgy brownie that would be amazing all by itself. In fact, it's one of my go-to recipes when I want to whip up a quick batch.
Instead, I topped it with raspberry preserves, 3 kinds of chocolate, and toasted pecans. Sweetened condensed milk is then poured over top.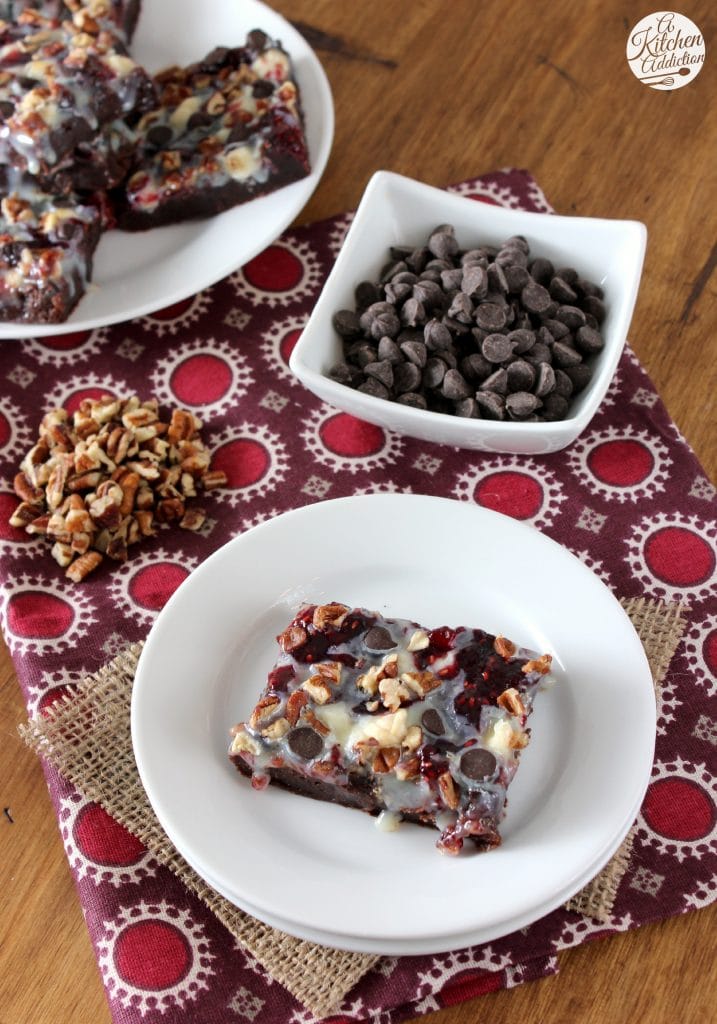 Can you go wrong with adding sweetened condensed milk?! It just adds another rich, gooey layer to these already rich, decadent brownies. Yes, they really are irresistible!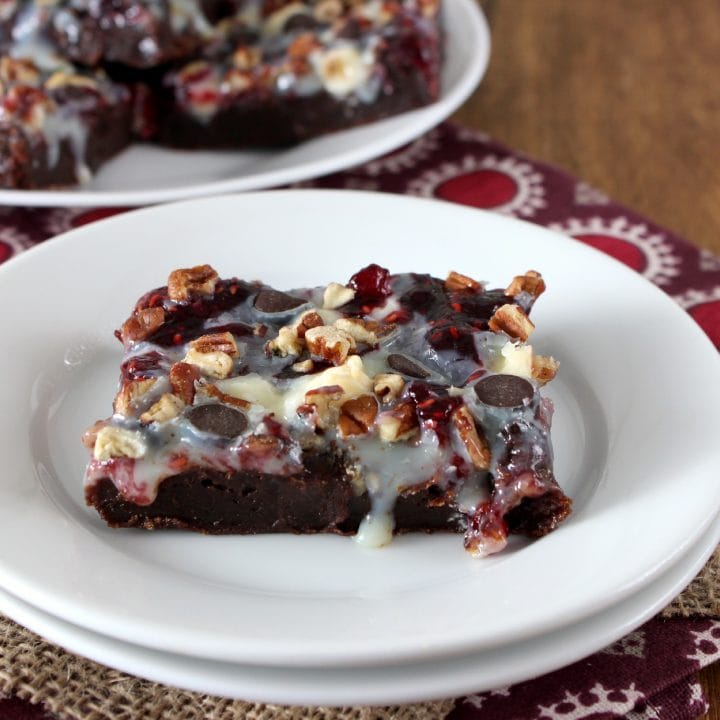 Raspberry Brownie Magic Bars
Ingredients
For the Brownie Layer
2/3 Cup butter
1 3/4 Cups sugar
3 eggs
2 teaspoon vanilla extract
3/4 Cup unsweetened baking cocoa
1/2 teaspoon baking powder
1/4 teaspoon salt
1 Cup all-purpose flour
For the Topping
1/2 Cup semi-sweet chocolate chips
1/2 Cup white chocolate chips
14 oz sweetened condensed milk
1/2 Cup chopped pecans
1/3 Cup raspberry preserves
1/4 Cup dark chocolate chips
Instructions
Preheat oven to 350. Line a 9x13 inch baking dish with aluminum foil and spray non-stick cooking spray.
In a large saucepan, melt butter over medium heat. Stir in sugar until sugar starts to dissolve. Remove pan from heat. Whisk in eggs one at a time. Stir in vanilla.
Mix in baking cocoa and stir until well-blended. Add baking powder, salt, and flour. Stir until well-combined. Pour batter into prepared baking dish. Bake for 10 minutes.
Remove from oven and sprinkle with semi-sweet chocolate chips and white chocolate chips. Pour sweetened condensed milk over the top. Drop preserves over the top and gently swirl through condensed milk with a knife. Sprinkle chopped pecans and dark chocolate chips over the top.
Bake for an additional 15-20 minutes or until edges start to turn light brown and center is set.
Cool completely before cutting into bars.
Recommended Products
As an Amazon Associate and member of other affiliate programs, I earn from qualifying purchases.