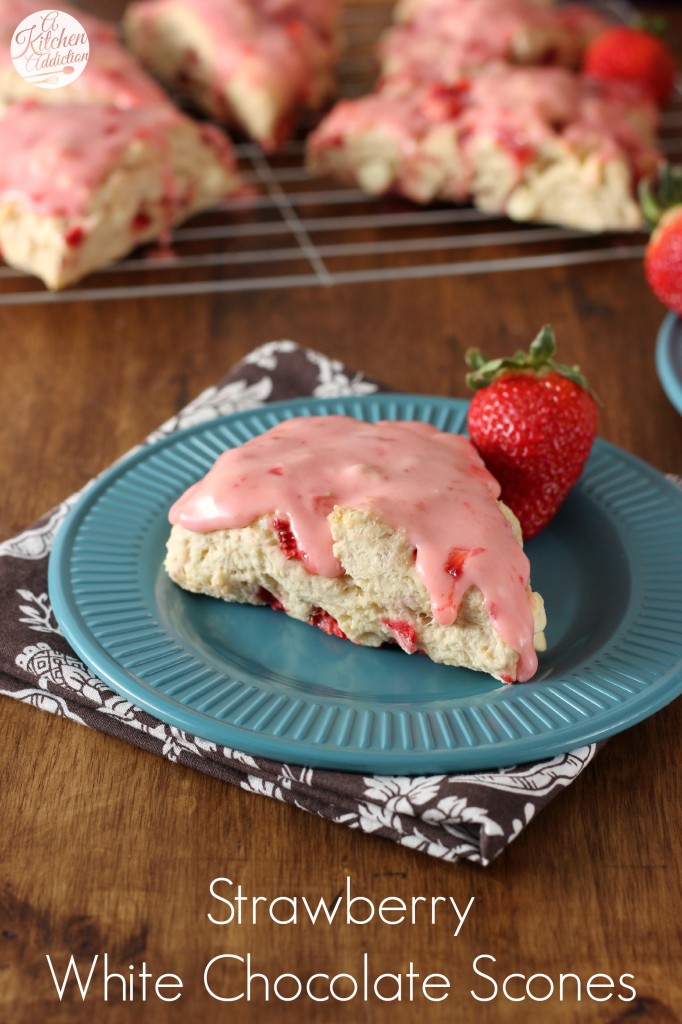 Since I got a taste of sweet, juicy strawberries recently, I haven't been able to get enough of them! While many of them are eaten as soon as they get rinsed, I've managed to save some for baking.
Strawberries in baked breakfast treats is a favorite of mine. The baked strawberry donuts disappeared way too quickly, so I just had to make something else.
Since scones are another favorite around here, making these strawberry white chocolate scones was a no-brainer!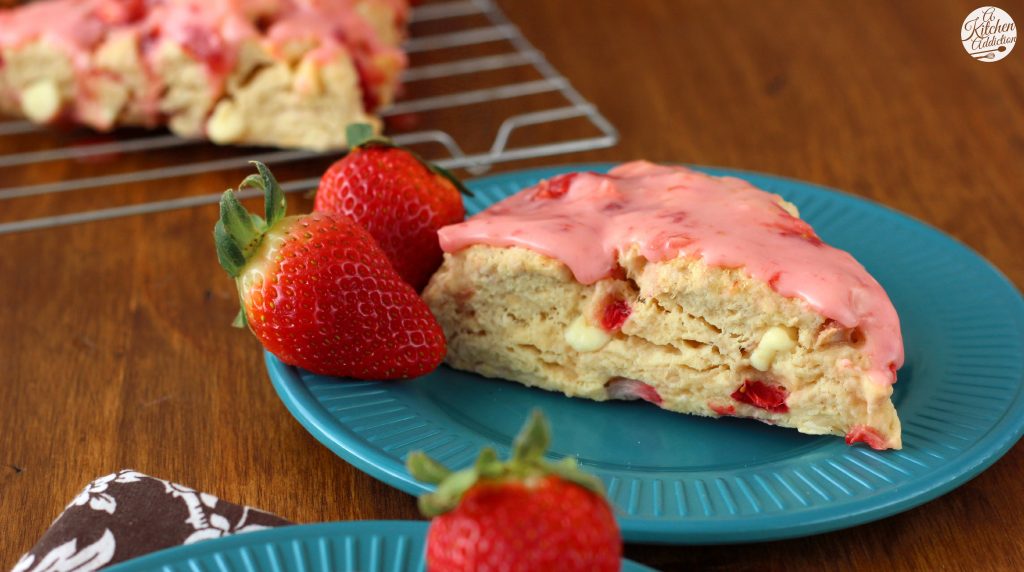 Fresh strawberries combine with creamy white chocolate in this tender scone to create an irresistible combination that is sure to become your new favorite breakfast.
A simple glaze of mashed strawberries and confectioner's sugar is the finishing touch on these scones.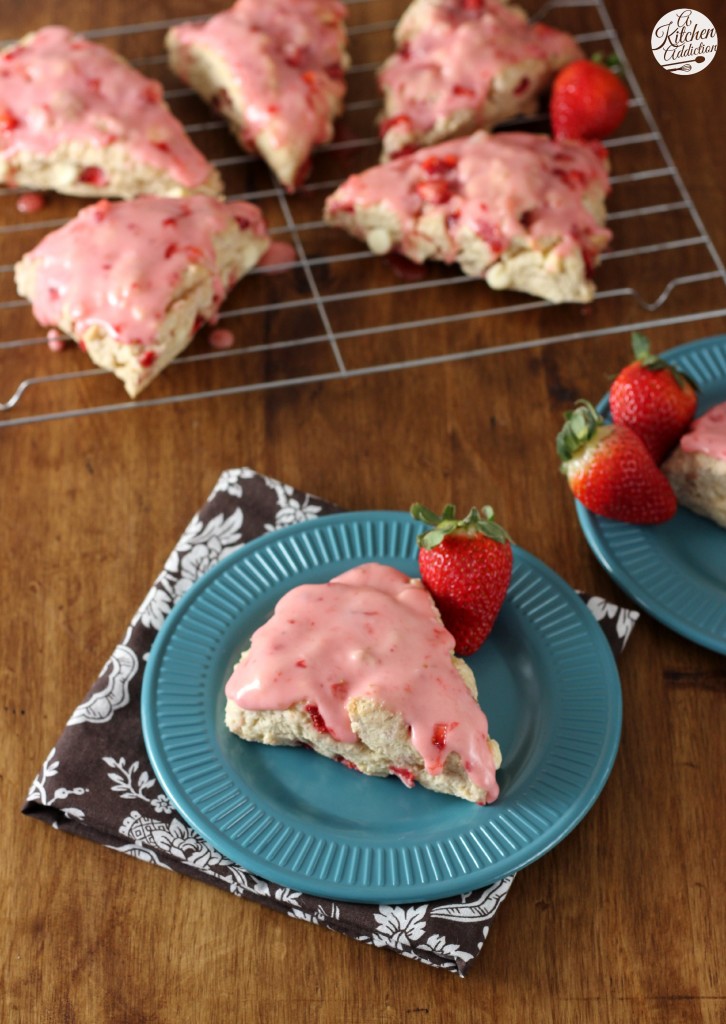 The bright flavor of the strawberries throughout the scone and glaze brings a bit of warmth to this long, frigid winter.
Just what a lot of us need right now!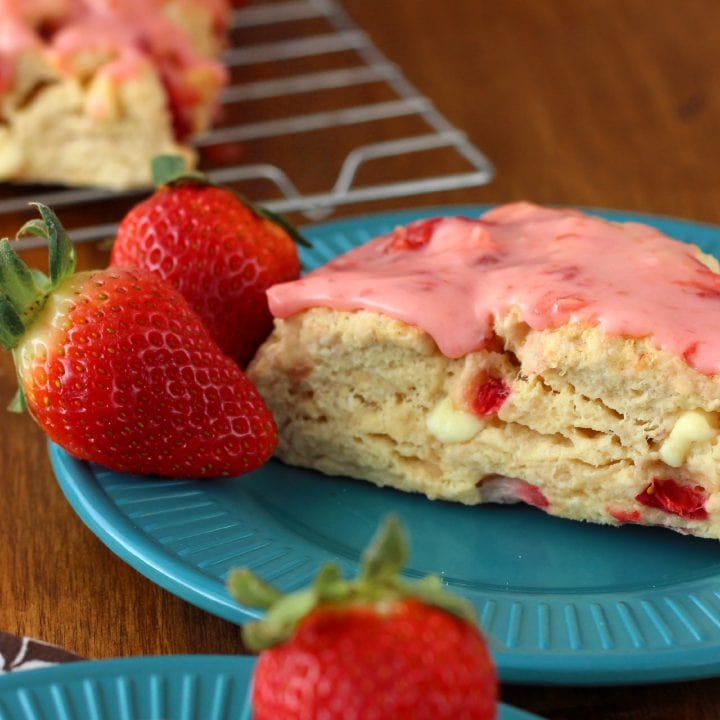 Strawberry White Chocolate Scones
Ingredients
1 C white whole wheat flour (or all-purpose flour)
1 1/2 C all-purpose flour
3 tbsp sugar
1 tbsp baking powder
1/4 tsp salt
1/3 C butter, cold and cut into pieces
1 egg
1 tsp vanilla extract
1/2 C + 3 tbsp non-fat milk
1 C strawberries, chopped
1/2 C white chocolate chips
For the Glaze
1 C confectioner's sugar
3 tbsp strawberries, finely chopped
Instructions
Preheat oven to 375. Line a baking sheet with parchment paper or with a silicone mat.
In a medium bowl, whisk together flours, sugar, baking powder, and salt. Cut in butter with a pastry fork or two forks until mixture resembles coarse crumbs.
In a small bowl, whisk together egg, vanilla, and milk. Add wet ingredients to dry ingredients and stir until just combined. Don't worry if dough looks too dry, the strawberries add extra moisture. Gently fold in strawberries and white chocolate chips. Dough will be sticky.
Turn dough out onto a well-floured surface. Knead dough gently until it forms a shaggy ball. Pat dough into a circle about 1 inch thick. Cut into 8 pieces.
Place pieces onto prepared baking sheet.
Bake for 16-20 minutes or until just starting to turn golden brown.
Remove to a wire rack to cool.
While scones are cooling, mash strawberries into confectioner's until a glaze forms. Spread over scones. Allow glaze to cool before serving. If making the scones ahead of time, wait to make the glaze right before serving.
Recommended Products
As an Amazon Associate and member of other affiliate programs, I earn from qualifying purchases.