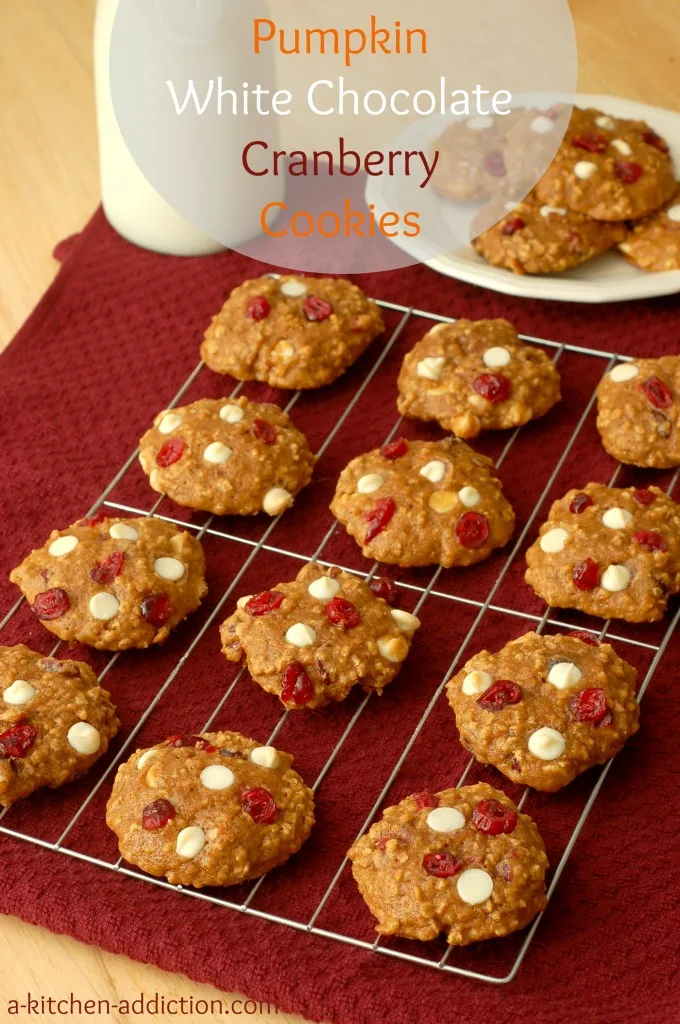 After a weekend of overtime, leaf raking, random power outages, and a backed up sewer line, I think it's kind of amazing that I can say that there are actually a couple of these amazing cookies left! 😉 The slight nuttiness from the oats blends perfectly with the pumpkin, and the sweetness of the white chocolate offsets the tartness of the cranberries.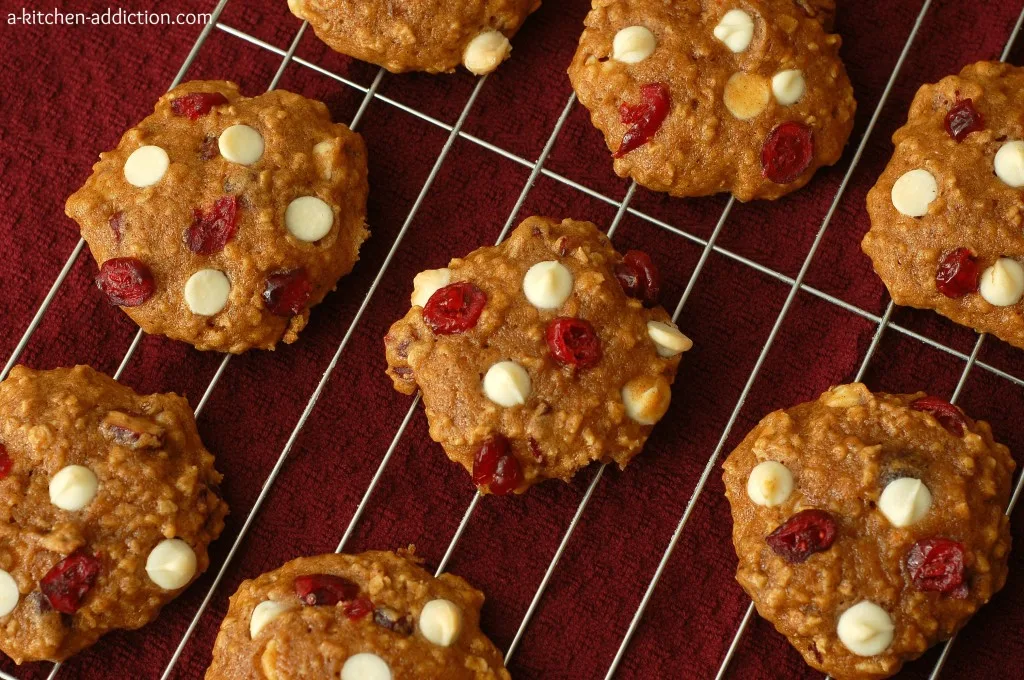 All in all, an addictive cookie that makes for self-discipline issues when you are sitting right next to them! 🙂 The flavors blend as they sit, and the cookies taste just as soft and fresh the second day as they do the day you make them. This makes them great cookies to make ahead of time for a special occasion.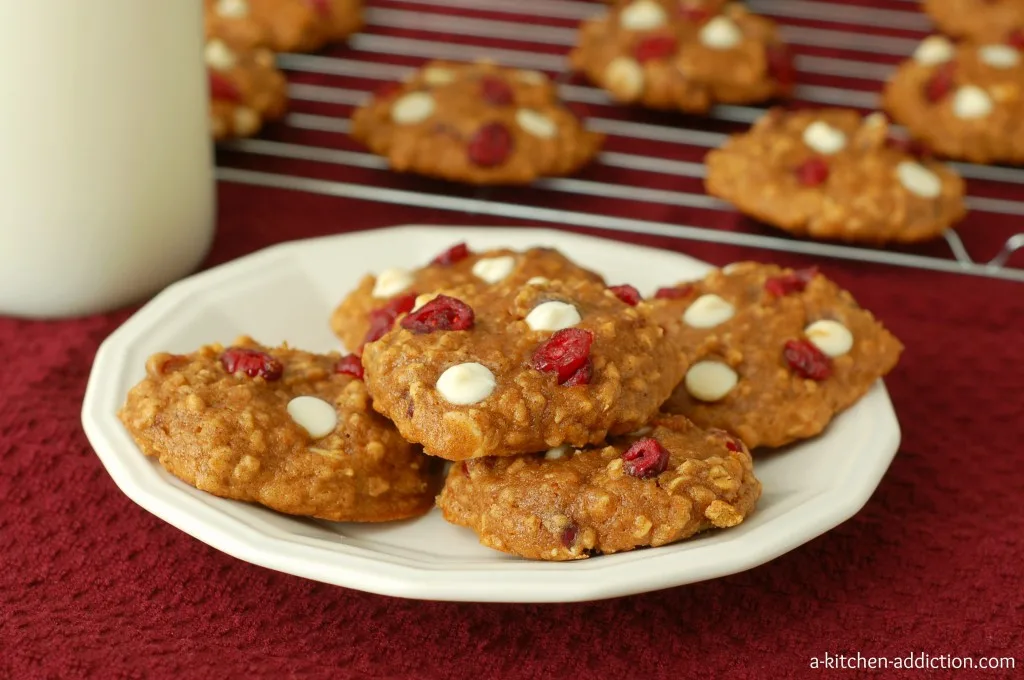 Plus, these cookies have very little butter in them, half of the sugar can be swapped out for granulated sugar substitute, and white whole wheat flour can be used in place of all-purpose. Since they are so healthy and contain oats and pumpkin, these guys could possibly make a great breakfast on the go, or just a healthy dessert. . .whatever you feel like! 😉
Pumpkin White Chocolate Cranberry Cookies
Yield: 2 dozen cookies
Ingredients
1 C all-purpose or white whole wheat flour
3/4 C quick oats
1/2 tsp baking soda
1/2 tsp salt
1 1/2 tsp cinnamon
1/2 tsp nutmeg
1/4 tsp cloves
1/4 tsp ginger
1/4 C butter, softened
1/4 C plain Greek yogurt
1/2 C sugar or granulated sugar substitute
1/2 C brown sugar
1 egg
1/2 C canned pumpkin (not pumpkin pie filling)
1 tsp vanilla extract
1/3 C white chocolate chips
1/2 C dried cranberries
Directions
Preheat oven to 350. Spray cookie sheets with non-stick cooking spray.
In a medium bowl, stir together flour, oats, baking soda, salt, cinnamon, nutmeg, cloves, and ginger. Set aside.
In the bowl of a stand mixer, add butter, yogurt, sugars, and egg. Beat until creamy. Add in pumpkin and vanilla. Beat until well-combined.
Slowly add dry ingredients to wet ingredients and beat until combined. Stir in white chocolate chips and cranberries.
Drop cookie dough by heaping tablespoon onto prepared cookie sheets. Bake for 8-10 minutes or until edges start to turn light golden brown.
Allow cookies to cool for two minutes on cookie sheet before transferring to a wire rack to finish cooling.
Store leftover cookies in an airtight container.
This recipe is adapted from My Baking Addiction
This recipe is linked with Back for Seconds Link Party, Crazy Sweet Tuesday, Mop It Up Monday, Nifty Thrifty Sunday, Strut Your Stuff Saturday, Sweet Treats and Swanky Stuff, Thursday Treasures, Totally Tasty Tuesday, Trick or Treat Tuesday, Tuesday Talent Show, Weekend Potluck, What's Shakin' Link Party, Wonderful Food Wednesday.