These Pumpkin Spice Cinnamon Knots are soft, tender and topped with a sweet maple drizzle!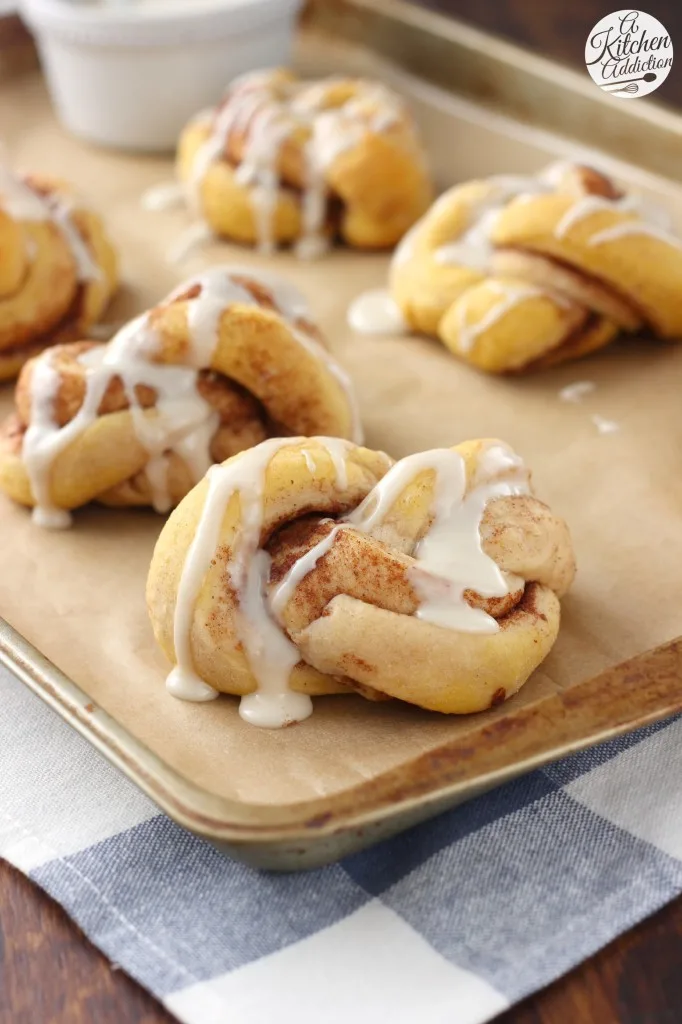 Are you one of those people who has to eat as soon as you get up in the morning? I'm not usually, but sometimes I find myself scrambling around the kitchen trying to find something to satisfy my grumbling stomach. Recently, I discovered a way to make both my stomach and taste buds happy without having to do much work.
Morning hunger problem solved in the form of these pumpkin spice cinnamon knots. These soft, tender pastries are filled with real pumpkin and spices and are topped with a maple drizzle to combine my favorite fall flavors.
And while they may look a little complicated, they really aren't. Just mix all of the dry ingredients together (Yes, even the yeast! You can do that with my favorite no-fail Red Star Platinum yeast!). Add in the wet ingredients and knead until dough forms.
Then you just have to wait for the rising, shaping, short second rise, and short bake time before sinking your teeth into these pillowy cinnamon knots! And, since they stay fresh for a few days, you can enjoy them throughout the week. Let's just say that getting out of bed in the morning is a little easier when you have these waiting for you!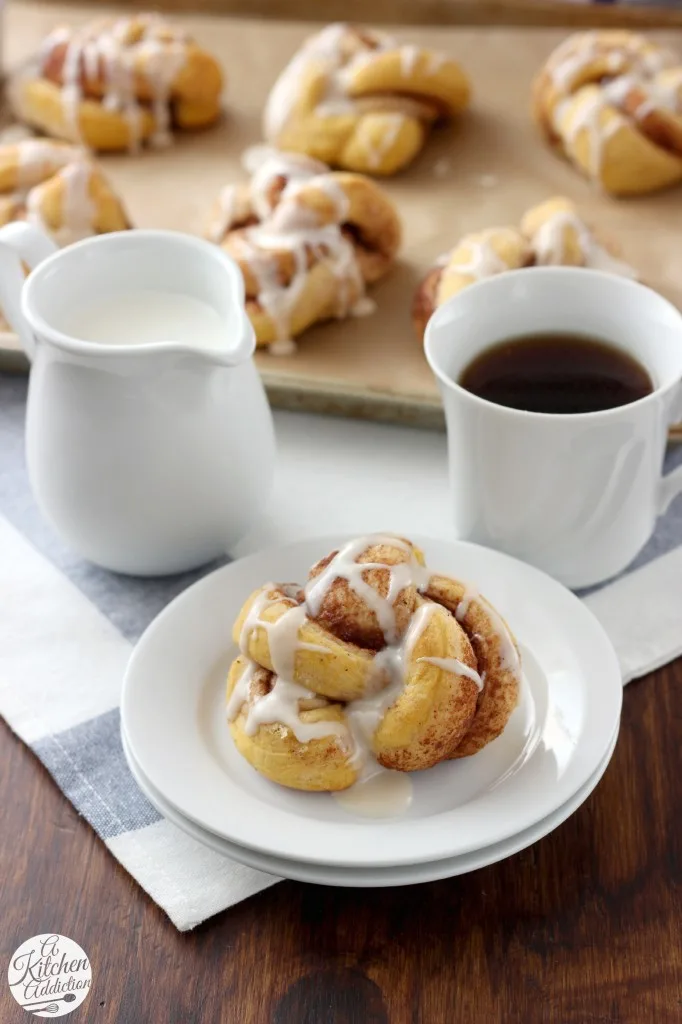 Sure I get hungry, but I never have to worry about where my next meal will come from. I am thankful for that but also realize that there are many people who don't have that luxury. In fact, 1 out of 8 people on earth go to bed hungry, and 842 million people do not have enough to eat. That is why I am partnering with Red Star Yeast to help promote their Baking the World a Better Place campaign.
Red Star is joining with Stop Hunger Now to raise awareness of their mission and to encourage others to help end hunger by baking with Red Star Yeast and sharing with those in their community. A portion of the proceeds from Red Star Yeast products will go toward providing meals and aid to children and families through Stop Hunger Now.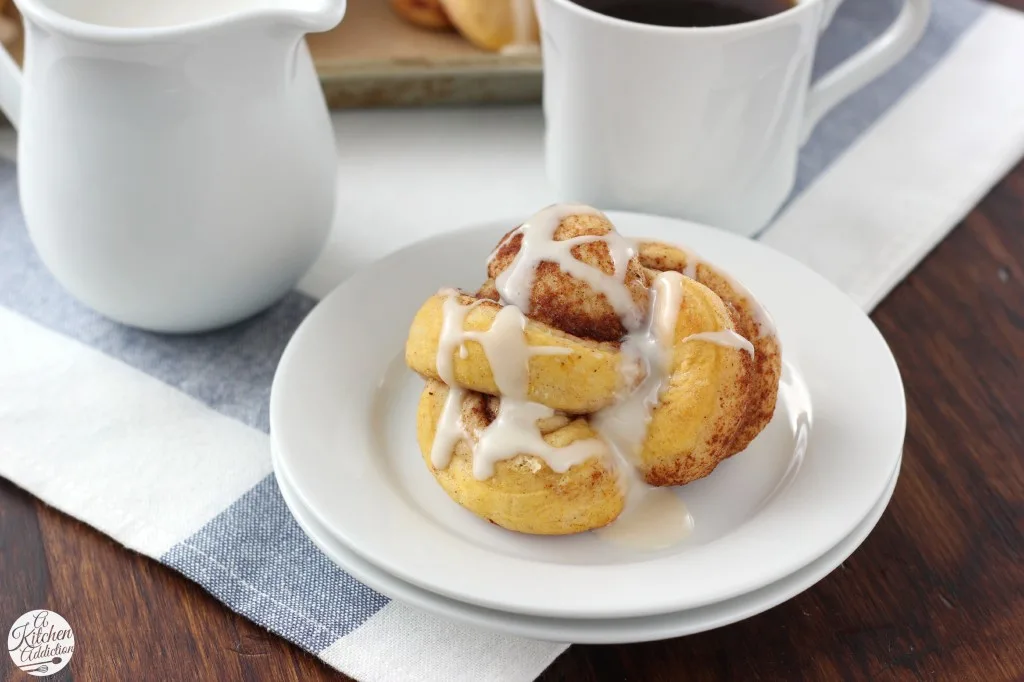 If you've never heard of Stop Hunger Now, here is a bit of information about this international hunger relief organization. They are different from other organizations in that they focus on engaging volunteers in a hands-on activity to produce meals that are used to support development programs.
At the same time, they are educating those same volunteers about the need and giving them an opportunity to take action. In 2013, approximately 125,000 volunteers worldwide packaged 42 million meals for people in 30 countries.
Stop Hunger Now is partnering with non-profits around the globe to help keep this movement going strong and to keep being able to not only provide basic needs, but also provide the opportunity to break the cycle of poverty through education, skill development, and health care. Take some time to read more about this incredible organization!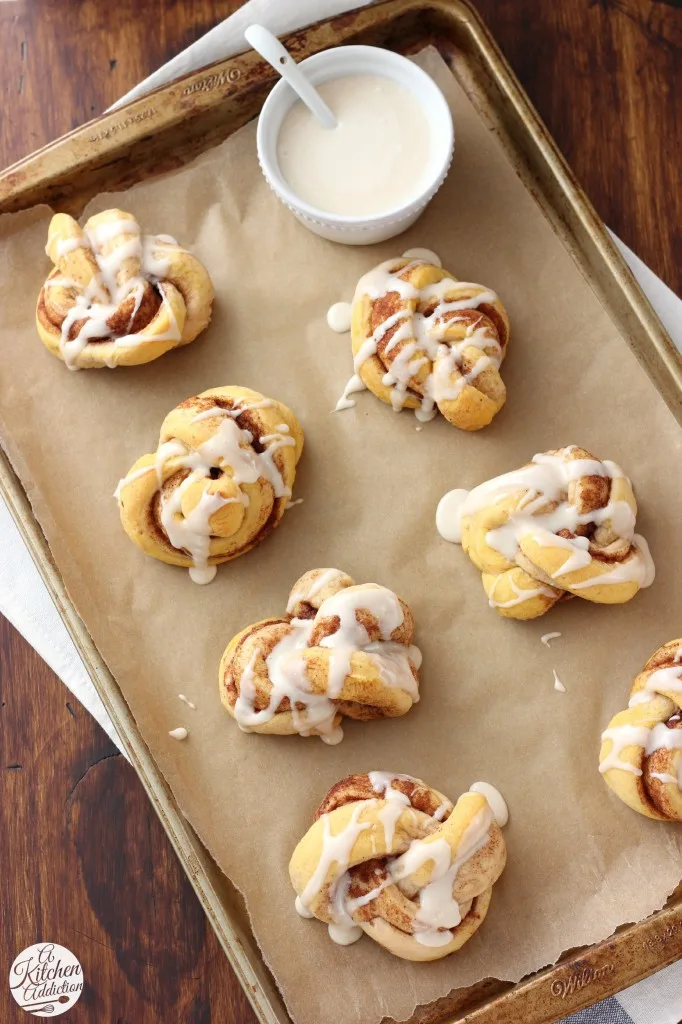 You may be wondering what pumpkin spice cinnamon knots have to do with ending world hunger. Well, it's simple. Something as easy as making a batch of cinnamon knots and sharing them with a family in need is a way that you can provide food and encouragement while working to stop hunger.
This recipe makes enough to have plenty for both your family and others. Because who wouldn't want a plate full of warm, tender cinnamon knots to appear at their door?!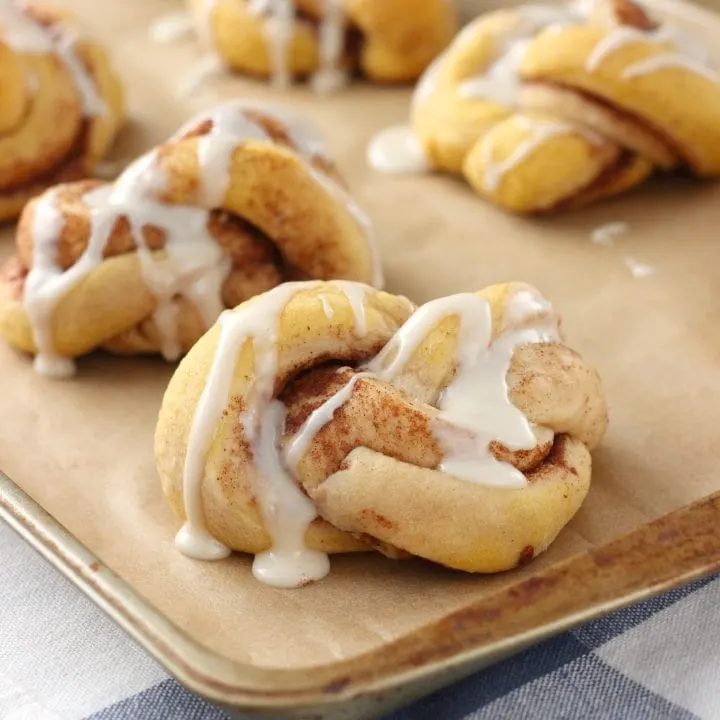 Pumpkin Spice Cinnamon Knots
Ingredients
For the Knots
5 1/2 - 5 3/4 C bread flour
1/4 C sugar
1 1/2 tsp salt
1 tsp cinnamon
1/2 tsp nutmeg
1/4 tsp ginger
2 eggs, room temperature
1/3 C butter, melted and cooled
1/4 C pumpkin puree, not pumpkin pie filling
1 1/2 C milk, warmed to 120-130 degrees F
For the Filling
1/4 C butter, softened
1 1/2 tbsp cinnamon
1/2 tsp nutmeg
1/4 tsp cloves
1/4 tsp ginger
3 tbsp sugar
2 tbsp brown sugar
For the Drizzle
1 C confectioner's sugar
1 1/2 tbsp milk
1 tsp maple extract
Instructions
In the bowl of a stand mixer, beat together 4 cups flour, sugar, yeast, salt, cinnamon, nutmeg, and ginger. Add in eggs, butter, pumpkin, and milk. Beat until just starting to combine. With the mixer on low, add remaining 1 1/2 cups flour.
Replace paddle with dough hook and knead for 5-8 minutes, or until dough is smooth and starts to pull away from the sides of the bowl when mixing. If dough too sticky, add up to another 1/4 cup of flour, one tablespoon at a time.
Transfer dough to a bowl that has been sprayed with non-stick cooking spray. Cover with a clean cloth and allow to rise in a warm place until doubled in size, about 45-60 minutes.
In a small bowl, whisk together spices and sugars.
Turn dough out onto a well-floured surface and gently punch down. Roll dough out into roughly a 24 x 10 inch rectangle. Spread dough with softened butter. Sprinkle with spices and sugars mixture.
Gently fold dough in half width-wise. Cut dough into 24 one (1) inch strips along the length size.
Take each strip and tie it in a knot as you would a piece of string. Fold ends under the knot.
Cover and allow to rise for 20-30 minutes or until knots are puffed and dough is very soft to touch. While dough is rising, preheat oven to 375.
Bake knots for 10-12 minutes or knots just start to turn golden brown.
Remove to a wire rack and prepare glaze. Stir together confectioner's sugar, milk, and maple extract until smooth.
Drizzle over the top of slightly cooled knots.
Serve warm.
Recommended Products
As an Amazon Associate and member of other affiliate programs, I earn from qualifying purchases.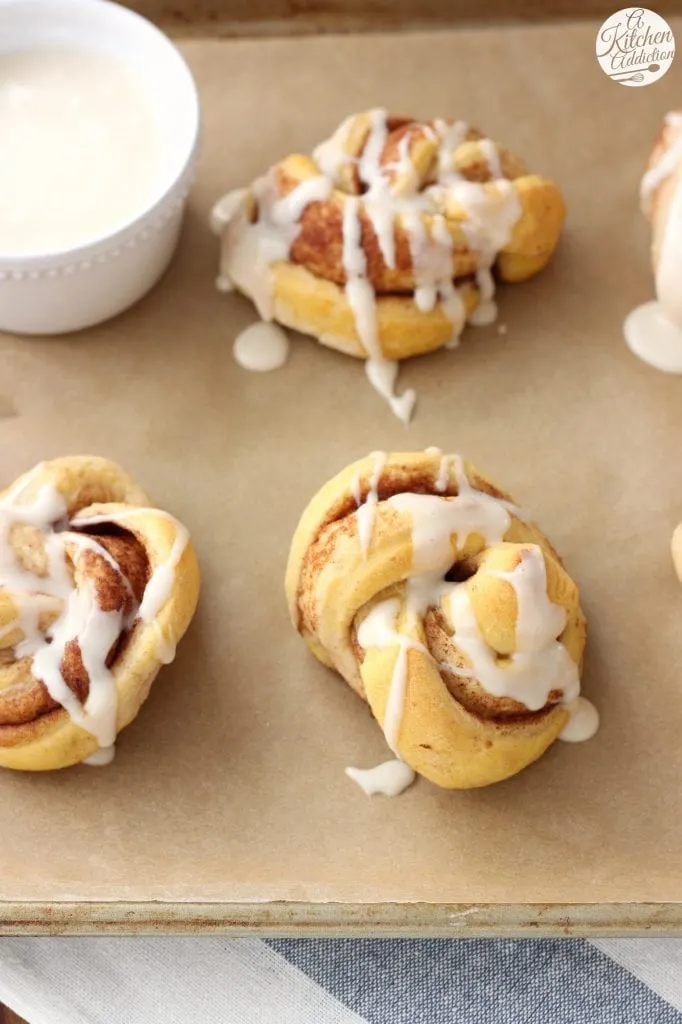 Be sure to check out the other Baking the World a Better Place recipes!
Disclaimer: I received compensation from Red Star Yeast for the purpose of recipe development to help promote the Baking the World a Better Place campaign. All opinions are my own.