Happy Labor Day to all of you celebrating in the U.S.! I hope you are enjoying a nice long weekend! Since Labor Day usually signifies the end of summer, I don't have to feel bad about all of my fall recipes! 🙂 The weather hasn't gotten the memo yet that it is supposed to be cooling off, so my fall cravings have to be satisfied in no-bake form.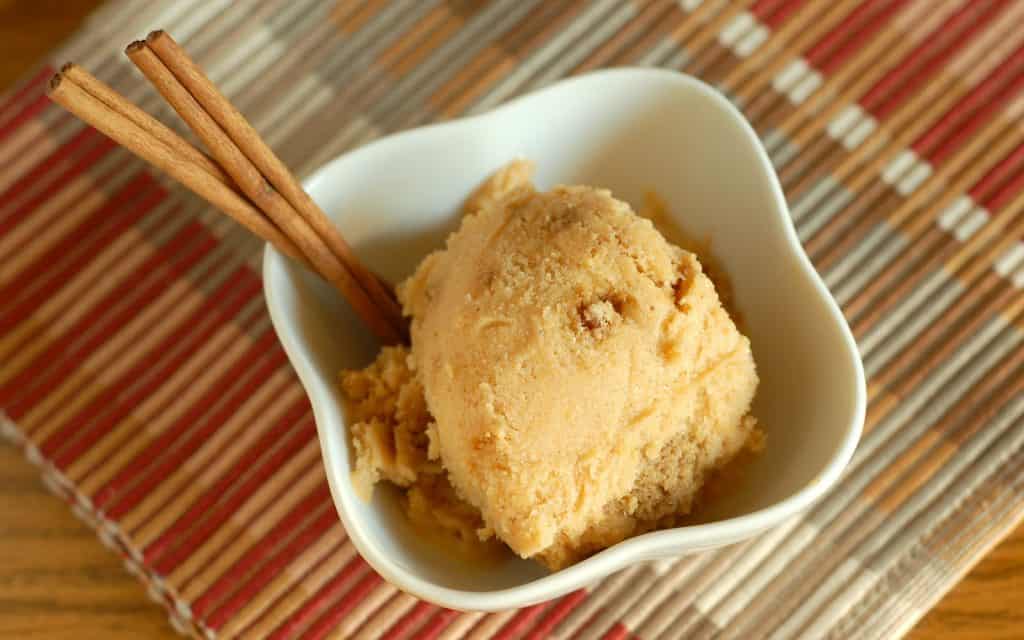 With this frozen yogurt, you get to enjoy the flavor of a rich, creamy slice of pumpkin pie. It contains real pumpkin and pieces of crust! The pumpkin yogurt base is filled with all of the spices of fall, and a homemade graham cracker crust is baked for a short time to allow the pieces to maintain their crunch when mixed with the yogurt.
If you don't have the time or still don't want to turn your oven on for any length of time, you can substitute a pre-made crust and still get the delicious pairing of flavors! Go ahead and savor the flavor of pumpkin pie while staying cool and enjoying the last few days of summer!
Pumpkin Pie Frozen Yogurt

Yield: about 1 quart
Ingredients
For the Pie Crust Pieces
3/4 C graham crumbs (about 5 sheets)
2 tbsp brown sugar
1/8 tsp salt
1/4 tsp cinnamon
3 tbsp butter, melted
For the Frozen Yogurt
1 C pumpkin, chilled
3/4 C low-fat plain yogurt
1 C low-fat evaporated milk, chilled
1/2 C fat free sweetened condensed milk, chilled
1/2 tsp cinnamon
1/4 tsp nutmeg
1/8 tsp cloves
1/8 tsp ginger
Directions
Preheat oven to 350.
In a small bowl, stir together graham cracker crumbs, brown sugar, salt, cinnamon, and butter until well-combined. Press crumb mixture into a thin layer on a cookie sheet. Bake for 8 minutes. Remove to a wire rack to cool completely. Break graham layer into pieces.
While the graham cracker crust is cooling, stir together pumpkin, yogurt, evaporated milk, sweetened condensed milk, cinnamon, nutmeg, cloves, and ginger.
Add yogurt base to ice cream maker and freeze according to manufacturer's instructions. When frozen yogurt becomes soft-set, remove to a freezer-safe container. Sprinkle graham pieces over the top and swirl into the frozen yogurt using a spoon. Place frozen yogurt in the freezer and freeze one hour or until it has reached desired consistency.
Serve 🙂