It's Labor Day weekend! That means traveling, family time, and snacking! For us, it means snacking while traveling to my family! Since it was 100 degrees yesterday, I decided I probably shouldn't turn my oven back on like I did for the caramel apple oatmeal bars to make snacks! I needed to find something that would fulfill the "snacky" food requirement that didn't require baking.
I opted for a version of my no-bake Peanut Butter Mini Chip Granola Bites. I switched up the chocolate for butterscotch and added pecans and crisp rice cereal to give them some crunch, because we all know that good snacking food has a crunch to it! 🙂 The last time I made these my husband ate them up in one day, so I figured he wouldn't mind if I made them again!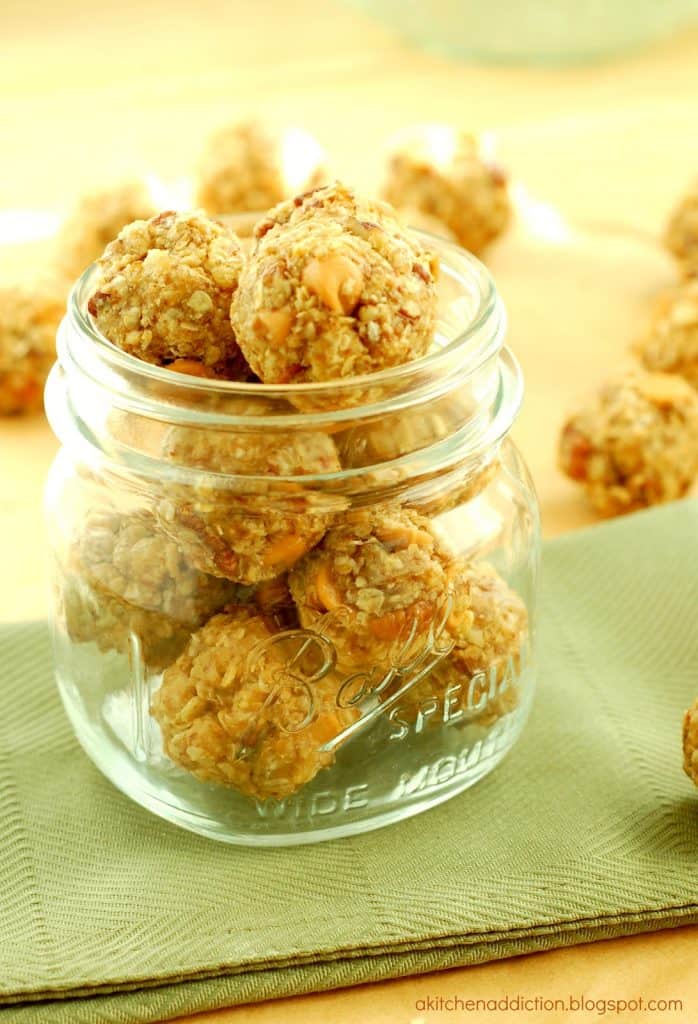 Have a great weekend! Enjoy your family, friends, and of course, good food! And, if you need something to snack on, give these a try!
No Bake Butterscotch Pecan Granola Bites

Yield: 2 dozen granola bites
Ingredients
1 1/2 C quick oats
1/2 C crisp rice cereal
1/4 C oat bran
1/4 C ground flaxseed
1/2 tsp salt
1/3 C pecans, coarsely chopped
1/3 C butterscotch chips
1/2 C honey
*1/2 C no-stir natural creamy peanut butter
Directions
In a large bowl, stir together oats, cereal, oat bran, flaxseed, salt, pecans, and butterscotch chips. Add in honey and peanut butter. Stir until well-combined.
Refrigerate dough for at least 15 minutes to allow dough to stiffen. Form dough into 1-inch balls.
Snack away! Store leftovers in the refrigerator.