These tender, flaky Apple Cider Scones are filled with warm apple pie spices, shredded apple, and apple cider! Topping them off is a sweet Cinnamon Brown Sugar Glaze!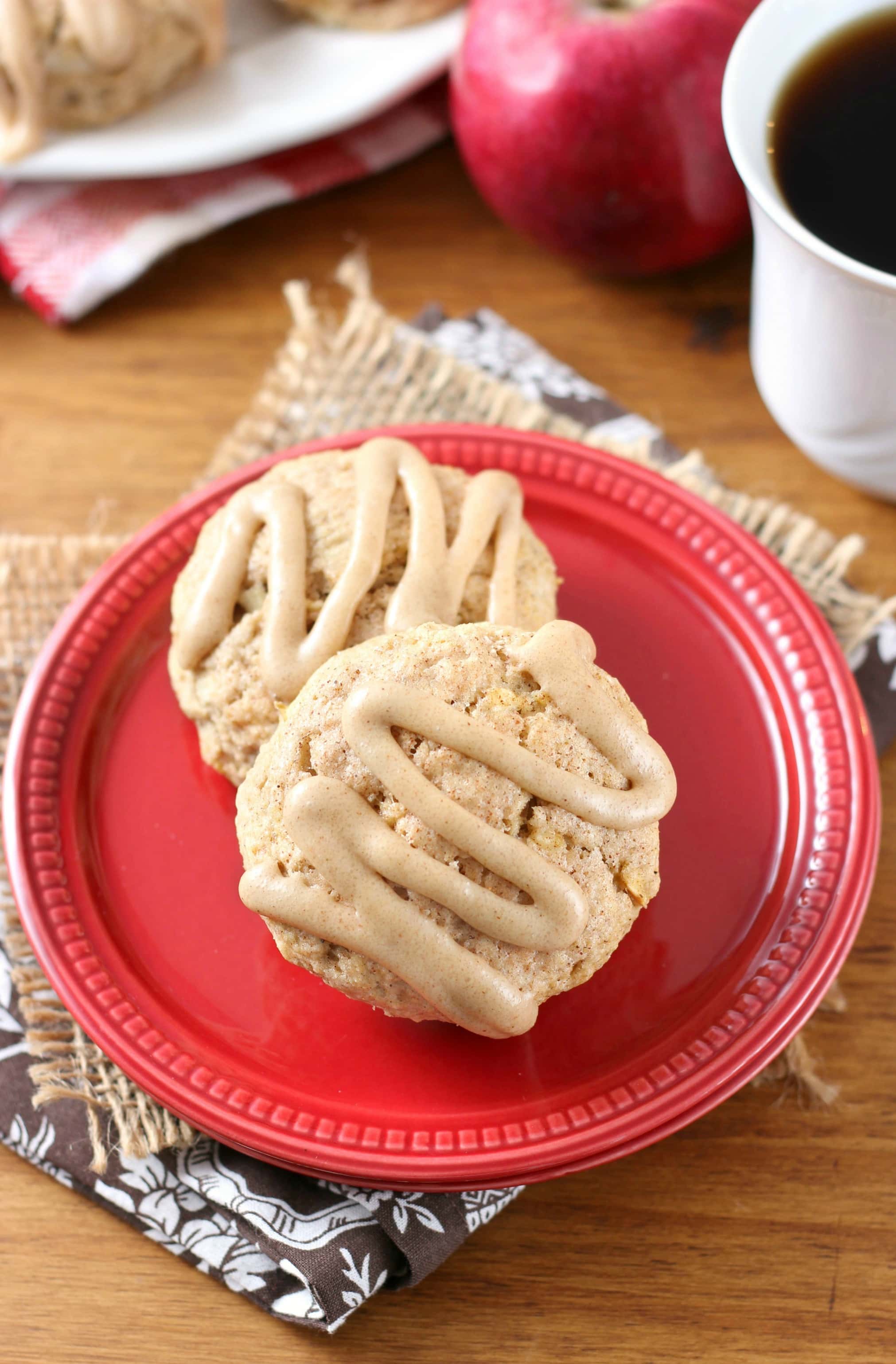 There are few things that I like more with a cup of coffee or tea than a fresh baked scone. Especially on a Monday morning! I was looking back to see what flavor combinations I'd made this year and realized I only have three scones recipes this year!
Considering how many I've eaten, three recipes hardly does my love for scones justice! Though I'm sure you probably appreciate not being overrun with scone recipes!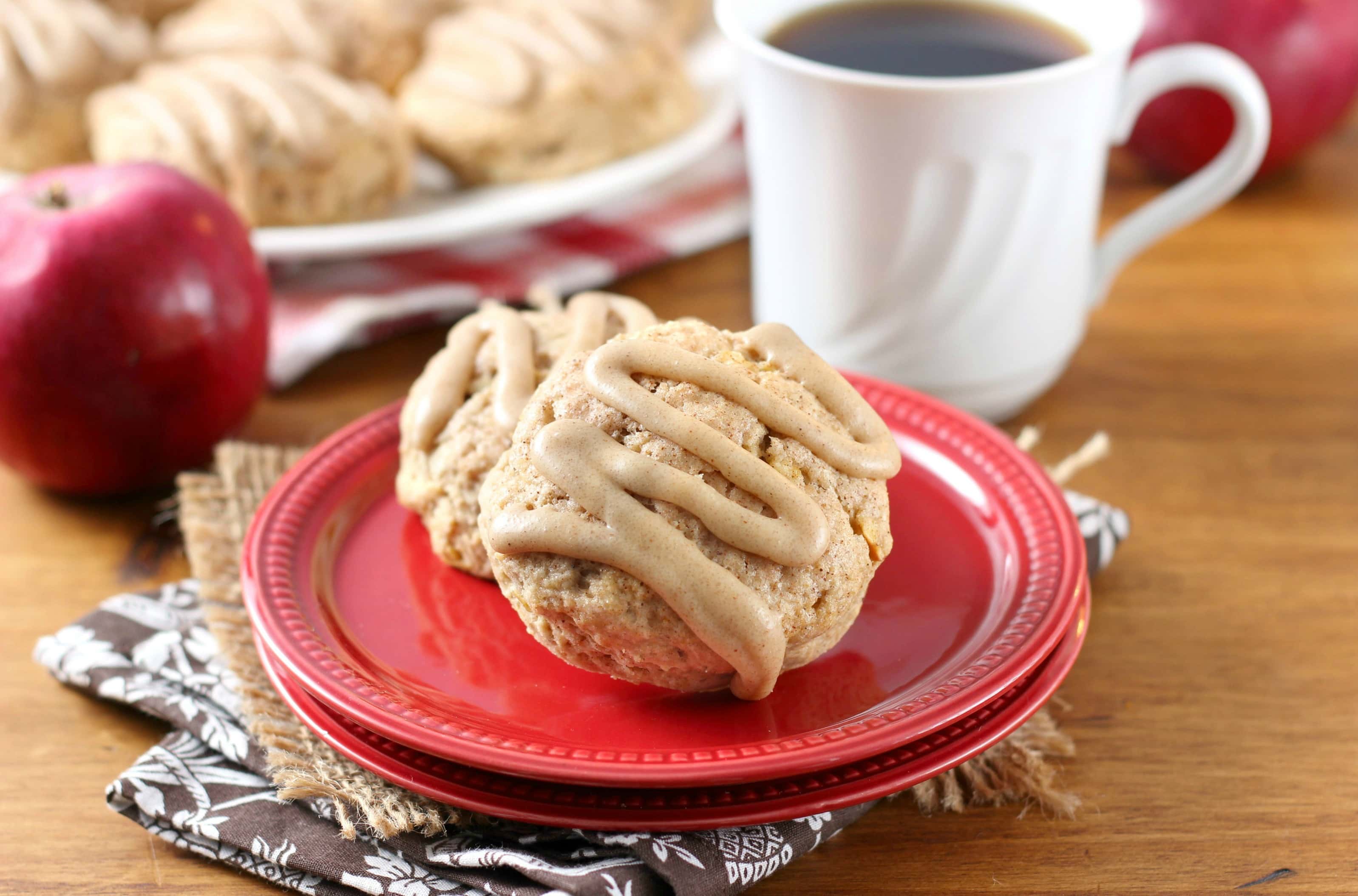 These apple cider scones with a sweet brown sugar glaze are the perfect pairing to your coffee on a chilly fall morning! The tender, flaky scones are filled with all of the warm flavors that come to mind when you think fall.
Apple pie spices, shredded fall apples, and fresh apple cider. And to top off all of the apple flavor? A sweet cinnamon brown sugar glaze!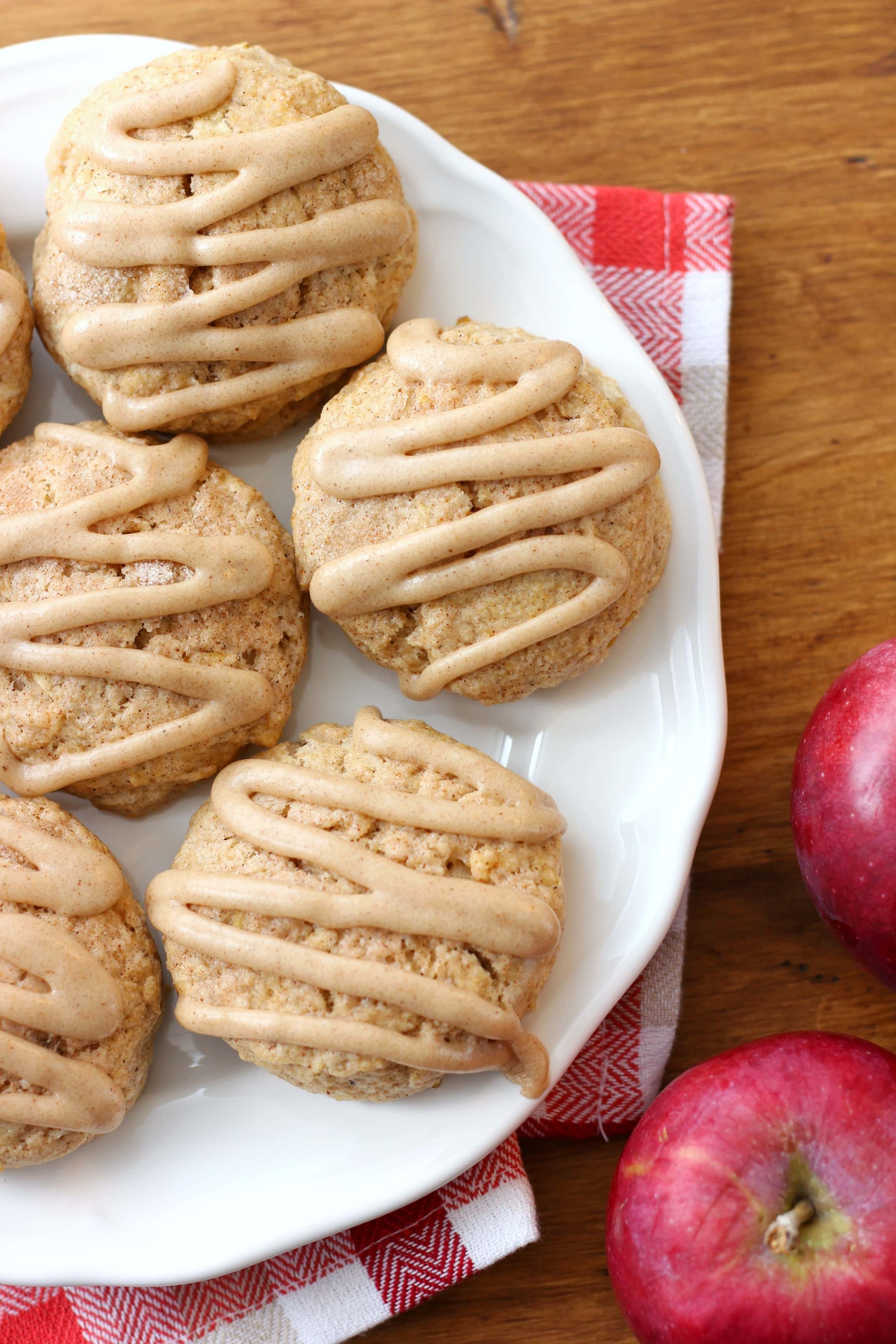 Make sure to knead the dough gently and only as long as needed to get the dough to form. It will be a little "shaggy" looking and slightly sticky from the shredded apple, but that's okay. If you work with the dough too long, the scones will turn out tough and dry.
Once you get the scones in the oven, let the baking magic happen to transform the dough into soft, tender scones. Then sit back and take a few minutes to relax with your fresh baked scones and hot cup of coffee!

Mini Apple Cider Scones with Cinnamon Brown Sugar Glaze
Ingredients
For the Scones
1 C white whole wheat flour
1 C all-purpose flour
¼ C sugar
1½ tsp baking powder
½ tsp salt
1½ tsp cinnamon
1 tsp nutmeg
½ tsp allspice
⅛ tsp cardamom
½ C butter, cold and cut into pieces
⅓ C apple cider**
3 tbsp half & half or milk of your choice
1 egg
1 tsp maple extract
½ C shredded apple
half & half for topping, optional
cinnamon sugar for topping, optional
For the Brown Sugar Cinnamon Glaze
½ C confectioner's sugar
2 tbsp brown sugar
¼ tsp cinnamon
2-3 tbsp half & half or milk
Instructions
Preheat oven to 375. Line a baking sheet with parchment paper or a silicone baking mat.
In a large bowl, whisk together flours, sugar, baking powder, salt, cinnamon, nutmeg, allspice, and cardamom. Cut in butter until mixture resembles coarse crumbs.
In a small bowl, whisk together apple cider, half & half, egg, and maple extract.
Add dry ingredients to wet ingredients and stir until just combined. Stir in shredded apple until just combined.
Turn dough out onto a lightly floured surface. Gently knead dough into a ball. Shape into an 8-inch circle and cut into 8 wedges or use a 2 -3 inch circle cookie or biscuit cutter to cut out dough. Brush with half & half. Sprinkle with cinnamon sugar.
Bake for 12-15 minutes or until edges start to turn golden brown and toothpick inserted in the center comes out mostly clean. Take care to not overbake to prevent scones from getting too dry.
Remove to a wire rack to cool.
Stir together all ingredients of the glaze until smooth. Drizzle glaze over the top of scones. Allow glaze to harden and serve.
Notes
**For stronger apple cider flavor, take ⅔ cup apple cider and simmer it on medium-low heat until reduced in half. Allow cider to cool before using in recipe.