This Creamy Butternut Penne with Spinach and Parmesan is a rich, creamy pasta dish that's a healthy way to get your comfort food fix on chilly fall evenings!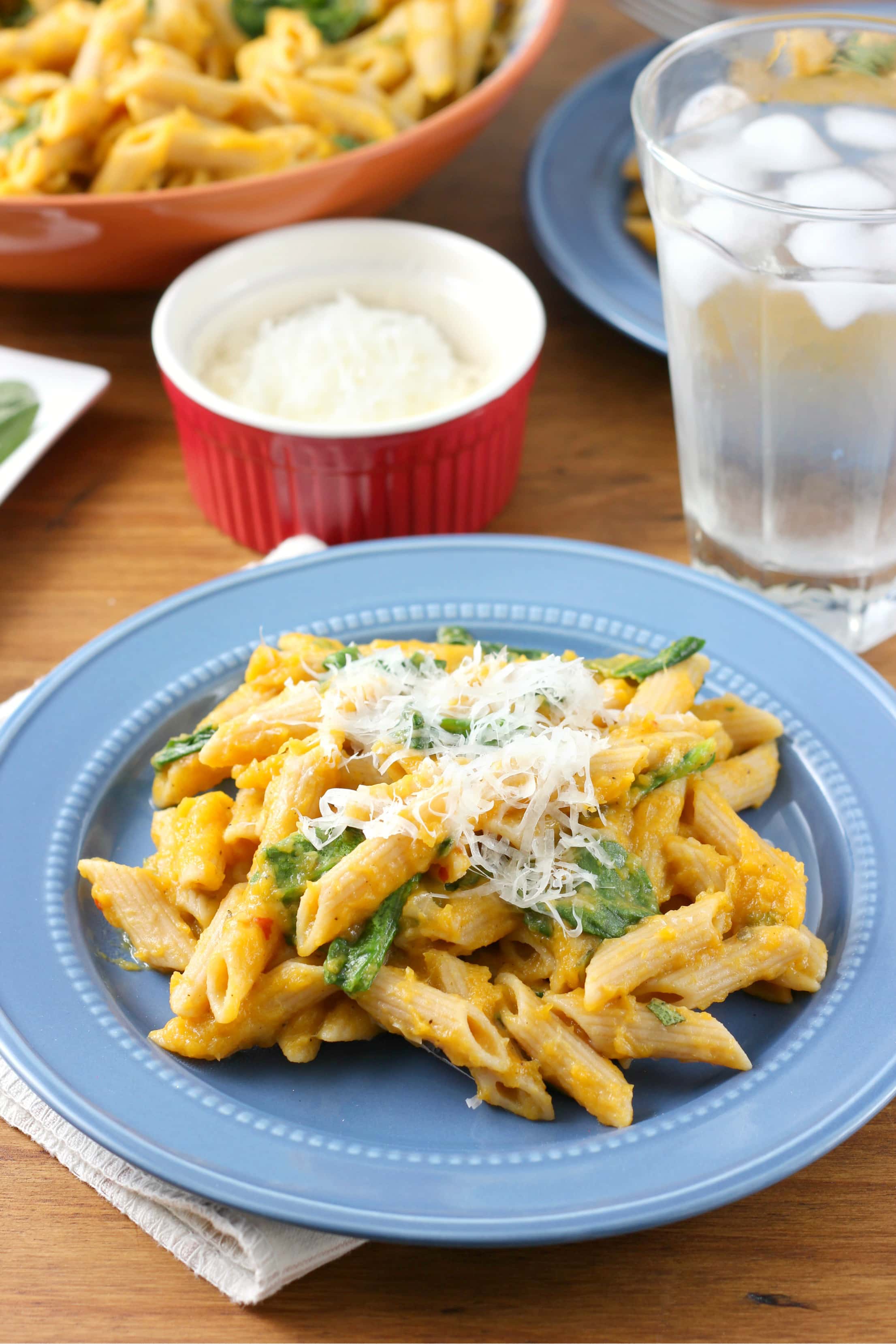 Comfort food season is here! Chilly evenings call for warm, filling meals. Of course, along with the idea of comfort food, usually comes the idea of heavy, rich foods that aren't exactly that good for you.
Since we want to be able to enjoy comfort food without all the extra unnecessary calories, we've been on a hunt for healthier options that are still satisfying.
This creamy butternut penne is just what we were looking for!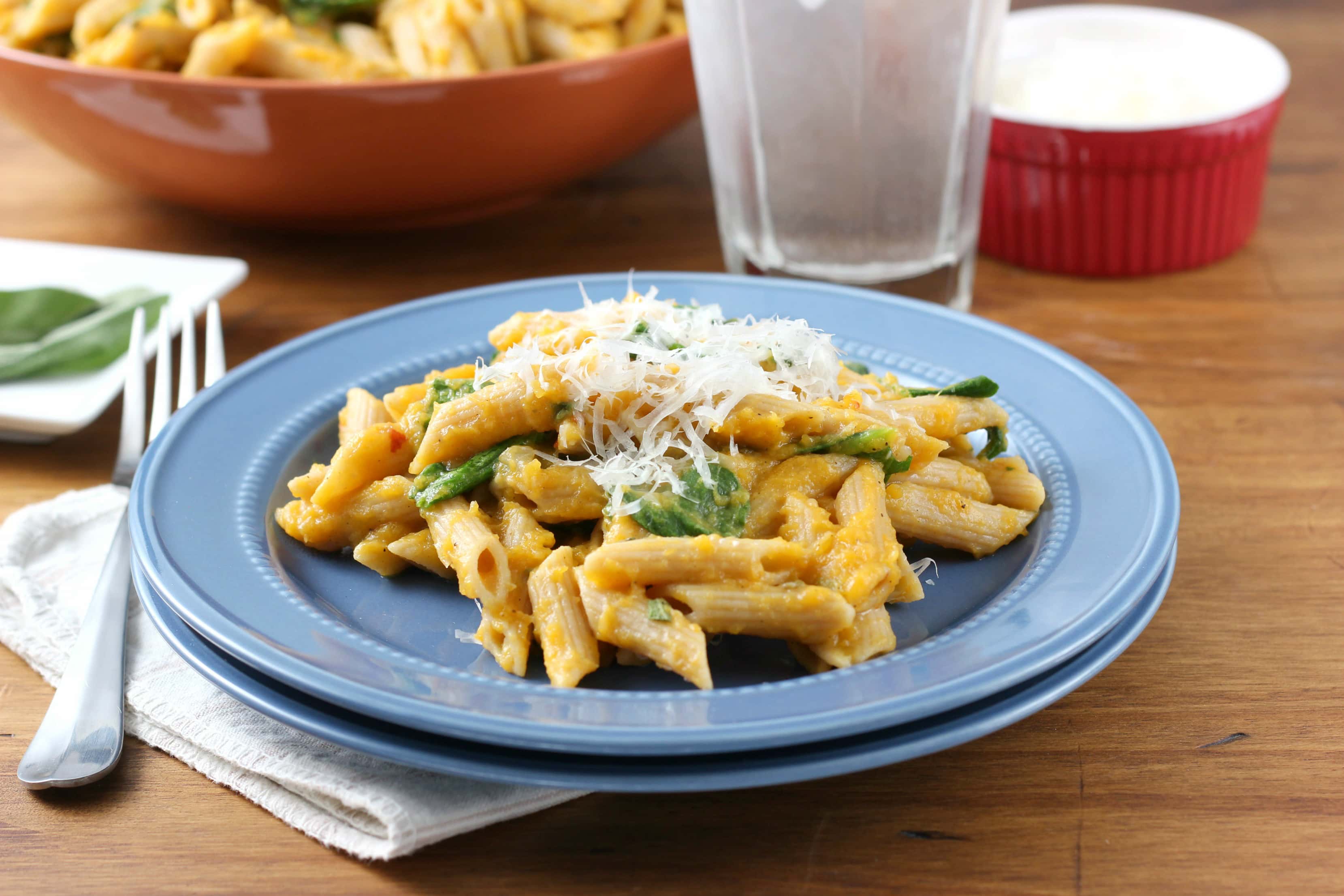 The creamy sauce is actually made without any cream, though you wouldn't know from tasting it! Butternut squash is cooked down with broth and some seasoning to create a rich, silky sauce.
Oh, and the sauce for this pasta dish is made in the slow cooker. So, all you have to do is prep the ingredients and then its hands off!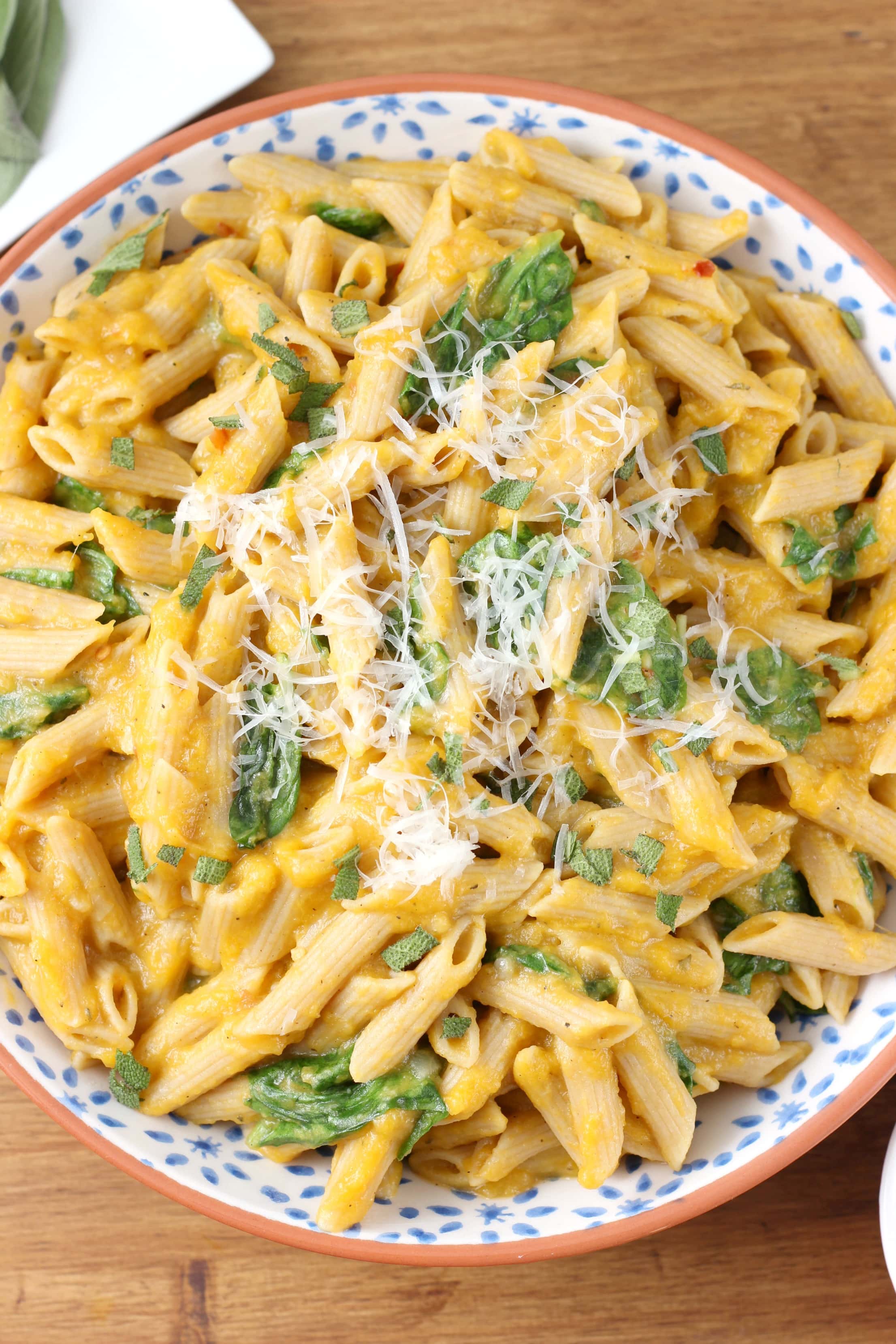 Stir the sauce into the pasta, add the spinach and Parmesan, allow the spinach to wilt a bit, top with additional Parmesan, and enjoy! It's that simple.
One bite of this butternut penne, and you'll be adding this pasta dish to your regular menu rotation this fall!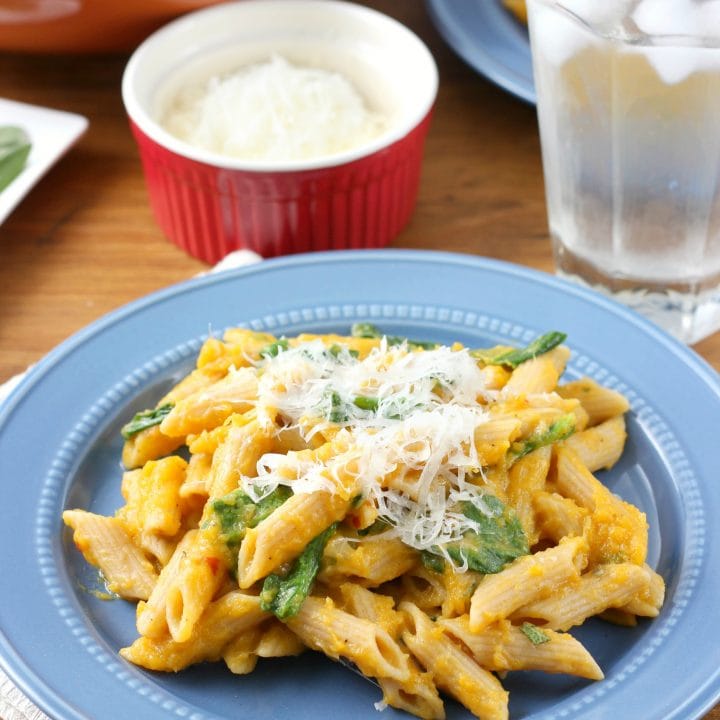 Creamy Butternut Penne with Spinach and Parmesan
Ingredients
2 1/2 tbsp butter
1/2 C chopped onion
3 garlic cloves, minced
3 tbsp minced fresh sage, divided
1/4 - 1/2 tsp red pepper flakes, to taste
3 tbsp flour
2 3/4 C vegetable broth
1 1/2 lbs (or about 4 C) butternut squash, peeled, seeded and cut into bite-size pieces
1/2 tsp salt
1/4 tsp black pepper
13.25 oz whole wheat or whole grain penne
4 C spinach
2 oz (or about 1 C) grated Parmesan cheese
additional grated Parmesan cheese for garnish, optional
Instructions
Melt butter in a medium skillet over medium heat. Add chopped onion and cook until softened and lightly browned. Stir in garlic, 1 1/2 tablespoons sage, and pepper flakes and cook for 30-60 seconds, until fragrant. Stir in flour and cook for 1 minute. Whisk in 1 1/4 cups vegetable broth. Scrape up any browned bits and whisk out any lumps.
Transfer to slow cooker. Stir remaining 1 1/2 cups broth, squash, salt, and pepper into slow cooker. Cover and cook for 3-4 hours on low or 2-3 hours on high, or until squash falls apart when pierced with a fork.
In a large pot, bring 4 quarts of water to a boil. Add pasta and 1 tablespoon salt and cook according to package directions until al dente. Reserve 1/2 cup of cooking water and drain pasta. Return pasta to pot. Add in sauce from slow cooker. Stir in sauce until squash breaks down and creates a creamy sauce for the pasta. Stir in spinach, Parmesan, and remaining sage until spinach is slightly wilted.
Season with salt and pepper to taste. If sauce is too thick, add reserved cooking water until desired consistency is reached.
Serve with additional Parmesan.
Recommended Products
As an Amazon Associate and member of other affiliate programs, I earn from qualifying purchases.
This recipe is inspired by America's Test Kitchen's Healthy Slow Cooker Revolution.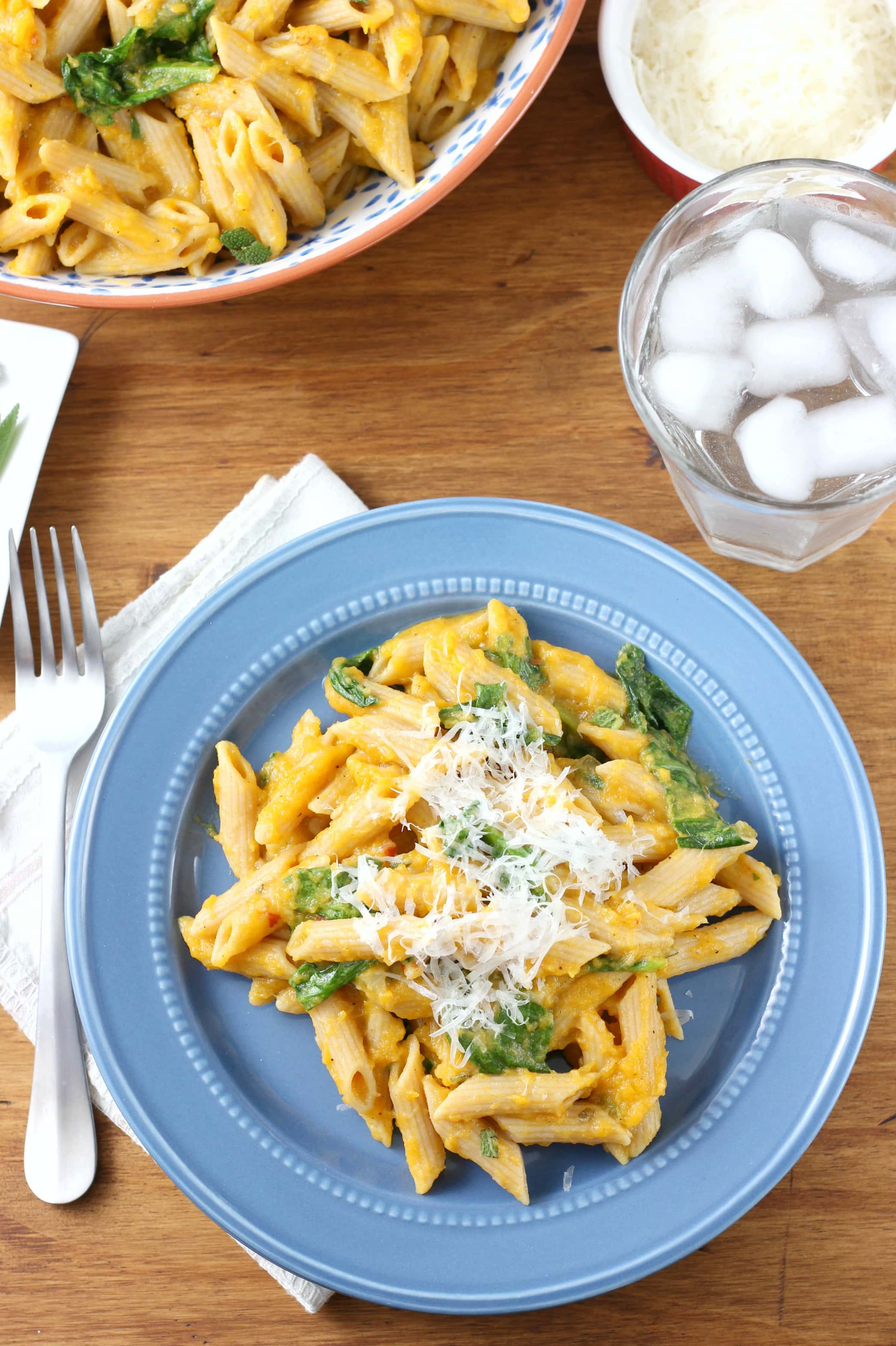 It's National Pasta Day! Check out more great pasta dishes from these bloggers: