This easy Peppermint Hot Chocolate Fudge is filled with hot chocolate mix and lots of marshmallows and crushed peppermint candies!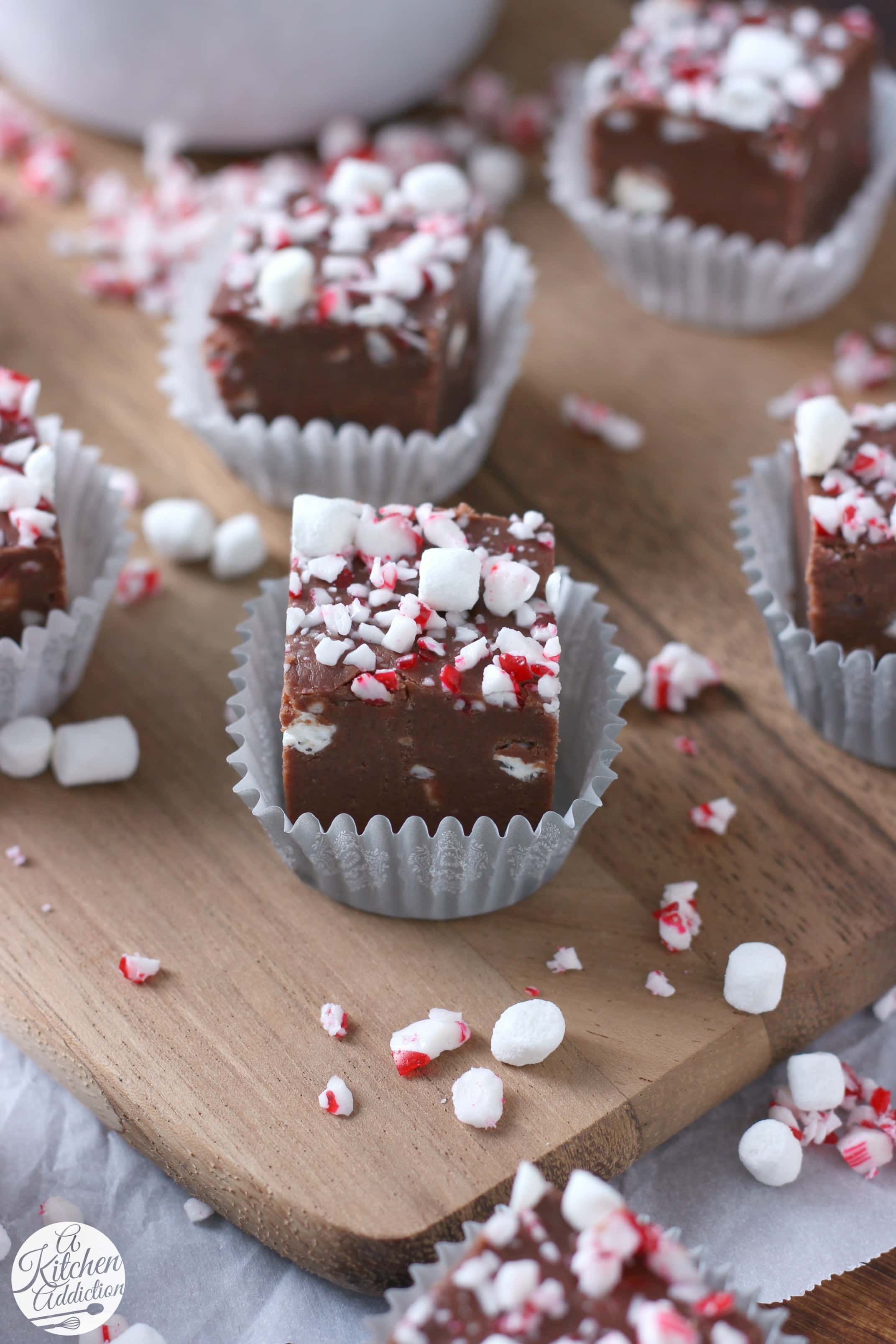 Sorry for my disappearance this past week. Thanks to a great ticket sale, my husband and I took a last minute trip to Florida to get away from it all for a few days!
It was just what we needed. No plans. Just relax on the beach and forget about that crazy thing called "reality" for awhile!
While we were there, we decided that we would have a really hard time getting in the "Christmas spirit" if we lived in a warm climate. You see we left 28 degree Minnesota and landed in 88 degree Florida.
We turned on the radio in the rental car and "It's Beginning to Look a Lot Like Christmas" was playing promptly followed by "Let It Snow!" 88 degrees and sunny does not mean Christmas in my head.
By the end of our time there filled with people wearing Santa hats on the beach and palm trees decorated with tinsel, our brains were thoroughly confused about what season we were in.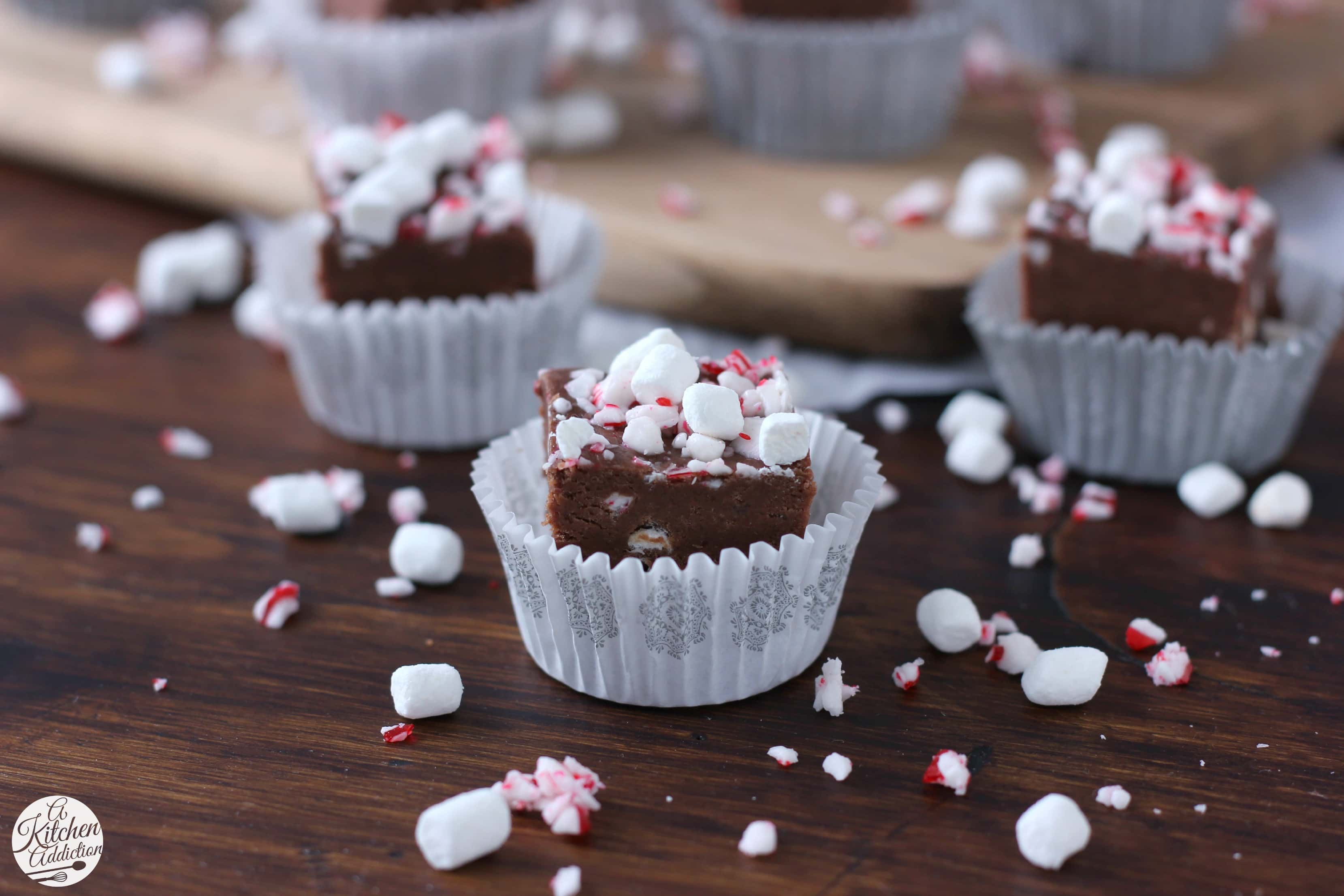 Though that didn't last long when we landed back in MN in 19 degree weather! No offense to all of you lovely people who live in a warm climate, but it just isn't Christmas without your nose getting cold and seeing your breath as soon as you step outside.
And snow. Snow is a must. Cold = Christmastime and I'm perfectly okay with that!
You know what else equals Christmastime? Peppermint hot chocolate! A winter staple and favorite around here!
Of course, we can't just stick with drinking peppermint hot chocolate, we may as well eat it, too. Save some of your hot chocolate mix, and stick it in this peppermint hot chocolate fudge!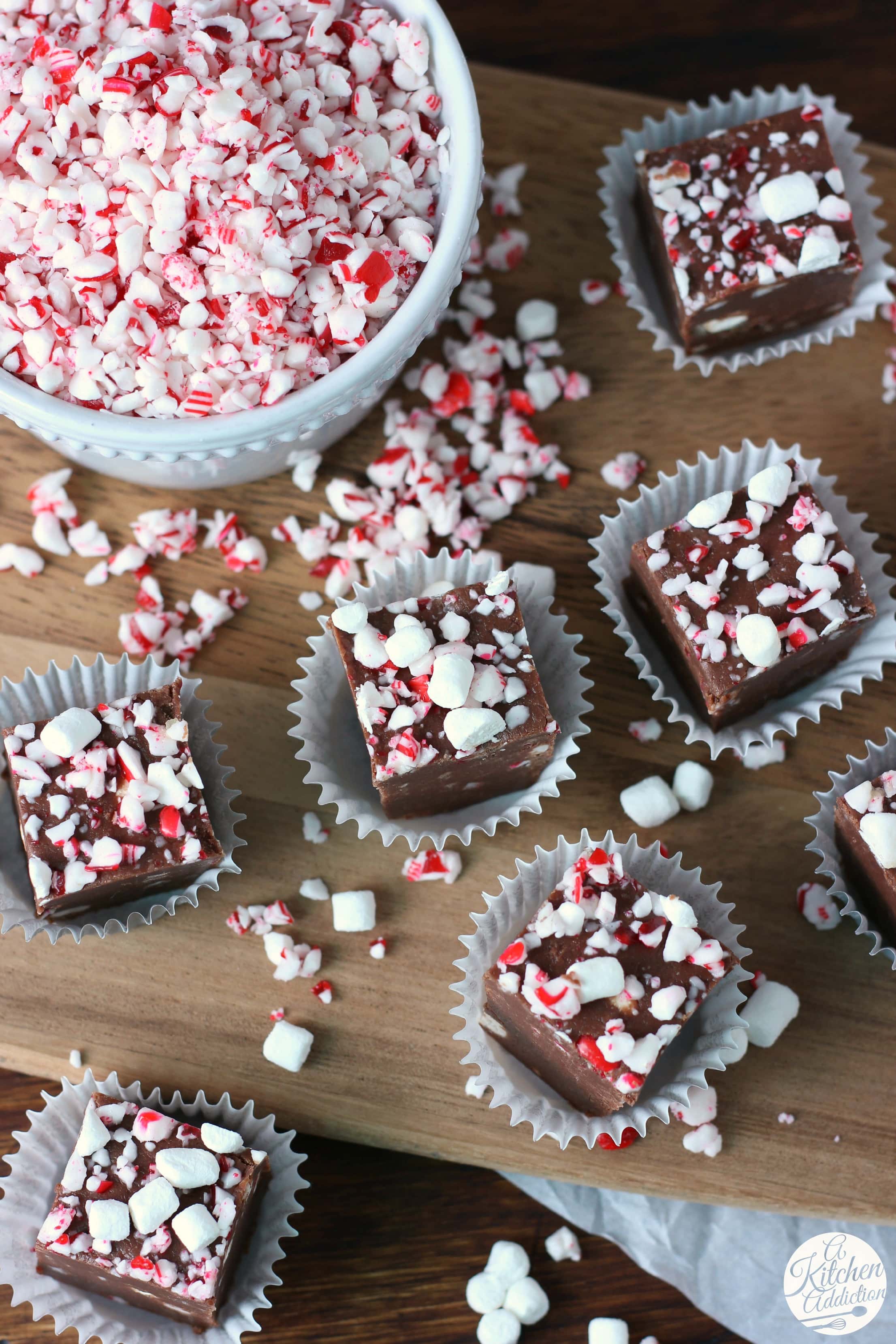 This fudge is super easy to make and doesn't even require a candy thermometer. Hot chocolate mix, marshmallow bits and crushed peppermint candies are stirred in to a classic fudge base to give the fudge the authentic hot chocolate flavor.
Whether you celebrate Christmas in a swimsuit on the beach or bundled up in jackets in the snow, make sure to set aside a little time to make a batch of this fudge.
Perfect for enjoying wherever you are!
I'll be taking the next week off to spend time with family and friends (and to finish up getting ready for Christmas!). I'll see you back here next week. Merry Christmas, friends!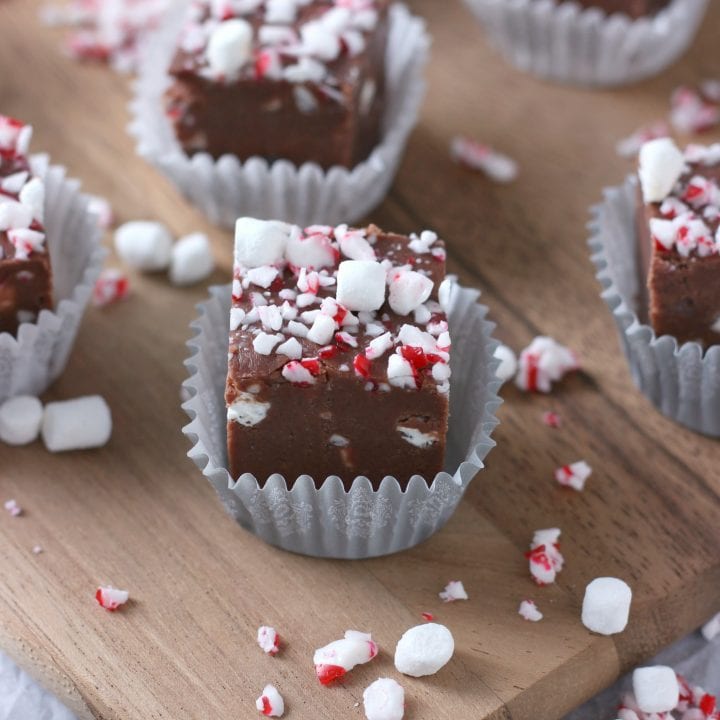 Peppermint Hot Chocolate Fudge
This easy Peppermint Hot Chocolate Fudge recipe is filled with hot chocolate mix and lots of marshmallows and crushed peppermint candies!
Ingredients
2 C sugar
2/3 C evaporated milk
1/2 C butter
1/3 C hot chocolate mix
12 oz semi sweet chocolate
1 (7 oz) jar marshmallow creme
1 tsp vanilla extract
1/4 C + 2 tbsp crushed peppermint candies
1/4 C + 2 tbsp marshmallow bits
Instructions
Line an 8x8 or 9x9 inch baking dish with aluminum foil and butter bottom and sides.
In a large saucepan, combine sugar, evaporated milk, and butter. Cook over medium heat until sugar is dissolved, stirring occasionally to prevent scorching.
Stirring constantly, bring to a boil and boil for 7 minutes. Remove from heat and stir in hot chocolate mix, chocolate, and marshmallow cream until smooth. Stir in vanilla extract.
Allow mixture to cool for 5 minutes. Stir in 1/4 cup peppermint candies and 1/4 cup marshmallow bits.
Pour fudge in prepared baking dish. Sprinkle remaining peppermint candies and marshmallow bits over the top. Gently press into fudge.
Allow to cool and set before cutting into pieces and storing in an airtight container.
Recommended Products
As an Amazon Associate and member of other affiliate programs, I earn from qualifying purchases.