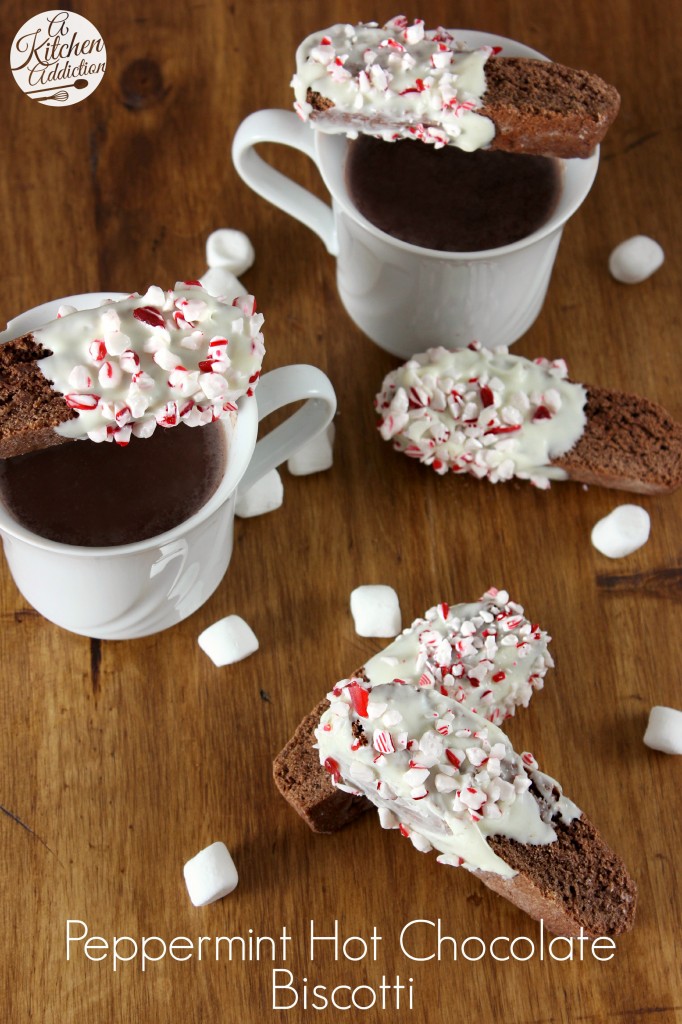 It's that time of year again where we bundle up to go outside and cozy up with big mugs of hot chocolate in the evenings. We had freezing rain yesterday and last night it snowed a little. I'm definitely not a fan of the freezing rain, but I'm excited for the the snow! I love sitting by the window reading and watching the snow fall in the evenings (while wrapped in a warm blanket and drinking hot chocolate, of course!).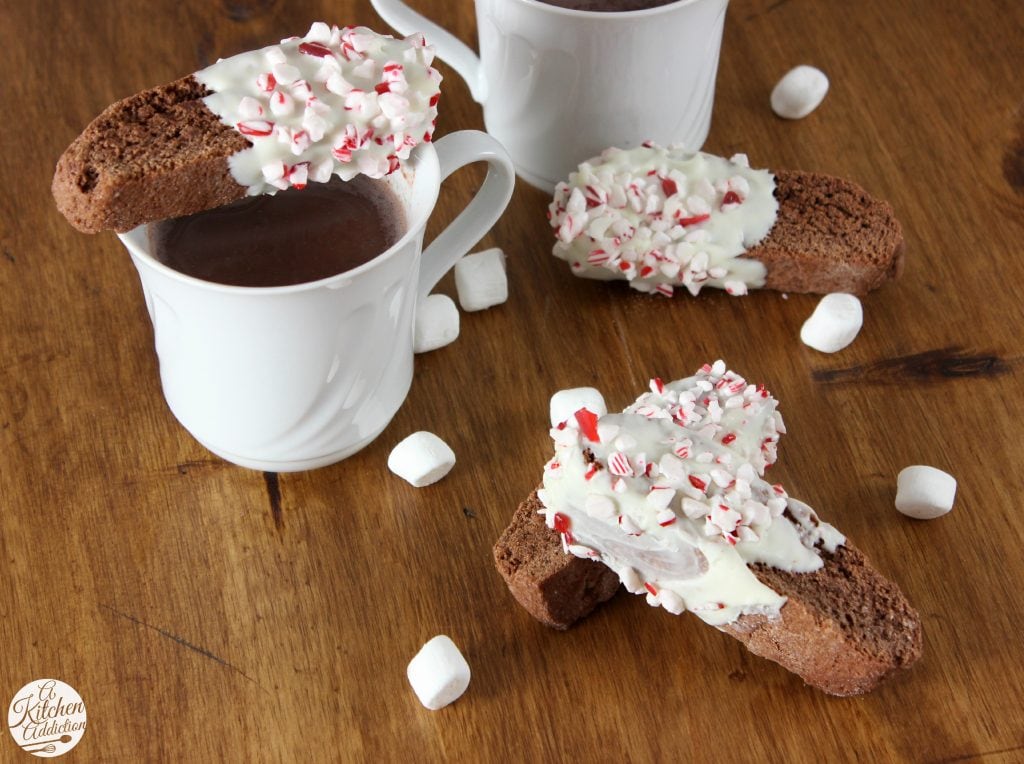 Sometimes you need something a little extra to go with your hot chocolate, and these peppermint hot chocolate biscotti are perfect for dipping in your mug of hot chocolate on a chilly evening wrapped up in your favorite warm blanket. To make the flavor of the biscotti just like that of the rich hot chocolate flavor we love, hot chocolate mix is stirred into the batter.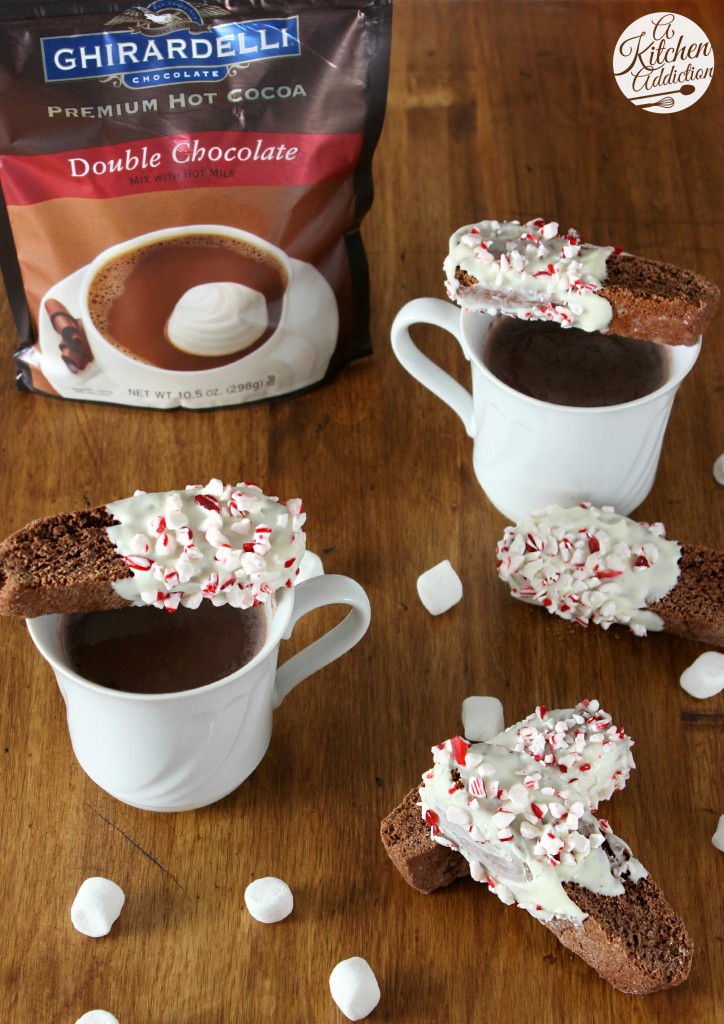 Once dipped in candy coating, the biscotti are then covered in crushed peppermint candies. Peppermint and hot chocolate just go together, especially this time of year! So, I had to add the peppermint candy. Plus, when you're dipping the biscotti in your hot chocolate, the peppermint infuses your drink as well!
Peppermint Hot Chocolate Biscotti
Author:
Ingredients
2 C flour
1/2 C Double Chocolate Ghirardelli hot chocolate mix
1 1/2 tsp baking powder
1/4 tsp salt
1/4 C sugar
1/2 C butter, softened
2 eggs
1 1/2 tsp vanilla extract
1/2 C Ghirardelli white melting wafers
crushed peppermint candy, for garnish
Instructions
Preheat oven to 350. Line a baking sheet with parchment paper or a baking mat.
In a medium bowl, whisk together flour, hot chocolate mix, baking powder, and salt.
Using a stand mixer or electric mixer, cream together sugar and butter. Add in eggs and vanilla. Beat until creamy.
Add dry ingredients to wet ingredients and beat until well-combined.
Turn dough out onto floured surface. Divide dough into 2 logs shaped into 10″ long x 2″ inch wide and about 1″ thick.
Transfer logs to prepared baking sheet. Bake for 20-22 minutes or until firm to the touch and starting to turn golden brown.
Transfer to a wire rack and allow to cool for 15 minutes. Reduce oven temperature to 325.
Using a serrated knife, cut each log into 1 inch pieces. Arrange pieces on baking sheet so that they are not touching.
Return to oven and bake for another 10-12 minutes per side or until dry and crisp.
Remove to a wire rack and cool completely.
Melt wafers according to package instructions in a microwave safe bowl. Put crushed peppermint candy in another bowl. Dip biscotti into candy coating, allow excess to drip off and then dip in crushed peppermint candies. Place on wax paper until candy coating has hardened.
Want to try Ghirardelli chocolate for yourself? Well, you're in luck! Ghirardelli is giving away a $25 gift card, to be used in their online store, to one (1) A Kitchen Addiction reader. Want to enter? Just fill out the form below!
I received product from Ghirardelli but was under no obligation to develop a recipe. As always, opinions are 100% my own. Prize and fulfillment are the responsibility of Ghirardelli.This giveaway ends at midnight on November 29, 2013.