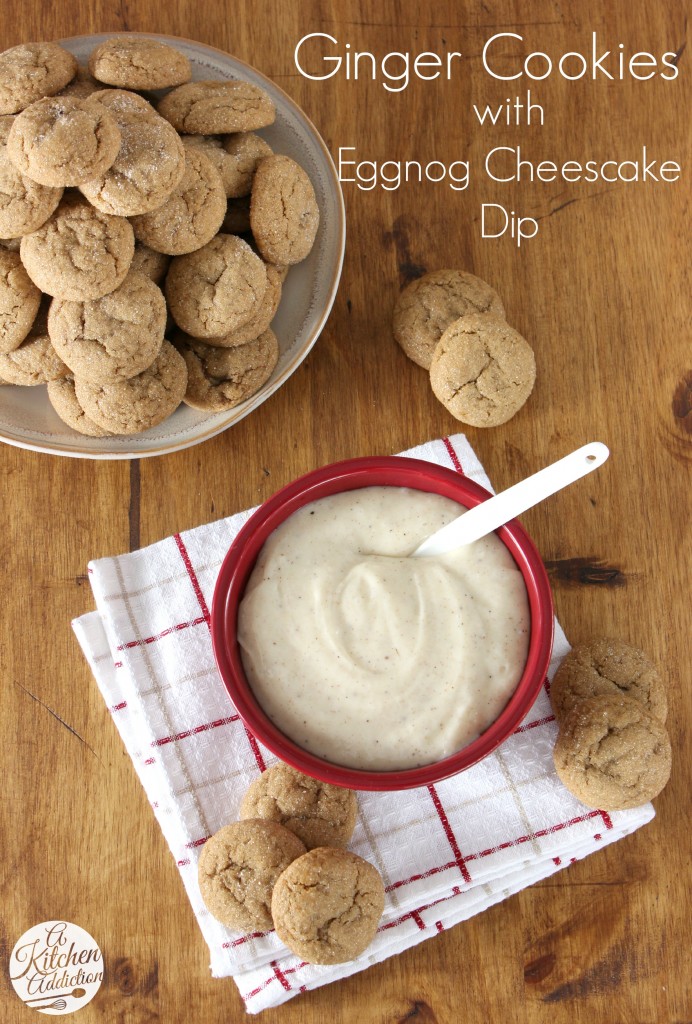 Soft baked ginger cookies with dip have become a tradition in our house. Every year that we've been married, I've made a batch of ginger cookies and pumpkin pie dip when fall arrives.
This year I thought I would extend the tradition into the winter and make an eggnog cheesecake dip to go with the cookies.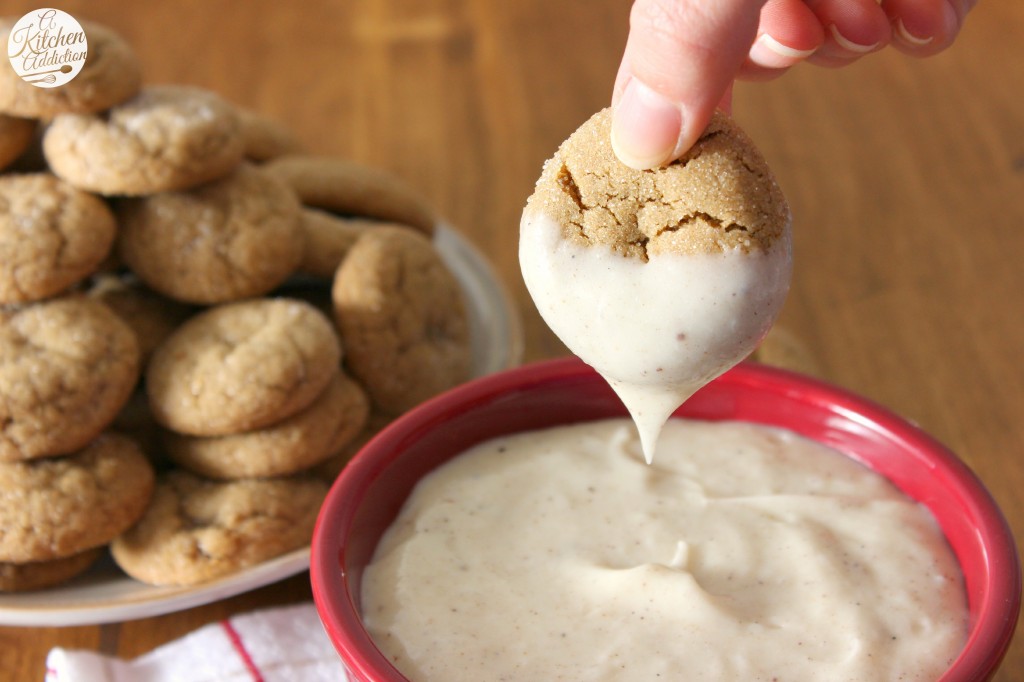 If you've never combined eggnog and ginger before, you really should give it a try. So good! (After I made these, Jennie, over at The Messy Baker Blog, posted a recipe last week for soft ginger cookies with eggnog glaze. They are already on my list for Christmas cookies!)
The spices from the ginger cookies and the spice from the eggnog make a great combination that I definitely need to bake with more.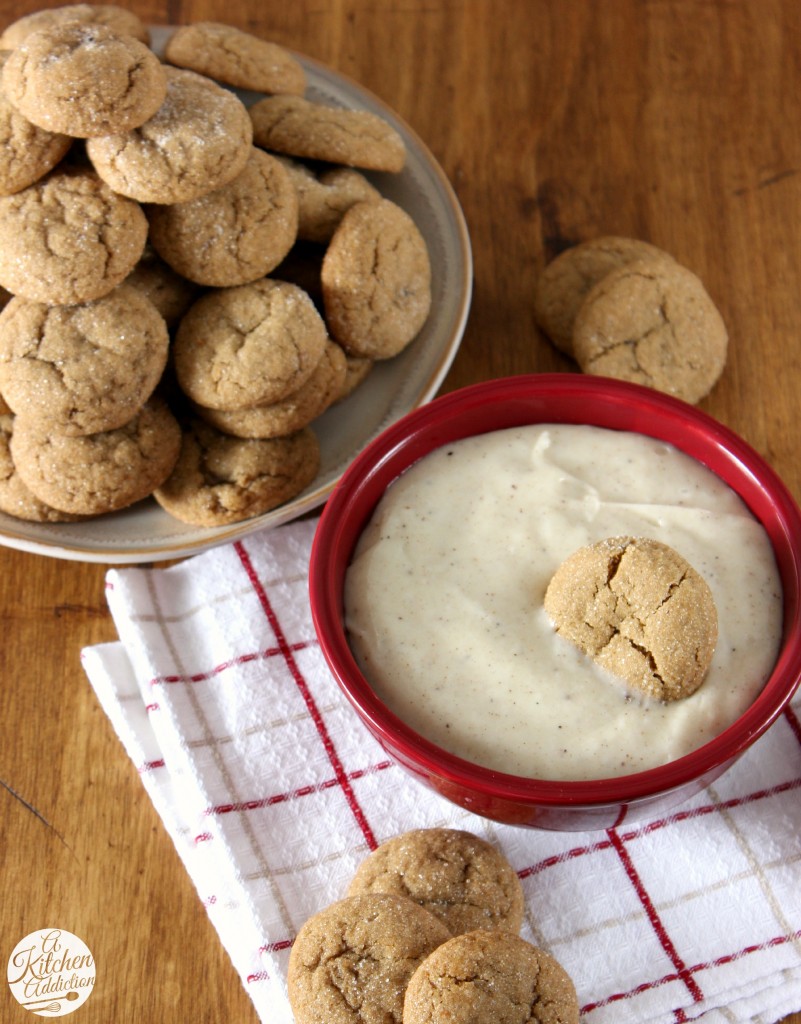 These ginger cookies are soft and puffy, just the way I like them. I've never been a fan of the hard gingersnaps, so these soft baked cookies are perfect.
The eggnog cheesecake dip is a simple dip made of cream cheese, eggnog, confectioner's sugar, and, of course, nutmeg.
Because the recipe makes a lot, these cookies and dip are perfect for setting out at your next gathering!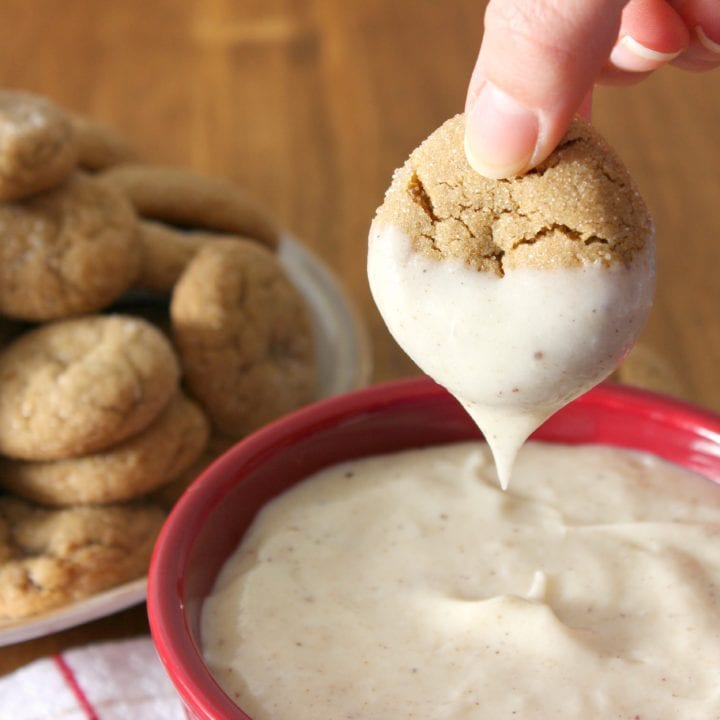 Soft Baked Ginger Cookies with Eggnog Cheesecake Dip
Yield: 36 cookies

Prep Time: 15 minutes

Bake Time: 8 minutes

Total Time: 23 minutes
Ingredients
For the Cookies
1/2 Cup butter, softened
1/2 Cup brown sugar
1/4 Cup sugar
1 egg
1/4 Cup molasses
2 Tablespoons water
2 1/4 Cups all-purpose flour (or 1 1/4 Cups all-purpose and 1 Cup white whole wheat)
1 teaspoon baking soda
1 teaspoon cinnamon
2 teaspoons ginger
1/2 teaspoon ground cloves
1/8 teaspoon salt
1/4 Cup sugar, for rolling dough in
For the Dip
8 ounces 1/3 of the fat cream cheese, softened
1/2 Cup confectioner's sugar
1/2 teaspoon nutmeg
1/4 teaspoon cinnamon
3 Tablespoons eggnog
1 teaspoon vanilla extract
Instructions
Preheat oven to 350 degrees Fahrenheit. Line a cookie sheet with parchment paper or a baking mat.
In the bowl of a stand mixer (or with an electric hand mixer), cream together butter and sugars. Add the egg and beat until creamy. Beat in molasses and water until well-combined.
In a medium bowl, whisk together flour, baking soda, cinnamon, ginger, cloves, and salt. Slowly add dry ingredients to wet ingredients. Dough will be stiff and you may need to finish combining ingredients using a wooden spoon.
Roll dough into 1 inch balls. Roll dough in sugar to coat. Place dough onto cookie sheet. Press dough to indent slightly.
Bake for 8-10 minutes or until cookies puff and edges just start to turn golden brown. Allow cookies to cool for a couple of minutes on cookie sheet before removing to a wire rack to cool completely.
While cookies are cooling, prepare dip. Beat together all ingredients until smooth.
Store cookies in an airtight container. Store remaining eggnog dip in the refrigerator.
Recommended Products
As an Amazon Associate and member of other affiliate programs, I earn from qualifying purchases.
Nutrition Information:
Yield: 36 Serving Size: 1
Amount Per Serving: Calories: 119Total Fat: 5gSaturated Fat: 2gTrans Fat: 0gUnsaturated Fat: 2gCholesterol: 14mgSodium: 95mgCarbohydrates: 18gFiber: 0gSugar: 9gProtein: 1g

Nutrition information shown is an estimate provided by an online calculator and may not always be accurate. It should not be considered a substitute for a medical professional's advice.