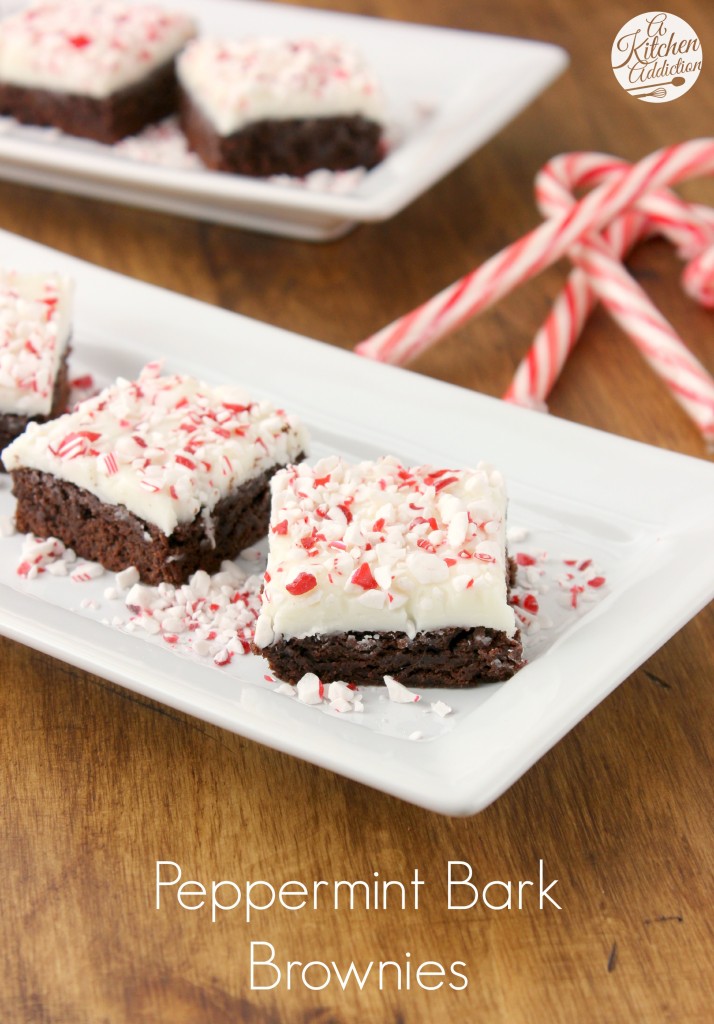 This time of year I love all things peppermint and chocolate. Whether it's in coffee, candy, cookies, cake, or in this case, brownies, I have a hard time turning it down!
The combination makes me think of Christmas and all of the memories that go with it.
I'm actually not that much of a fan of peppermint any other time of year, but come winter (or whenever the cold weather hits!), I can't get enough of it!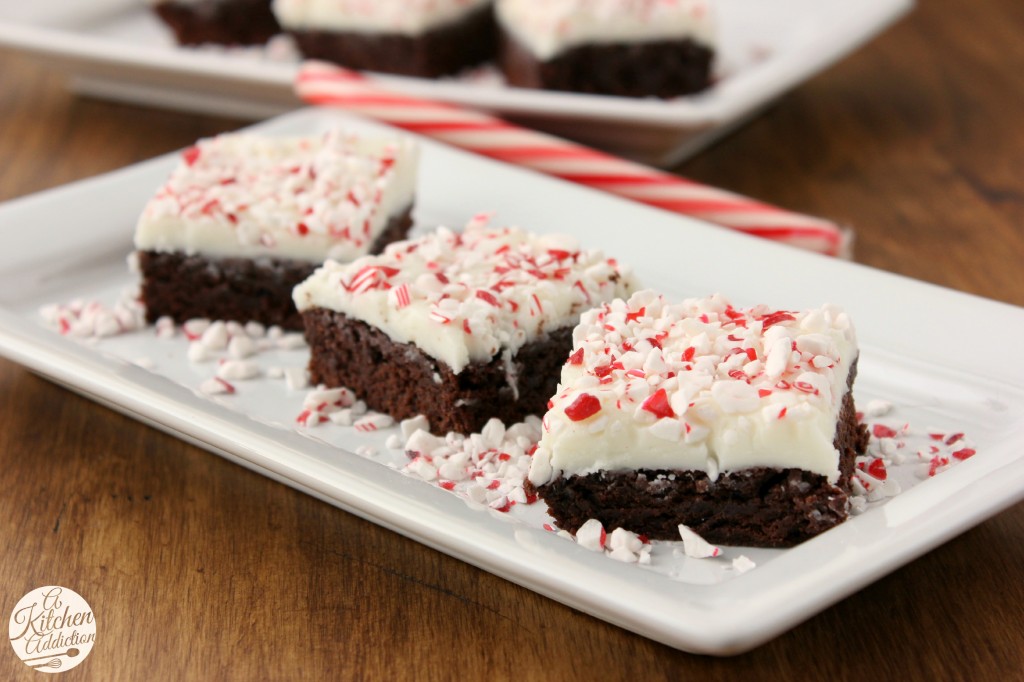 These peppermint bark brownies are just another way to enjoy that classic combination.
Rich, fudgy brownies are topped with a peppermint infused white chocolate layer that is sprinkled with crushed peppermint candies.
Perfect addition to your holiday parties!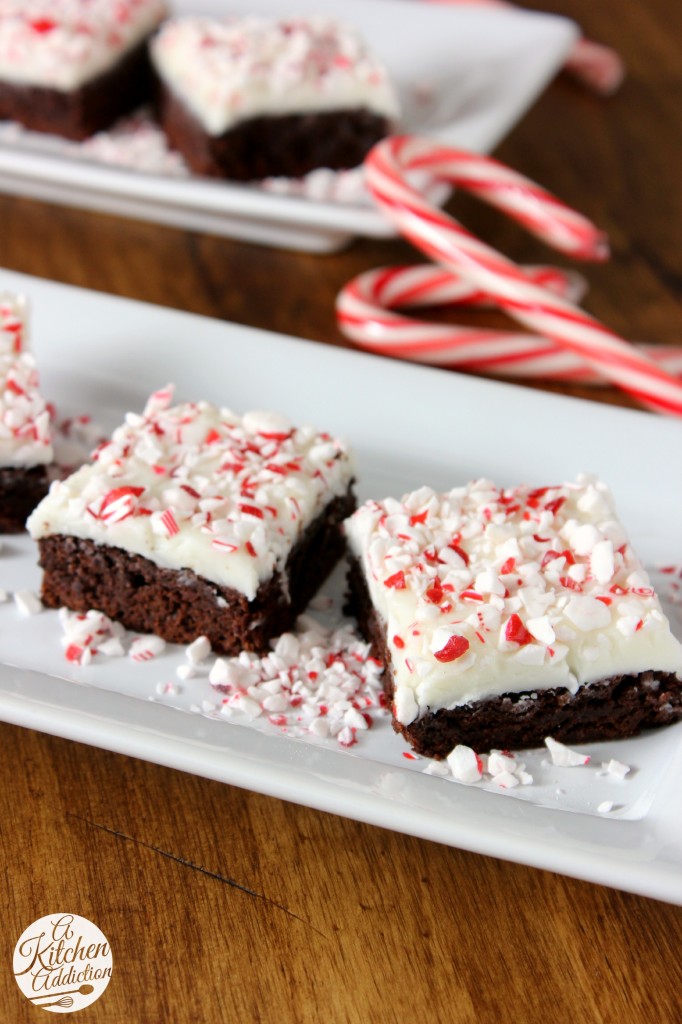 You've probably noticed by now that I like recipes that are easy, especially during this busy time of year. These peppermint bark brownies fit the easy criteria.
If you are short on time, you can substitute the brownie layer with your favorite brownie mix. Then all you have to do is mix, top, and sprinkle!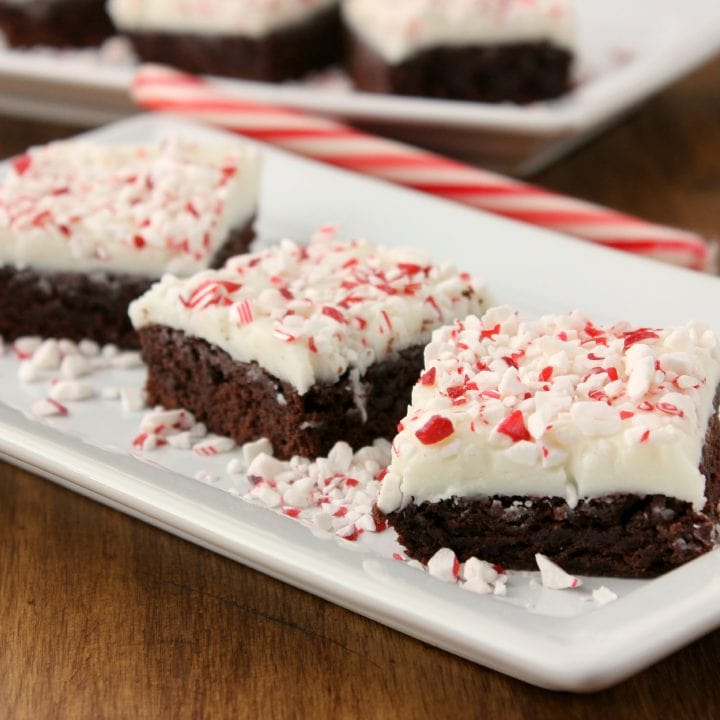 Peppermint Bark Brownies
Ingredients
For the Brownies (or your favorite brownie mix for an 8x8 pan)
1/2 C butter
3/4 C sugar
1 tsp vanilla extract
2 eggs
1/2 C unsweetened baking cocoa
1/2 C all-purpose flour
1/4 tsp baking soda
1/8 tsp salt
For the Topping
10 oz white candy melts or high quality white chocolate
1/4 tsp peppermint extract, optional
crushed peppermint candies
Instructions
Preheat oven to 350. Spray an 8x8 inch baking dish with non-stick cooking spray.

In a large saucepan, melt butter over medium heat. Add in sugar and stir until sugar starts to dissolve. Remove pan from heat and allow to cool for a few minutes. Add eggs one at a time, stirring well after each addition. Stir in vanilla.

Stir in cocoa powder until well blended. Add in flour, baking soda and salt. Stir until combined, Pour batter into prepared baking dish.

Bake for 18-20 minutes or until toothpick inserted in the center comes out clean.

Remove to a wire rack to cool.

While brownies are cooling, melt white candy melts according to package instructions. If you are adding the peppermint extract, work quickly by whisking in the extract and immediately spreading the melted candy over the cooled brownies. (Candy will thicken quickly but should still be spreadable) Sprinkle crushed peppermint candies over the top and gently press into the white candy. Once candy topping has hardened slightly, cut into pieces and allow to harden completely before serving.
Recommended Products
As an Amazon Associate and member of other affiliate programs, I earn from qualifying purchases.

Brownie base adapted from Hershey's.