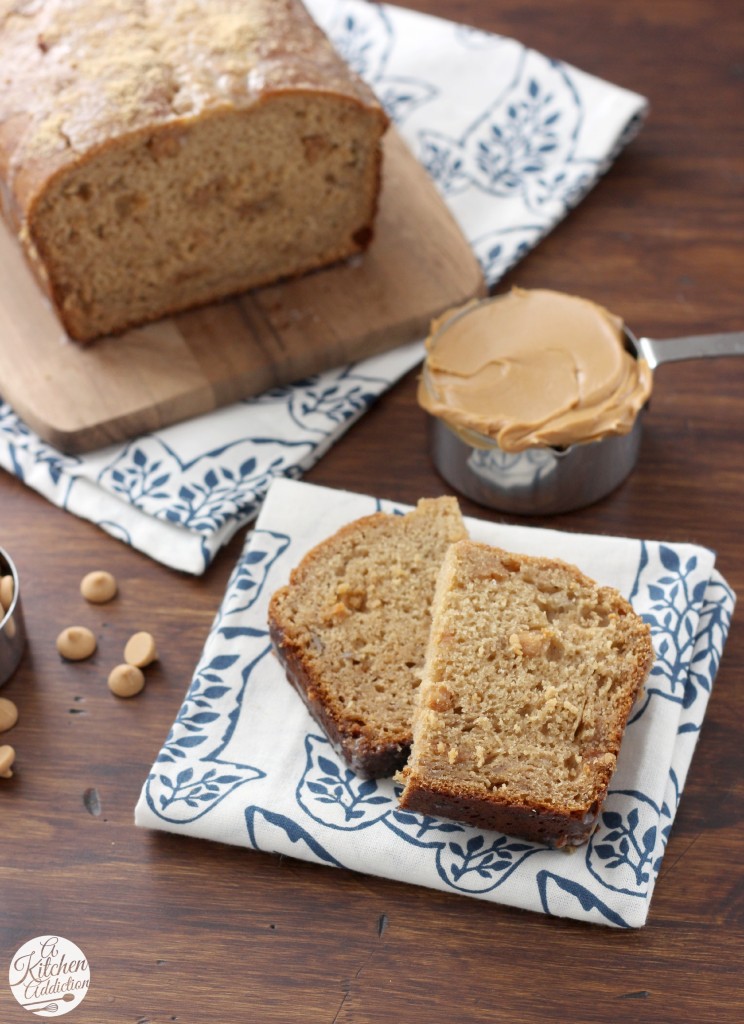 We have a new favorite banana bread at our house. No surprise here, but it involves lots of peanut butter! This peanut butter graham banana bread is a variation of my favorite dark chocolate chip graham banana bread.
I actually was planning to make another loaf of that bread, but I realized that I didn't have any dark chocolate chips left. I did, however, have two open bags of peanut butter chips.
Problem solved! It was time for a peanut butter variation anyways!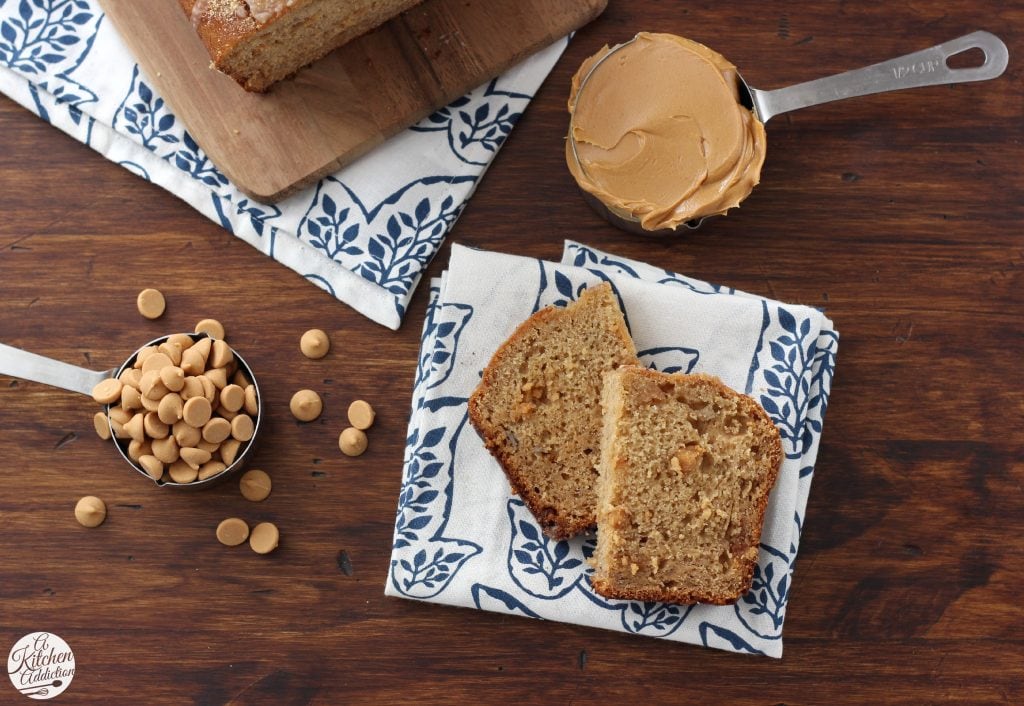 Lots of peanut butter, peanut butter chips and graham cracker crumbs make up this banana bread. I've been using graham cracker crumbs in all kinds of baked goods lately and love the subtle flavor that they give.
This bread is no different. The graham flavor complements the peanut butter and banana flavor perfectly giving the bread an irresistible flavor combination.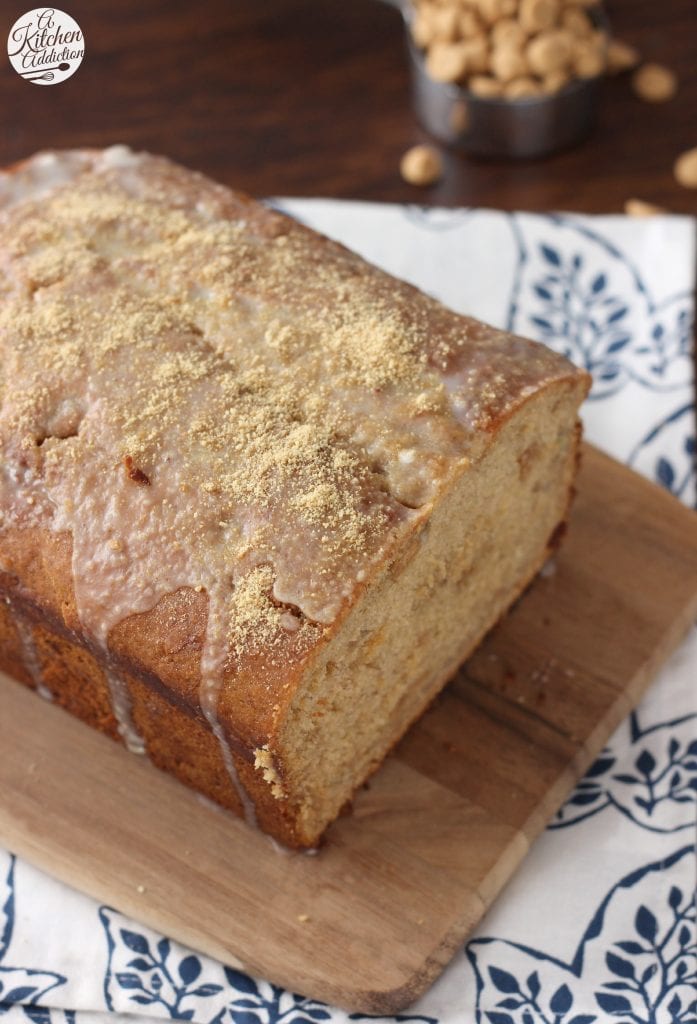 A simple glaze and a sprinkling of graham cracker crumbs finish off this flavorful bread!
If you're looking for a new banana bread recipe to add to your recipe collection, this one won't disappoint.
You'll find yourself making loaf after loaf after they keep disappearing!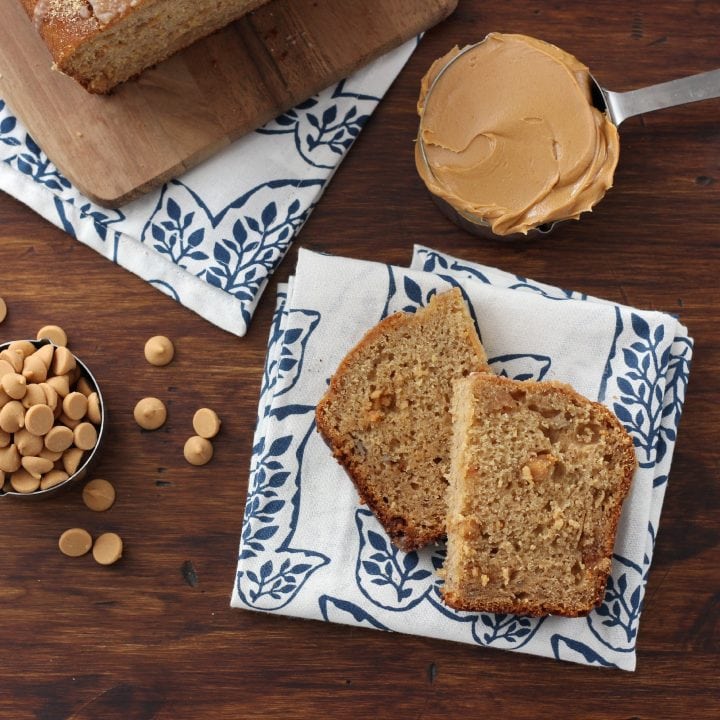 Peanut Butter Graham Banana Bread
Yield:
12 slices of bread
Ingredients
1 1/2 C white whole wheat flour (or all-purpose flour)
3/4 C graham cracker crumbs
1 tsp baking powder
1/2 tsp baking soda
1/2 tsp salt
1/4 C brown sugar
1/4 C honey
1 C mashed banana
1/2 C creamy peanut butter
1/2 C plain yogurt
2 eggs
1 tsp vanilla extract
1/2 C peanut butter chips
Instructions
Preheat oven to 350. Lightly spray a 9x5 inch loaf pan with non-stick cooking spray.
In a large bowl, whisk together flour, graham cracker crumbs, baking powder, baking soda, salt, and brown sugar.
In a medium bowl, whisk together honey, banana, peanut butter, yogurt, eggs, and vanilla extract. Add wet ingredients to dry ingredients and stir until combined. Stir in peanut butter chips.
Pour batter into prepared loaf pan. Bake for 45-55 minutes or until toothpick inserted in the center comes out clean.
Remove to a wire rack to cool.
Recommended Products
As an Amazon Associate and member of other affiliate programs, I earn from qualifying purchases.