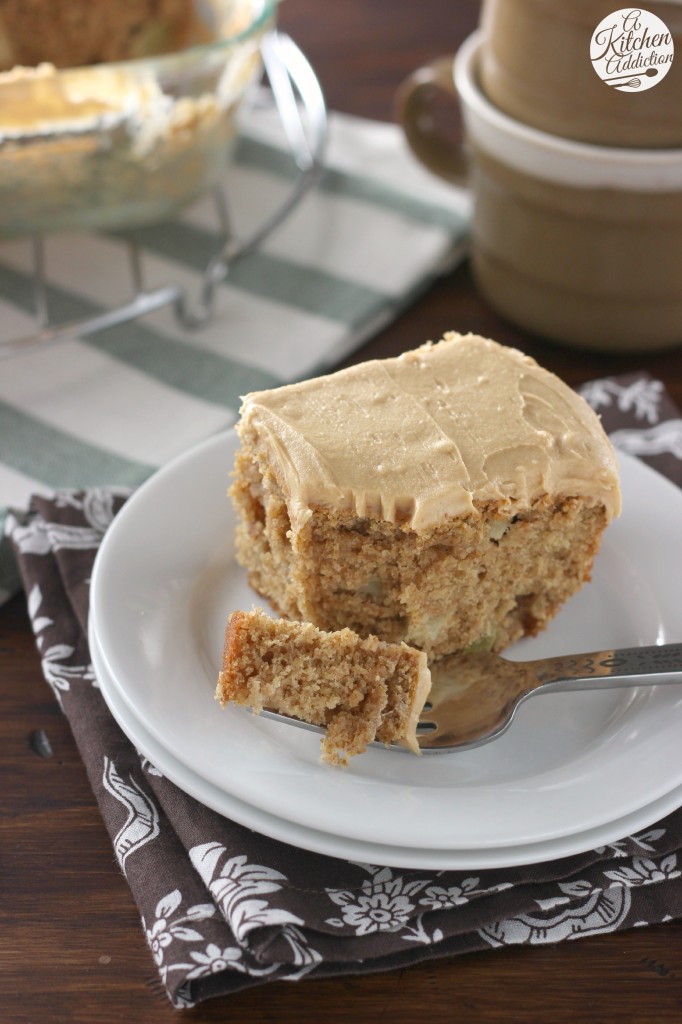 It's Friday! That means my husband comes home tomorrow! He's been gone all week for a conference. In California. In temperatures that were 80 degrees warmer than here.
I hope he actually gets on the plane to come back. . . I can't say I'd blame him if he wanted to stay!
While he's been enjoying the sun and warm weather, I've been enjoying peanut butter buttercream. Almost as good! 😉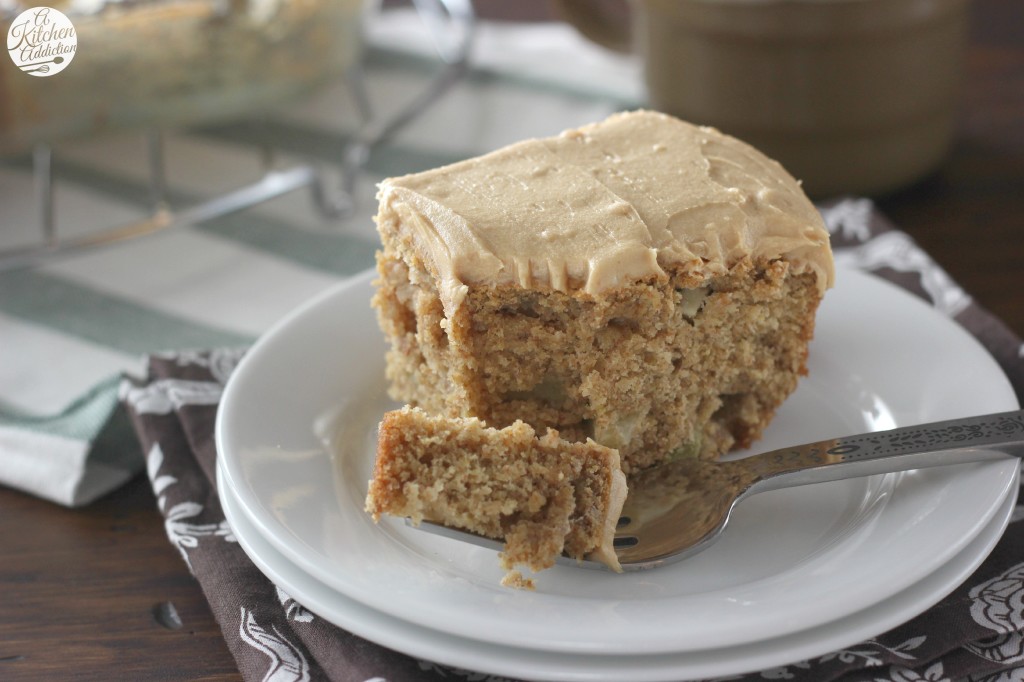 I never pass up an opportunity to make a creamy peanut butter buttercream frosting. It's one of the few frostings that I like. Our wedding cupcakes were even frosted with peanut butter buttercream!
So, when I made a peanut butter apple cake the other day, I just had to top it with my favorite frosting.
It ended up being the perfect frosting for a snack cake packed with fresh chopped apples and applesauce. T
he frosting adds enough sweetness and richness without overpowering the flavor of the fresh apples. The best part is that it's a snack cake. That means you can eat it for more than just dessert!
So make your weekend a little sweeter and whip up a peanut butter apple snack cake with some amazing peanut butter buttercream!
Peanut Butter Apple Snack Cake with Peanut Butter Frosting
Author:
Ingredients
For the Cake
1/4 C butter, softened
1/4 C no-stir creamy peanut butter
1/2 C brown sugar
1/4 C sugar
1 C unsweetened applesauce
1 tsp vanilla extract
1 C whole wheat flour
1 C all-purpose flour
1 tsp baking powder
1 tsp baking soda
1/4 tsp salt
1 C chopped apples
For the Frosting
1/2 C no-stir natural peanut butter
1/4 C butter, softened
1 C confectioner's sugar
1/8 tsp salt
1 tsp vanilla extract
2 tbsp milk
Instructions
Preheat oven to 350. Lightly spray an 8×8 inch baking pan with non-stick cooking spray.
In the bowl of a stand mixer, cream together butter, peanut butter, and sugars. Beat in applesauce and vanilla extract.
In a separate bowl, whisk together flour, baking powder, baking soda, and salt. Add dry ingredients to wet ingredients and stir until just combined. Stir in chopped apples.
Spread batter into prepared baking pan. Bake for 20-25 minutes or until toothpick inserted in the center comes out clean.
Remove to a wire rack to cool.
While cake is cooling, cream together peanut butter and butter. Slowly beat in confectioner's sugar, salt, and vanilla extract. Beat in milk until creamy.
Spread frosting over cooled cake. Cut into pieces and serve.