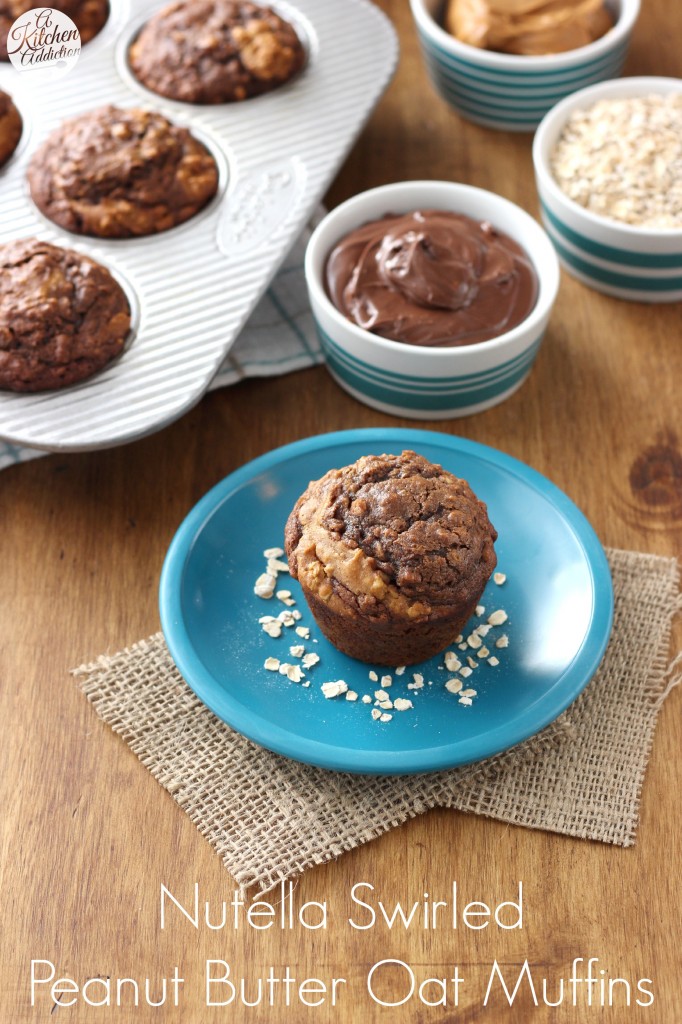 It's Friday! I am so excited for some extra rest tomorrow! Does it seem like all kinds of colds, flus, etc. are flying around where you live? I'm pretty sure every time I'm around someone who coughs or sneezes I get sick.
So, this weekend I think I'll just stay hidden under the covers from all of the nasty germs and dream of warm, sunny weather.
Oh, and I'll eat muffins. These Nutella swirled peanut butter oat muffins to be exact.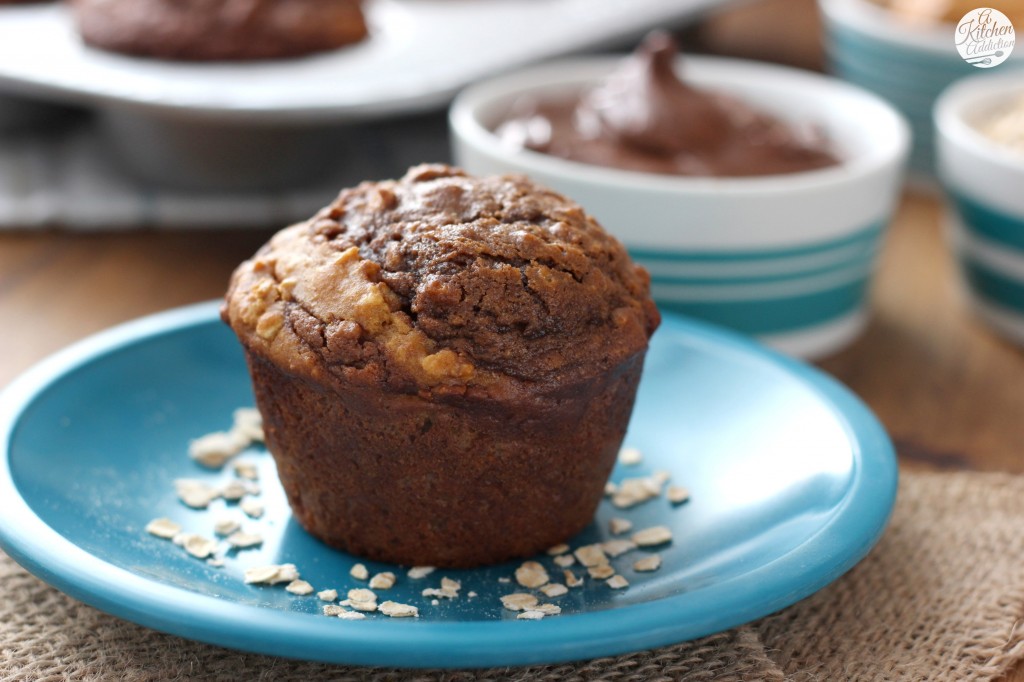 I took one of my favorite healthier muffins and added a bit of Nutella to them for an added boost of chocolaty sweetness. Whole wheat flour, oats, yogurt, honey, and peanut butter are the base for these tasty Nutella swirled peanut butter oat muffins.
Nutella is mixed into a small portion of the batter and swirled in with the rest of the batter to give the muffins somewhat of a marbled look.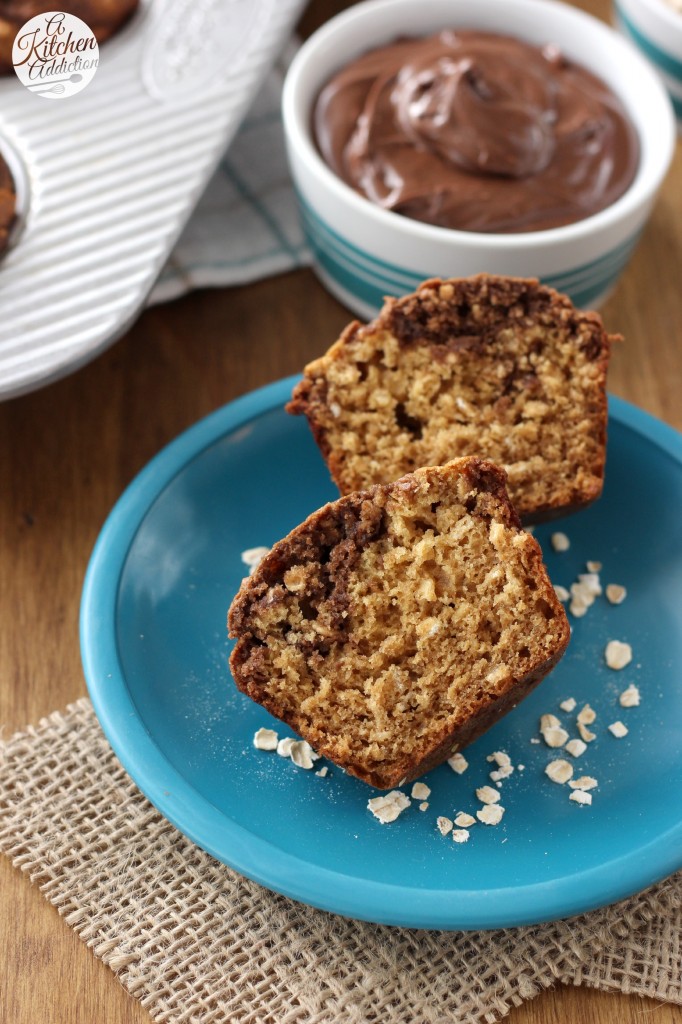 I have actually made these muffins a couple of different ways. One way that my husband actually likes more is to just swirl melted Nutella into the tops of the batter so when they bake up you get a nice bite of Nutella on the tops of the muffins.
The downside to this method is that the weight of the Nutella makes the muffin tops kind of sink after baking. It is, however, really tasty!
So, if you aren't going for looks, be sure to give this alternative method a try!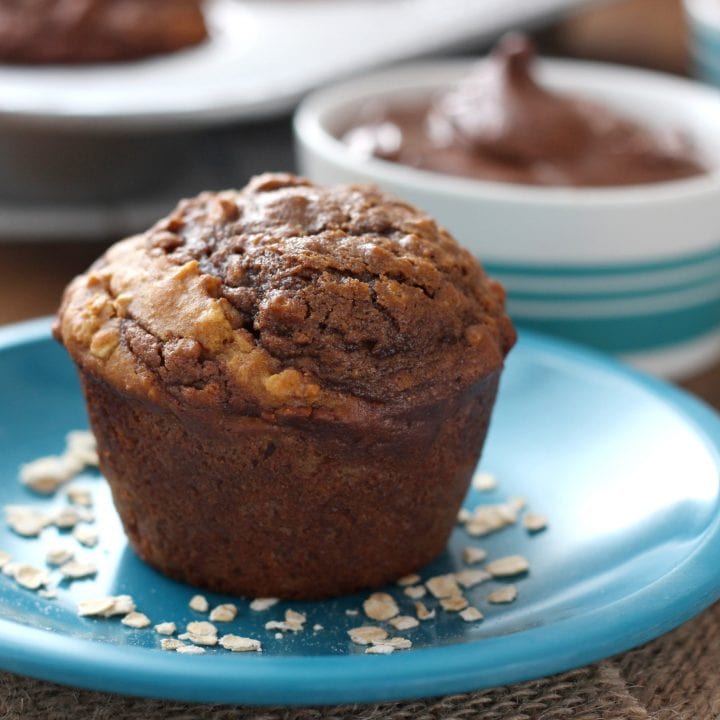 Nutella Swirled Peanut Butter Oat Muffins
Ingredients
3/4 C whole wheat flour
1/2 C white whole wheat flour or all-purpose flour
1 C quick oats
1 tsp baking powder
1 1/2 tsp baking soda
1 tsp salt
1/4 C brown sugar
1/3 C honey
1/2 C no-stir natural peanut butter
1/2 C plain yogurt
1 egg
1 tsp vanilla extract
3/4 C non-fat milk
1/4 C Nutella
Instructions
Preheat oven to 375. Line muffin tin with cupcake liners or spray with non-stick cooking spray.
In a large bowl, whisk together flours, oats, baking powder, baking soda, salt, and brown sugar.
In a small bowl, whisk together honey, peanut butter, yogurt, egg, vanilla, and milk. Add wet ingredients to dry ingredients and stir until just combined.
Scoop out 3/4 C of batter into a small bowl. Stir in Nutella. (I microwaved my Nutella for about 10 seconds to make it easier to stir in)
Scoop plain batter into prepared muffin tin filling each cup about 1/2 full. Spoon about 1 tablespoon of the Nutella batter on top of each cup. With a toothpick, swirl Nutella through batter.
Bake for 15-20 minutes or until toothpick inserted in the center comes out clean.
Remove to a wire rack to cool. Store in an airtight container.
Recommended Products
As an Amazon Associate and member of other affiliate programs, I earn from qualifying purchases.