Do any of you find it hard to come back from a long, relaxing weekend??! We were able to get away for the weekend to my parents. While we were there, I was able to spend some time in the kitchen with my mom. We whipped up these easy mocha cheesecake bars in no time at all.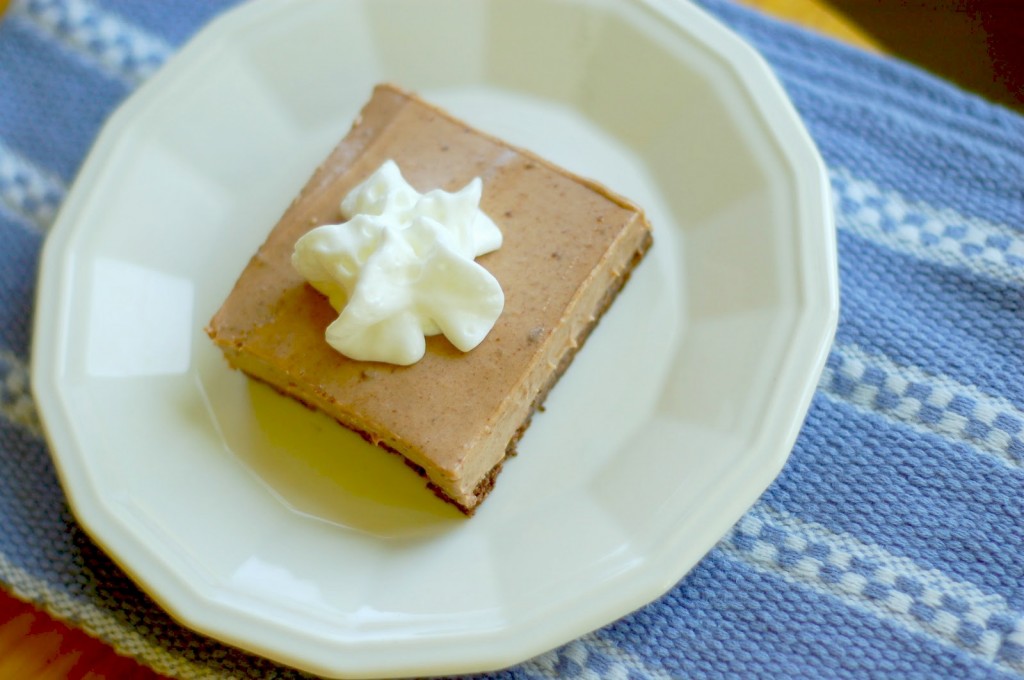 I thoroughly enjoyed eating them! I don't get to eat desserts with coffee in them very often because my husband can't stand coffee. 🙁 So, when the opportunity arises to make something with coffee in it that someone else will enjoy, I make sure to take it!
These are delicious! Full of chocolatey and coffee goodness! Plus, they are a perfect warm weather dessert because no oven is needed!
Silky cheesecake atop a fudgy crust. . .YUM!!
No-Bake Mocha Cheesecake Bars
Yield: 24 bars
Ingredients
For the Crust
1 1/2 pkgs or 13 whole chocolate graham crackers
5 tbsp fat-free fudge topping
5 tbsp reduced-fat butter, melted
For the Filling
1 envelope unflavored gelatin
1/2 C double-strength brewed coffee, cold
2 pkgs (8oz) 1/3 of the fat neufchatel cheese
1 C reduced-fat sour cream
3/4 C sugar
3 1oz squares bittersweet chocolate, melted and cooled
fat-free whipped topping, optional
Directions
Spray a 9×13 pan with non-stick cooking spray.
Place graham crackers in food processor. Pulse until fine crumbs. Add fudge topping and melted butter. Pulse just until blended. Press onto the bottom of pan. Refrigerate for about 10 minutes.
Pour coffee into a small saucepan. Sprinkle gelatin over coffee, let stand for one minute. Stir over low heat until gelatin is completely dissolved. Remove from heat and set aside.
In a large bowl, beat cream cheese and sugar until creamy. Add sour cream, chocolate, and coffee mixture. Beat until blended. Pour over crust.
Cover and refrigerate 4 hours or until set. Cut into bars and garnish with whipped topping. Refrigerate leftovers.