Happy Friday! It's almost the weekend and a long one at that! One thing that my husband and I will be enjoying will be these cookies! 🙂 I know, it's another strawberry recipe! I seem to be stuck on them at the moment. They are my favorite fruit and right now they are in abundance, so I am taking every opportunity I can to enjoy them! 🙂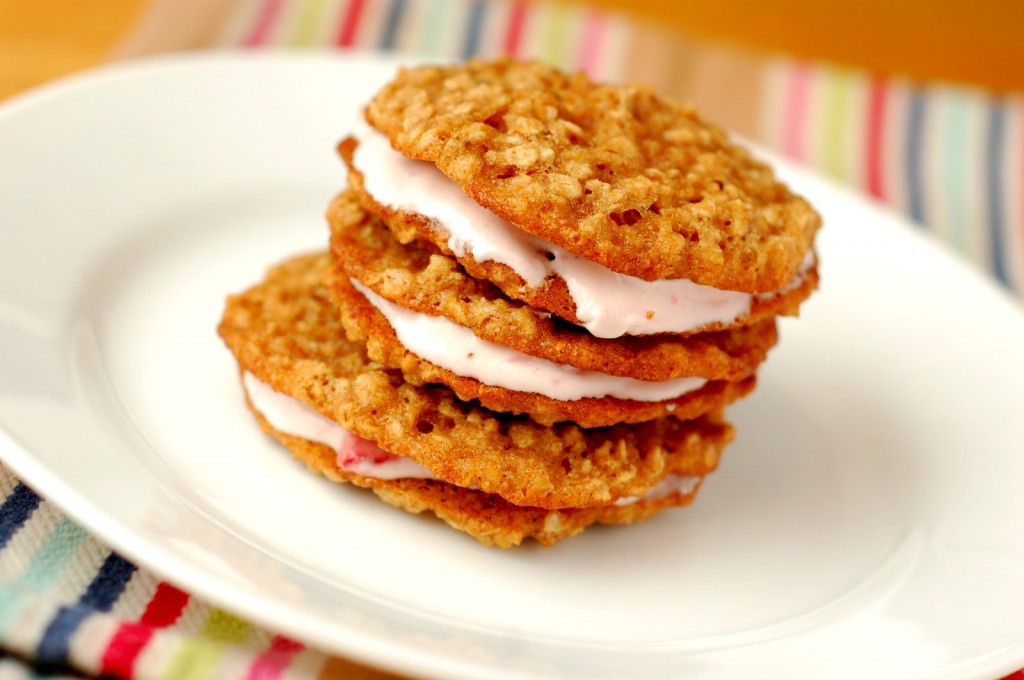 These cookies are reminiscent of an oatmeal creme pie. Just without all of the added "stuff" that makes them shelf stable. I was going for a lighter, less cakey cookie and these turned out perfectly.
The cookies are thin and look a lot like "Lace" cookies. The filling isn't quite as healthy as I like to make things as far as the sugar content, but I really wanted to get some of the same flavor that is found in an oatmeal creme pie. If you want to make it with less sugar, substitute the marshmallow creme for Cool-Whip and you'll get a fluffy filling without all of the sugar.
Beautiful chunks of fresh strawberries in a creamy filling sandwiched together by two light and chewy oatmeal cookies. . .yum. . .I think I'll go eat one. 🙂
Strawberries and Cream Oatmeal Sandwich Cookies

Yield: 20 sandwiches
Ingredients
For the Cookies
1/2 C whole wheat flour
1/4 C all-purpose flour
1/2 tsp baking soda
1/2 tsp salt
1/4 tsp baking powder
1/4 C butter, softened
1/2 C granulated sugar substitute
1/2 C brown sugar
1 egg
1/4 C non-fat plain yogurt
1 tsp vanilla extract
1 C quick cooking oats
For the Filling
4 small strawberries, washed, hulled, and cut into small pieces
8oz 1/3 of the fat neufchatel cheese, softened
7oz marshmallow creme
confectioner's sugar as needed to reach desired consistency
Directions
Preheat oven to 350. Line baking sheets with parchment paper.
In a small bowl, stir together flours, baking soda, salt, and baking powder. Set aside.
In the the bowl of a stand mixer, cream together the butter, sugar substitute, and brown sugar until fluffy. Add the egg and beat until creamy. Beat in the vanilla and yogurt until just combined.
Slowly beat in the flour mixture. Add in the oats and mix on low until just combined.
Drop cookie dough by heaping teaspoon onto baking sheet. Bake for 8-10 minutes or until edges start to turn a light golden brown.
While cookies are baking, place half of the strawberries in a small bowl and beat with an electric mixer until strawberries start to turn into pulp. Add the cream cheese and beat until creamy. Gently stir in the marshmallow creme. Slowly add the rest of the strawberries. At this point the filling will be on the thin side. If you prefer a thicker filling, add confectioner's sugar until you reach your desired consistency.
Spread the filling on to the bottom side of one cookie and place another cookie, bottom side down, on top to make a sandwich. Continue with the rest of the cookies and filling.
Once assembled, store in refrigerator until ready to serve.
Eat up! (If any remain, store them in the refrigerator.)