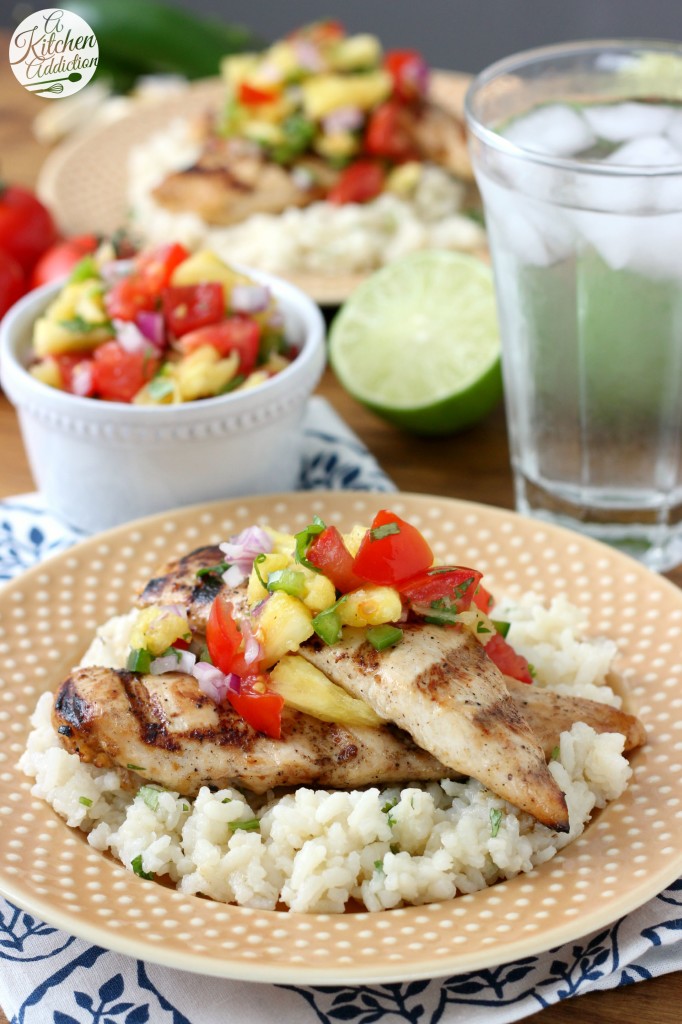 This post is sponsored by Madhava Sweeteners. All opinions are still 100% my own.
We're at that point in the summer where my mind starts to drift to thoughts of fall. Maybe it's the steamy weather, hordes of mosquitos, or school supplies that are popping up everywhere, but I start to think about cool weather, colorful leaves, and comfort food.
But then I step up to the grill, and I don't want summer to end. There's just something about grilling that has summer written all over it, and I don't want to stop grilling anytime soon!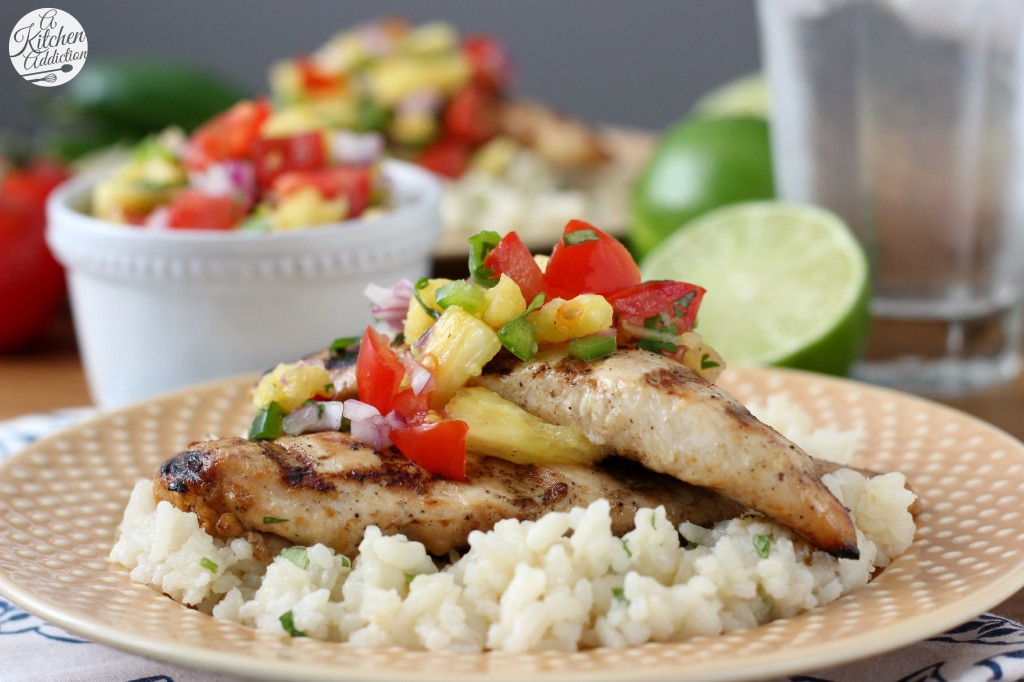 Though I have to admit, we grill long after the summer season has past and well before it begins. It's just usually a lot more pleasant in the summer! We love grilling simple meals that are full of flavor.
This grilled honey agave lime chicken with pineapple salsa is one of those meals. All it takes is some simple prep work and a bit of grilling to put a delicious meal on the table for family and friends.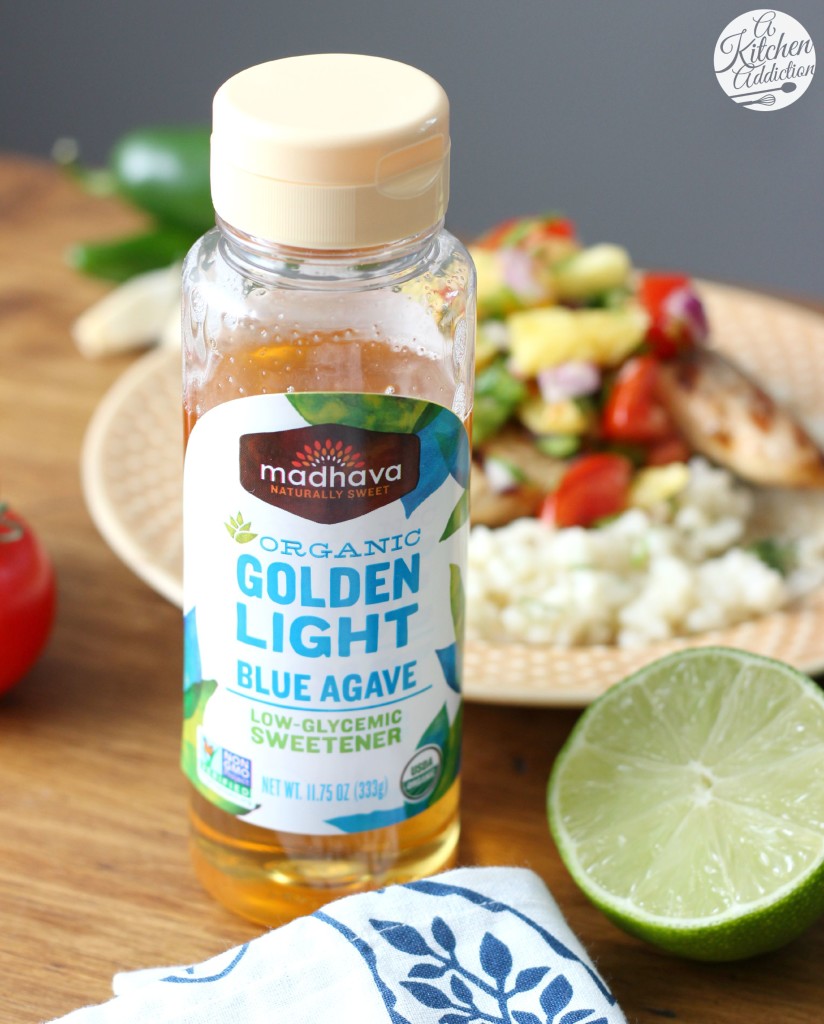 A simple agave lime marinade gives the chicken a burst of flavor. In order to offset a bit of the tartness from the lime in the marinade, I used Madhava Organic Golden Light Blue Agave Sweetener.
Madhava's agaves are all-natural and free of chemicals and additives so you can feel good using it in all your favorite recipes! (Be sure to check out the sweepstakes below for a chance to win all of the Madhava Organic Agaves!)
Plus, this sweetener is 1.4x sweeter than sugar, so you can use less of it in your cooking and baking.
A bit of agave is also splashed in the salsa to offset the heat of the jalapeño and acid of the tomato. All you have to do is stir together the ingredients for the salsa, and let it sit while you grill the chicken to allow the flavors to blend.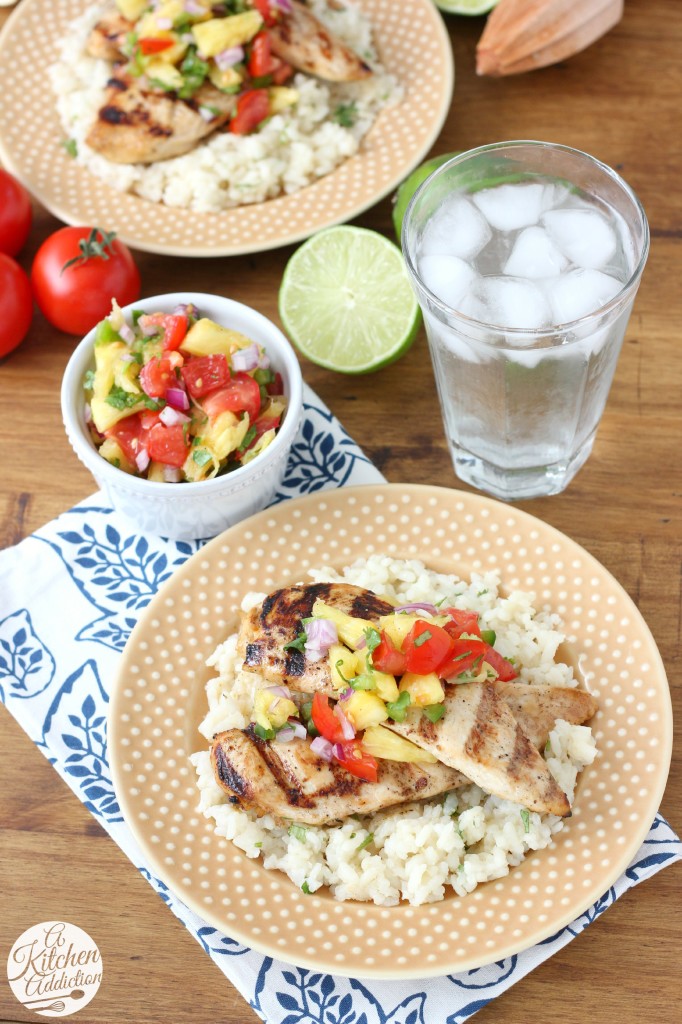 I also included a splash of lime juice to tie the flavors of the chicken and salsa together. If you're a fan of fresh lime, be sure to throw in some lime zest as well! Serve the chicken over a bed of rice, and top with a generous portion of salsa for flavorful, summer meal!
Be sure to enter Madhava's Grilling with Agave Sweepstakes! Summer's Sweeter with an Outdoor Grill…and even better with a whole suite of Madhava Agave products for drinks, marinades, you name it! One (1) Grand Prize winner will receive an outdoor grill and all the Madhava Organic Agaves. Good Luck!
Grilled Agave Lime Chicken with Pineapple Salsa
Author:
Ingredients
For the Chicken
1 1/2 lb boneless skinless chicken tenderloins or chicken breasts
5 tbsp olive oil
4 tbsp fresh lime juice
4 tbsp [url href="http://madhavasweeteners.com/product/agave-light/" target="_blank"]Madhava Golden Light Blue Agave[/url] sweetener
2 tbsp soy sauce
1/2 tsp salt
1/2 tsp ground black pepper
2 garlic cloves, minced
For the Salsa
1 C chopped fresh pineapple
1/2 C chopped tomato
1/4 C diced red onion
1/4 C chopped cilantro
1 chopped medium jalapeno
1 garlic clove, minced
1 tbsp fresh lime juice
1/2 tbsp Madhava Golden Light Blue Agave sweetener
1 tsp fresh lime zest
salt and pepper, to taste
Instructions
In a small bowl, whisk together olive oil, lime juice, agave sweetener, soy sauce, salt, pepper, and garlic.
Place chicken in a shallow dish and cover with half of the marinade. Cover and let sit for 20-30 minutes.
While chicken is marinading, prepare salsa. Gently mix all ingredients together until combined. Cover and place in refrigerator to allow flavors to blend while chicken is grilling.
Bring grill to medium to medium-high heat. Brush grate with oil.
Remove chicken from marinade and place on grill. Grill for 6-7 minutes per side or until internal temperature reaches 165 degrees F. Halfway through cooking time, brush with remaining marinade.
Remove chicken from grill and allow to rest for 5 minutes before cooking into slices.
Serve chicken by itself or over a bed of rice. Top with a generous helping of pineapple salsa.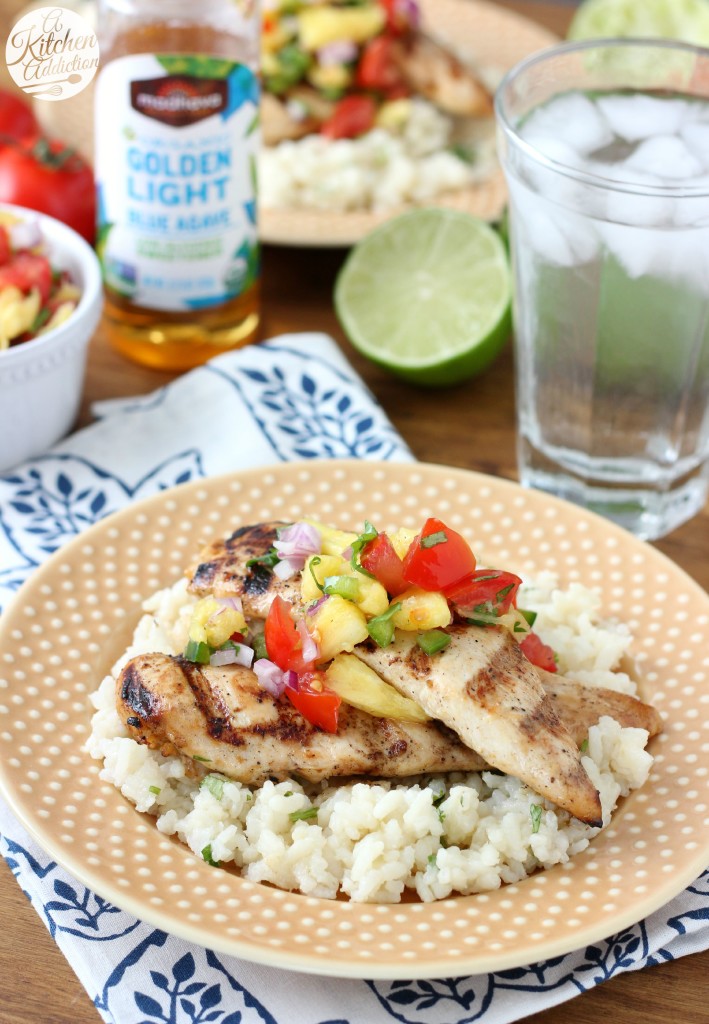 This post is sponsored by Madhava Sweeteners. All opinions are still 100% my own. Thanks for supporting brands that make A Kitchen Addiction possible!