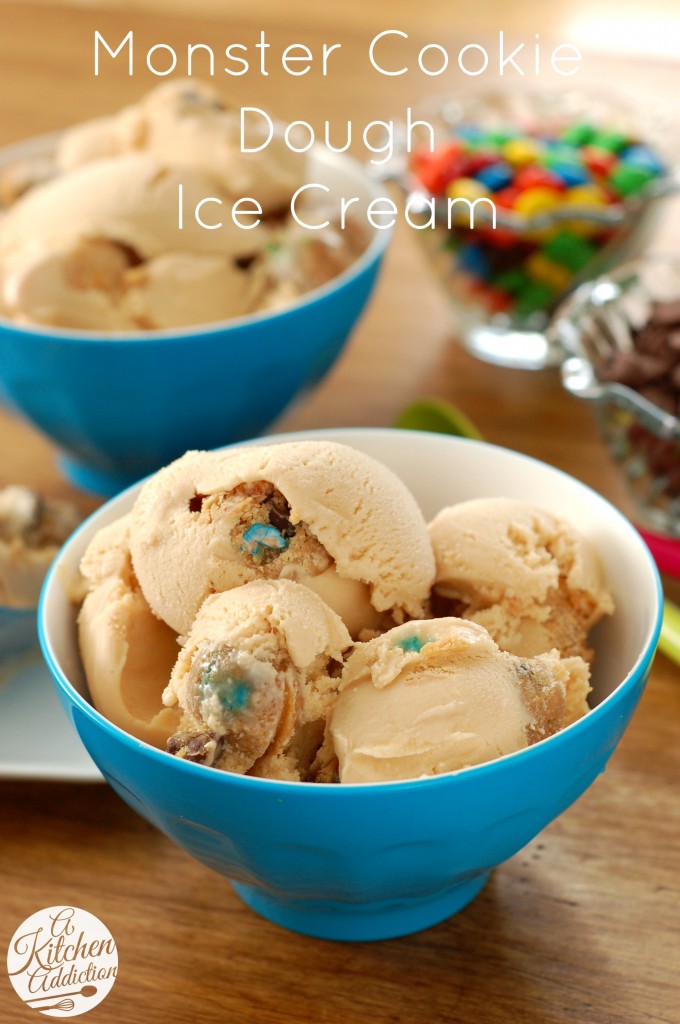 I realized last week that I haven't posted a single recipe for ice cream all summer! I've shared a sorbet recipe and Carla shared a soft serve recipe, but no ice cream from my kitchen.
It's definitely not because we haven't been eating ice cream (that would make for a very sad summer!).
It's just that the last few batches got eaten before I could get any pictures. So, when I was making this monster cookie dough ice cream, I made sure no one touched it before we could get pictures!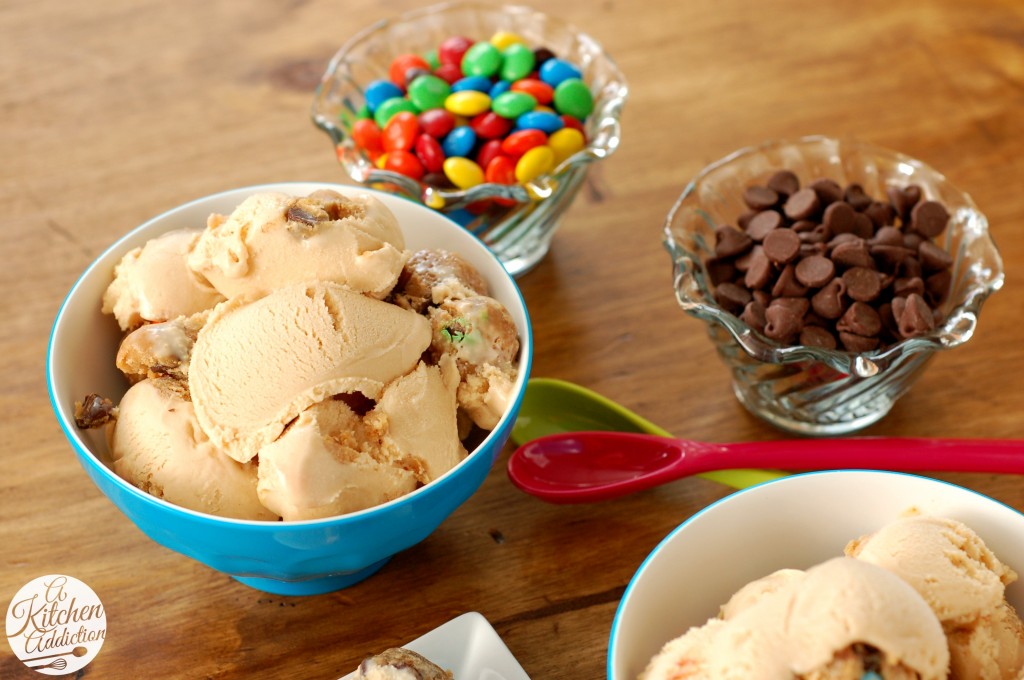 I'm normally indifferent to cookie dough ice cream because it tends to be too sweet for me.
However, I love cookie dough, so I wanted to make a cookie dough ice cream that was filled with loads of cookie dough without it being too sweet.
I've made a snickerdoodle cookie dough ice cream before, but this time I turned to my favorite cookie!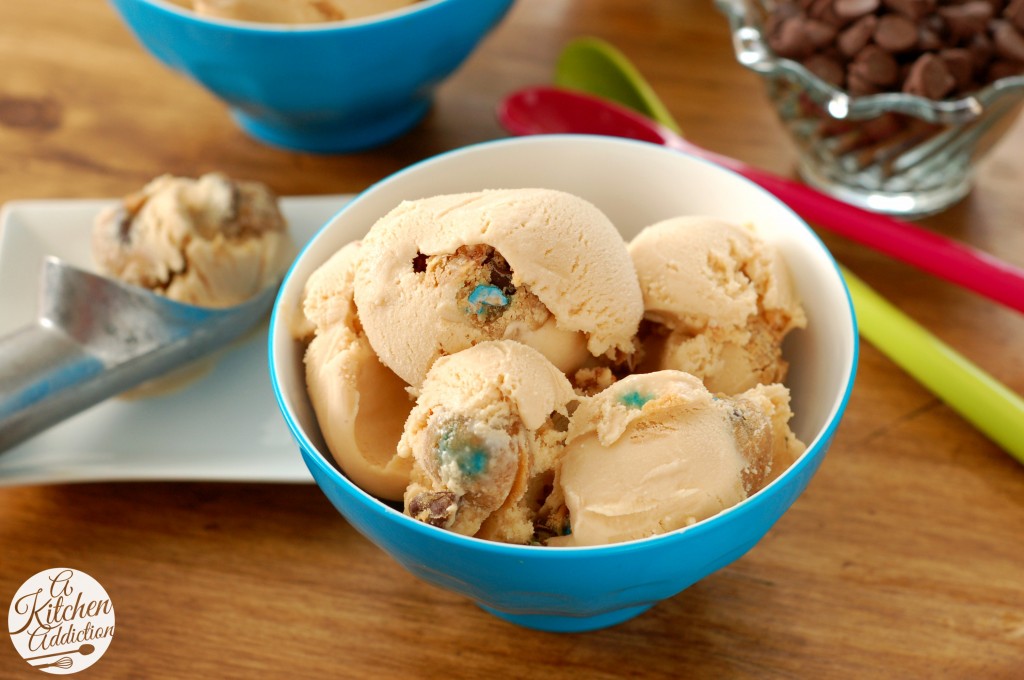 I love all things monster cookie, so it only seemed natural that I would make an ice cream based off of monster cookies. I wasn't disappointed. The base is a rich, creamy peanut butter ice cream with a hint of brown sugar. And the cookie dough?
Well, it's eggless monster cookie dough. And yes, it's hard to not eat a bunch while rolling it out into balls to go into the ice cream!
Try your best to save most of it for the ice cream, because the more cookie dough in this ice cream, the better!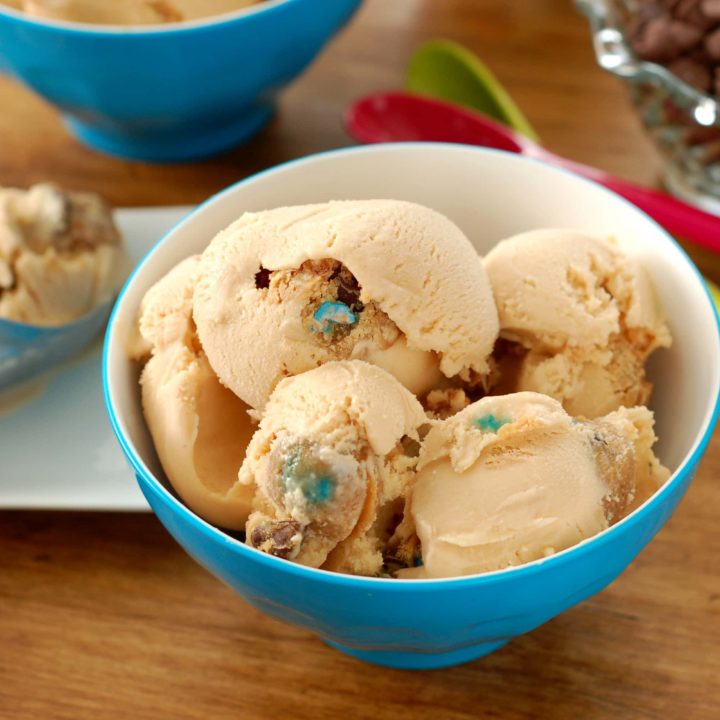 Monster Cookie Dough Ice Cream
Ingredients
For the Cookie Dough
1/2 Cup quick oats
1/2 Cup oat flour
1/3 Cup brown sugar
1/8 teaspoon salt
1 1/2 teaspoon vanilla extract
2 Tablespoons butter, softened
1/2 Cup creamy peanut butter
1/4 Cup chocolate chips
1/4 Cup M&M's
For the Ice Cream
2 1/3 Cups milk (the higher the fat content you choose, the creamier the ice cream)
1/2 Cup creamy peanut butter
14 ounce can fat-free or full fat sweetened condensed milk, chilled
1/8 teaspoon salt
3 Tablespoons brown sugar
Instructions
In a large bowl, whisk together oats, flour, brown sugar, and salt. Stir in vanilla extract, butter, and peanut butter until combined. Add in chocolate chips and M&M's.
Form dough into approximately 1/2 inch balls. Place in a freezer safe container and freeze until ice cream is almost done churning.
Whisk together peanut butter and sweetened condensed milk. Carefully whisk peanut butter mixture into milk until combined. Stir in salt and brown sugar.
Pour milk mixture into ice cream machine and churn according to manufacturer's instructions. When ice cream is soft set, add in frozen cookie dough balls and finish churning.
Serve immediately or pour into a freezer safe container and freeze until hard.
Recommended Products
As an Amazon Associate and member of other affiliate programs, I earn from qualifying purchases.