While I'm recovering from a marathon 17 hour drive, my friend Carla from Carla's Confections agreed to help me out by filling in for me while I do exciting things like unpack, laundry, dishes, catch up on e-mails, etc.! Ever since finally getting to meet Carla in person, I've been trying to think of all the possible ways we can meet up again so we can spend more time together. Maybe my next marathon drive will be to her house!
Hi friends! I am Carla from Carla's Confections and I couldn't be more excited to be helping Jessica out this week. Jessica and I have been reading each other's blogs for a while now, and I just love everything about her and her blog!!
She is one of the kindest people I have met, and I just love how she makes a lot of her desserts to be healthier – you know, so you don't have to feel bad about eating it all and then go for a run after 😉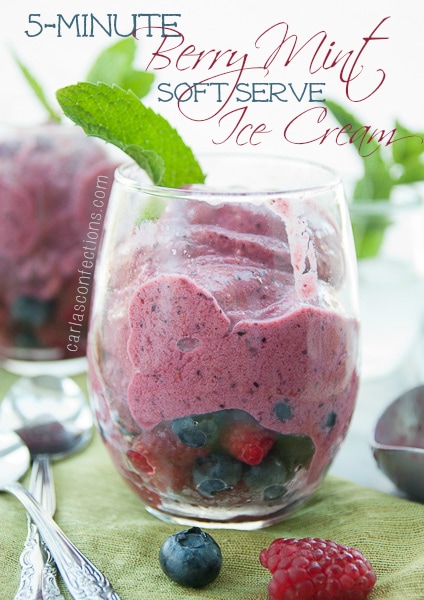 My desserts don't tend to be that healthy.
My Donut Friday series might be an indicator of that…
Not only do I love Jessica's blog, but I happen to know how sweet a person she is first hand. We had the chance to meet and hang out a bit in Florida back in May at Food Blog Forum 2013.
The moment we met in person, I automatically wished we lived closer to each other. I know that if my husband and I lived closer to her and her husband, the four of us would basically be best friends.
It's destiny. 😉
Since Jessica tends to lean more on the healthy side in her blogging, and I tend to lean towards sweets in mine, I thought it would be nice to combine the best of both worlds for my post for her.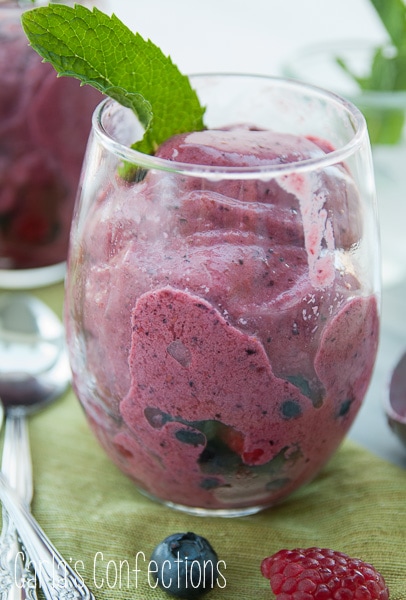 I made this ice cream a few weeks back for a dinner party, and it was definitely a huge hit.
I mean, you can't go wrong with ice cream in summertime.
Or berries in summertime.
Or anything sweet… ever.
The best part about this soft serve ice cream is that it literally takes 5 minutes to make. All you need is a food processor (a blender would work wonders too!), and a few ingredients and you have your soft serve ice cream ready!
It is healthier too because it only has frozen berries, yogurt, honey and mint. Seriously doesn't get much better than that.
You want to start out with a few serving glasses (the prettier the better), placed in the freezer for a few hours, layer some fresh berries on the bottom of the glasses to look pretty, top with the fresh made soft serve ice cream and garnish with mint leaves.
The ice cream is literally yogurt (I used French vanilla yogurt, but you could choose to use Greek yogurt to go even healthier – totally up to you), mint leaves, honey and frozen mixed berries all placed in the food processor, blended 'til smooth, and DONE!
Best. Five Minute. Ice Cream. Ever.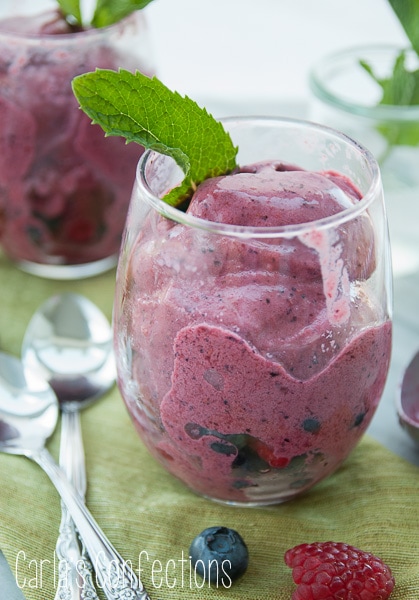 You can also freeze the remaining ice cream, just make sure to let it sit out at least 10 minutes before consuming to allow to thaw back to soft serve status.
Once you finish eating your healthy ice cream, you can meander on over to my Donut Friday series and feel a lot less bad about it.
Because I said so. 😉
Thank you so much Jessica for having me here today!!
5 Minute Berry Mint Soft Serve Ice Cream
Yield: 4 servings

Prep Time: 5 minutes

Total Time: 5 minutes
Ingredients
1 Cup vanilla yogurt (can use Greek)
1 heaping Tablespoon honey
4-6 sprigs mint, plus more for garnish
3 Cups frozen mixed berries of choice
1 Cup fresh berry mixture (I used blueberries and raspberries)
Instructions
Place 3-4 serving glasses in the freezer for a few hours. Once cold, remove and place roughly 1/4 - 1/3 C on the bottom of each glass.
In a food processor or blender, place the yogurt, honey, and mint leaves, and process until well-combined. Add in all the frozen berries and process until smooth, stirring as needed.
Immediately scoop into serving glasses, garnish with mint, and serve right away.
Place any remaining ice cream in an airtight container and place in freezer. Allow at least 10 minutes to thaw before consuming again.
Will stay in freezer for at least a month.
Recommended Products
As an Amazon Associate and member of other affiliate programs, I earn from qualifying purchases.
Nutrition Information:
Yield: 4 Serving Size: 1
Amount Per Serving: Calories: 125Total Fat: 1gSaturated Fat: 0gTrans Fat: 0gUnsaturated Fat: 1gCholesterol: 3mgSodium: 40mgCarbohydrates: 27gFiber: 4gSugar: 21gProtein: 4g

Nutrition information shown is an estimate provided by an online calculator and may not always be accurate. It should not be considered a substitute for a medical professional's advice.


Like the sound of this amazing looking ice cream?! Then you need to make sure you check out more of her great recipes (especially her donut series!) on her blog, Facebook, Twitter, and Instagram!