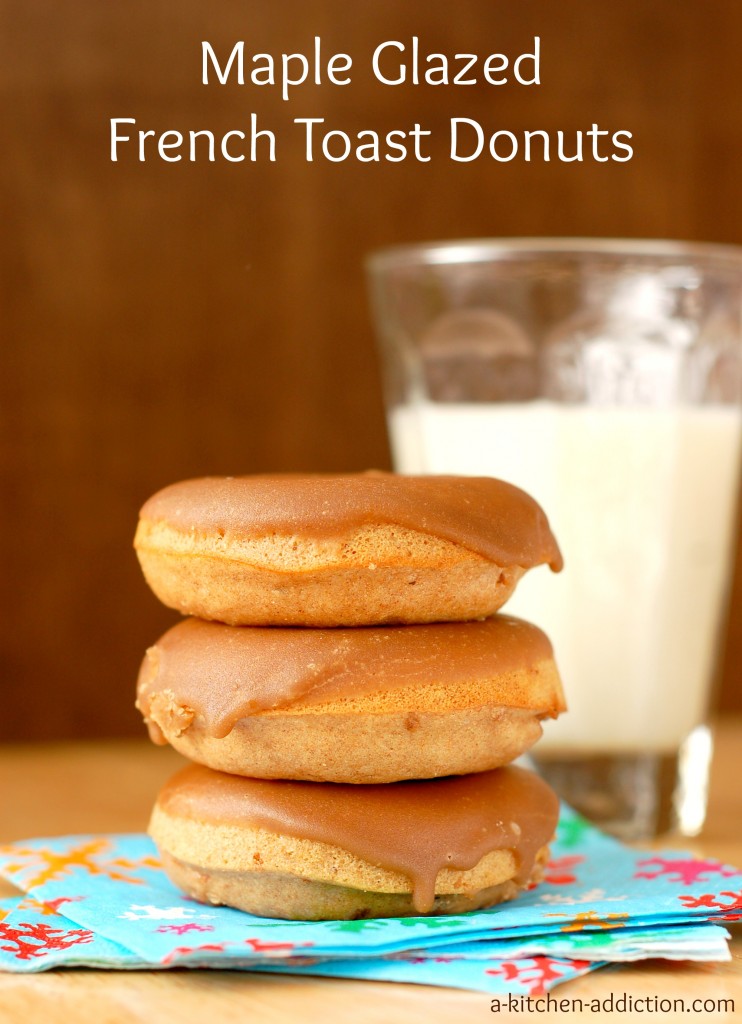 How would you like a little mid-week pick me up? I have one for you. . .in the form of a donut! Can I just say that I used to not like donuts. . .at all. Well, I didn't like the kind of donuts that you buy at the store.
They always seemed so sweet that they hurt my teeth and they left a weird, oily coating in my mouth. Not my idea of a tasty food. Now it may just be that I never experienced a good store bought donut (so please, don't be upset!).
Once I first tasted baked donuts, however, I was hooked. They taste good and there are so many possibilities.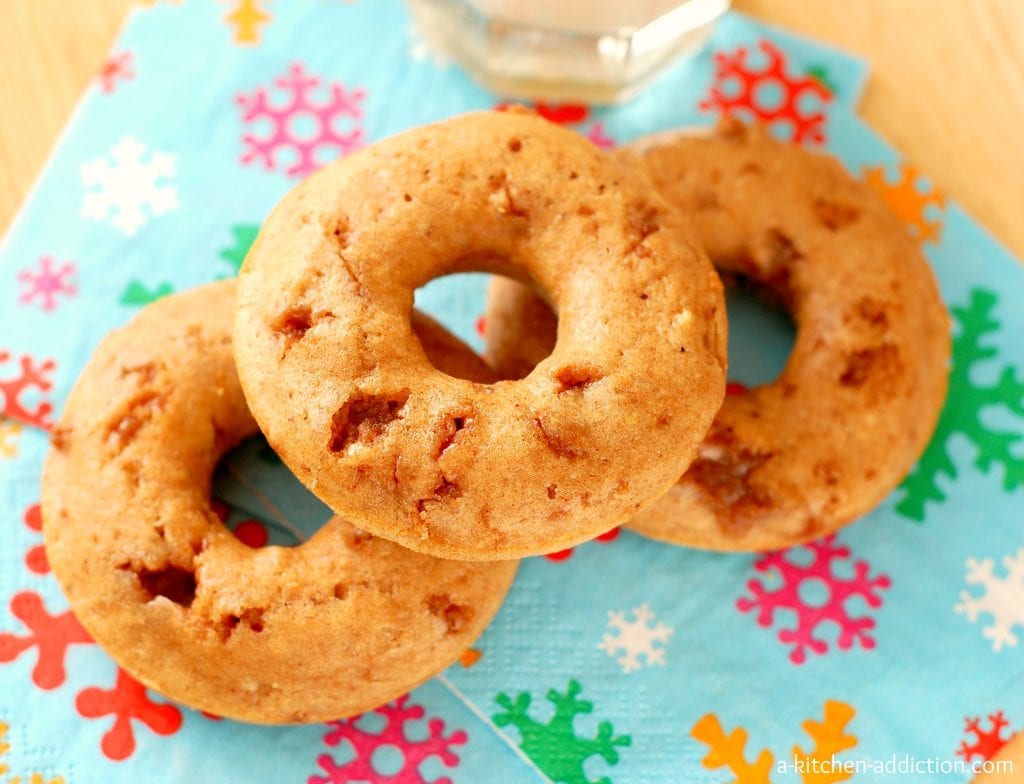 One of those possibilities turned into these maple glazed cinnamon french toast donuts. A cinnamon donut with a hint of nutmeg and maple, studded with brown sugar-cinnamon streusel, and topped with a light maple glaze to be exact. Sound good to you? 🙂
Another aspect of baked donuts that I like is the that they are super easy to make. These donuts are no different. The extra step of making the streusel is worth it to give the donuts the taste of french toast and this step can be done ahead of time and kept in the fridge.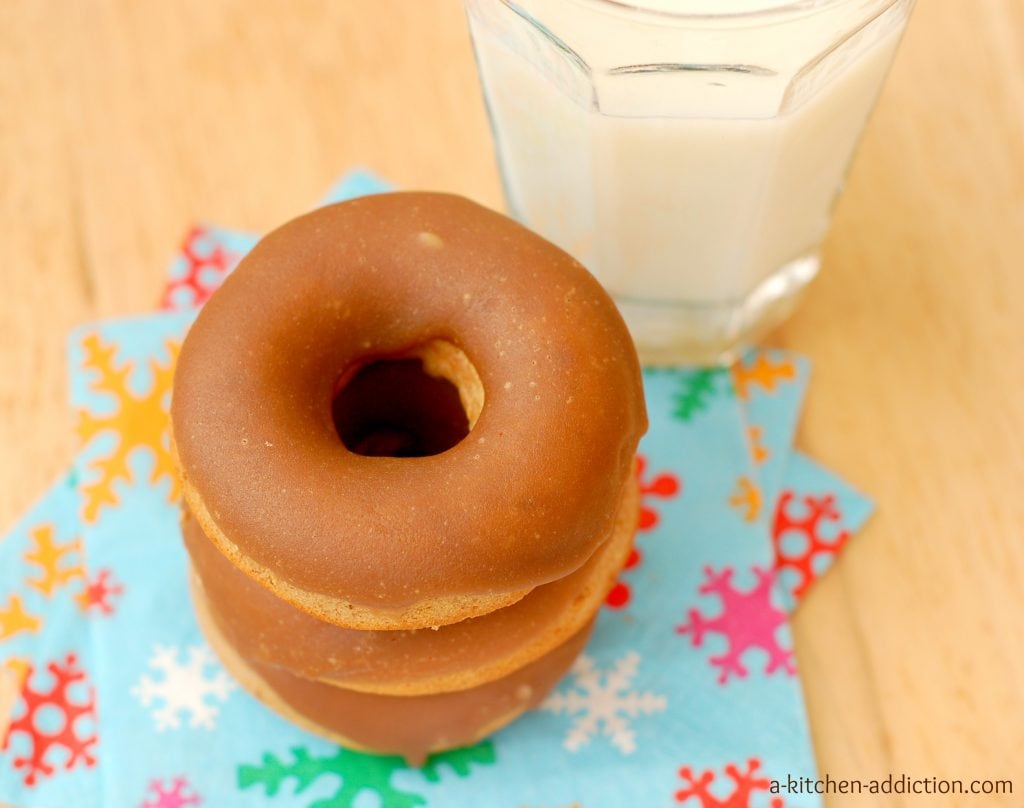 So go ahead and have a couple with a big glass of milk or coffee/tea to power you through the rest of your week! (Oh, and they taste really good with a cinnamon french toast latte!)
Maple Drizzled Cinnamon French Toast Donuts
Yield: 18 donuts
Ingredients
For the Donuts
1 C whole wheat flour
1 C all-purpose flour
1/3 C granulated sugar substitute or sugar
1/4 C brown sugar
2 tsp baking powder
1/4 tsp salt
1 tsp cinnamon
1/2 tsp nutmeg
1 tsp maple extract
1/2 tsp vanilla extract
2 eggs, lightly beaten
3 tbsp butter, melted
1 C non-fat milk
For the Streusel Pieces
1/4 C brown sugar
1 tbsp sugar
3 tbsp all-purpose flour
1/4 tsp salt
1 tsp cinnamon
1/2 tsp nutmeg
3 tbsp butter, cold
For the Drizzle
2 tbsp butter
1/4 C brown sugar
1 tbsp milk
1/4 C confectioner's sugar
1 tsp maple extract
Directions
Preheat oven to 350. Spray donut pan with non-stick cooking spray.
In a large bowl, whisk together flours, sugar substitute, brown sugar, baking powder, salt, cinnamon, and nutmeg. Stir in extracts, eggs, butter, and milk until just combined.
In a small bowl, stir together sugars, flour, salt, cinnamon, and nutmeg, Cut in butter until mixture resembles coarse crumbs. If you don't mind getting your hands dirty, mix the butter in with your fingers and create bigger chunks of streusel. Stir streusel into donut batter.
Pour batter into a pastry bag or ziploc bag. Fill donut cavities about 1/2 full.
Bake for 9-11 minutes. Allow donuts to cool in pan for 2 minutes before removing to wire rack to cool completely.
While donuts are cooling, start preparing glaze. In a small saucepan, melt butter and brown sugar together over medium-low heat. Bring to a boil and allow to boil for 2 minutes, stirring constantly to prevent scorching. Stir in milk and bring back to a boil for one minute. Add confectioner's sugar and maple extract. Stir until smooth.
Keeping heat on low, carefully dip each donut in glaze to cover the tops. You may need to stir the glaze occasionally to keep it from hardening.
Allow glaze to harden before serving.
This recipe is linked with Mom's Test Meal Mondays, Party in Polka Dots, Pin It Thursday, Strut Your Stuff Saturday, Thursday Treasures, Trick or Treat Tuesday, What's Cookin' Wednesday, What's in Your Kitchen Wednesday.