Looking for an easy week night meal to throw together after work and running around to different activities with the kids?? This is right up your ally! Not quite sure what to do for supper one night and having these ingredients on hand, (because they tend to be staples at our house!) this tasty dish came into existence. We love tacos, but I didn't want to fuss with all of the individual components of them.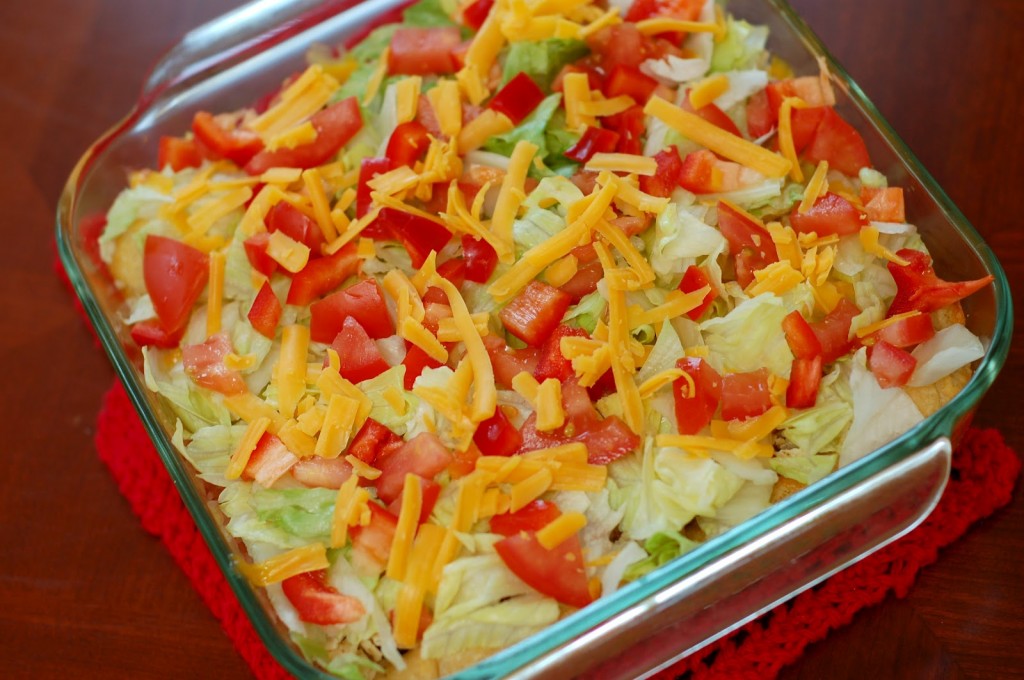 I have had many types of taco casseroles/bakes but they usually are full of fat. I tried my best to lighten up a usually heavy dish. Though you will notice there is optional cheese, never too much cheese at our house! 🙂
Many recipes call for baking the chips, but I've always had them get soggy, so I leave them off. If you prefer to bake yours, go for it! 🙂
Feel free to add whatever you think sounds good to the dish! We usually serve it with salsa and were thinking about adding corn to it next time.
Lightened Up Nacho Bake

Source: a myriad of recipes that I have tasted compiled into this one
Yield: 6 servings
Ingredients
1 lb extra-lean ground beef
2 cloves garlic, minced
1 C canned black beans, rinsed and drained
3 tbsp taco seasoning (homemade or store bought)
1 tube (8oz) refrigerated reduced-fat crescent rolls
1/2 C reduced-fat sour cream
1/4 C reduced-fat shredded cheddar cheese
1/4 C shredded pepper jack cheese
1 C baked tortilla chips, crushed
1 1/4 C shredded lettuce
1 medium tomato, chopped
1/2 C red bell pepper, chopped
1/4 C reduced-fat shredded cheddar cheese, optional for topping
Directions
Preheat oven to 375. Lightly spray the bottom of an 8×8 baking dish with non-stick cooking spray.
In a large skillet, cook ground beef over medium heat until no longer pink. Drain meat in a colander and rinse. Wipe out skillet with a paper towel. Return meat to skillet.
Add the beans and taco seasoning. Stir until taco seasoning coats meat thoroughly. Cook over medium heat until heated through, about 4-5 minutes, stirring occasionally. Remove from heat.
Unroll the crescent dough and press into the bottom and partially up the sides of the baking dish. Press and flatten as you go being sure to seal the seams.
Spoon beef mixture on top of the dough. Spread sour cream over the top. Sprinkle with cheeses.
Bake for 15-20 minutes, or until cheese is melted and edges start to turn golden brown.
Top with chips, lettuce, tomatoes, bell pepper, and extra cheese.
Serve immediately.