It's Friday!! Another week has almost passed and the weekend is just about here. For me that means that I need to start packing for a trip we're taking this weekend. . .and we're leaving this evening. Have I ever mentioned that packing isn't my favorite thing in the world to do??
But one thing I have taken care of is the food! 😉 I knew that we would need something to munch on and wanted something that would be both light and more substantial than little "snacky" foods. My mind went immediately to muffins and cinnamon (one of my all-time favorite spices!). Throw in some toasted pecans and coconut and you have these tasty guys!
These muffins are soft, moist, and loaded with flavor. The cinnamon and nutmeg go great with the toasted pecans and coconut making them a tasty treat for breakfast, snack, or dessert (I suppose they would be good for lunch and supper, too!)! They are nice and portable (aka They don't crumble everywhere as soon as you take a bite!), making them a good option for taking on trips, like ours this weekend. 🙂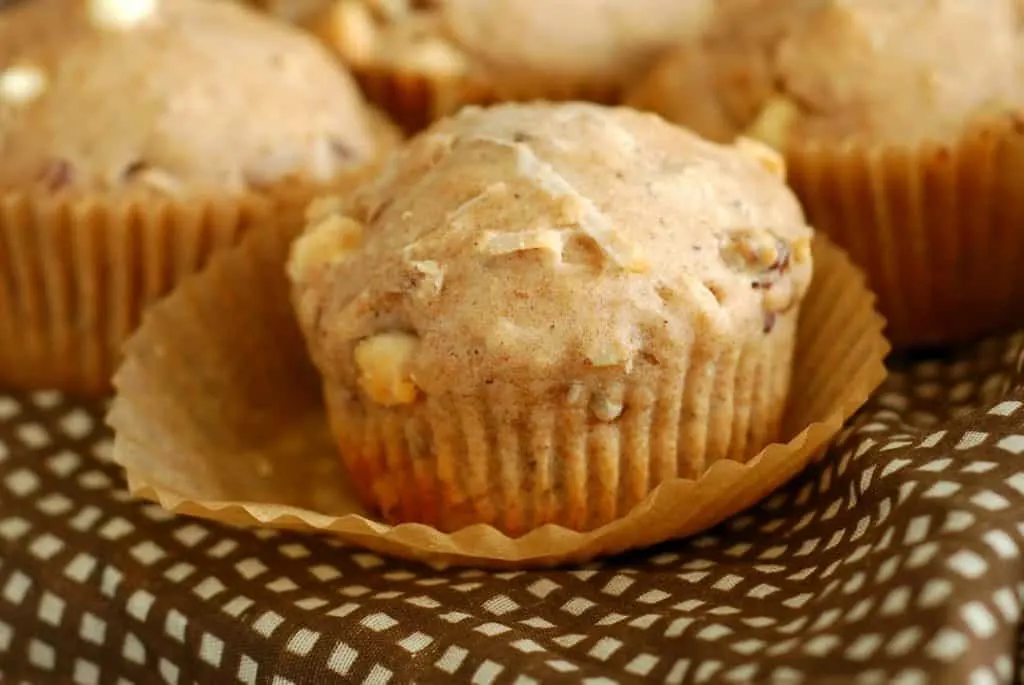 Perfect with a cup of coffee or cinnamon tea. 🙂
Have a great weekend everyone!


Toasted Coconut Pecan White Chip Muffins

Yield: 14 muffins
Ingredients
1 C whole wheat flour
1 C all-purpose flour
1/4 C granulated sugar substitute
1/4 C brown sugar
2 tsp baking powder
1/2 tsp salt
3/4 tsp cinnamon
1/4 tsp nutmeg
1 egg, lightly beaten
1 C non-fat milk
1 tsp vanilla extract
1/4 C plain non-fat yogurt
1/4 C butter, melted
1/2 C chopped pecans, lightly toasted
1/2 C shredded coconut, lightly toasted
1/2 C white chocolate chips
Directions
Preheat oven to 350. Line muffin tin with cupcake liners.
In a medium bowl, stir together flours, sugar substitute, brown sugar, baking powder, salt, cinnamon and nutmeg.
In a small bowl, whisk together the egg, milk, vanilla, yogurt, and butter. Add the wet mixture to the dry ingredients. Stir until combined. Stir in the pecans, coconut, and chips.
Spoon batter into liners about 3/4 full. Bake for 15-20 minutes or until starting to turn golden brown and toothpick inserted in the center comes out clean.
Note: To lightly toast pecans and coconut, place on baking sheet and toast at 350 for 5-7 minutes.