This warm, hearty Lightened Up Lemon Parmesan Chicken Quinoa Skillet is full of fresh flavors and comes together in under an hour!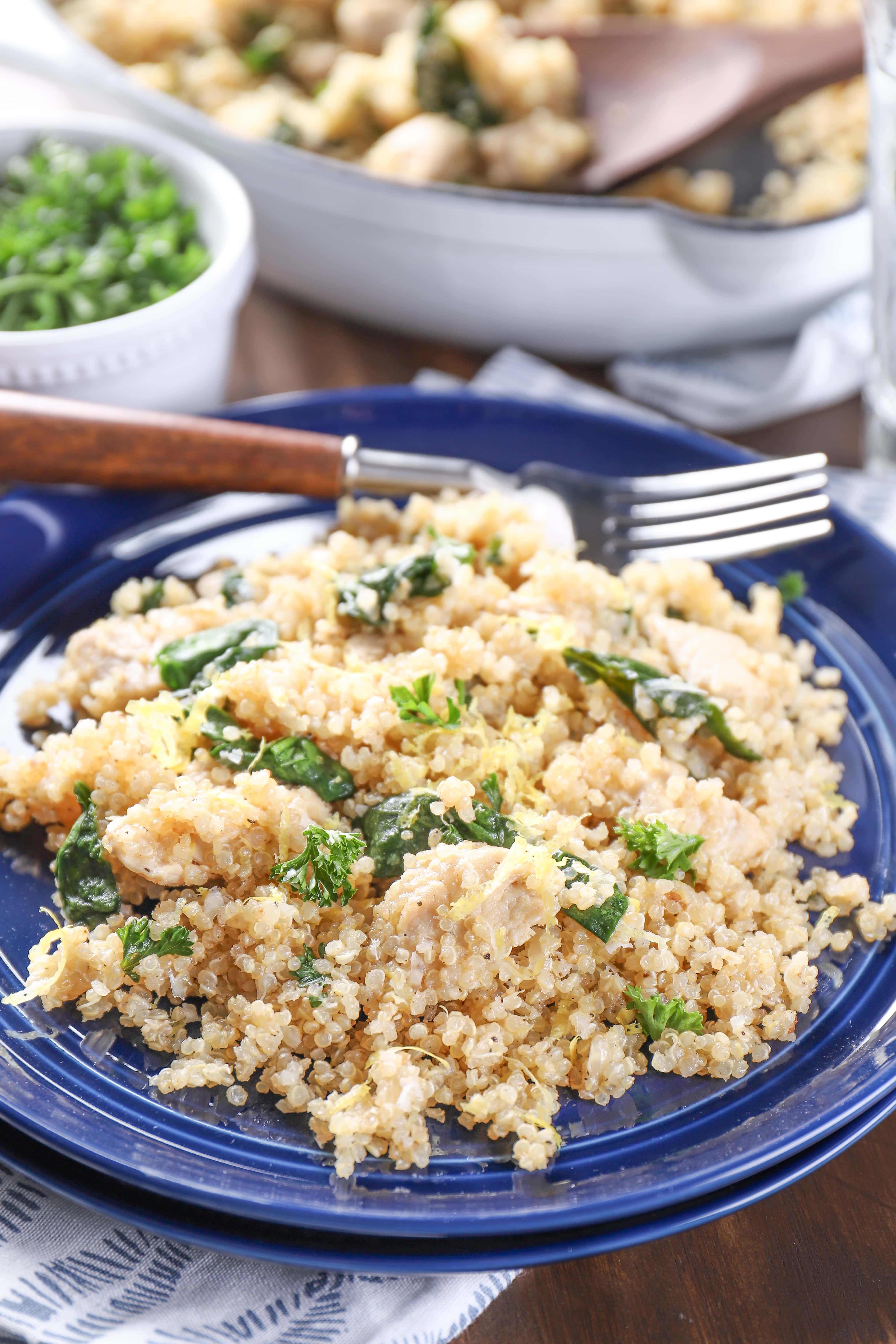 *This recipe is created in partnership with Gold'n Plump®. As always, all opinions are still my own.
The end of the year is rapidly approaching, and the holidays are winding down. The days are darker and colder, and I find myself looking for foods that will warm us up at the end of a long, winter day. That usually means turning to some of our favorite comfort foods.
After a holiday season full of rich foods and sweets (and with New Year's Eve not too far away!), it's time to lighten things up a bit. But, of course, keep that warm, cozy food that we crave this time of year!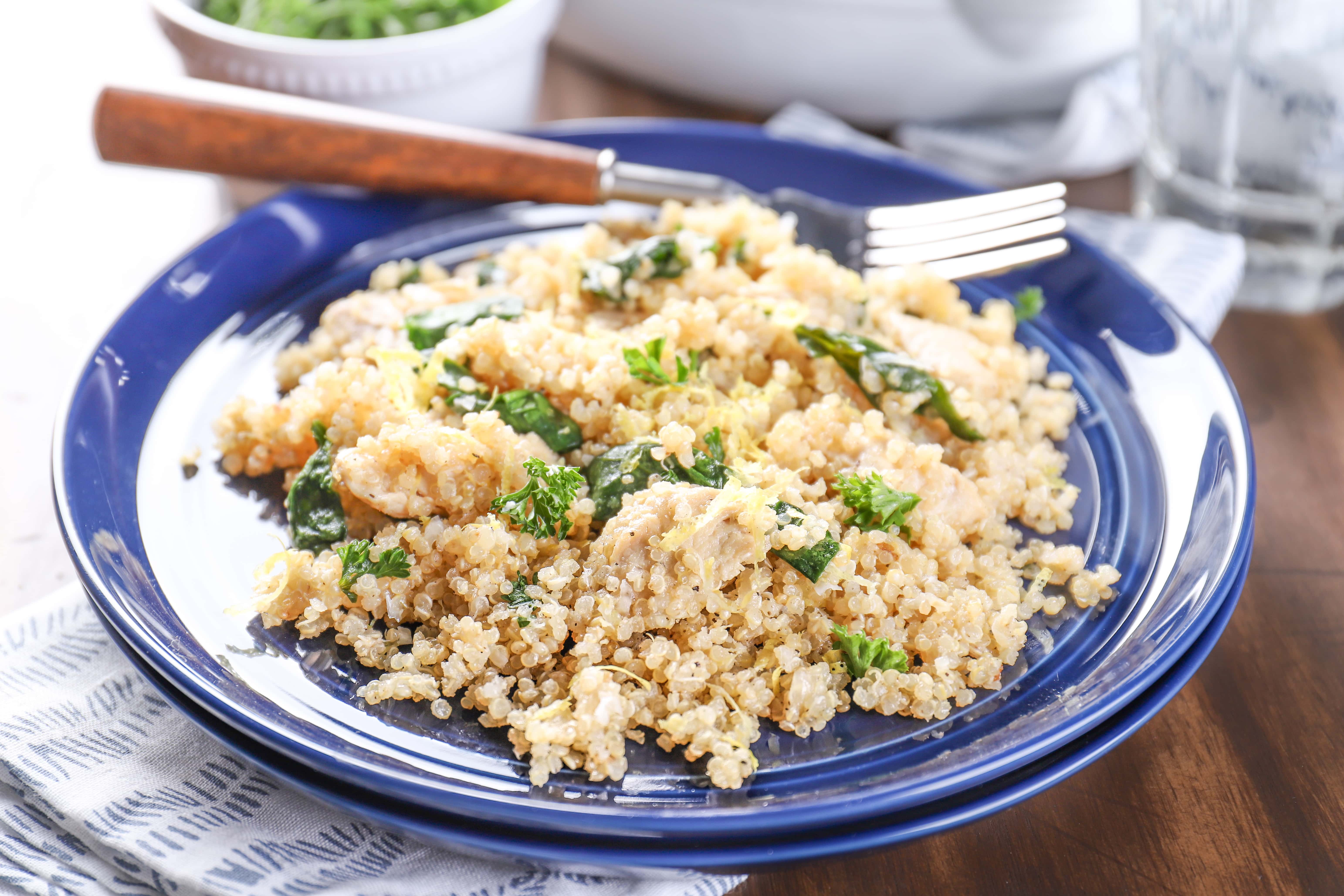 I'm all about comfort food during these cold, snowy days. I just can't do cold salads every day like I can in the summer. I want something that will warm me up while filling me up. But I also don't want something that is heavy like all of the holiday foods that we've been consuming lately.
This lightened up lemon parmesan chicken quinoa skillet does just what I need! It's warm, cheesy, and filling but not heavy. Oh, and it's really easy (and only dirties one pan!).
So, how is it lightened up? There is no cream found in this skillet meal. Just chicken broth, fresh lemon juice, and cornstarch to thicken things up. Quinoa is used for a boost of protein instead of pasta. A strong flavored cheese is used, so you don't have to use a lot.
And for the meat? Lean, high-quality chicken.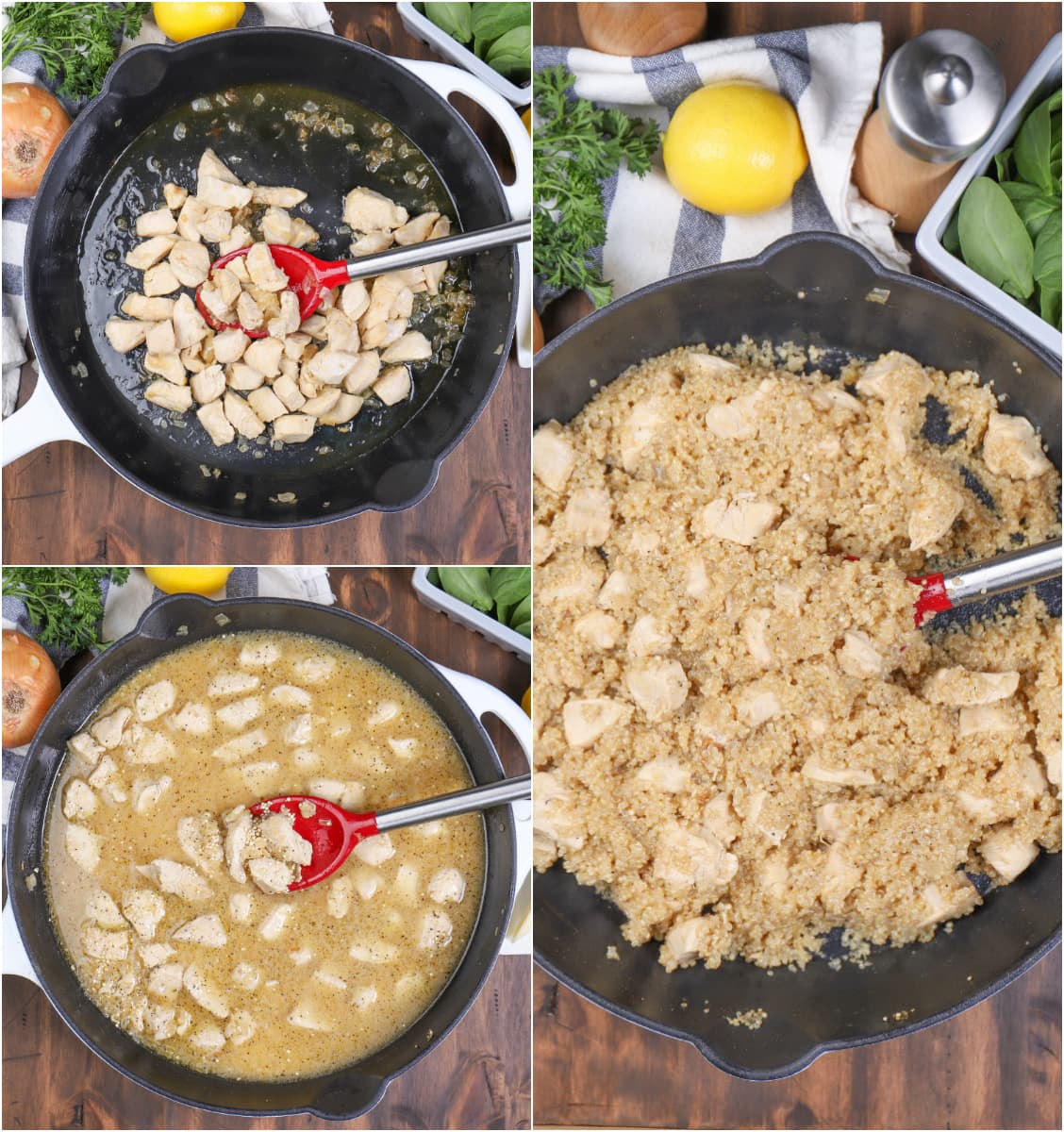 This quinoa skillet starts with Gold'n Plump chicken breast fillets. Gold'n Plump, a Pilgrim's brand, features high quality all-natural chicken raised with No Antibiotics-Ever.
Their chickens are raised on family farms right here in Minnesota and Wisconsin. Keeping it local is great, and their chickens are given locally sourced nutritious feed rations created by a nutritionist.
Plus, the chicken is hand-trimmed and free of unwanted ingredients and solutions, so you get high quality, fresh tasting chicken to feed your family!
Because the chicken is hand-trimmed, it makes it quick to cut the chicken up into bite-sized pieces for this recipe. You don't have to spend your time cleaning up the chicken before cutting it up!
The chicken is cooked with onion, garlic, and a bit of salt and pepper. Add to that some chicken broth, lemon juice, quinoa, spinach, parsley, and parmesan asiago cheese.
The result is a fresh, flavorful meal that is also warm and hearty! A perfect weeknight dinner for the whole family to enjoy!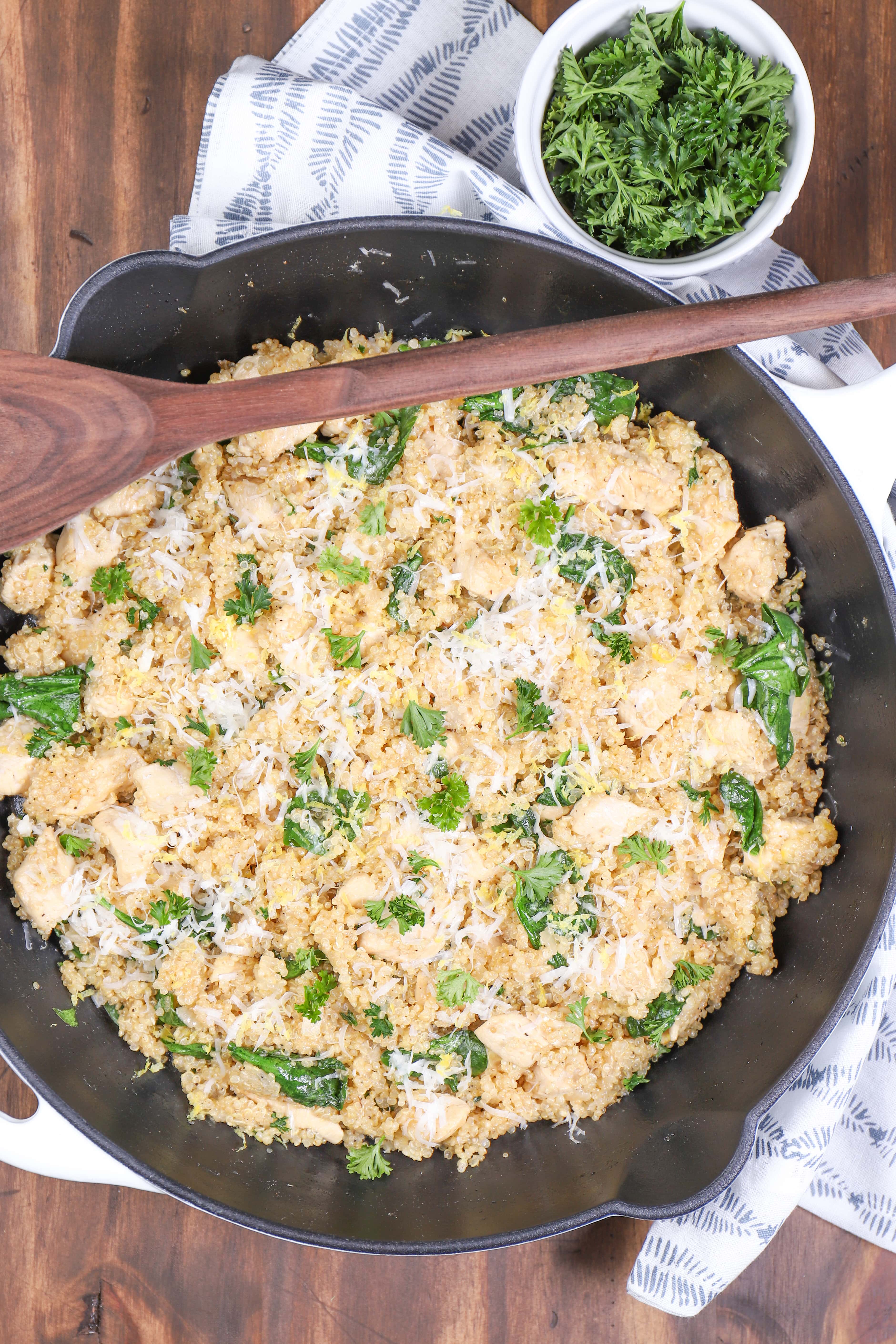 Tips for Making Lemon Parmesan Chicken Quinoa Skillet
If you choose to use chicken broth that isn't low-sodium, leave out the salt until the end and add salt to taste.
The time will vary slightly for how long it takes for the quinoa to cook. That is why there is ten minutes of variation in the cooking time. Cook until the liquid is absorbed and quinoa is soft.
Can't find a parmesan asiago? You can use plain parmesan in its place.
Goldn' Plump's boneless, skinless chicken thighs would work well in place of chicken breast fillets if you want a little more of the chicken flavor.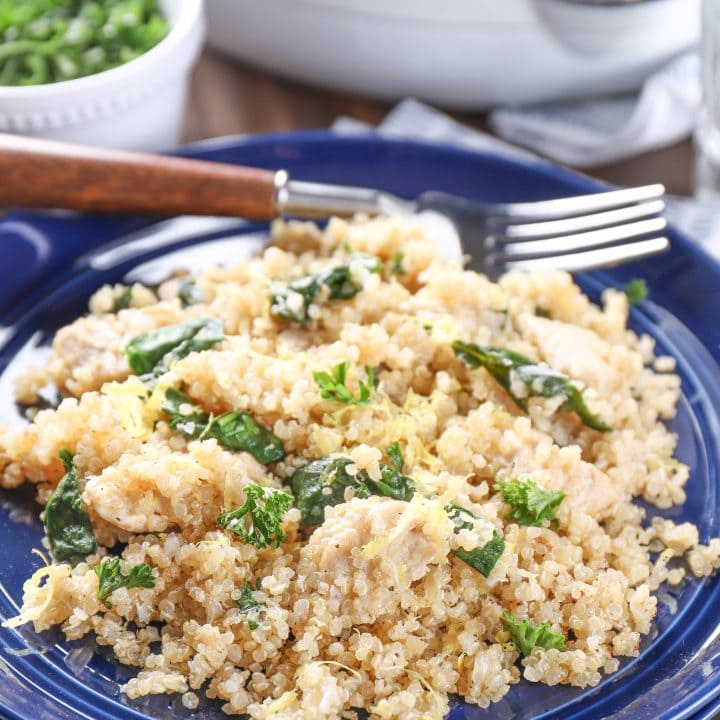 Lightened Up Lemon Parmesan Chicken Quinoa Skillet
Ingredients
1 Tablespoon olive oil
1 Pound Gold'n Plump Boneless, Skinless Chicken Fillets, cut into bite-size pieces
1/2 Cup chopped yellow onion
2 Cloves garlic, minced
1 Tablespoon cornstarch mixed with 1 tablespoon cold water
1 Cup rinsed quinoa
1 1/2 Cup reduced-sodium chicken broth
1/4 Cup fresh lemon juice
1/2 teaspoon salt
1/2 teaspoon ground black pepper
1 1/2 Cup baby spinach
1/2 Cup grated parmesan asiago cheese
3 Tablespoons chopped fresh parsley
2 Tablespoons fresh lemon zest
Instructions
Heat olive oil over medium high heat in a large skillet. Lower heat to medium and add chopped onion. Cook for 2-3 minutes or until starting to soften. Add in chicken and minced garlic. Cook until chicken is lightly browned, about 5 minutes.
Stir in cornstarch and cook for 1 minute.
Carefully stir in rinsed quinoa, chicken broth, fresh lemon juice, salt, and ground black pepper. Cover, reduce heat to medium-low, and allow to simmer for 20-30 minutes or until liquid is absorbed and quinoa is fluffy. Stir a couple of times to keep the quinoa from sticking to the bottom of the skillet.
Stir in spinach, grated Parmesan cheese, parsley, and lemon zest. Cover, remove from heat, and allow to stand for 5 minutes.
Remove cover and fluff mixture with a fork. Serve with additional Parmesan cheese and lemon zest, if desired.
Refrigerate leftovers.
Notes
Make sure chicken reaches an internal temperature of 165 degrees F.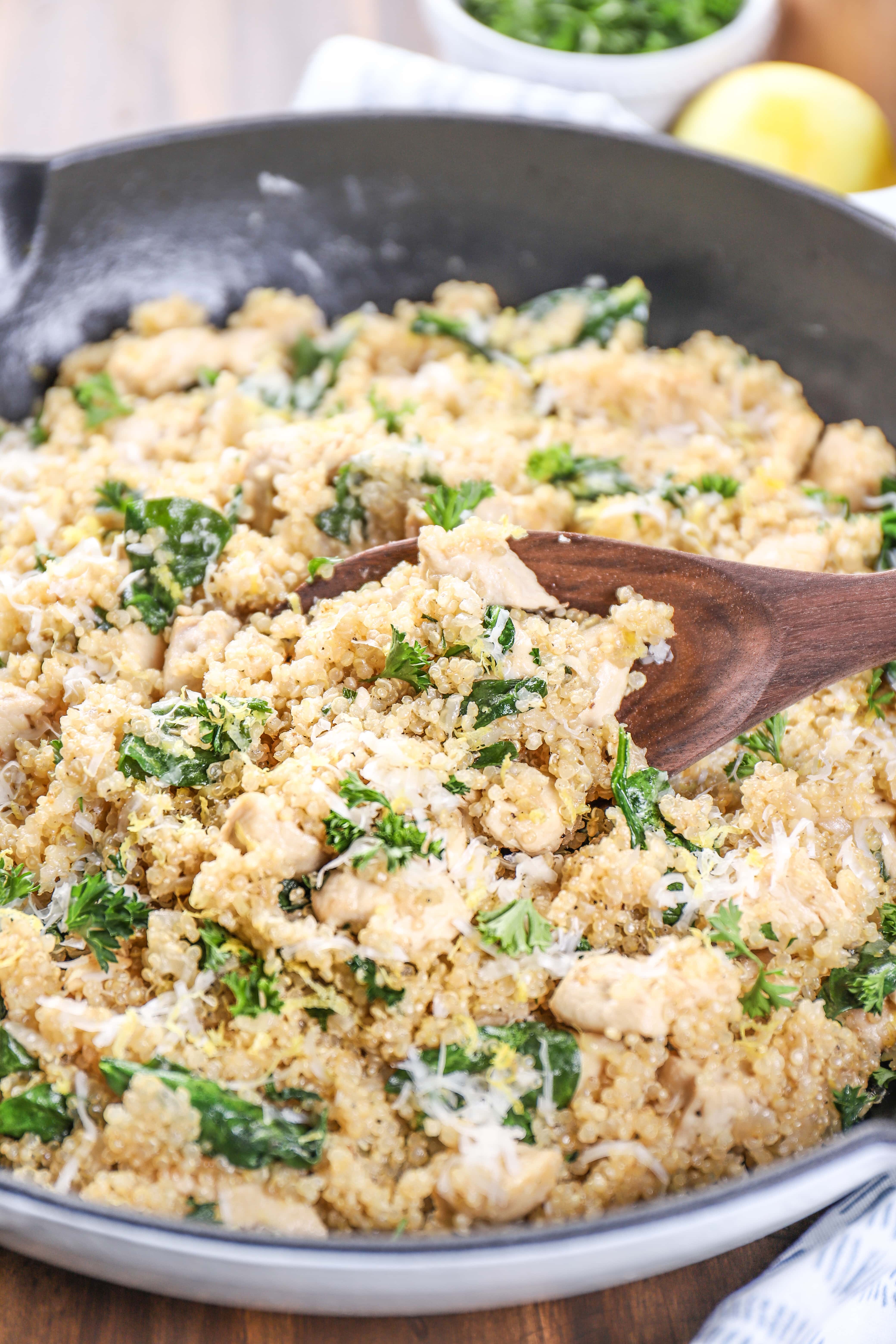 Be sure to check out Gold'n Plump on Facebook, Instagram, Pinterest, and Twitter for more recipe inspiration!
Interested in what other products Gold'n Plump has to offer? Check out their entire line of All Natural products on the Gold'n Plump website.