These Gingerbread Spritz Cookies are a warm, spicy twist to traditional spritz cookies. Not too sweet and perfectly delicate, these cookies are a great addition to any cookie platter or pairing to a good cup of coffee!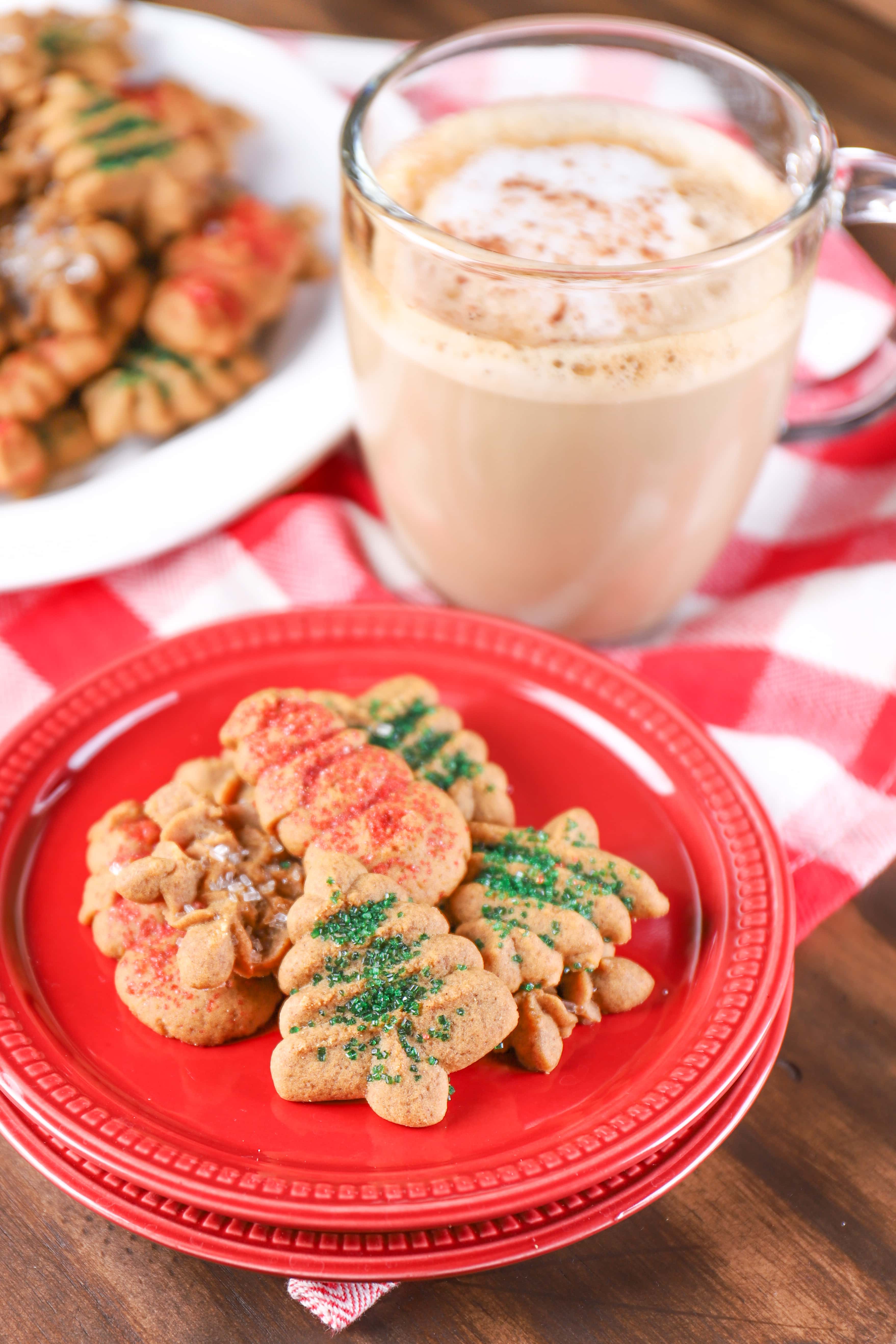 If there are two things that you have learned about me by now, it's that I love good coffee and I love to support Cookies For Kids' Cancer. And today I get to share both good coffee and a cookie recipe in support of one of my favorite causes!
As you know, I've been supporting Cookies for Kids' Cancer for quite a few years now and this time it's by partnering with De'Longhi to spread the news!
De'Longhi is collaborating with Cookies for Kids' Cancer to raise awareness and money for this non-profit organization. If you aren't aware of Cookies for Kids' Cancer, they are a national organization that is dedicated to funding research for safer, more effective treatments for pediatric cancer. (You can learn more at www.cookiesforkidscancer.org!)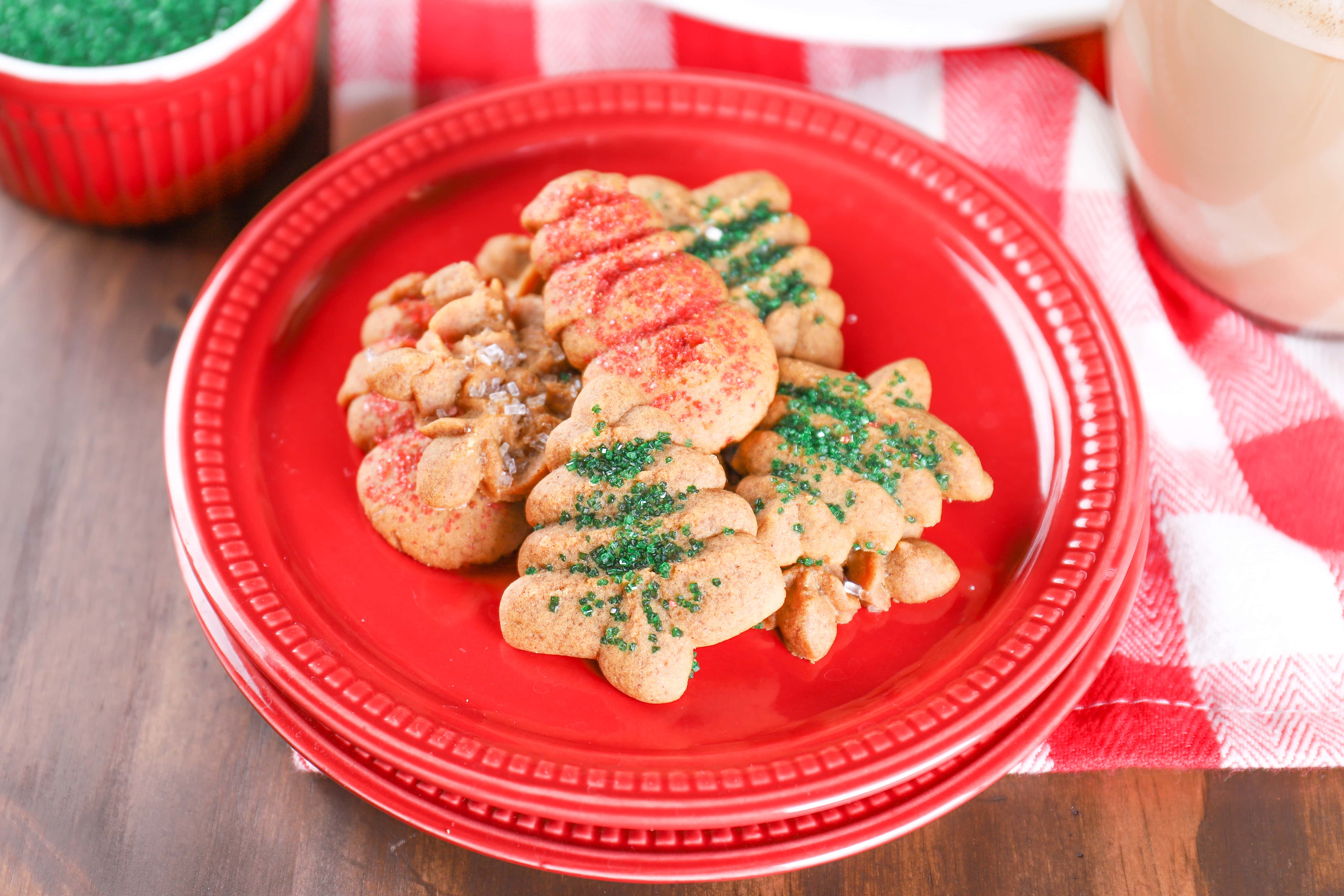 During De'Longhi Days of Giving, De'Longhi will donate a portion of its delonghi.us sales site-wide to Cookies for Kids' Cancer.
That means any purchase you make from delonghi.us from now until December 19th will be helping to support the cause! A great way to give back this holiday season while checking off your holiday shopping list for others (or yourself!)!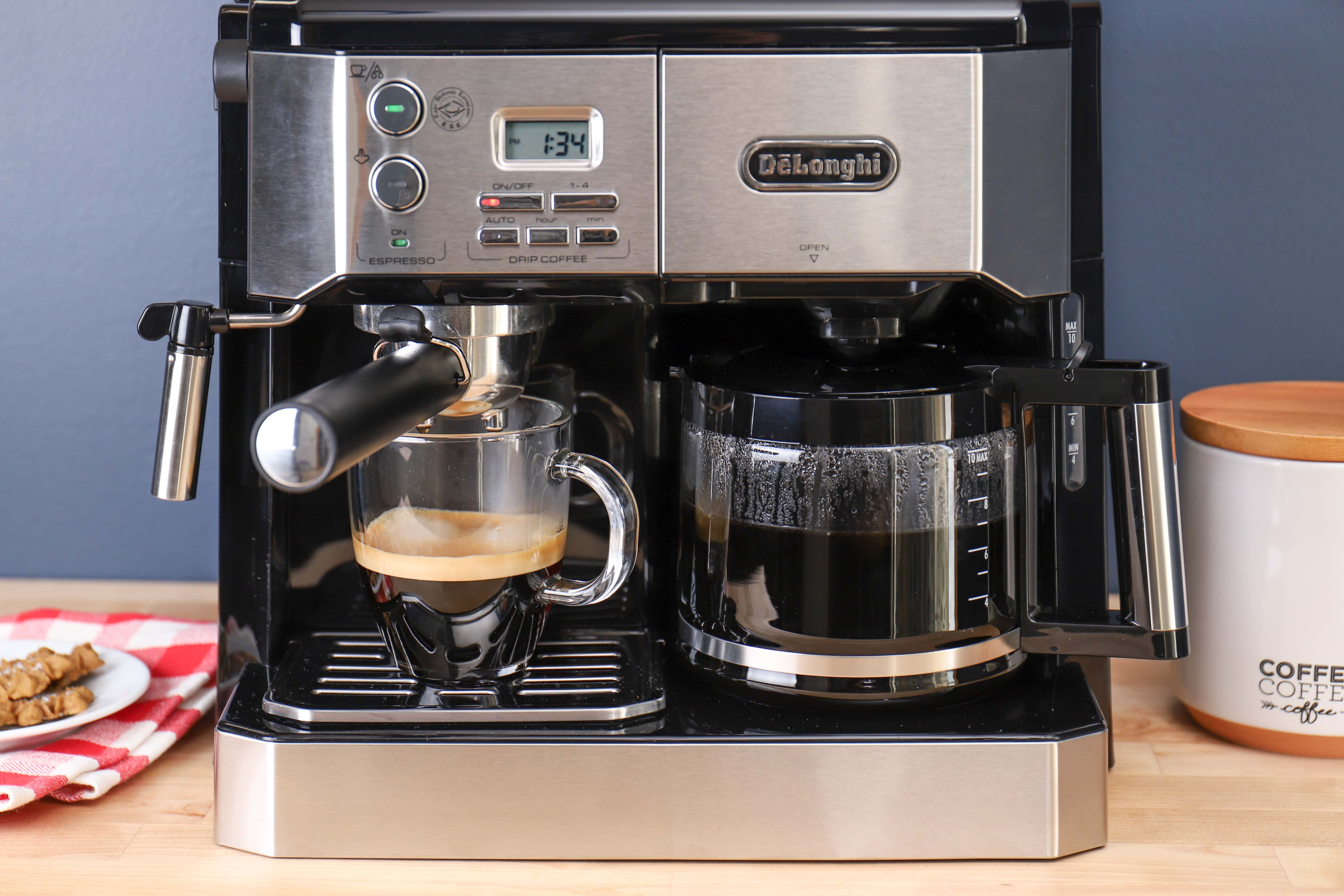 Coffee and cookies. I can't think of a better pairing to enjoy or to use as a way to bring attention to the #1 disease killer of children in the U.S.
This time of year I'm all about cozying up with a festive latte and a good book. Or sharing a good cup of coffee with friends and family while catching up during the busyness of this time of year! And if a a few good cookies make an appearance, even better!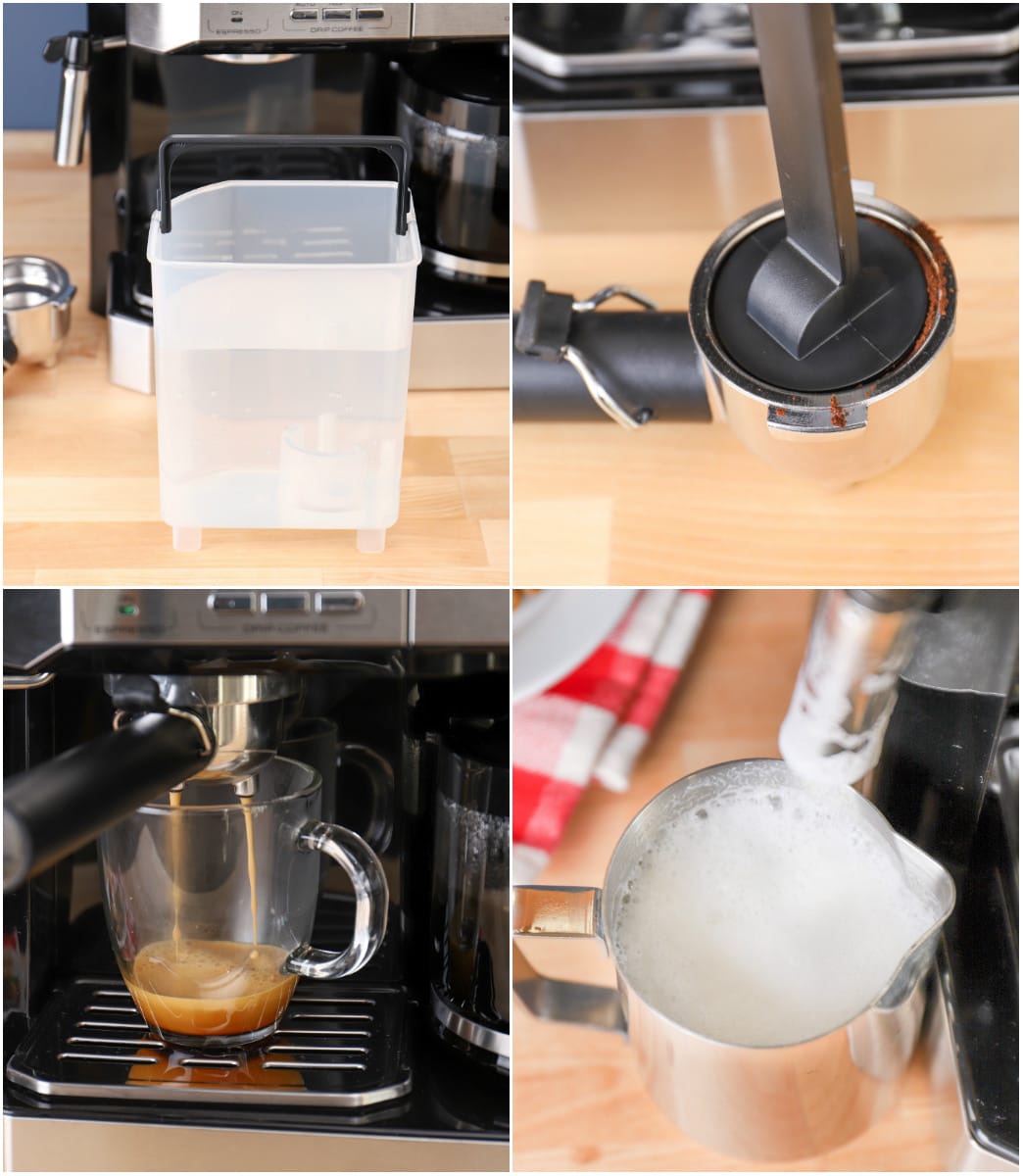 Spritz cookies are a popular cookie in this area around the holidays. Growing up spritz cookies came in many different shapes, colors, and flavors. Some were intricately decorated. Some were just plain.
The green Christmas trees with a red candy on top were usually my favorite when I was a kid! As the years have gone by, I've enjoyed trying out different flavors to bring to family events. This year the spritz cookies are going to be gingerbread flavored with a simple sugar topping!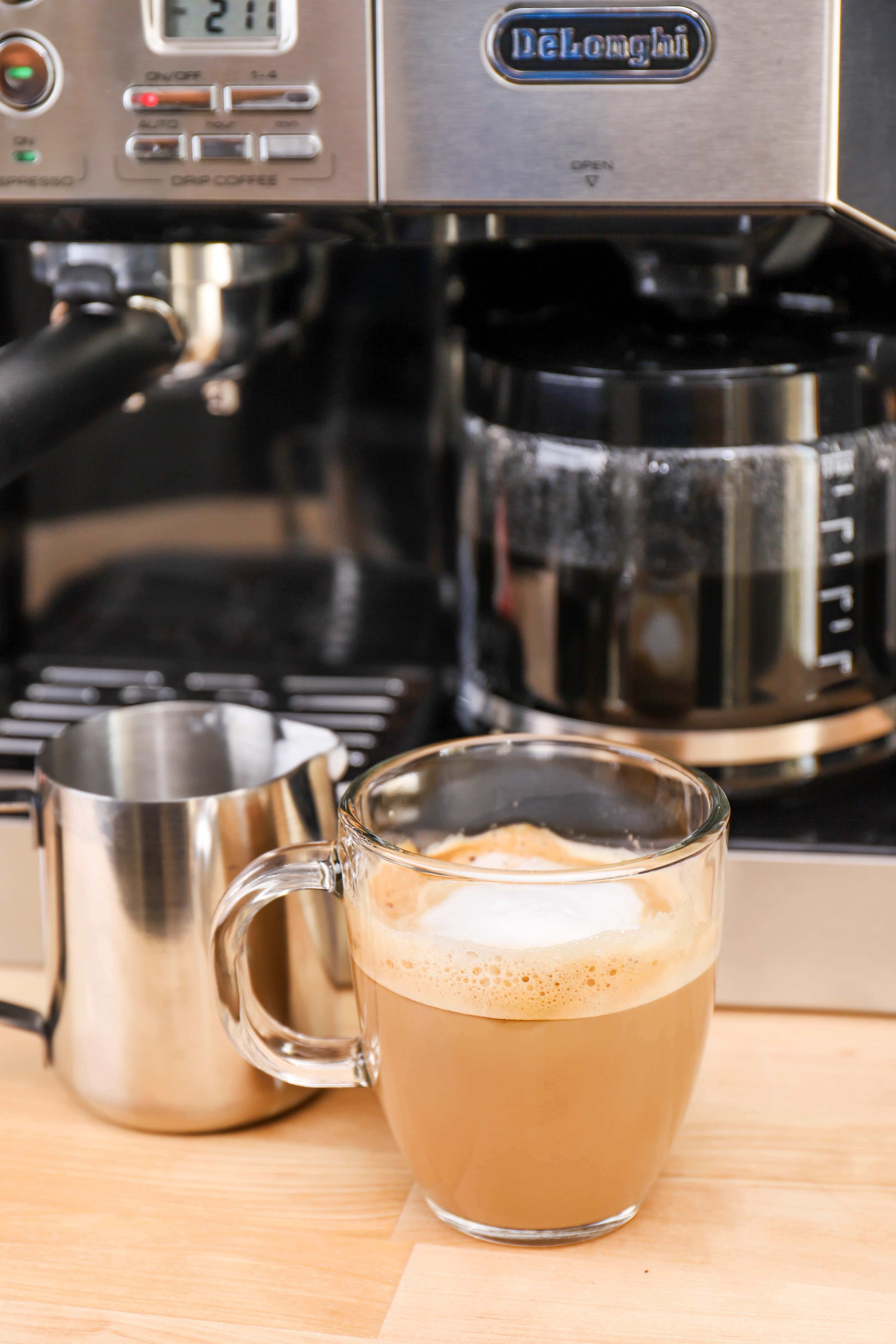 These gingerbread spritz cookies are the perfect pairing to a latte from the De'Longhi All-in-One Cappuccino, Espresso and Coffee Maker. It is an all-in-one cappuccino and espresso machine with a drip coffee maker.
You can brew coffee to your preferred strength and create your favorite espresso drinks (like a festive gingerbread latte!). It comes with an advanced filter that keeps water fresh and clean, while a special indicator helps you avoid stale coffee.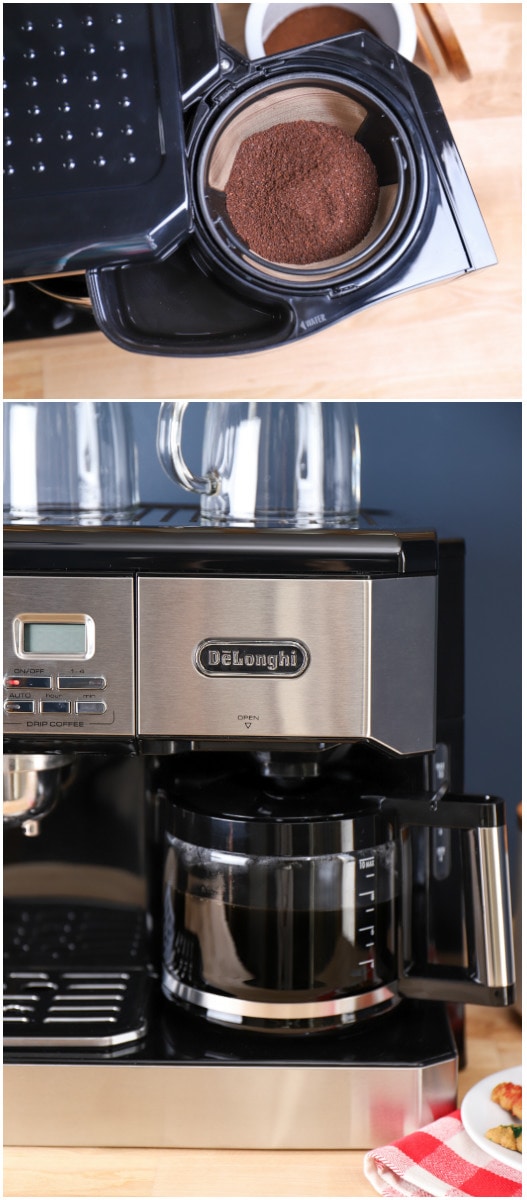 The filter coffee has a gold-tone permanent V shape filter so you never have to worry about running out of filters! The warm function keeps a whole pot of coffee warm for up to 2 hours and an auto-off function turns off the system 30 minutes after using.
The machine comes with an integrated cup storage tray that warms your cups. That's one of my pet peeves in the winter. I grab my mug from the cupboard and it's cold. So, when I make my coffee in it, the coffee cools off right away. Not now!
I also love the removable water reservoir. I had an espresso machine where the water reservoir was permanent in the back of the machine and it made it really difficult to fill. You had to constantly pull out the machine in order to refill it.
This machine has earned a permanent place on my counter!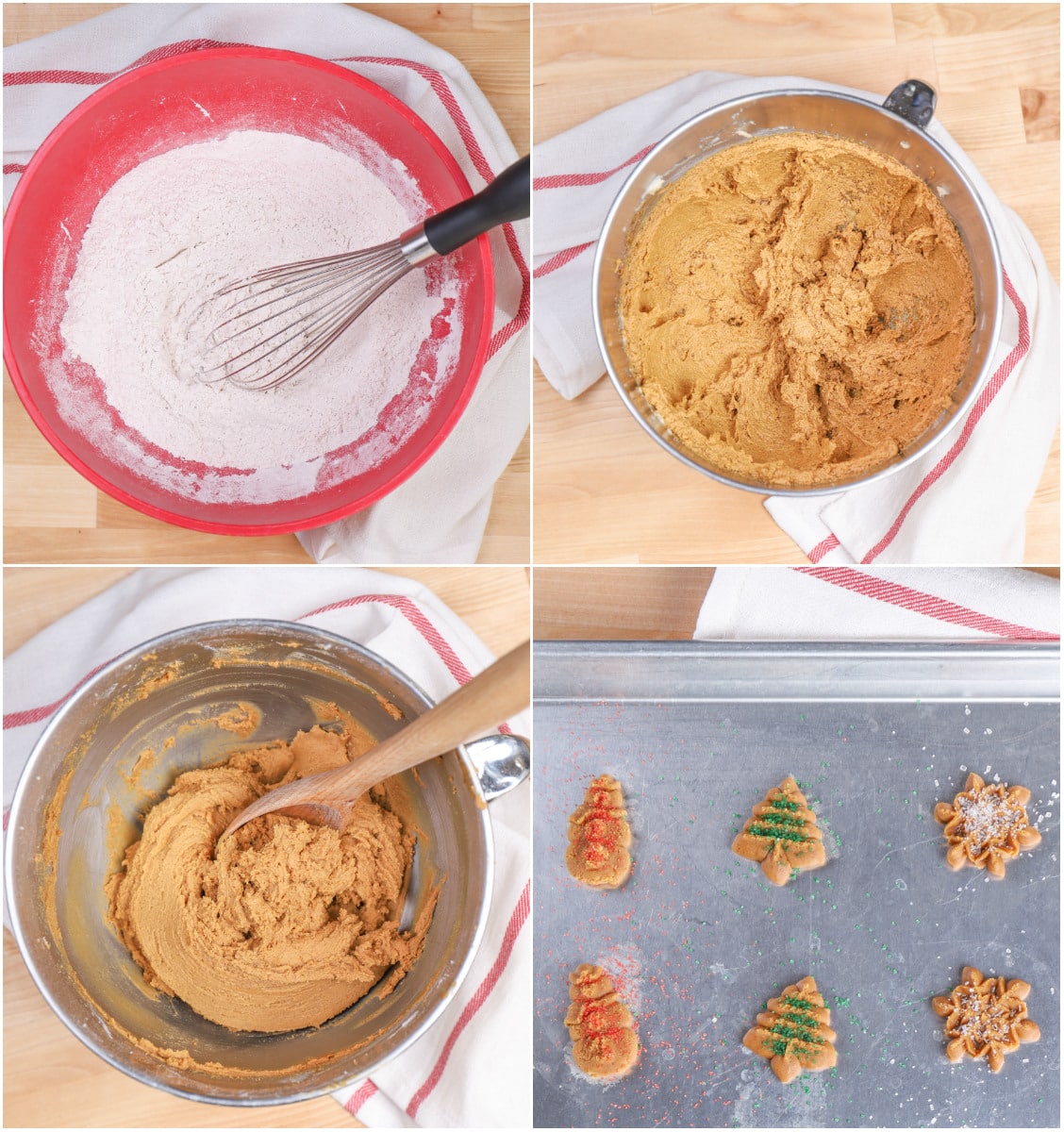 Now my family can enjoy not only a big batch of gingerbread spritz cookies this holiday season, but their favorite coffee drinks to go with them! And I can enjoy a good latte while I make another batch of these cookies!
Perfectly delicate and not too sweet, these gingerbread spritz cookies belong on the cookie platter of your next holiday party. Full of molasses, gingerbread spices, and brown sugar, the warm, cozy flavors of these cookies make them irresistible!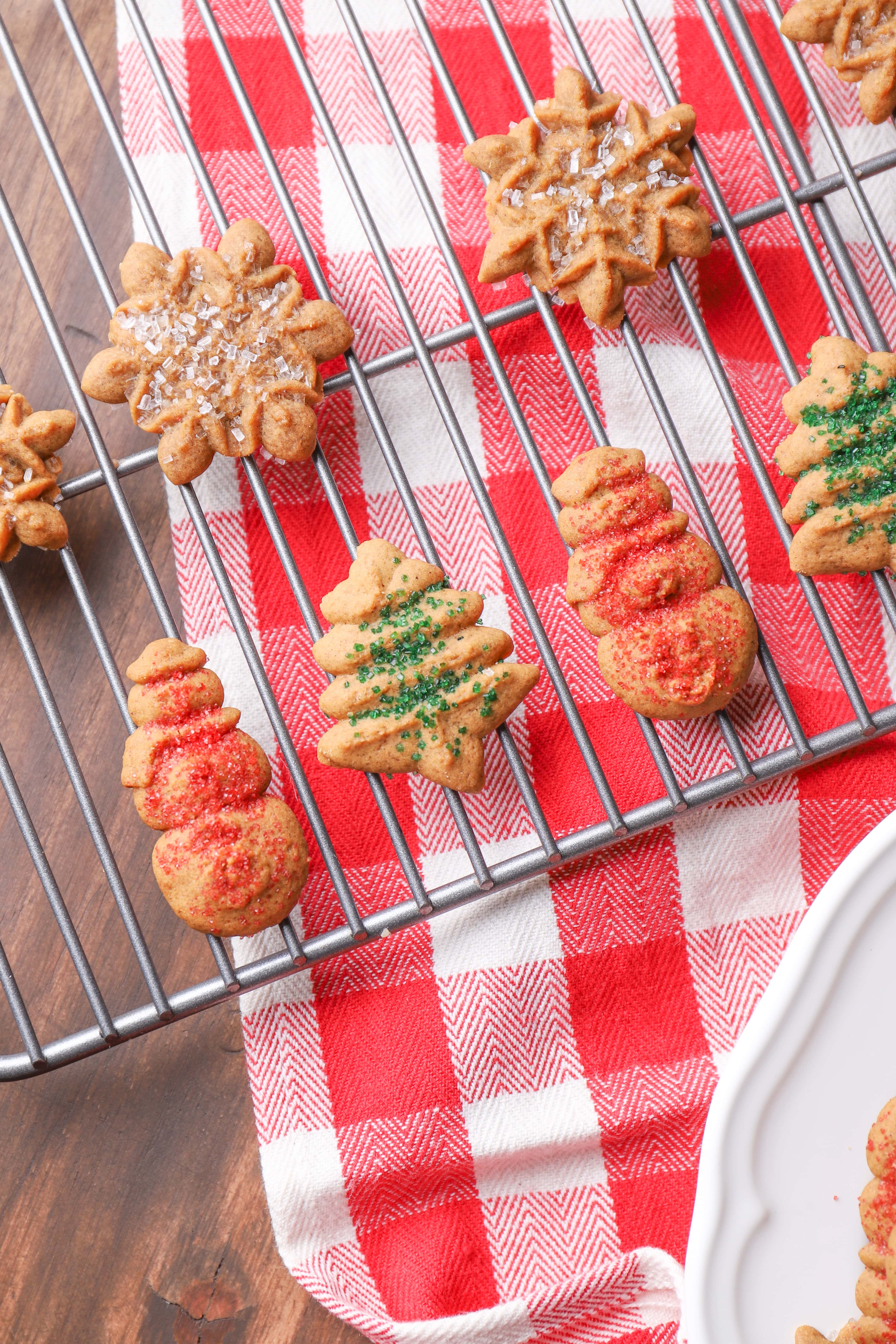 Tips for Making Gingerbread Spritz Cookies
If your dough is too soft, stick it in the refrigerator for 30 minutes to firm up. If your butter is too warm when you make the dough, it will cause the dough to be really soft.
There seems to be a controversy around whether or not spritz cookies should be soft or crunchy. If you want soft cookies, bake for 6 minutes. If you want crunchy cookies, bake for 8 minutes.
Decorate with your favorite sprinkles, candies, etc. to make the cookies more festive.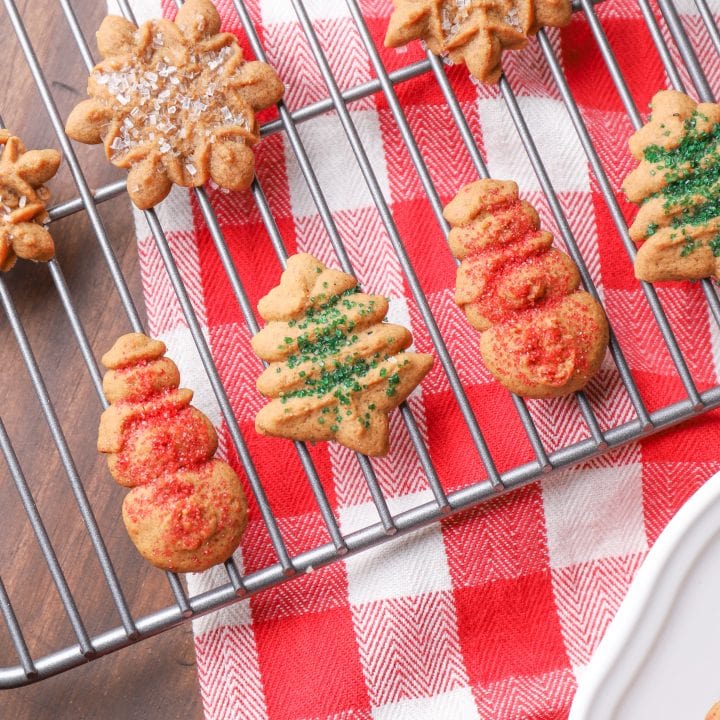 Gingerbread Spritz Cookies
Ingredients
1 Cup butter, room temperature
1/2 Cup brown sugar
1/2 Cup molasses
1 egg
1 teaspoon vanilla extract
1/4 teaspoon salt
3 Cups all-purpose flour
2 teaspoons cinnamon
1 teaspoons ginger
1/4 teaspoon cloves
1/4 teaspoon allspice
Instructions
Preheat oven to 375 degrees F.

In the bowl of a stand mixer, or with an electric mixer, cream together butter and sugar. Beat in molasses, egg, vanilla extract, and salt until creamy.

In a small bowl, whisk together flour, cinnamon, ginger, cloves, and allspice.

With the mixer on low, or with a wooden spoon, slowly beat in flour mixture. Add in about one third of the flour mixture at a time and beat until each addition is combined.

Place dough in cookie press fitted with desired template. Pipe dough onto an ungreased cookie sheets. Decorate with desired sprinkles or candies.

Bake for 6-8 minutes, or until cookies are set. If you prefer a crispy cookie, bake for the entire time. Remove to a wire rack to cool for 5 minutes before removing from cookie sheet.
Recommended Products
As an Amazon Associate and member of other affiliate programs, I earn from qualifying purchases.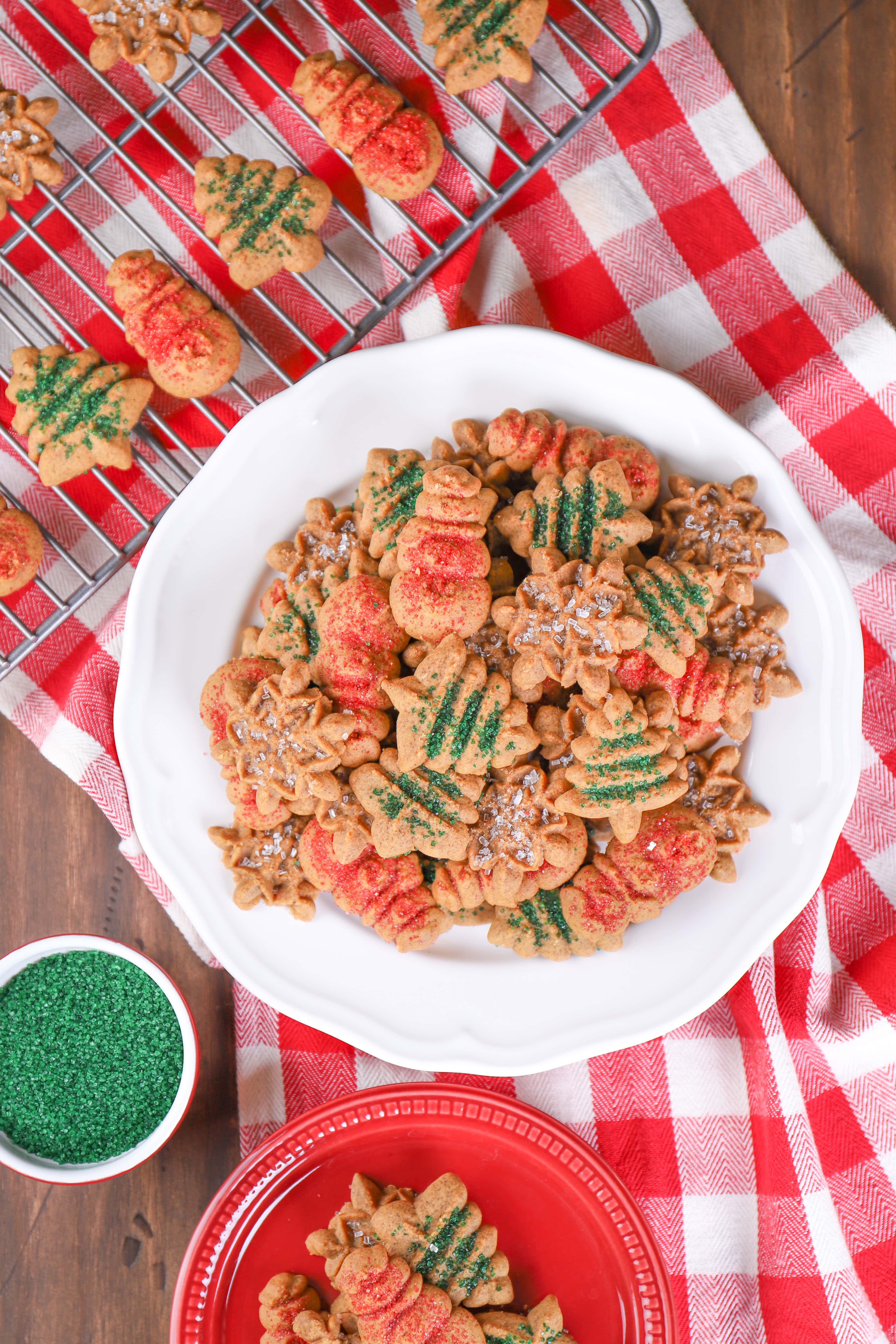 This is a sponsored conversation written by me on behalf of De'Longhi. The opinions and text are all mine.