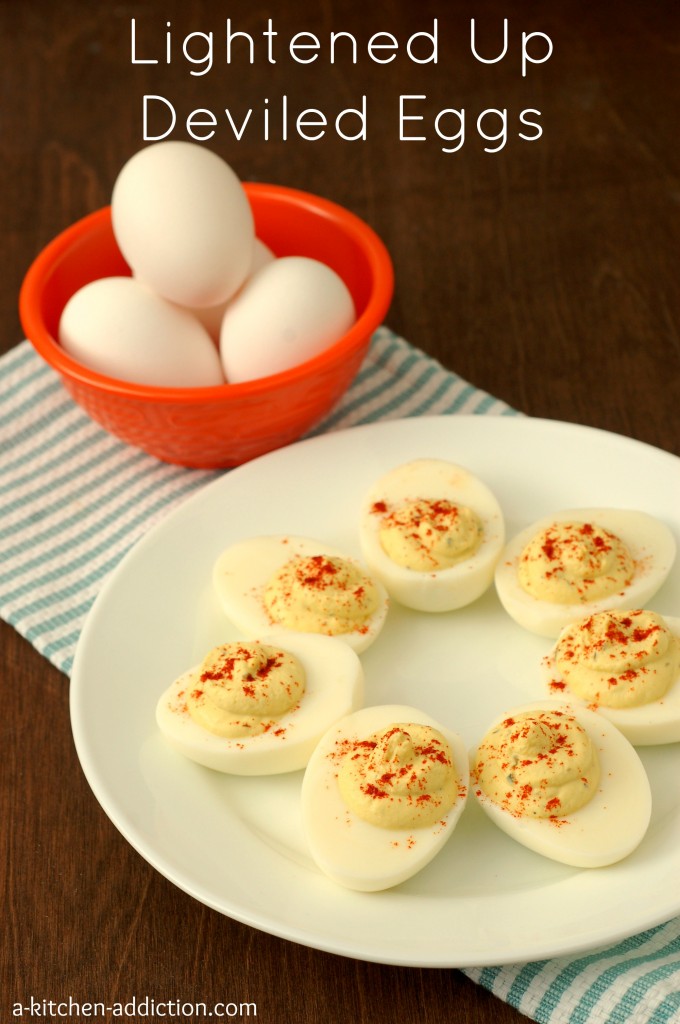 Do you have your Easter menu all planned out yet? If you don't, then you need to add these deviled eggs! Well, if you do, you should add them anyway!
They taste just as rich and creamy as traditional deviled eggs but are much healthier. Most deviled egg recipes call for anywhere between 1/3 – 2/3 cup mayo.
At 10 grams of fat per tablespoon, that is anywhere from 50-100 grams of fat that you are adding!
I already use plain Greek yogurt in a lot of my baking as a substitute for oil and butter, but I've been wanting to do more substitutions in my cooking to make our food healthier without ruining the taste.
So, for these deviled eggs, I swapped out the mayo for plain Greek yogurt.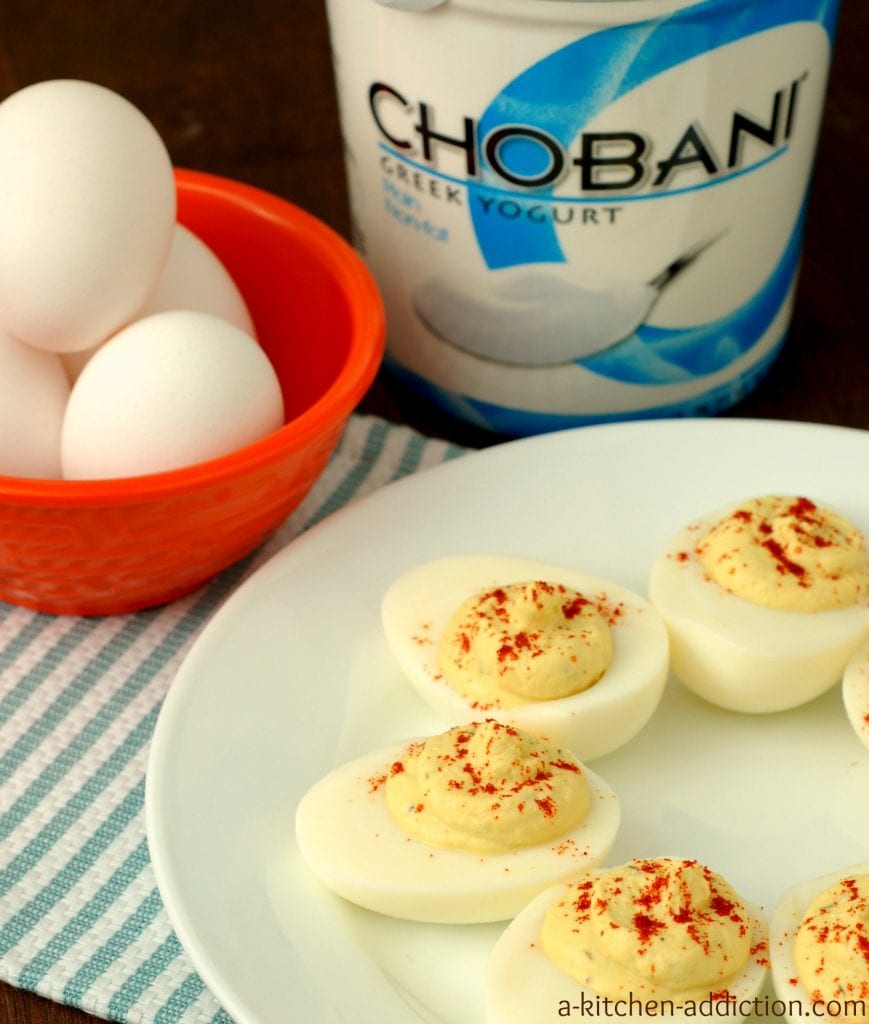 The result? A creamy deviled egg that tastes just as good (if not better) than a traditional deviled egg!
Plus, not only are you cutting out fat, but you are also adding protein and calcium!

Lightened Up Deviled Eggs
Author:
A Kitchen Addiction
Ingredients
12 eggs
½ C + 2 tbsp 0% plain Greek yogurt (I used Chobani)
1½ tsp yellow or djion mustard
1½ tsp white vinegar
1½ tsp finely chopped chives
¼ tsp white pepper
salt and pepper, to taste
paprika, for garnish
Instructions
Place eggs in a single layer in a large saucepan. Add enough water to cover eggs by about 2 inches. Bring water to a rolling boil over medium-high. Remove from heat. Cover with lid and let sit for 12 minutes. (Do not let them sit longer than 12 minutes.)
Remove eggs to a bowl of ice water. When eggs have cooled, remove shell and slice in half lengthwise.
Remove egg yolks to a bowl and arrange egg white on a plate cut side up.
Mix together yolks, yogurt, mustard, vinegar, chives, white pepper, salt and pepper until creamy.
Spoon or pipe yolk mixture into egg whites. Sprinkle with paprika. Store in the refrigerator until ready to serve.
This recipe is linked with
Strut Your Stuff Saturday
, 
Weekend Potluck
,
What's Cookin' Wednesday
,
What's In Your Kitchen Wednesday
.